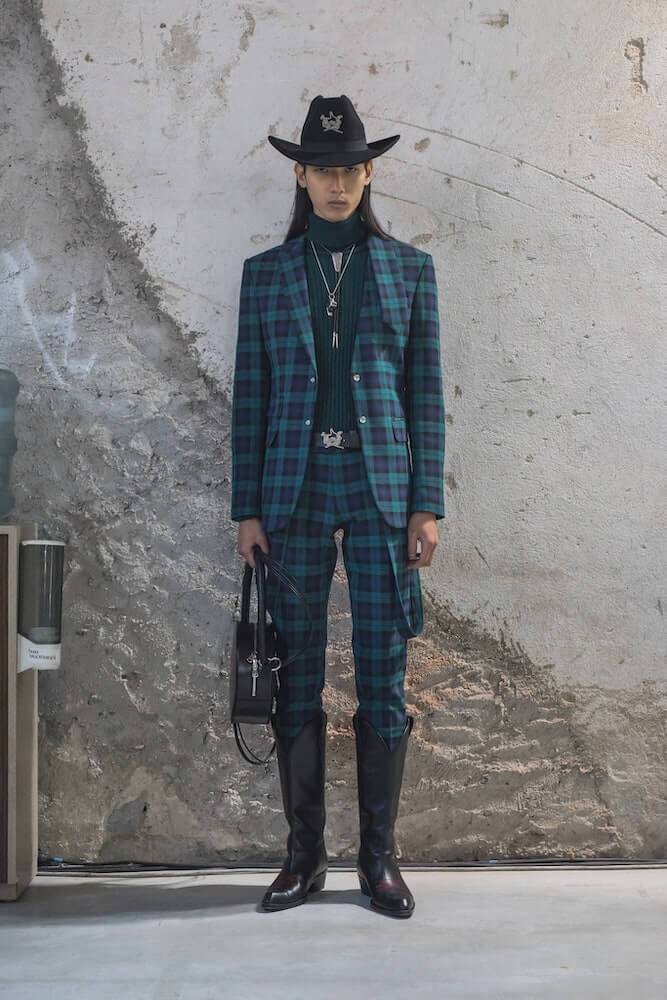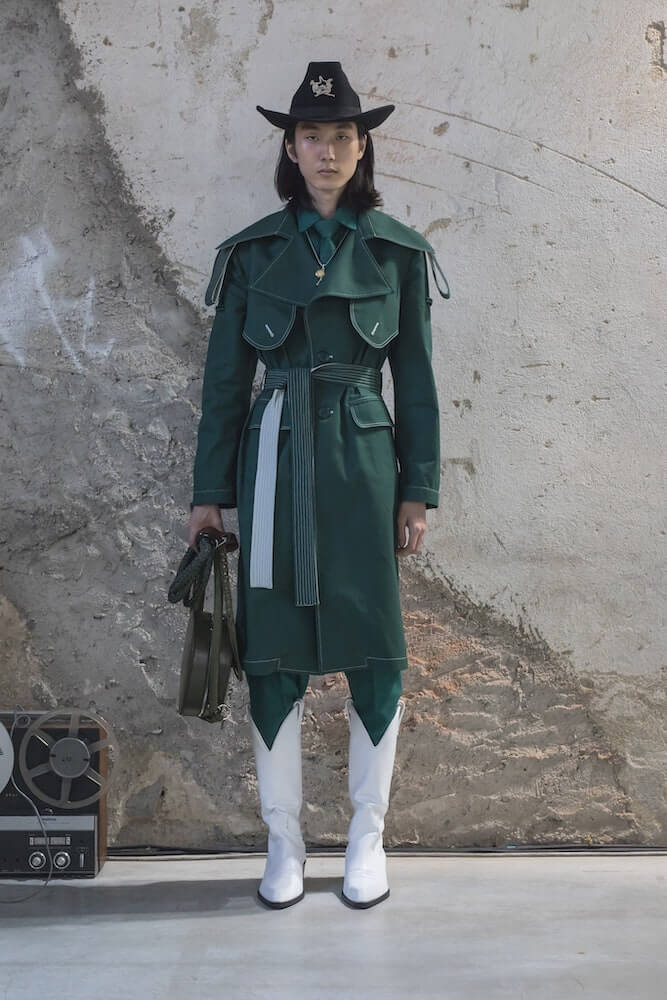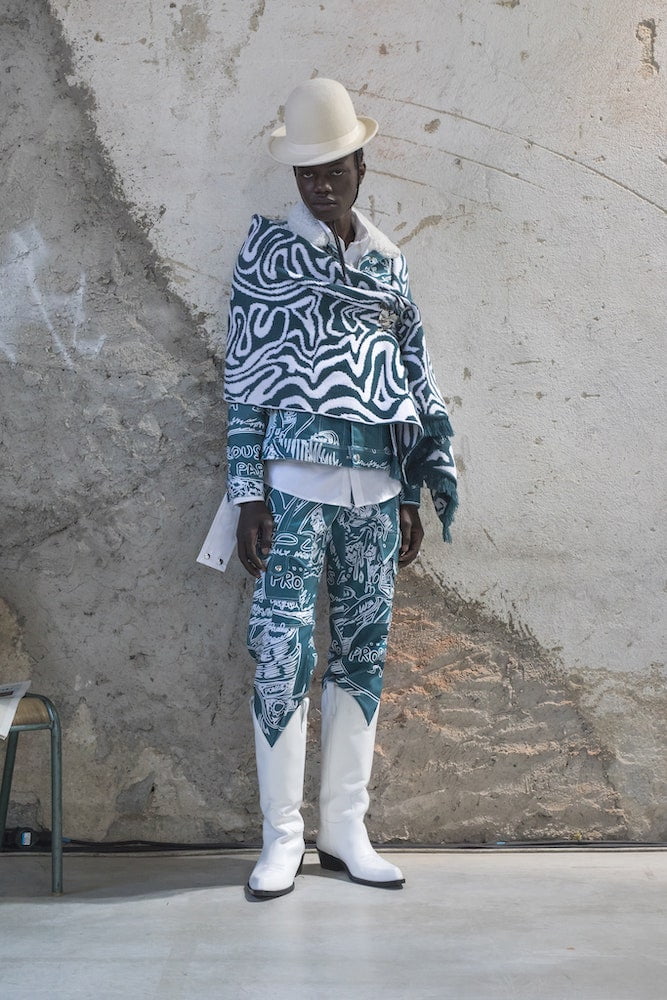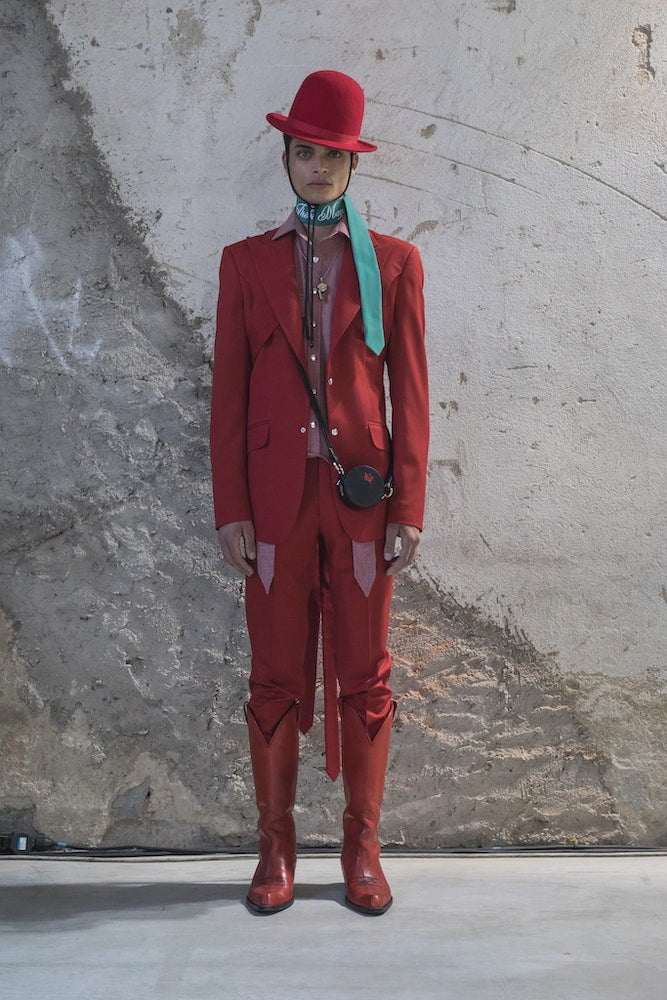 Two days before Thebe Magugu made his arrival as this year's guest designer at Pitti Uomo, the former South African president Jacob Zuma was ordered to serve an 18-month prison sentence. Zuma faces a litany of legal troubles, having refused to face an anti-corruption commission that investigated his alleged involvement with government corruption while he was in power.
Magugu's collections serve as a medium to communicate his life in South Africa. The former LVMH Prize winner's Pitti debut – which doubles as his brand's first-ever full menswear collection – couldn't have come at a more apt time. "[The collection] is about how corruption really sits at the heart of South Africa, the continent's failing in a lot of ways," he says over a Zoom call. "In many ways, the societal ills the continent wrestles with stem from the insidious actions of its leaders."
Although the collection is tied to South African inequality and the devastating ramifications that corruption holds on the nation, Magugu recognises that higher power deceit exists on a global scale. "It's an issue that we all face," he says.
The designer turned his attention to whistleblowers who are brave enough speak out against corruption, whether it's governmental or that of a private institution. South African journalist Mandy Wiener's book, The Whistleblowers, forms the backbone of the collection. "We actually have to give more credit to whistleblowers because once they blow the lid, they become papayas, they're socially outcasted, they lose their jobs, they're seen as troublemakers, you know?"
A strong western influence punctuates throughout, with Magugu particularly focused on this idea of Black Hat Bandits and White Hat Heroes. Models wear Masai check checked suits, print-laden ponchos and the brand's first men's shoe; a knee-high equestrian boot stamped with Magugu's logo on the calf and on stainless steel spurs. South African political cartoonist, Jonathan Zapiro, leant a series of artworks from his archive for Magugu to use at his disposal – resulting in a series of political crooks making their way across laddish playsuits and "blood" strained trenches. 
Away from the actual fashions, Thebe Magugu's publishing arm, Faculty Press, produced a 32-page newspaper. Inside, leading South African journalists explored the collection's themes, mapping the true cost of corruption on the country with contributions from Ferial Haffajee, Branco Brkic and Sibusiso Ngalwa.
"I've been doing womenswear for a really long time so to go into menswear was a welcome challenge," says Magugu, who has taken the design universe he's been crafting out of Johannesburg to tremendous new heights.
Photography courtesy of Thebe Magugu.