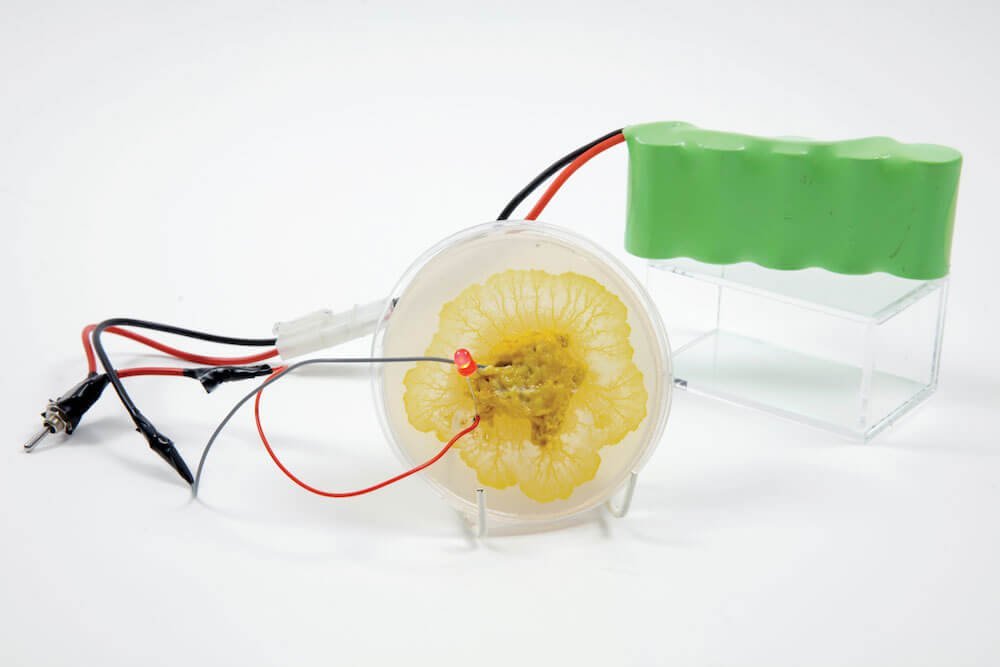 Piero D'Angelo
I will go anywhere in search of what young people are thinking about fashion. I want to be surprised, eager to have my preconceptions shaken by radical innovators. But I never expected to come slap-bang up against an order of such mind-altering proportions as I did one balmy evening after a show in Shepherd's Bush Market last September. "See this dress?" said Piero D'Angelo, ushering me closer. "It's alive."
It was wet, clinging to the model's body and there was a tracery of spidery yellow snaking delicately through its folds. It wasn't a print. He hadn't painted or embroidered it. "Slime mould!" declared D'Angelo, with an evangelical shine in his eyes. It's… what? Physarum polycephalum, a bright yellow single-cell organism found in soil and forest floors that has been shown to exhibit a mysterious kind of collective intelligence as it pulses towards the nearest source of food. In the right conditions, it moves fast – as it did across the dress that D'Angelo had cultivated in a lab in a warren of 45 shipping containers parked in a slice of local land alongside Shepherd's Bush Market.
Welcome to Open Cell, the biotech village in west London where D'Angelo, an Italian fashion graduate of the Royal College of Art (RCA), is one of the new wave of London designers who are inventing materials with all kinds of potential for cleaning up the environment while benefitting human health.
The rest of D'Angelo's models were circulating at the after-party wearing dresses in glam-curvy pouffed skirts and bodices grown from living lichen. "What if garments could absorb pollution around the wearer?" he asked with a smile. "Lichens absorb pollutants like nitrogen and sulphur dioxide, and metabolise them into less-or non-dangerous compounds. What if people could grow their own couture?" Like every member of his generation, D'Angelo isn't holding his secrets to his chest. As Greta Thunberg says, there's no time to wait. As part of his degree collection, he uploaded a video tutorial on how to use his lichen-garment-growing kit to Instagram.
If you want to predict the future, go into fashion schools. That's been true forever – I've seen it for decades. But I've never witnessed a time when the fashion industry, running as it is on hyper-speed in its notoriously broken system, should be paying way more attention to what young people are getting up to in universities. Five years ago, I saw the beginnings of the movement of new-generation solution-makers – horrified by the wasteful practices they saw as interns – who are now out in the world, beautifully normalising upcycling, repurposing, zero-waste production. But now there's a second surge of planet-positive revolutionaries coming: students bent on opening up a completely new front between fashion, science and biology.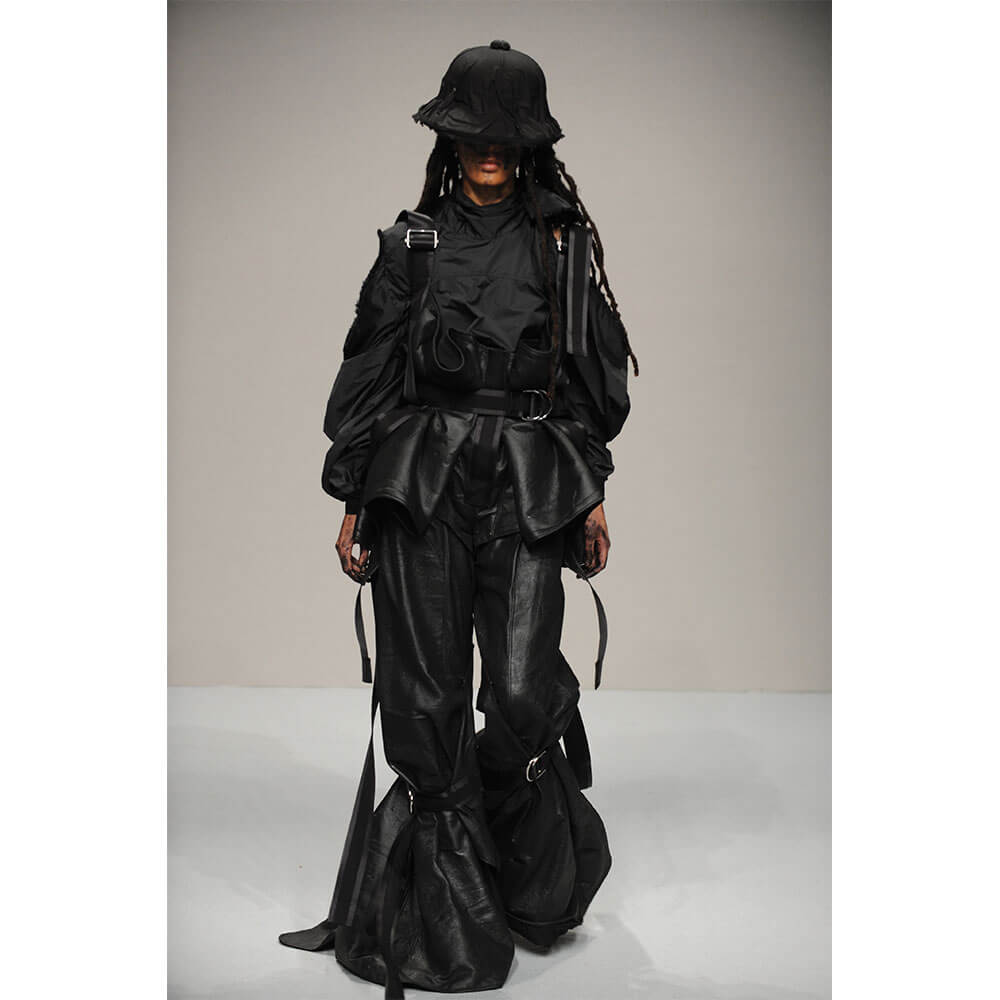 Moskal by Stephanie Moscall-Varey
Over the past year, I've heard terms including "collaborating with organisms", "bio-mimicry" and "green chemistry", been stopped in my tracks by language, ideas and visually amazing things I've never seen before. And this, increasingly all over the place, from students and graduates of the RCA, Central Saint Martins and London College of Fashion. Jen Keane producing uppers for trainers from"microbial weaving", Alice Potts magicking crystals from sweat, Stephanie Moscall-Varey – a coal miner's great-granddaughter – producing her fully biodegradable collection from fabric she has invented… from coal.
I've seen the same evangelical light that was in D'Angelo's eyes as he talked about his slime mould shining from students talking about foraging in bins for waste food at Central Saint Martins to transform into bioplastics, being mind-blown by bacteria, thrilling about growing fabric from fungi. But how, why, where did these new activists spring from? Professor Carole Collet, who pioneered the Material Futures degree at Central Saint Martins nearly 20 years ago (where Keane wove her uppers from cellulose), instigated a new specialist biodesign MA in 2018. "We felt it relevant, especially in the midst of our ecological crisis, to develop a biodesign MA for cross-disciplinary designers who want to explore sustainable innovation through the lens of biology and biomimicry," she says. "The number of applications has been overwhelming."
Open Cell is a potential next stop for them – a kind of philanthropic equivalent of the British Fashion Council's NewGen scheme, but for young bio-tech entrepreneurs with ideas for growing a better future. It's the brainchild of Helene Steiner, an engineer and designer who has links with both Imperial College and the RCA, and physicist Dr Thomas Meany. "Much of the growth in biotech is in London, with its networks, infrastructure and deep talent pool," says Steiner.
Well, if you ever imagined that biotech must be something that only goes on in high-tech compounds in secure locations in Silicon Valley, pumped by billions from shadowy investors (as I did until recently), this scrappy, low-cost community, which backs onto the Hammersmith & City Tube line, will open your eyes. You're free to wander in. Unlike many deals on offer to postgraduate start-ups, there are no hidden catches for designers who take up residence in the container-studios – no signing over of IP, no sneaky contracts for percentage of profits. Instead, the payback is education, workshops with local schools and an open-door policy to the Hammersmith community, on whose council land Open Cell is parked.
The truth is that a uniquely creative cross-fertilisation between academic disciplines is springing up in this city, where art and science students study in universities that are next-door neighbours. "There's a big boom in students who are doing this. London has a different kind of recipe from other places," says Potts, whose ballet shoes are beautifully encrusted with huge crystals grown from ballerinas' sweat – the method she invented while at the RCA. She was the first of the new bio-type designer breed I encountered in 2018.
Potts got into the RCA as a Fashion Womenswear Accessories MA student, but spent most of her time developing the potential of bodily fluids in a DIY lab at home and carrying out tests with scientists at Imperial College, down the road from the RCA. "I overcame that fear of feeling stupid in front of people who have master's-level biochemistry degrees. What I found out is that research scientists can be just as interested in the way creative people think as vice versa. Only they hardly ever meet. The main thing is allowing the freedom to ask each other questions."

Jen Keane, photograph by Tom Mannion
On analysing the contents of Potts' sweat samples, the scientists got excited: her crystals were found to contain hormonal data, capturing what's going on inside the person's body. It's a discovery that could lead in many directions, for non-invasive medical diagnostics, nutrition, sports medicine. After graduating, she was immediately offered a year's fellowship at the Onassis Stegi Foundation in Athens, and in the past 14 months has had her work displayed in 19 exhibitions in Europe, the USA and Australia. But what makes Potts different is that she's also one of the growing band of people who are upsetting the traditional order of the hierarchies between disciplines – the idea that lofty science looks down on mere fashion. "I've had so many people ask me, 'Why do you want to stay in fashion – it's so behind?'" she says, laughing. "But that's exactly why I want to. Fashion's the much bigger challenge."
It takes some getting past psychological revulsion to allow our minds to imagine beautiful, desirable fashion eventually blooming from bodily fluids, bacteria, slime mould, fungi, bin waste – yuck, right? But what's truly revolting is surely what ordinary industrial fashion processes are doing to the natural resources that exist on the same continuum: the poisoning of waterways with man-made chemical dyes, the destruction of ecosystems through the intensive farming of cotton with wholesale use of pesticides and fungicides, the felling of forests to make viscose – all the rest that contributes to global warming. If you're wearing a piece of clothing that contains polyester as you're reading this, that's fossil fuel, same as petrol. Plastic, in fact. Shedding its microfibres into the water system every time you wash it.
It's this new breed of bio-designers who are intent on working with nature, rather than against it, diverting damage, creating unimaginable, beneficial and even restorative solutions for an industry that has made all the mess. Which brings me to the Canadian coal miner's great-granddaughter, London-based Moscall-Varey, who has just graduated from London College of Fashion. Time and again, I have been moved to hear how young designers are striving to make reparations for what earlier generations have done to the Earth, but never has there been a story quite as direct as hers. "I was brought up in Northern Ontario. My great-grandfather dug the coal out of the earth, and my father burned it as an engineer overseeing the Ontario power station to make electricity," she said. "And now I am working with it to make a fabric that cleans the air and goes back into the ground."
Her collection, of womenswear – black, tough and graphic – was partly tailored from a springy, spongy, enveloping fabric she developed over seven months' experimentation with Bonnie Hvillum of the Natural Material Studio in Copenhagen. "It's a composite of active charcoal and a protein-based binder on organic cotton gauze. Active charcoal absorbs CO2 by capturing empty carbon molecules, resulting in air filtration," she explained. "It's durable, like a vegan leather. And we were both adamant that the product needed a circular life. We operated under the ethos that we needed to create a product that would decompose if buried for a year – and we proved it does, if it's kept watered!"

Alice Potts
There was that light in her eyes as she was telling me that. What struck me again, forcefully, was how the clothes she made look like dynamic fashion – just as the work of so many others in this field is beginning to manifest. Naysayers may look and roll their eyes, asking the same old fashion-industry questions: nice idea, but how commercial is this, how can it be manufactured at scale? My answer: that is your problem, not theirs. It's your big opportunity to embrace solutions, convert your industry, work it out together.
Young people are much more clever about fashion today, that's the truth of what's staring me in the face whenever I step into a fashion university these days. The people in the industry who are speeding so fast on the same old tracks are really the ones who are going way too slow. What they all need is to back up and listen to the words of young designers like Moscall-Varey. "What we want to create is something as poetic and radical as our anthropocentric views. We're making a larger comment, that beauty and luxury can be achieved in holistic and natural ways, without sacrificing aesthetics. A product," she says, "that gives us hope."