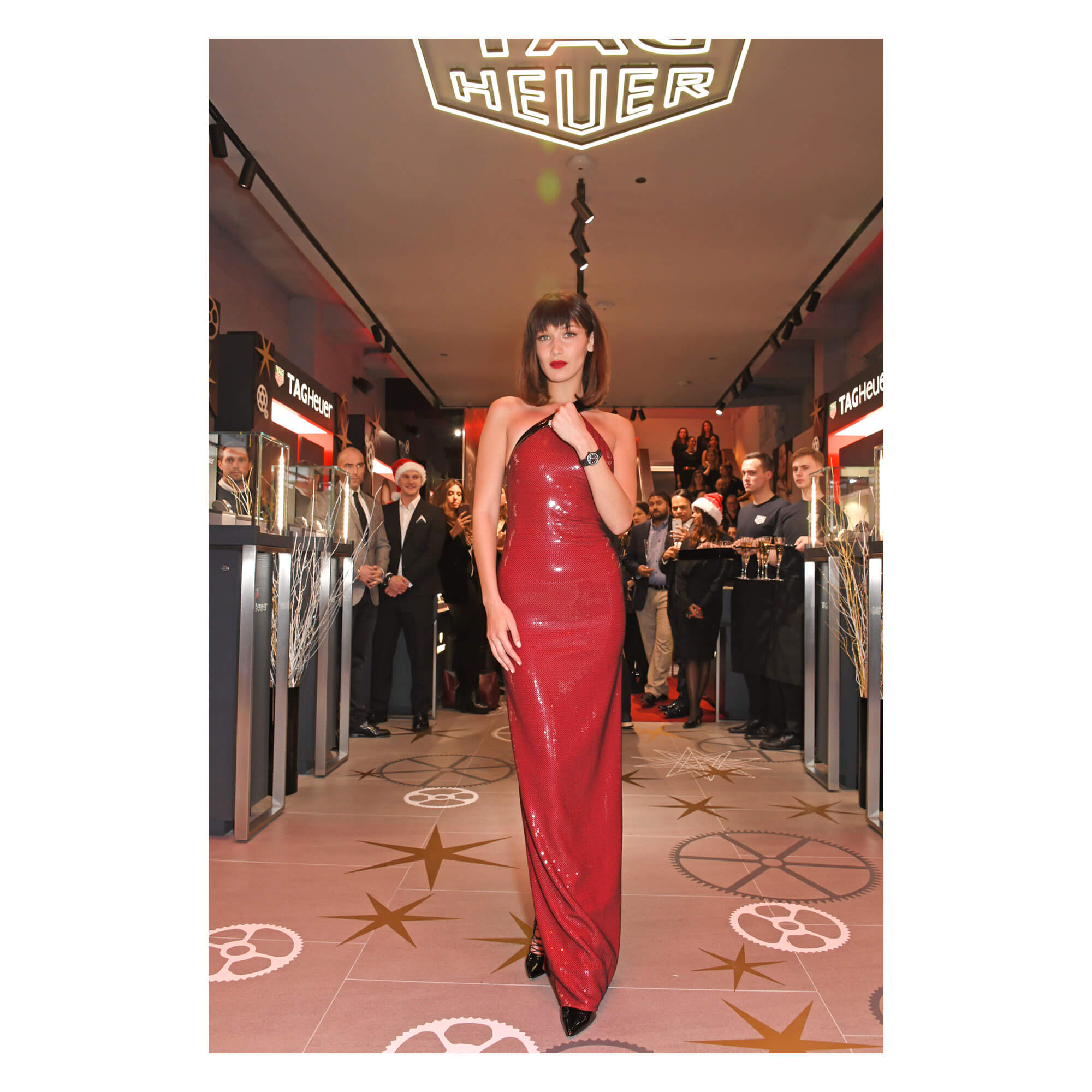 We can think of worse ways to spend our Friday evening than with gorgeous lady supermodel Bella Hadid, as we did last Friday, with champagne, as she opened TAG Heuer's brand new flagship store on Oxford Street. Get us! Ms Hadid, the latest TAG Heuer ambassador, was there to celebrate not only the store, but the "Link Lady Bella Hadid Limited Edition" watch made in her honour – TAG's classic link lady constructed here in matte black ceramic and studded with twelve diamonds. Here, we have a natter with the gorgeous Bella (and ask her some dodgy time-based questions). Read on…
JACK MOSS: Starting with the watch – what's it like having a watch inspired by you? What was it like when you first put it on?
BELLA HADID: I never knew how cool it would be to have a watch inspired by me until I had a watch inspired by me! I've seen it grow but today's the first time I saw it in person – it's so beautiful, it's a great feeling. I mean, I love diamonds, I love the black.
JM: Actually, that runs into my next question – is there anything better than diamonds? 
BH: I think in life there are a lot of things better than diamonds – but as an accessory I think diamonds are number one!
JM: Good answer. And do you have a watch for all occasions, or are you a one watch kind of woman?
BH: Well now, I think I'm a one watch kind of girl – the best part about this watch is I can wear it with this gown, but I can wear it every day too. It gives a cool edge to every outfit – I mean, this is a Ralph Lauren dress put with my little boots – with them and this watch it's more me. It brings a little of myself to the look.
JM: If you could stop time completely, what would you do?
BH: I think if I could stop time I would probably go everywhere in the world and tell everyone I love how much I love them, because there is never enough time to do that. It's a hard question – maybe I'll call you in a few days and tell you my real answer [laughs].
JM: And if you could relive a moment in time, what would it be? 
BH: Probably being in the womb – super warm in there, no bills, I don't have to wear dresses… [laughs]
JM: No responsibilities!
BH: No responsibility up in there…
JM: Your favourite time of day?
BH: I'm such a night owl. I think night time – I'm not very good in the mornings, don't talk to me for a couple of hours then, but nighttime I love. I love darkness, I love the intimacy of night. Sleep during the day and stay up all night!
JM: So, we're in London – what's your favourite thing about the city? What's the first thing you do when you arrive? 
BH: My favourite thing about London is probably the people. And I love all the little parks when there is no one ruining it for me – all the people following and stuff. But I always try and go to at least one park and I just sit – my security Simon has ended up being a good friend of mine and I make him come to the park with me! Oh, and there is this one burger spot that I found five years ago but I couldn't tell you the name of it because I have no fucking, fricking, idea… [laughs]
JM: It's ok, you can swear!
BH: It's the best burger I've had in my life and I can't find it – I just know it has red table cloths and the best sauce I've ever had. I love burgers it's so devastating!
JM: We'll keep our eyes out for red table cloths…
BH: Please do, because I try to tell every single person that I meet here about it in the hope that one day someone will be like "oh my god, the place with the red table cloths, I know it, that's in…!"
Photograph by Dave Benett at Getty