Relationships between fashion designers and journalists are complex. One moment, there's a sense of criticism and tension, while a second later, it all turns into a celebration as we drink prosecco while trying to make awkward conversation about our weekend plans. It often feels like being in a real-life, fashion version of the X-Factor (maybe the F-Factor?). Just like Simon Cowell and Cheryl, we are all searching for the "next big thing." And during that life-long process, we find people we want on our team, representing our extension of creativity and aesthetics. You know – a journo can't sew but if they could… What would their collection look like? Without much right to, we often take credit for discovering a certain person, writing about them first, before that other person… This gang-like culture has only been furthered by social media, with Instastories dedicated to the work of your absolute favourites or dressing up in their samples to show support. While beneficial to both sides – journalists get good stories and clothes to wear, the designers (particularly the emerging ones) get coverage – this relationship can also be quite a funny one if observed from the outside. That's not to say I haven't been guilty of taking credit where credit ain't due.
First time I met Bianca Saunders was during one of the annual studio visits at the Royal College of Arts. At the beginning of each year, RCA holds a private view of their MA School of Design as an opportunity for journalists to get introduced to the work in progress of the students which are coming to their graduation. And there she was, back in January 2017, sat behind one of the studio desks and smiling from ear to ear; talking me through her collection and explaining the thoughts and inspirations behind it. Black masculinity and looking at the interrelationship between how dress and sexuality is considered in her close circle of friends, Bianca was excited to share her ideas. Infected by her excitement, I went away from that studio visit thinking and talking only about her work. Several months later, she showed as part of the RCA MA Graduate show – the collection closed the first part of the catwalk, with a performance starring men she was inspired by, all wearing her intricate mix of streetwear, sportswear and tailoring. Three collections and less than two years later, Bianca went from an enthusiastic graduate to an emerging designer with NEWGEN support and clothes stocked at Matches Fashion, SSENSE, Machine-A and Opening Ceremony, to name a few.
Born, raised and still based in South London (close to Brockley), Bianca Saunders is 26 years old and has a clear vision of what she is doing. She's in the middle of creating her SS20 collection which will be shown next month during London Fashion Week Men's, and is still a one-woman show. "I sometime wish I had a boyfriend that can cut a jacket," she jokes being a solo designer surrounded by a group of emerging names that are made up of two or more people. The process of going from being a student to becoming a business-owner was a difficult one, but she doesn't regret not working at a bigger design house first. "My biggest struggle right now is learning how to schedule and balance with factoring in creativity. Production takes over majority of my design time so a lot my design time gets squeezed. It's so different working on a collection during university for seven months and having that time to fully develop to having your own brand an producing a full collection in two months," she tells me.
Bianca Saunders' graduate collection for AW18
Few weeks before our conversation, Bianca Saunders was chosen as one of the emerging brands (alongside Chopowa Lowena and Stefan Cooke) that were presented in New York by Matches Fashion. She was only supposed to stay there for a few days, but ended up staying longer and extending her group of collaborators. She first worked with American artist Troy Michie on some exclusive T-shirt designs for Matches a while ago, but she only met in real life during her NYC trip. Whilst she was there, she also met stylist Matt Holmes, who is now consulting on her upcoming collection. Before the trip, Bianca felt deflated and was contemplating quitting her brand and going to work for a big Italian fashion house, taking a job they offered. But the interaction with all these creatives gave her the fuel to the future: "It reminded me and made me feel like this is what I should be doing."
In addition to exploring the visuals of black masculinity, the clothes Bianca designs are clearly inspired by her own style. When we meet, she's wearing a toile version of her brown leather jacket from AW19 and a ruched t-shirt from SS19. Despite knowing these piece are made as menswear, they look like they belong on her body. This is because the way she designs interprets men's clothing ("I'm inspired by how men of my culture carry themselves,") while imagining them worn by herself. However, she insists on wanting to establish the brand in menswear before going into womenswear. "Maybe next season," she teases.
When you google Bianca's name and start reading about her work, the associations to her fellow emerging designers of colour seem inevitable. "I do get compared a lot to other designers of colour but I feel like all of our work is so different so the comparisons sometimes can only relate to identity," she says. For many young designers of colour on the London scene like Asai and Mowalola, the purpose of their clothes is rooted in the culture of going out. "I feel like my brand is definitely more of a slow growth when it comes to the translating it to the stores. I feel like it has a place in the East London club scene but just not right now, as it's not my focus." What seems to be Bianca's focus is creating refined clothes that merge modern tailoring with subtle streetwear codes.
Bianca's London Fashion Week Men's debut happened last June with an hour-long slot, on-schedule presentation. Its beauty was celebrated in the simplicity of the clothes and a clear emotion the silhouettes spoke through. What we didn't know then was the fact that the collection was made in only six weeks, as that's when her NEWGEN support got confirmed. "I could have just taken my graduate collection and remade it in different colours." But she didn't – she made something bold and romantic, her SS19 collection that's currently on sale at Matches Fashion.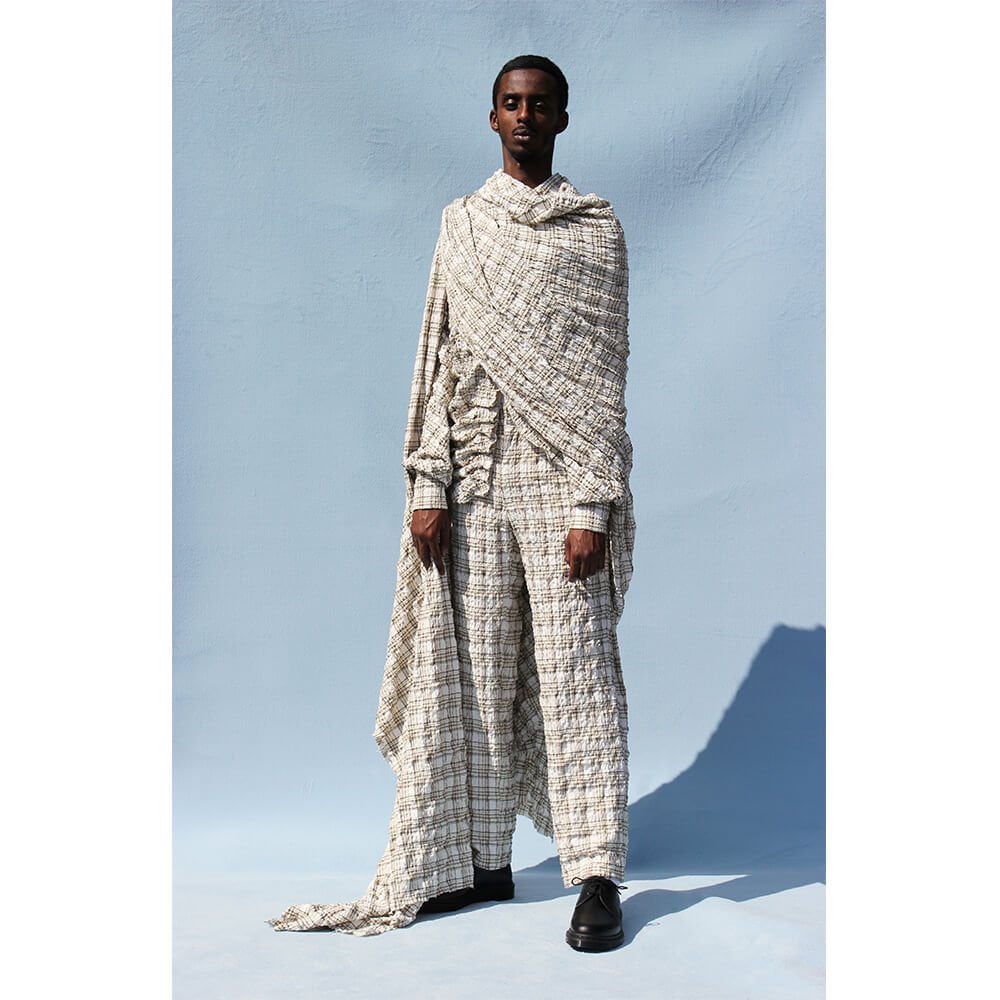 Bianca Saunders SS19
Back in June, her second presentation was held at the Matches Fashion townhouse at 5 Carlos Place, and was the most elegant vision of her story yet. "I want people to feel important wearing great clothes that have considered design details. That's the thing I love about menswear the most – its rules when it comes to tailoring about what way a jacket folds over. Moving more to a more formal direction, I am able to subvert these gender ideas more and challenge menswear with the balance of femininity by focusing on formal wear." The finest examples came through the stellar outerwear – such as the simple black long coat in a sateen-like fabric with just one button. Refined was the word of the day, one that's continuing to next season too. The knitwear, slightly erotic and fragile, was created in collaboration with Ceinor Sadler, was just a taste of the upcoming textile developments that will continue in the next winter season.
Bianca Saunders AW19
For Spring/ Summer 2020, Bianca is looking again into her own community in order to look forward. Titled Character, the collection is actually based on what one of her friends Eldon said in her last short film Unravelling. Speaking of the way he dresses and expresses himself, Eldon goes on: " I don't see myself as challenging anything." Bianca found this particular moment a reflection of her own emotions."I felt that was very carefree and powerful to not realise you are pushing boundaries and social constructs – he kind of throws things together that clash and make people question. The collection has become quite formal but it's mostly based on how Eldon wears a baggy suit and shirt and a funky tie to DJ, but then also wears a J Cole fan tee in the video." Character is a culmination of  characterisations established through the past three seasons. "Each person is individual but is still speaking the same language," she explains.
This past week, Bianca was announced as one of the Dazed 100, a yearly list of creatives pushing the conversation forward. Without much hype or the madness of obsessive superfans (except for me that is), the world is finally catching up with Bianca Saunders. And she's just getting started.
biancasaunders.co.uk // @biancasaunders_ // matchesfashion.com