What is a brand without a logo? For Valentino, its famous VLogo has come to signify the verve and enduring elegance of its founder, Valentino Garavani, and the vivid energy of its present, led by Pierpaolo Piccioli. There's always been a V.
The house was founded in 1959 and if you look above the entrance to Palazzo Mignanelli, the historic headquarters of the maison in Rome, you will see a V inside an ellipse, which has been there since 1960. In 1968, Signore Valentino created the first V pattern and splashed it over his SS ready-to- wear collection. More than 50 years later, the VLogo has been given new life with the introduction of Valentino Toile Iconographe.
Piccioli dresses every surface of his genderless new collection with Toile Iconographe. Bags, clothes, hats, scarves, tights and shoes all get the Toile treatment. In red or beige, it functions like modern-day, urban camouflage – classic, yet irreverent. This is logo-mania for a new generation The mood is total immersion.
Taken from 10+ Issue 5 – WORLD IN MOTION – order your copy here.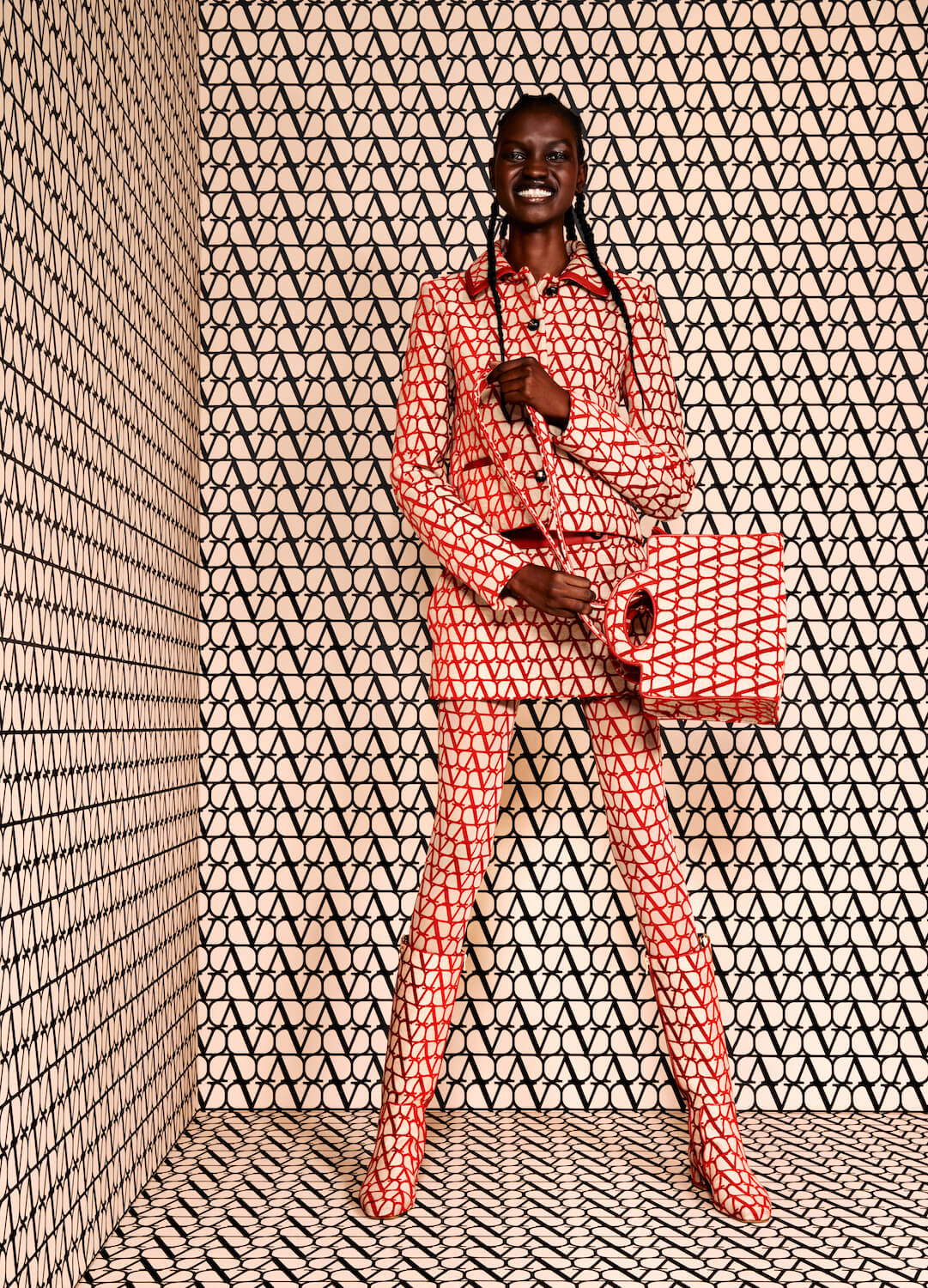 VALENTINO: SIGN OF THE TIMES
Photographer DAVID VASILJEVIC
Fashion Editor SOPHIA NEOPHITOU
Text CLAUDIA CROFT
Hair SHARON ROBINSON at Agency of Substance using Hair by Sam McKnight
Make-up SHARON DOWSETT at Agency of Substance
Models CAREN JEPKEMEI at Titanium Management, DIANA ACHAN at PRM Agency and RUIQI JIANG at The Hive Management
Nail technician EDYTA BETKA at Agency of Substance
Set designer BEN GARCIA HUGHES
Photographer's assistant ANDREW GOSS
Fashion assistant GEORGIA EDWARDS
Hair assistant MEG PIPER
Make-up assistant YONG-CHIN MARIKA BRESLIN
Set designer assistant JUDE LILLEY
Casting SIX WOLVES