Miuccia Prada is arguably the most important woman in fashion. But you don't need me to tell you that. She has helmed her family's business for almost 40 years, and has designed clothes for close to 30. That's a long time in fashion, but a short time for a revolution.
Mrs Prada's influence upon fashion has been revolutionary. In the 1970s, prior to joining the family business, she was a communist – a period of her life much commented on. On the one hand, because it seems odd for a designer of luxury goods to have allied herself with a regime that rejects luxury. Miuccia Prada wore Saint Laurent Rive Gauche while picketing, though, and she reasons, with a shrug, that being a communist was "very common back then. Every young kid who was vaguely clever was leftist, so it's not that I was so special."
I find the notion of communism in Mrs Prada's own fashion designs interesting – I find everything about Mrs Prada's clothes fascinating, but the fact she has, ideologically, taken from the poor (military nylon called pocone, functional fastenings, "cheap" fabrics, such as polyester, in unfashionable colours, a general air of ugliness – her word, not mine) to dress the rich, like a reverse Robin Hood, is an interesting interpretation. She is evening the classes, dressing the bourgeoisie in the garb of the proletariat and making them pay through the nose for it. Prada's turnover for 2014 totalled £1.85 billion, not including the group's other labels (Car Shoe, Church's and of course Miu Miu). Mrs Prada described her first collection, for winter 1988, as "uniforms for the slightly disenfranchised". "When I started," she says, smiling widely, "everybody 'ate what I was doing!" Now, they eat it up.
Prada's real name is Fratelli Prada – Prada Brothers. I mean the company, not the woman. Her real name, incidentally, is Maria Bianchi. Her father, Luigi Bianchi, was a machinery manufacturer; Prada is her mother's surname. Which is ironic, given that her grandfather, Mario Prada – who, along with Martino Prada, were the fratelli who founded Prada in 1913 – didn't believe women should work. Prada began as a small but well-appointed shop in Milan's Galleria Vittorio Emanuele II, importing English luggage. When Mario's son refused to join the business, it fell to Luisa to head it up in 1958; her daughter joined the company in 1970 and took the reins in 1978, after an unconventional background in political science. In the 1980s, she was adopted by her mother's unwed sister so she could legally hold the surname Prada.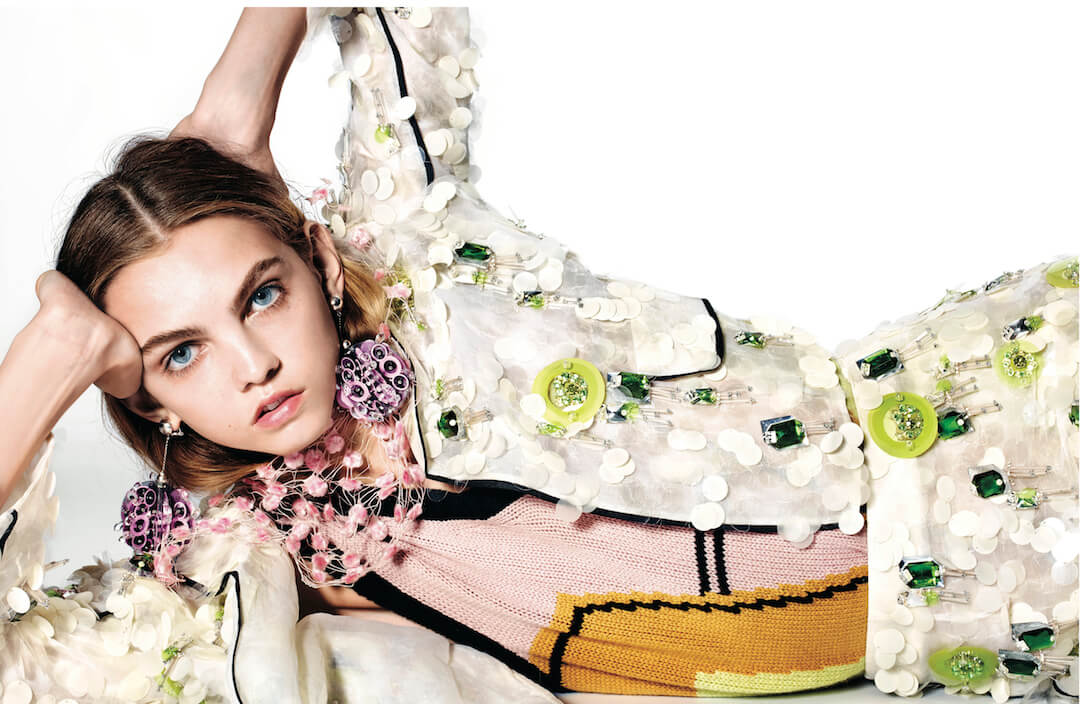 Just as Maria Bianchi only became Miuccia Prada in the 1980s, that was the period when the hit her to – slumbering Prada company also emerged. First, the label's accessories – the utilitarian backpacks in black nylon, an antidote to the painfully self-aware, heavily logoed handbags that had thus far proliferated. Then Mrs Prada's first ever fashion show. "I remember Women's Wear Daily saying, 'The Flintstones meet The Jetsons'. I loved that, it was exactly what I wanted," she comments today. "It was seen as a monster… But if you look at my first show, it's like now. There is everything."
Indeed . The show has the off-the­ shoulder, slightly scooped-out necklines that Prada is prone to, the wide-pleated dirndl skirts, the surfeit of black, the skirt suits that composed about 80% of her latest SS16 show. That recent show, for me, felt intrinsically connected, once again, to politics. The politics of Europe right now, with its rising conservatism encapsulated in a parade of almost-convention, of archetypal femininity, skirts and heels and obviously made-up lips and dangling earrings. It's richer, of course, than that first collection, a riposte even today to our cliched notions of 1980s overdressing. Mrs Prada enjoys going against the grain, rejecting the cliche. "I want to be more clever," states she. "Or more difficult, or more complicated, or more interesting, or more new."
Talking about Prada always brings you back to Miuccia, even when you're not talking to her. But today, I am talking to the physical, female embodiment of the brand. She was the motivation for branching into clothing. "I used to wear a lot of vintage," she says. "I started doing clothes for myself in the 1980s. Everything was all vintage, or uniform – maids, any kind of uniform. Or children's clothes, I started making my dresses in a children's dressmaker. Because there was very little I liked back then."
Today she wears only Prada – and Miu Miu. "This dress is all Miu Miu," she declares, animated, uncrossing her legs and yanking at the collar of her dress, at the back, to reveal a pale blue slip of fabric. "But with a Prada label!" She is wearing a grey, knee-length shift dress, short­ sleeved, with a shallow V neck. It's made of a filmy, slightly lustrous silk, firmly pressed to leave deep creases and give the bodice a boxy shape, emphasising a panel of geometric shapes in off-white and a yellowy, bilious green that is so Prada it could be dubbed "Miuccia sludge". "The bag is Miu Miu, the shoes are Miu Miu," she states, gesticulating at a dark green snakeskin bag clattering with chain and shoes patched with python and glitter. Those are AW15; I can't quite place the dress. She explains it's a hybrid. "A mix of the silhouette of one season with this patching, because I was obsessed with this material. I tried to do something for a show about this – these are curtains from the 1970s. Now, I keep them for myself."
She grins, a wide, handsome smile. Mrs Prada loves the 1970s: the decade often referred to as the one taste forgot. In 1996, she designed two womenswear collections that riffed on the graphics found in the era's Formica table tops and Anaglypta wallpapers, in orange, brown and that "Miuccia sludge". Others revived the slinky, sexy stuff that Halston did, or hippie flower children; Mrs Prada deliberately went for the other. She rebelled, because she always does. Her interests turned to feminism as a student, and there's a feminist bent to her work, in that it's exploring an alternative notion of beauty, or even rejecting the notion altogether. Mrs Prada called those two collections "ugly chic". She has previously described her work as ugly clothes in hideous fabrics.
Don't take it all too seriously. Mrs Prada has a good sense of humour. At a dinner a few weeks after we meet, she tells me how a recent portrait by Francesco Vezzoli depicted her in the guise of Queen Caterina Cornaro, the 15th-century noblewoman who once owned the land on which her latest project, the Fondazione Prada, Milan, is built on. Vezzoli was, she declared, making fun of her. There's something terribly renaissance, though, about Prada's Fondazione, with its gilded Rem Koolhaas-designed tower and the chambers filled with contemporary art, like old-fashioned patrons packing palazzi with Berninis and Caravaggios. Wes Anderson devised the Fondazione's Bar Luce – it's hardly a Sistine Chapel, but the whole thing strikes you as a Herculean task.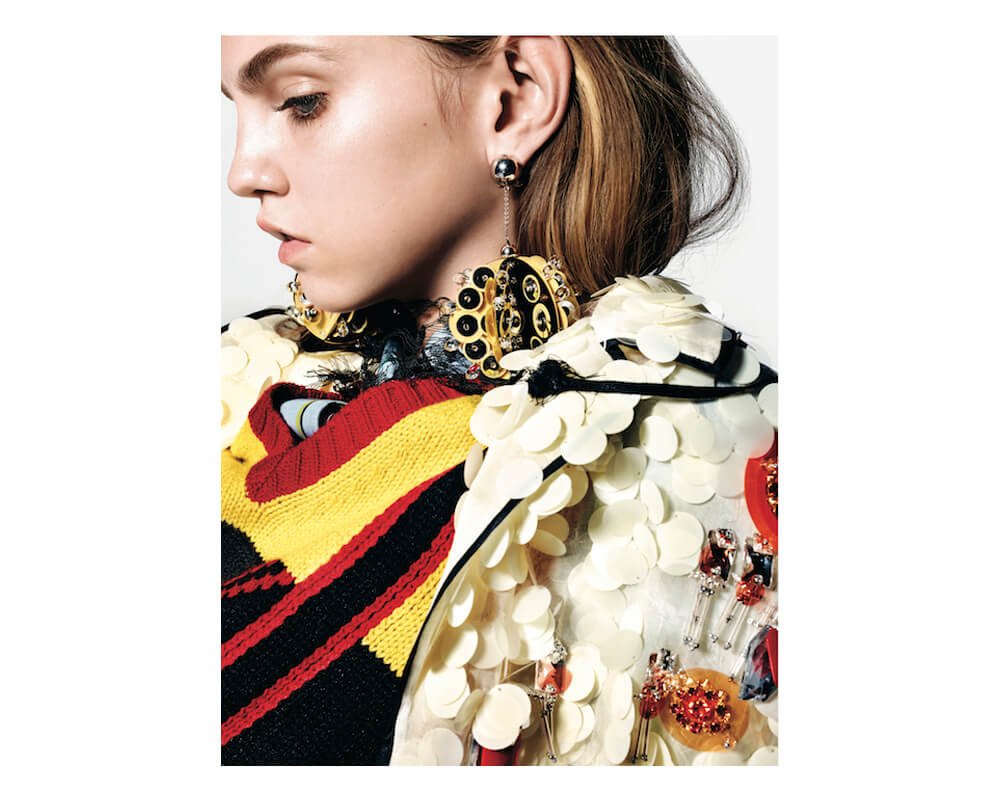 "Culture, in any case, is very important for a company in general," decrees Mrs Prada, that moniker taking on a scholarly ring, as if she were a fashion professor imparting knowledge on her ugly brood (me). "If the people in your company are educated, it's much better. And I refuse that art, or culture, is something that embellishes the company and that's all. I want it not to embellish – actually, I hate the idea of using the Fondazione to embellish. But culture helps a company deeply, not as embellishment. Culture is necessary. Which is the role of the Fondazione, to demonstrate that art is part of your life. "I cast my eye across her office, to the famous Carsten Holler slide (similar to those installed last summer at London's Hayward Gallery). Here at Prada, art is part of the furniture. It sometimes feels more Prado than Prada.
Nevertheless, for all the culture and art, Mrs Prada never denigrates nor dismisses fashion. Unlike many designers, she has never collaborated with an artist on garments. Well, almost never. Back in 2013, she created a series of handbags with Damien Hirst. When I raise that with her, she rolls her eyes. "Damien is a friend of mine… I said, 'Listen, I don't want to do a 'bag'. 'So I did a bag that was so repulsive. It was so repulsive that no woman would put a hand on it." That grin comes out again, tinged with wickedness. Miuccia Prada created a series of bags with bugs trapped under plexiglass on the exterior. I was struck, at the time, by the revulsion evoked by the mere idea of plunging your hands into their invisible depths. Which was exactly what she wished to convey.
But back to fashion, because Mrs Prada emphasises that that's her passion, despite the importance of art, both in the Fondazione and out (Prada force the fact there is no connection between the fashion house and their art space, but works such as the Holler slide and a pickled sheep by Hirst litter their headquarters in the south of Milan). "It's not that fashion doesn't exist, actually. Fashion is the centre." She leans in. "I forgot to tell you that what is most important for me is fashion. After all, what do you want? This was done, this [has been] done. What could be new? And that is a very personal obsession of mine since I was young. I wanted always to be different and always the first, if possible … it's fashion. So, what's new?"
The relentless search for the new and the next is the source of the power of Prada. It's also, perhaps, what causes consternation among the uninitiated when first seeing her clones. I have argued and debated and pontificated over Prada like no other label, with people outside the industry and within it. People tell me it's ugly, a lot. They ask me who would wear it. They ask me what it's all about. It disturbs many people.
I like to think Mrs Prada would be satisfied by that. She tells me she prefers not to please anyone, including the business. "I like to do for Prada what I do for Miu Miu, and vice versa, no? If the bosses knew it, I'd have the biggest enemy in the company. There's clarity and I mix everything secretly." She laughs again. "I mix up the cards – the bosses don't like it." But surely she's the boss? "The company is the boss," Mrs Prada retorts, matter-of­ factly. "When you think about the buyers, they are the bosses. Not me, in a way."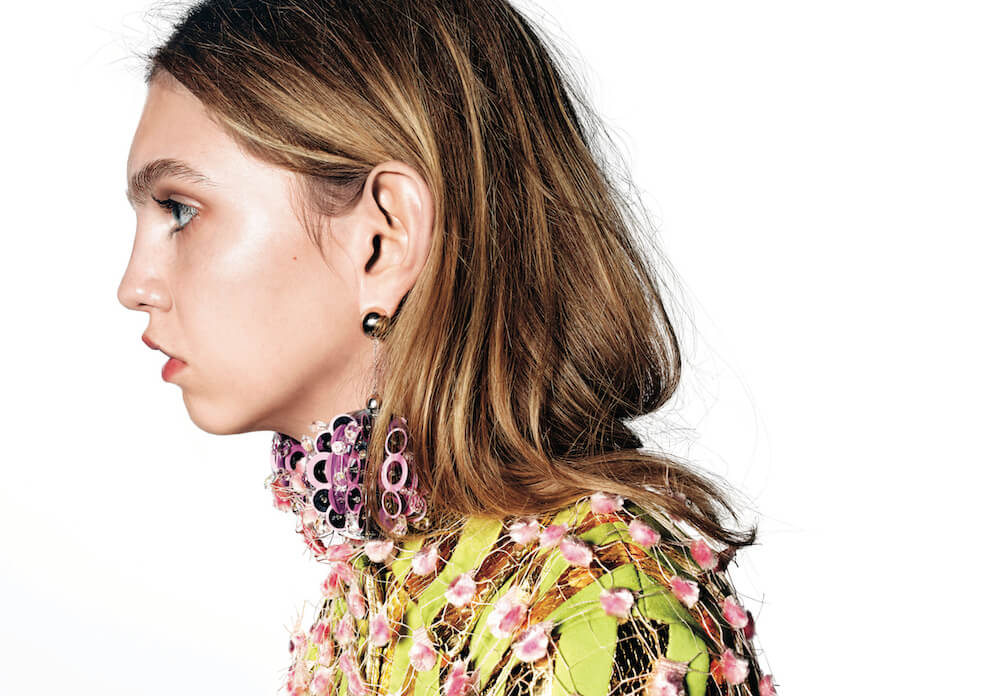 Perhaps that's why Mrs Prada also doesn't please herself . She has often talked about working with things she detests, occupying an uncomfortable space. I think "uncomfortable" is a word she likes -I once called her collection "boring" and received a handwritten thank-you note on thick, creamy, hand-engraved Pineider paper. Mrs Prada herself hates, for instance, the term "ugly chic" – "a terrible word, but that's how it came out" – which has come to characterise not only that pair of collections that had seismic fashion impact in the mid-1990s, but also her approach to fashion in the public eye. It denoted a whole section of the 2012 Schiaparelli­ Prada retrospective at the Metropolitan Museum of Art in New York.
I wonder how Mrs Prada herself would define her style? How does she deal with, for instance, the label most often attached to her: intellectual? "I don't know. It's not so wrong that I protest. It's a cliche." More grinning. "So the moment they say that, I want to be the stupid one. Because I always go for the opposite. That cliche means that you're boring, that you're serious. That, I hate. So probably after a comment like that, I want to do a show that is so stupid. Be queen of the stupid." She laughs.
She laughs because nothing Mrs Prada ever does could be stupid. Even in trying to be banal, she turns it into a concept. "Always when I work I say, 'Yes, it's beautiful, but who cares? What is the reason?' First of all, it has to be a concept. And after that, when I get to the concept, very often I will say, 'Oh, let's go home.' Because for me, the work is done. But the transformation of the concept to the reality, that's the tough part. Also kind of boring, but difficult."
I wonder, for the most powerful and cleverest designer in fashion, what that process is – that tough part. I worry she will think it's a banal question, focused on the nuts and bolts rather than the big idea. But here's the thing about the anomalous, intriguing, constantly surprising Miuccia Prada: she seems to revel in that process. When we begin talking, she regales me with the tricksy construction of the neoprene-y, spongy duchesse satin that was such a key feature of her AW15 collection. Backstage, she confessed she was obsessed, but afterwards, she talked of the technical difficulties in actually sewing the stuff, to construct the shapes she needed. It's startling to hear and shows how embedded she is in the physicality of the fashion that she creates.
It certainly puts paid to the popular image of Mrs Prada as a cold intellectual, obsessed with concepts above clothes. "They say I'm intellectual. Maybe I am, but I am so much more – human, real," she reasons. "That is something people, unless they are my close friends or people who really know me, don't realise. They think I am sophisticated, but I'm not. My real soul is so completely human and realistic, that's probably why people don't get me. They have an idea of me that is, I think, incomplete. If I have to choose between completely real in the most dirty way of living or intellectual, I will always choose the reality. That is my reality."
I think back to the proletariat echoes of her work, the ugliness, fabrics that challenge notions of luxury, clothes that manage to provoke debate, not of whether or not it's clothing, like, for instance, the work of Rei Kawakubo does ("I always say thank God Rei doesn't want to be commercial," murmurs Mrs Prada. "Otherwise we would all be dead"), but of what actually constitutes fashion. "What was well developed in literature, in movies, in art, was badness," Mrs Prada says. "It was so normal. In fashion it was not accepted." Can fashion look poor? Can fashion look cheap? Can fashion look real?
Today, these questions are commonplace, but in the late 1980s, when Miuccia Prada began, her challenging of the norms – the cliches – of fashion seemed heretical. "Still now, I think that a part – the more conservative part – of the fashion world think that they'll stick with the idea of glamour and beauty that is so obvious, so old," she frowns. "Deep down, there is a rebellion that I never thought about. That is probably what leads me to do all these things against it. It is my way of thinking."
Text by Alexander Fury
Photographer Richard Burbridge
Fashion Editor Sophia Neophitou
Hair Yannick D'Is at Management+Artists
Make-up Gemma Smith-Edhouse at LGA Management
Model Molly Bair at The Society Management
Taken from Issue 56 of 10 Magazine, STRENGTH WOMAN SUPREME, on newsstands now.