You don't have to be in Monaco to know that destination fashion shows are roaring back – but it helps. The fashion circus is flying again and Chanel, the house that pioneered both the idea of Cruise collections and showing them in far-flung places, is staging its show on the shingle of the world- famous Monte-Carlo Beach Club. Mmmmmm. Let those words roll over your tongue and taste their sophistication.
The establishment is famously ritzy. Built in 1929 for Monaco's population of international playboys and glamour girls, everybody from Marlene Dietrich and Rudolf Nureyev to Princess Grace have lounged beside its Olympic-sized swimming pool. Coco Chanel, the original trendsetter, was one of its first patrons. She'd venture around the headland from her nearby villa, La Pausa, and its culture of water sports and sunbathing inspired the elegant modernity of her timeless aesthetic. Chanel's Cruise show event put an end to the Covid-enforced grounding of fashion's frequent flyers, which might explain the excess baggage (the men are worse than the women). I blame an overexuberance in the packing department on the fact that destination shows have been off-menu since the pandemic, but finally we have a 48-hour window for dressing up.
There will be parties and lunches and poolside liaisons, with Monaco and the Med offering a glistening backdrop. And because this is a Chanel trip, everything will be beautifully thought out and seamlessly organised. It takes a huge amount of work to make something appear effortless, but that's the special elegance of Chanel. This house glides.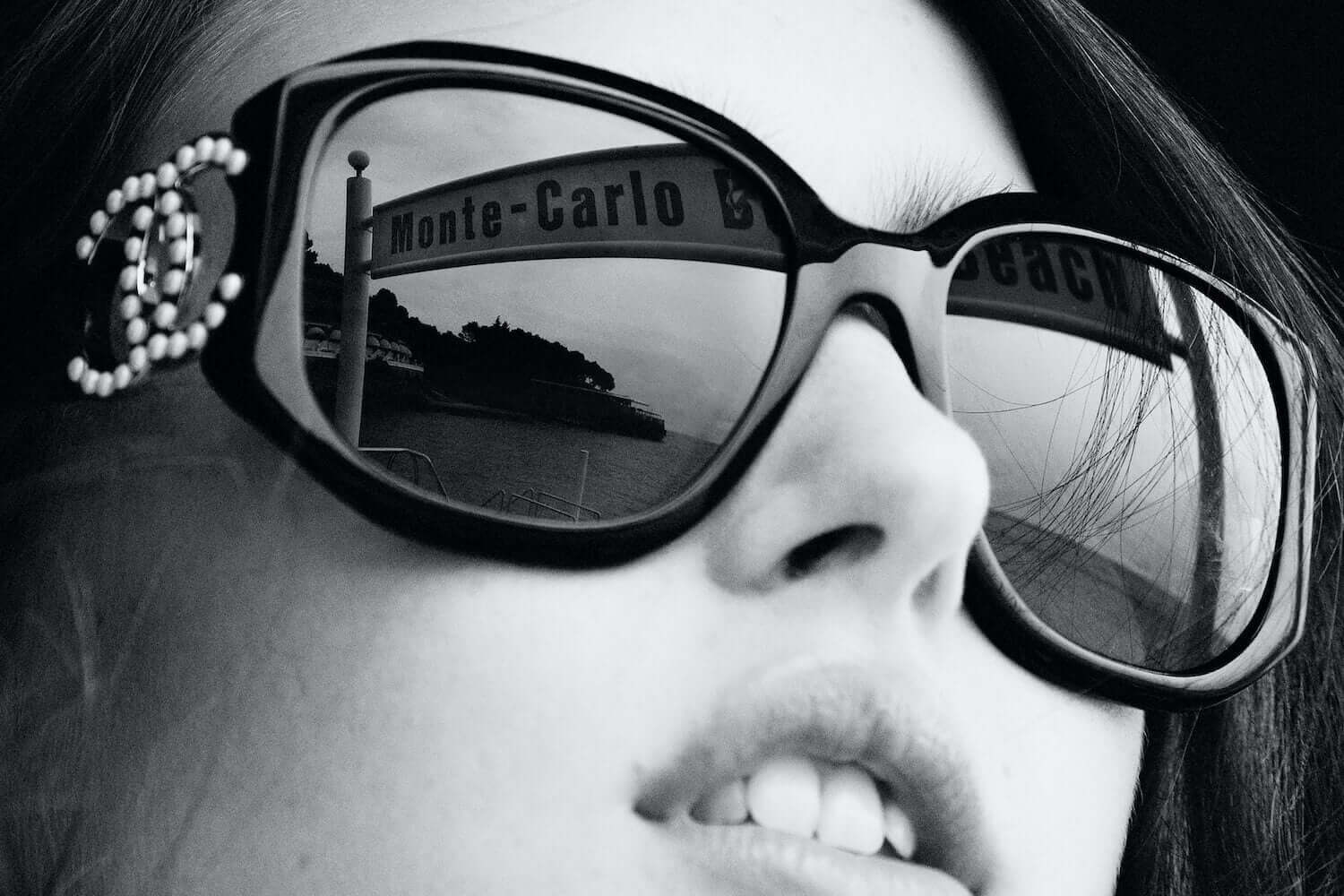 We pile into a van and wind around the coast road, letting the blue skies, palm trees and secret Mediterranean coves wash grey London clean out of our visual cortexes. Fashion writer Susie Bubble is gorgeous and pregnant, although she confesses that Rihanna has set the bar for fashionable maternity wear so high that even she feels inadequate; i-D's Osman Ahmed, languid, slender and dressed in expensive monochrome, looks right at home on the Riviera; AnOther's Alexander Fury is all biceps and buns (the results not of lugging around his excess baggage but of his rigorous weights and cardio routine). He has never looked better, but that banging bod is demanding. He heads straight to the gym when we get to our home of the next two days, the hotel La Réserve de Beaulieu. It's perched on a crag overlooking the ocean, a 20-minute drive along the coast to Monte Carlo. The rest of us take lunch on the terrace and nap it off by to the pool, lulled by the waves lapping on the shore below.
We head to dinner in a convoy of black people-carriers. Our destination is the restaurant Coya and it's a truly international affair. People have flown in from all over the world, including the only two members of the Asian press. Their colleagues have been grounded since Covid began. The fashion editor of the South China Morning Post, Vincenzo La Torre, is almost giddy with excitement at being allowed to travel again but tells me that going back and forth to China isn't practical because of the country's Covid restrictions and quarantines. His plan is to bounce from one Cruise show to the next all the way through to June. Later, one Chanel-clad gentleman confesses that he uses No. 5 as a screen cleaner, preferring Les Exclusifs Cuir de Russie for personal use. We sip champagne on the terrace and look out onto the bay, where a huge building site is taking shape on newly reclaimed land. Monaco is remaking its shoreline at such a pace that the joke here is a premium sea-view property might not stay that way for long. First World problems? That's a top 1 per cent problem.
Speaking of the 1 percent, Monaco, a tax haven, has always attracted them. Coco Chanel opened her first store there within the Hôtel Hermitage in 1913. She met her lover, the Duke of Westminster, in the principality and, in 1930, built her villa, La Pausa, at Roquebrune-Cap-Martin on the former hunting grounds of Monaco's ruling Grimaldi family. Chanel would entertain the likes of Igor Stravinsky, Jean Cocteau and Pablo Picasso at the house, which was designed to look like Aubazine, the orphanage built in the 12th century where she spent much of her childhood. Karl Lagerfeld carried on the Chanel association with Monaco and became close friends with Princess Caroline (the daughter of Grace Kelly and Prince Rainier) and lived in a Memphis Group-bedecked apartment in the principality before tiring of it and moving to La Vigie ("the lookout"), a white Belle Époque-style villa perched on the hill above the Beach Club. He spent summers there in the 1980s and '90s and famously photographed Linda Evangelista and Christy Turlington in sequinned wetsuit-style Chanel jackets on the villa's curved balconies. Virginie Viard spent many a summer there with Lagerfeld, in turn developing a friendship with Princess Caroline's daughter Charlotte Casiraghi, who is an ambassador for the house. "Monaco is inherent to the history of Chanel," said Viard, ahead of the show. "We have lived so many happy moments there."
It is no coincidence that the show is taking place on the fifth day of the fifth month. Five was Madame Chanel's lucky number. We gather after breakfast and head to the Monte Carlo Beach Club but get caught in Monaco traffic (there's only one main road through the principality) and are hurried into the venue. The scene is stunning. All the guests are lounging on beach chairs or recliners in rows of yellow, striped beach cabanas. The French press look particularly relaxed – as if they were born to lounge. We are ushered across the beach to our cabana and the models come crunching down the shingle. Viard has paid homage to Monégasque style, opening with models wearing racing driver onesies in the red and white of the principality's flag. They came in glittering tweeds and sequins which were worn with No. 5 baseball caps adorned with the black-and- white checks of the finish-line flag.
The sporty theme continued with tennis looks complete with covetable leather racquet holders and trainers, while a fruit machine chain bag winked at sport of a different nature – the local casino culture. Viard also paid homage to the glamour of Monaco's royals, particularly Princess Caroline and Charlotte, who have such a close relationship with the house. "The first time I saw Caroline was on the beach in Monaco. She was wearing a draped black dress, very thin tights and heels," recalled Viard, who paid tribute to the rebellious royal with abbreviated cocktail looks worn with tights. She even sent out models wearing sheer black tights and swimsuits – a reference to Helmut Newton's racy Monaco aesthetic. This is a place where high glamour and high rollers are baked into the locale's DNA, but it also has that breezy, Riviera sense of ease. It's a magic combination, and one that is particularly appealing in these anxious times.
After the show, everyone, eager to capture the glory of the Med and the magic of the Beach Club, goes on a content creation frenzy. Bryan Boy poses with his gold Chanel heart bag, while Susie Bubble, looking gorgeous in pink tweed, makes her signature V-sign. We gather on the pool terrace to mix and mingle. There are so many clients here – every age, every size, every nationality – all dressed in catwalk looks from seasons new and past. An older woman proudly poses in one of the golden looks from the 2018 Egyptian-themed Métiers D'Art show. Another leggy beauty is wearing a teeny-tiny knitted swimsuit and heels. I lose count of how many soft, pouchy Chanel 22 Bags I spot but everyone salivates over a particular rare green colourway. "It must be a sample," mutters a colleague with undisguised envy.
The influencers head off to shop, although Bryan Boy later reports that the Monaco Chanel boutique had been picked bare by the hordes of fans in town for the event (he still managed to pick up a fabulous sequinned jacket, of course). We go to lunch at the Maybourne Riviera hotel. Perched on the cliff overlooking Monaco, it could be a Bond villain's lair. Someone spots Nile Rodgers checking in. Could he be the surprise entertainment for tonight's post-show party?
It's being held at Lagerfeld's holiday villa, La Vigie, which is as white as a wedding cake, with its half-moon balconies. We tour the house and see where Lagerfeld slept (in a four-poster bed, obviously), then try to recreate Linda and Christy's famous 1991 ad campaign before sitting down for dinner. Princess Charlotte shares memories of her mother wearing ballgowns on the beach. Kristen Stewart looks incredible in a white swimsuit with a mesh skirt (she later changes into a Chanel tracksuit). G-Dragon, the original K-pop superstar, is here too looking slender, with a shock of bleached-and- peach hair. After dinner Nile Rodgers (I knew it!) takes to the stage and plays all his bangers (from Chic to Bowie). The man is a musical genius and in-between songs he talks of partying at the villa with Lagerfeld in the 1980s. It's a little reminder of how Chanel and its designers, past and present, are woven into popular culture. We leave with his greatest hits ringing in our ears. Good times indeed.
Taken from Issue 5 of 10+ – WORLD IN MOTION – available here. 
Photographer ALFREDO PIOLA
Text CLAUDIA CROFT
Date 5 MAY, 2022
Location MONTE-CARLO BEACH CLUB
Designer VIRGINIE VIARD
Hair JAMES PECIS
Make-up LISA BUTLER
Casting AURELIE DUCLOS
Models MAHANY PERY, LAIZA DE MOURA and VIKA EVSEEVA at OUI Management, STELLA DUVAL at Women Management Paris,
AFRICA PENALVER at Elite Paris, ANSLEY GULIELMI at Premium Models and JADI WEGENER at Viva Paris, KLARA MARIE DOGAN at Supreme Management
All clothes throughout Chanel, Resort 2023