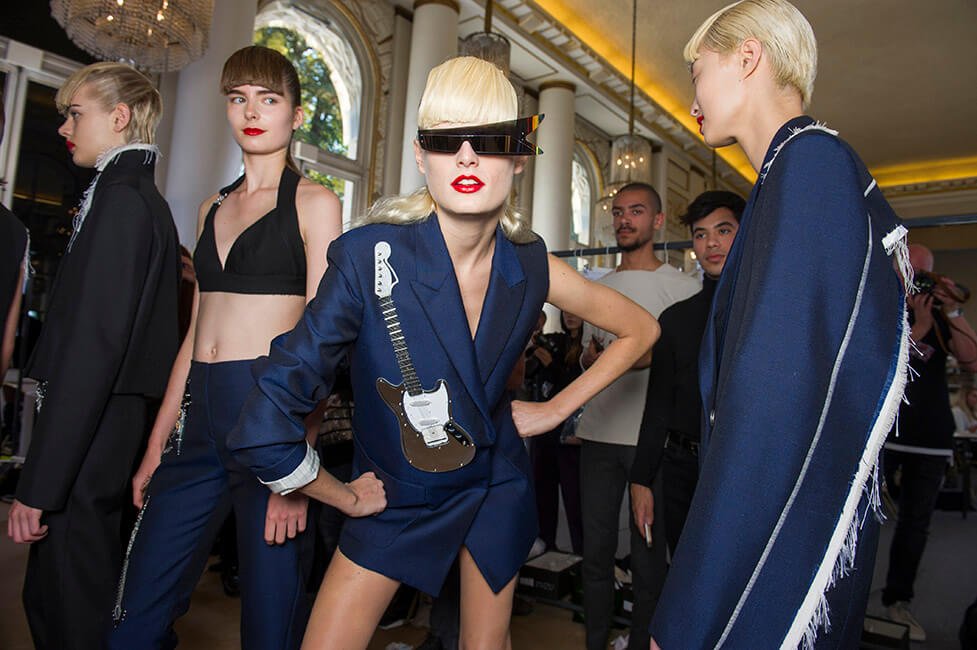 We do enjoy music here at Ten Towers. Particularly that which is played on Magic FM, Heart or Absolute 70s, 80s or 90s. In that order. We also have a certain fondness for a stomping show soundtrack. So, just because it's the weekend and thus you will probably need some sort of musical accompaniment for consuming an alcoholic beverage later this evening, we've made a list of our fav soundtracks from the SS16's shows. Ten of them, of course. Or as we like to call it – Top of the fashion pops!
Louis Vuitton
Nicolas Ghesquière said it was a "personal pleasure" to play "the sexiest voice in the world" over his Spring Vuitton show. And who was this most sexy of voice of voices? Why, it was Jeff Bridges of course, who's delectable disembodied tones from Tron: Legacy revealed the video game/cyber warrior/hackers inspirations behind the collection. "I tried to picture clusters of information as they moved inside the computer," Jeff said grandly. Oh, how we love it when a man speaks genetic algorithms. Makes us all of a quiver. Add in a musical accompaniment of cling-clang techno and rousing strings and, well – welcome to the future, baby.
JW Anderson
After this week's Justin Bieber peen-gate where his genitals were revealed across the world wide web, his father disturbingly tweeted "what do you feed that thing. #proud daddy". Which was weird. This doesn't have much to do with the topic, apart from we felt like reporting it, and that Justin Bieber's Where Are U Now was played at JW's Spring show. Bieber at JW? A strange mix you may think. But it was an unexpected fashion marriage. In Michel Gaubert we trust. But you classy J Dubz fans need not worry – he hasn't gone all low brow on us just yet – Bieber was accompanied by the intellectual tones of Fran Liebowitz. Phew.
Miu Miu
Miu Miu's show was a bit of a brain teaser – as Mrs Prada's creations so often are. Oh, Miuccia, please tell us what it all means? It was the same with the soundtrack – led by Killing Joke's seminal 80s track "Love Like Blood" and mixed with a healthy dose of German electronica and punk. Apparently it was about the romanticism of youth, sweet and sadistic – when you were listening to Joy Division and the Cure whilst also reading French philosophers. We'll pretend and say that's what we were up to too. Because we weren't still listening to Britney and reading the Babysitters Club. Why would you think that?
Alexander Wang
We may not know rap music – even the most brief forays into the realms of Kiss 100 have previously led to an office outcry – but we do appreciate a female rapper. I mean – Lil Kim, Nicki, Missy, Da Brat, Trina. Need we say more? And lest we not forget Khia's seminal classic, 'My neck, my back.' Mr Alexander Wang also appreciates a female rapper, apparently, judging by his Spring soundtrack – with Leikeli47, Lady Leshurr and M.I.A. all lending their musical talents to his blockbuster show. 
Sibling
Ultra Nate – Free. The soundtrack of gay pride parties the world over. It  always reminds me of one of those scenes in Queer as Folk where the camera pans up over the club and you see several thousand delirious gay men dancing topless. Perfect then, for what was a deliriously wonderful Sibling show. Had it not have been on a Saturday morning, we would have been dancing in the aisles. Now, I'm sure you are all wondering what become of Ultra Nate? Well as of fifteen hours ago she performed at Deep Sugar, a club night in the fine state of Maryland. Still got it!
Balmain
Sophia called Balmain's Spring show the Superbowl of fashion. And what do you think of when you think of the Superbowl? Well, apart from Janet's Jackson's left breast bidding an escape to freedom in front of the world's cameras, that is – you think big. For that's a hefty stadium to fill. So at Balmain they required an extra-large soundtrack – how else were they to ensure their a supermodel glamazons did their most sassy of walks? So they came up with a fullproof plan – send them out to a Michael Jackson marathon played on full volume. Easy.
Vivienne Westwood: Gold Label
In the Cell, Jennifer Lopez plays a child psychologist who must enter the brain of a murderous psychopath through the use of experimental coma treatment. As you might expect, it's not an entirely pleasant experience. But, had she have instead entered the mind of Vivienne Westwood instead, she would have had a far more enjoyable time. But actually, she didn't really need to, because the soundtrack for Dame Viv's Gold Label show was like entering her mind anyway. For it seemed to embody her creative spirit – opening with tumbleweed, then a crazed operatic choir build-up, drumbeats, shouting and some techno for good measure – it was rousing, eclectic, emotive and a little deranged. In the best possible way.
Gucci
The Gucci girl is sensitive and intelligent now. A little sexy sometimes (she does enjoy a touch of those peek-a-boo sheers) but she's hung up the slinky Tom Ford pieces of yore. Now, she listens to Bjork. But not just Bjork, Bjork's latest output, played on strings. Because, you know, she can feel the music better that way. You wouldn't understand. 
Tom Ford
Not a soundtrack per se but in lieu of a show, Tom Ford created a video for his catwalk collection with music provided by Lady Gaga. This time, her not unimpressive pipes were lent to a cover of Chic's I Want Your Love. Cue disco fantasia. But basically I put this in the list because I've been watching American Horror Story: Hotel and now have a Gaga-based obsession that is bordering upon the obscene. So please indulge me by watching – as a reward you will see some bottom baring, catwalk writhing and an brief appearance from our cover star, Lucky Blue. Lucky Blue? Lucky you, more like.
Celine
Oh, Phoebe Philo. We could write many an ode to you and your clothing. But now we will write an ode to your wonderful taste in music. Last season you left us weepy by playing 'This Woman's Work', and this season you are taking us to an entirely different place. For now you design music too, apparently. Well, 'co-design' with Danish artist FOS. And it was all live! And does Philo need a melody? Of course not. She's got clanging, technical sounds and industrial beats. Which is sure to be our new favourite genre of music. Because where Phoebe goes we will follow.
Photograph by Jason Lloyd-Evans, photographed at Acne