Heard about Strongthe? Get to know the name, this is one of most exciting menswear labels emerging in the UK. Thai-born, London-based designer Strong Theveethivarak creates clothing that aims to bring you good luck after a more than tragic year behind us. Growing up in Thailand, Strong was greatly impacted by the rich culture that is embedded in the country's streets. "When you grow up in a place like Thailand, where the shopping malls are right next to the temples, our culture is very rich and fun. There are so many things that have shaped me into who I am today and tons of aspects of the culture that I really want to share now."
Theveethivarak's designs often defy the traditional and are inspired by Thai history, including notable figures, cinema and other media. Paying tribute to his heritage, his designs feature fabric knots, extreme cutouts and unique prints that come inspired by his Thai roots. Since founding his label in 2019, the designer has set spirituality and tradition at the core of his creative process. His last collection was inspired by the tradition of Spirit Trees, which he says, "are part of our belief, we believe that there are spirits living inside the trees that bless and protect us. There's a tradition that when we want to ask for a blessing, we will wrap the trees and tie them with colourful stripes. We believe that the bigger and older trees are home to the spirits."
As a recent Central Saint Martins graduate, the young designer found the legendary art college a little overwhelming. "I found myself lost a bit at the time. From the boy who grew up in Thailand, I found that I had to adapt myself to a lot and to a whole new setting at CSM. The majority of the time was about me finding my voice and my identity as a designer and where I stand in the industry." Although the designer found the experience fun and eye-opening, he still believes that the university lacks in diverse cultural representation.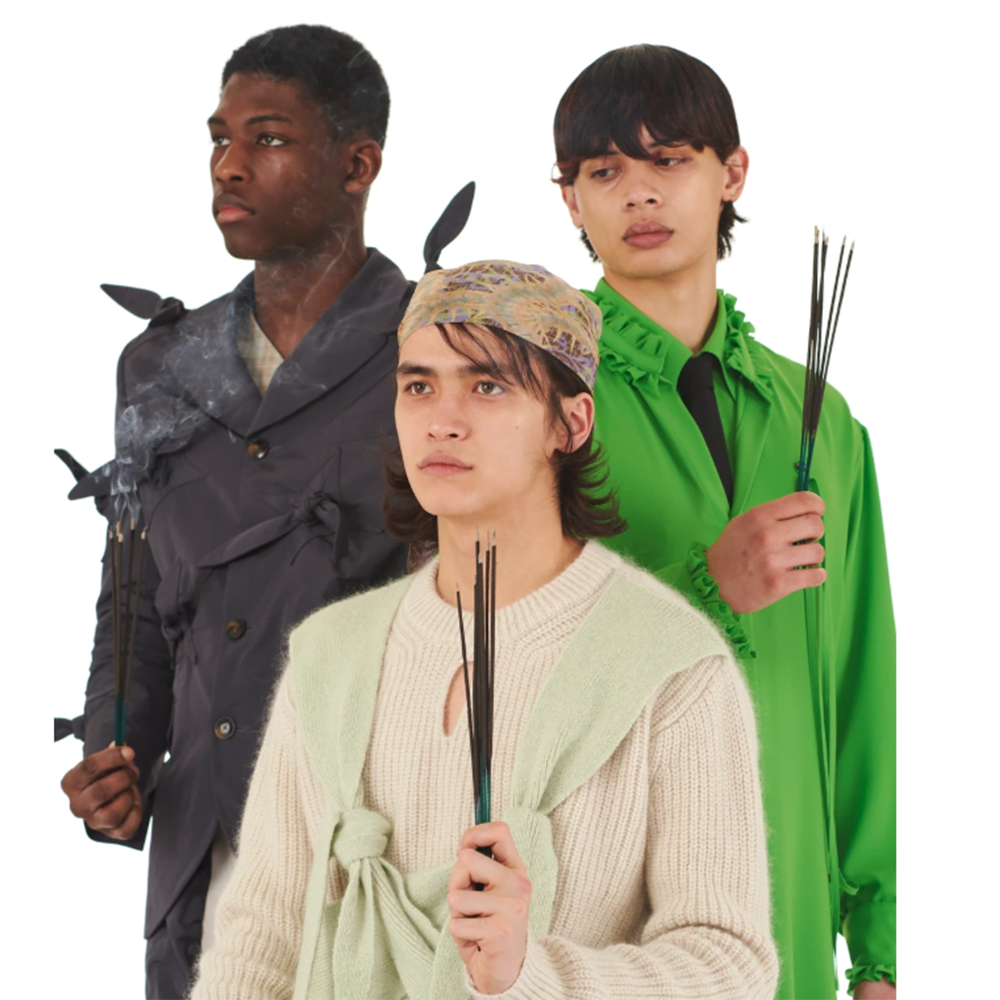 Strongthe's AW21 collection, dubbed You Tell Me, takes inspiration from the unpredictable insecurities gifted to us by the Coronavirus pandemic, along with finding a comfort spot during tough times. The collection looks to the craft of fortune-telling. "Fortune tellers play a big part in Thai culture. Most people, when they don't know who to turn to, they seek these psychic mediums to find out about their future. Like most people, myself and my family, when we're having hard times, my mum always goes to see a fortune teller and comes back with some exciting information. There are many methods that fortune tellers use for their readings, such as palmistry, numbers, and birth times. You can see these elements a lot in this collection," the designer mentions.
Aiming to cast good luck upon its wearers, the designer has crafted garments with little gifts to be found across them. From lucky numbers hidden in the fabric to relaxed silhouettes and paneled shirting replicating a set of palm lines, the collection comes doused in lucky charms. "In Thai culture, we have a thing about lucky numbers, we even believe that bad phone numbers can bring you a piece of bad luck. I did research on what numbers give you good luck, so when you wear that particular piece it means you're carrying luck with you". The collection also comes smothered in bright-coloured bold prints with distinct cultural meanings behind them. His squiggly-lined denim translates to protective Thai tattoos, whilst colourful printed shirts come covered in centipede imagery symbolizing the status of a guardian figure in Thai folklore.
Strongthe celebrates life and positivity, and the designer hopes to communicate this message to the world. What can we expect next from this exciting new talent? The designer has set up his own e-store and will be launching a collaborative project with three of his friends in the near future. Don't miss out on wearable history.
Photography by Raphael Bliss.