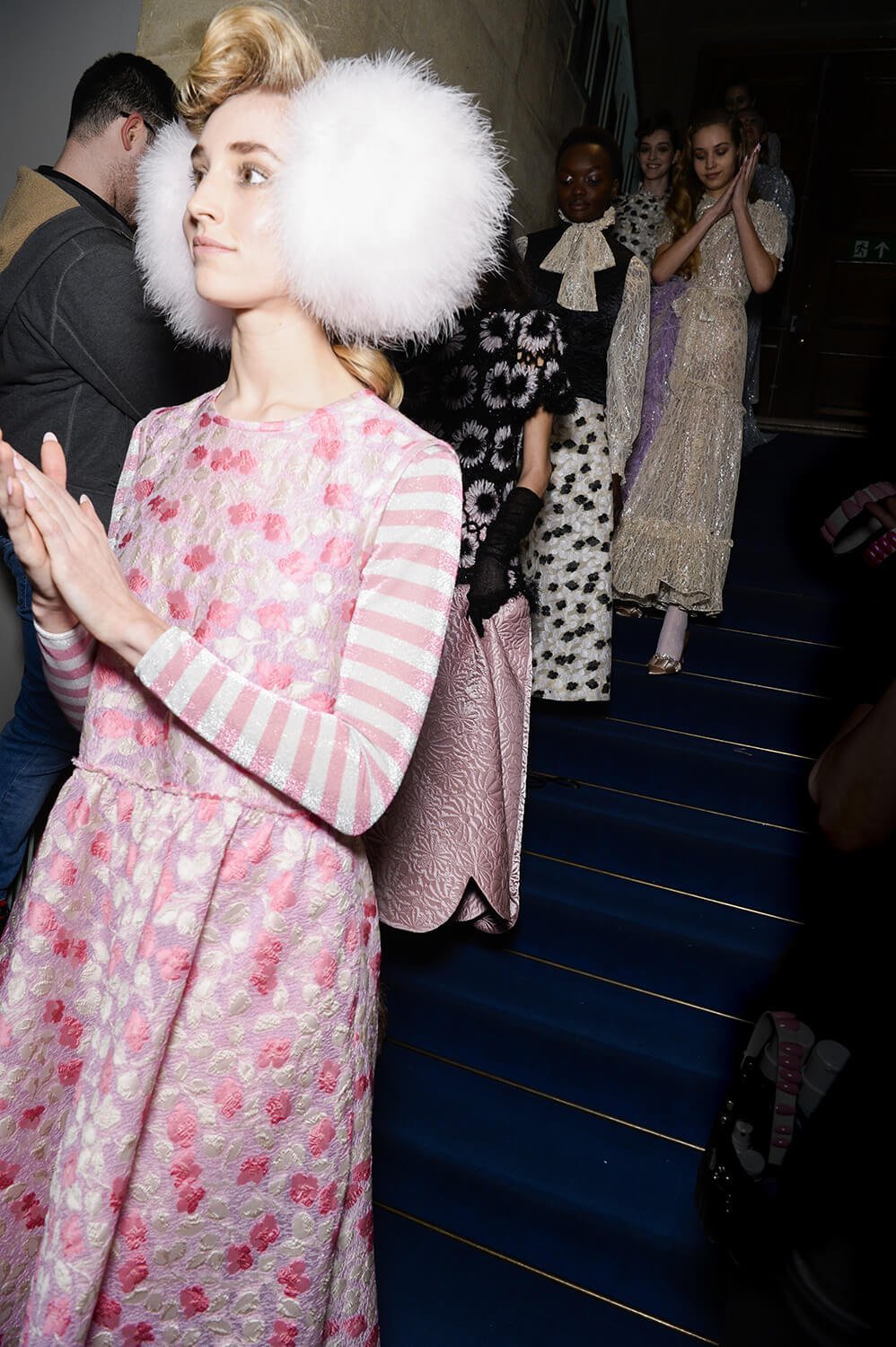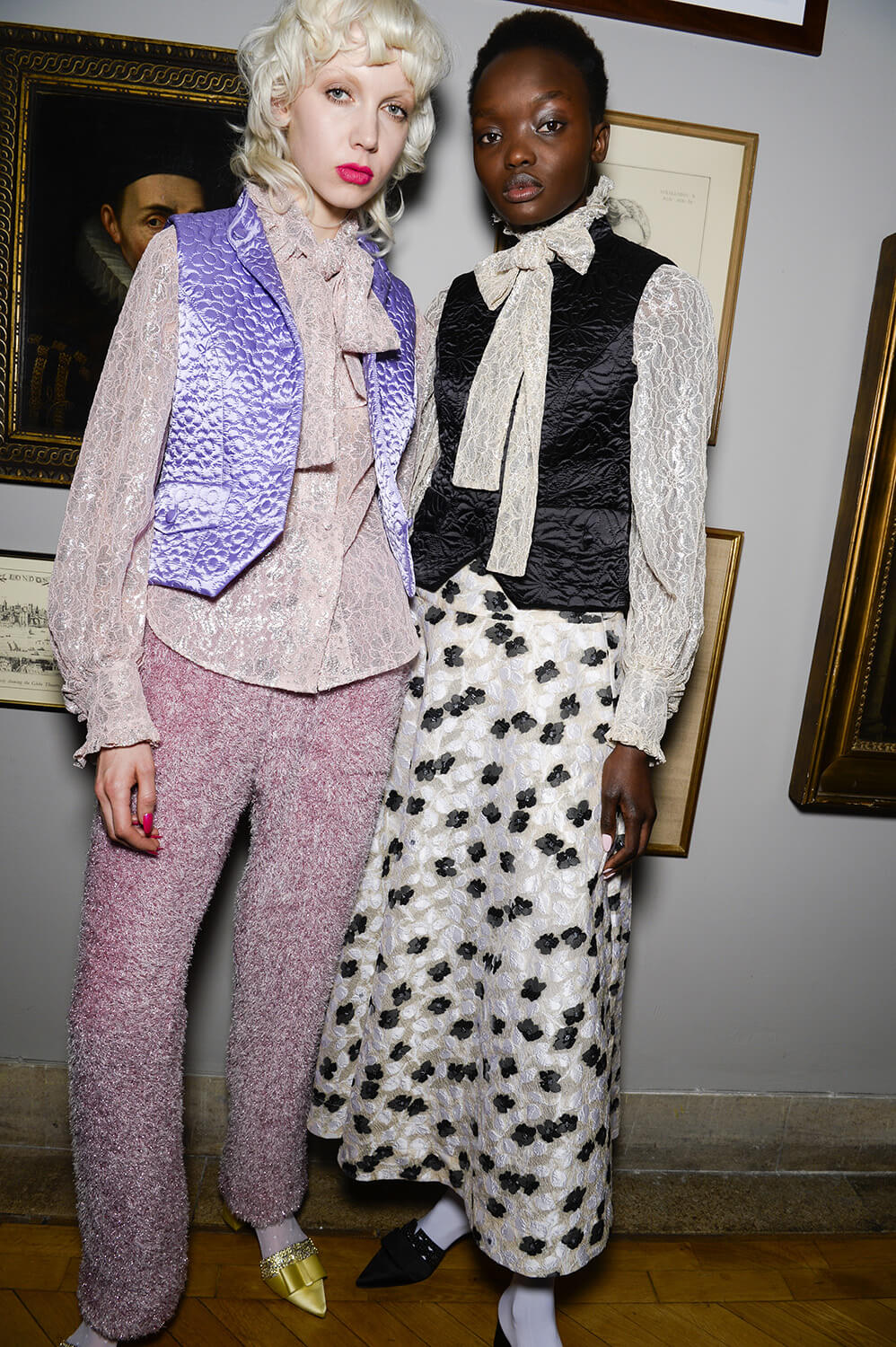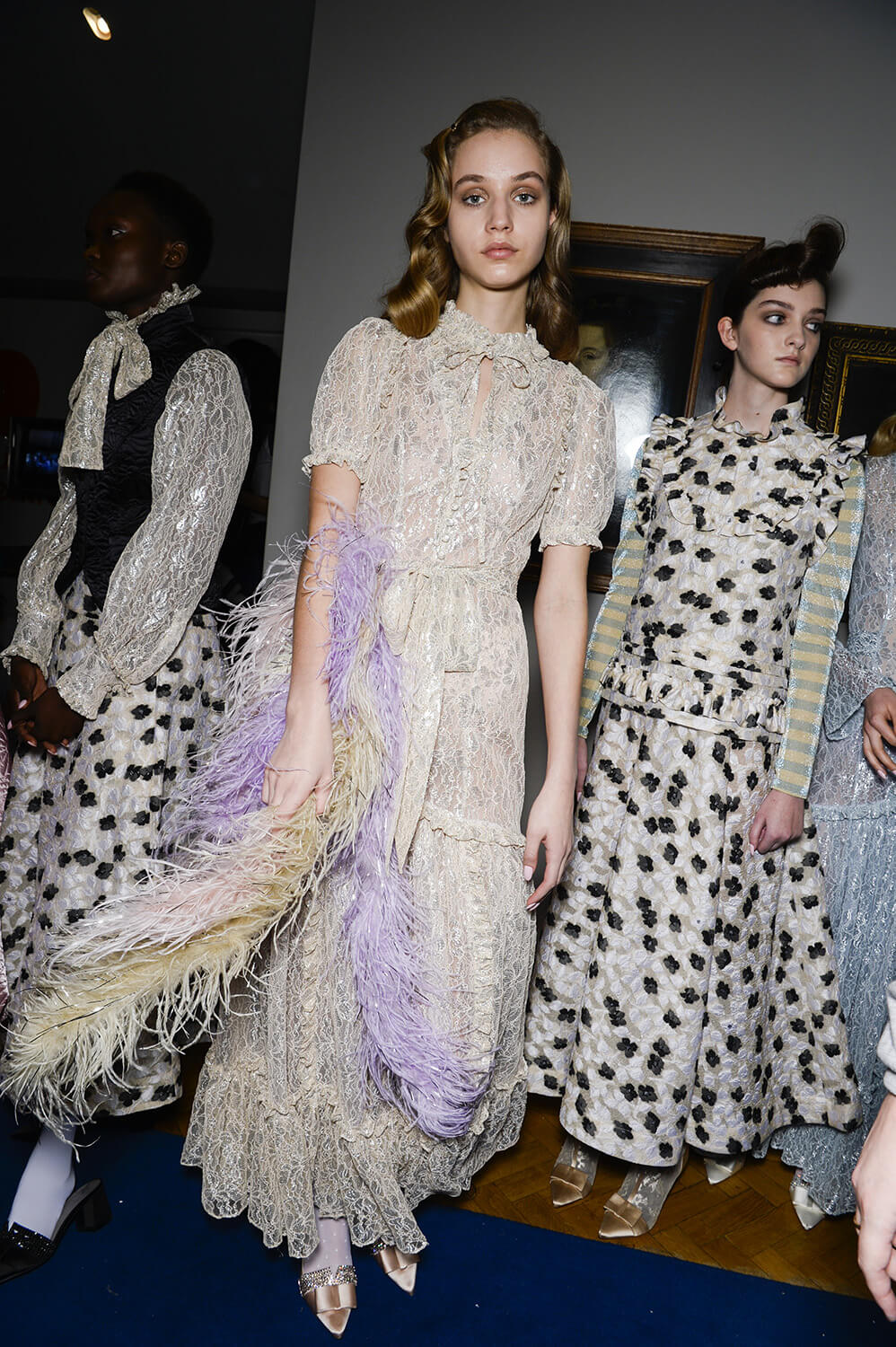 "Everything we know is changing so I'm going back to classic romance," says a chirpy Ryan Lo post-show, wearing his Henry Holland "How low would you go Ryan Lo" t-shit. "I wanted to focus more on a sense of home and an optimistic outlook on the future," he explains.
AW19 was the sequel to last season's fairytale love story, set in the stained glass windowed The Dutch Hall, the black carpeted runway was strewn with a layer of contrasting white petals. As the smooth crooning lyrics of Andy Williams's classic Love Story (Where Do I Begin), flowed from the speakers as Lo's always elegantly dressed protagonist made her way down the catwalk. This time she was accompanied by her knight – no longer in shining armour – but dapperly dressed in an immaculate all black uniform pushing an opulent (and coordinating) classic Silver Cross pram filled with a bouquet of roses in lieu of a baby. "I think it was quite relevant for the current time as we're expecting a royal baby and Silver Cross is the Royal family's brand of choice, so I thought why not!" Lo laughs.
Following the couple came a quintessentially charming and totally romantic collection in a colour palette of crisp whites, pastel pinks, dusty blues, shimmering silvers and lilacs. This season Lo cited the 1960s illustrations of Rune Naito, French 18th century Rococo aristocratic attire via Lady Oscar from the Japanese shōjo manga Rose of Versailles. A hazy frenzy of textures ensued: tulle flowed, crochet bounced, marabou feathers flounced and ribbons of tinsel glinted under the lights. There were clothes for almost every occasion from a unapologetically retro debutante ball gowns to the chicest silver lurex relax-ez-vous (that's a matching knit hoodies and sweatpants to me and you).
Looks were finished to perfection with a proliferation of polka dot tights by Falke, Gina shoes and fabulous Stephen Jones millinery creations, inspired by Swan Lake and Cecil Beaton's Oscar-winning costumes for the 1958 cinematic classic Gigi. Fluffy bearskin hats in a velvety black, powder pink and snowy white, towered with a Kawaii twist, but the real showstoppers were the marabou ski bunny ear muffs. Between the prams and the ultra-glam headgear, showing a day after Valentines, even the most cynical had drifted into an aspirational fairytale fantasy.
Photographs by Jason-Lloyd Evans.