Instead of asking one person to curate their world for us, for Issue 51 of 10 Men, we presented our own list of designers who we think are making menswear sexy again. While some like the instant reveal and others prefer the more subversive kind of erotica, they're all giving us hope for a hotter tomorrow. Next up is London's master of denim, Per Götesson. 
Hailing from rural Sweden, Royal College of Art graduate Per Götesson might seem like an unlikely star of London's menswear scene. But scratch the surface and you'll soon find a love for drama, couture and Elsa Schiaparelli. In clothes, this becomes a mix of tradition and newness, glamorous volumes embellishing otherwise classically masculine forms.
"My mom has a drawing from me when I was about four. It's a blob drawn with crayons – I asked her to draw heels on because I couldn't do them, so this blob has 9in heels," he says with a laugh about his oldest creative memory. Now leading a brand in its sixth standalone season (he presented his first three as part of Fashion East), 6ft 4in Götesson loves to play with extreme proportions. He works with raw denim, transforming it into exuberant shapes, their volume resembling that of Victorian gowns. SS20 was perhaps his most romantic outing yet, as his barefoot contessas trailed like lost boys looking for their place in the sun. Götesson's clothes drape and flow, cling and reveal. With a life of their own, it's a joy to walk, swish and flirt while wearing them.
The tender quality of his brand comes as no surprise – Götesson is wildly in love with his partner and collaborator Husam el Odeh, who creates special jewellery pieces for his collections. One season you might find brooches made out of broken commemorative porcelain, with Harry and Meghan's faces smiling back at you. For another, it's surrealist charms of bent keys dangling off bohemian necklaces. Creativity runs wild and free in the land of Per Götesson.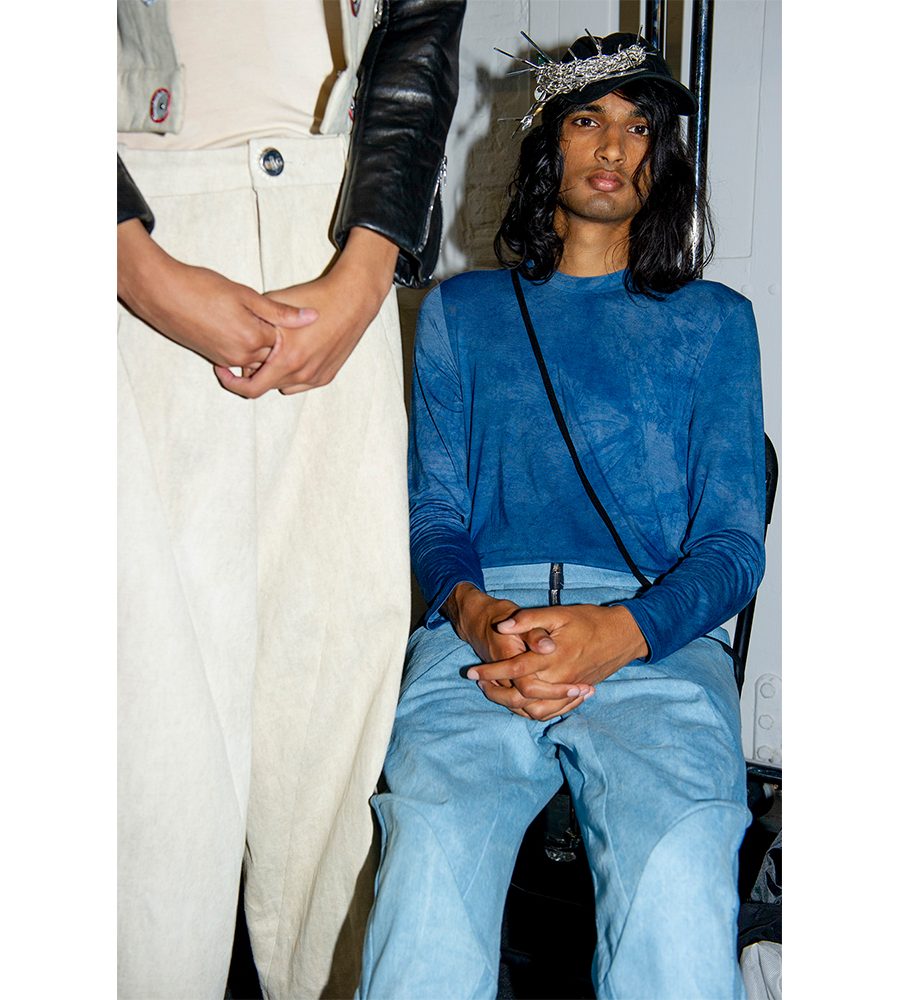 Photographs by Jason Lloyd-Evans
The first garment you ever created?
"In middle school, we had to take sewing classes and my first garment was a grey hoodie with an appliqué of my favourite character from a strange video game I liked, PaRappa the Rapper."
Which designers inspire you?
"I love Rick Owens right now, and Telfar is great. Of course, Martin Margiela was always a huge influence."
When in life did you feel your sexiest?
"I feel sexy when I have created something new in the studio – that feeling of accomplishment."
What do you wear when you want to feel sexy?
"To feel sexy you need to be prepared, everything must be in order. So I shave and wear my lucky leopard socks."
Top image courtesy of Per Götteson. Taken from Issue 51 of 10 Men – GENTLE, SENSUAL, FANTASY – on newsstands now.