Actress Noomi Rapace is known for taking on roles with such vigour that, during the months she's filming, she detaches herself from the world around her entirely. She becomes a woman possessed. Take Lisbeth Salander, the heroine of The Girl with the Dragon Tattoo series, a character she embraced so intimately that Salander lived inside her, right in the gut. So much so that, while the cast and crew toasted the final scene of the final film with champagne, Rapace was in the bathroom, spending 45 minutes vomiting Salander up all over the floor. Then she moved on.
It all makes Rapace the actress, and Rapace the person, difficult to unravel from the women she plays on screen. And those women are rarely easy – Rapace has a knack for playing the tough, the uncompromising, the cracked. Put it this way: she doesn't do romcoms.
There has been Salander, of course – that pin-thin force of nature who avenges men's sins with sadistic violence – and Elizabeth Shaw of Ridley Scott's Prometheus, who uses a medical "pod" to cut an alien embryo out from her own womb while she's still conscious. In Brian De Palma's Passion, she is a campy, manipulative murderess. In Daisy Diamond, Rapace is raw – a single mother caught in a downwards swirl into porn and prostitution, and then down further still. In Bright, coming out later this year, she will play the film's villain – an elf seeking to violently rid the world of its imperfections.
I meet her at the South Kensington Club, where she is a member, mostly to use the gym upstairs. If you put her name into Google Images, two of the top five suggested searches are "Noomi Rapace abs" and "Noomi Rapace muscles". She practises Thai kickboxing and trains with her boyfriend. Today, her hair is peroxide blonde.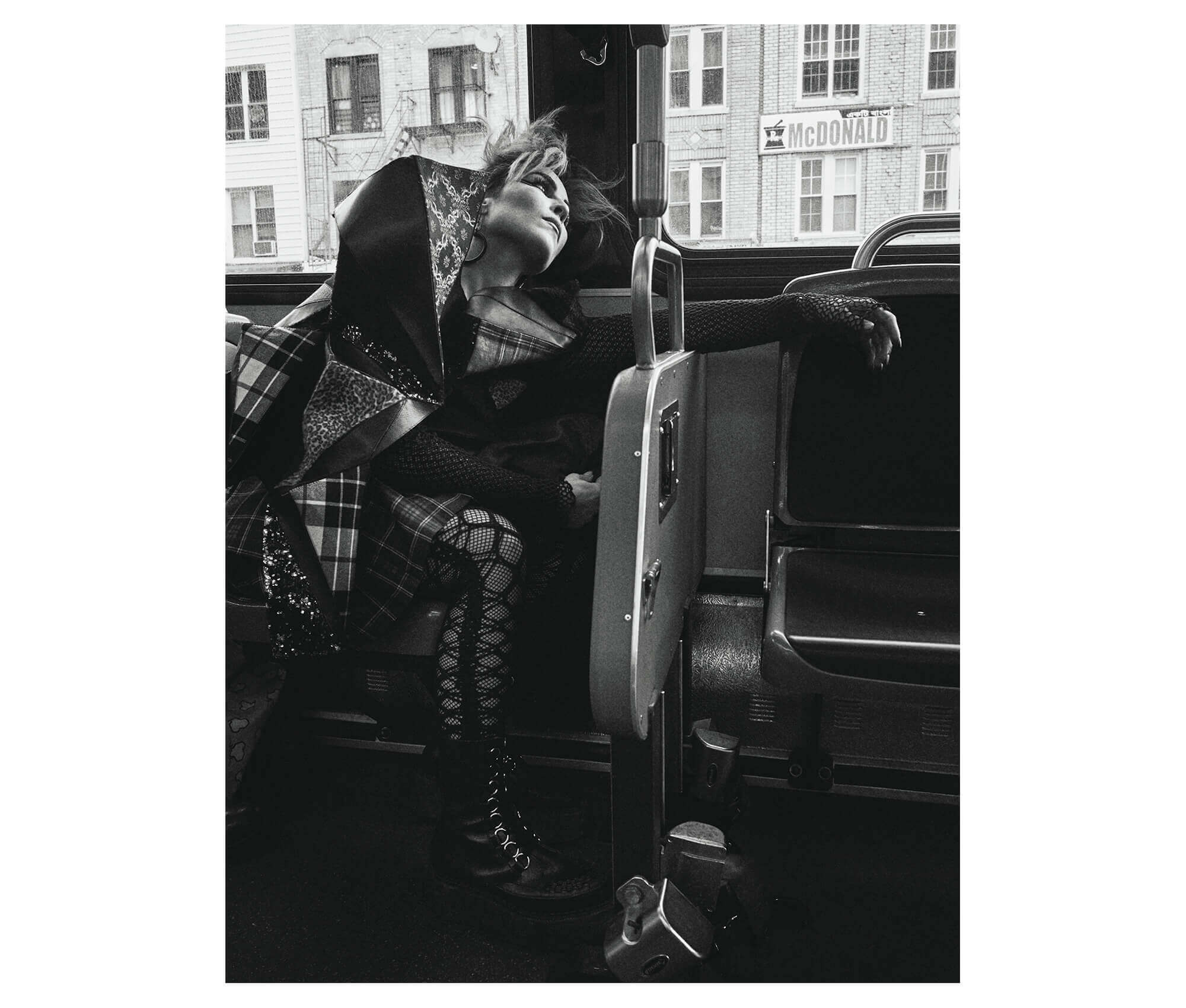 Rapace's presence commands attention. People in the club know who she is – a few say hello – but if they didn't, there's something in her demeanour that makes you aware she is there. Rapace says that people in London don't recognise her, but I imagine they know she is someone, they just might not know who. Her face is angular but still feminine, which allows her to slide between the androgynous and the sexual – a shift that many directors demand of her.
So you may be forgiven that she would be guarded – a reluctant interviewee, lost in preparations for whatever comes next. But she's not. "People think I'm very serious and I'm very dark because of the roles I play – I'm not," she says. It's a statement delivered with – as many things she says are – a husky giggle. She tells me her favourite word is boom. "I say it alllllll the time," she says. So much so that the word is written out in diamonds on a ring on her finger and also hangs from an earring. Both are custom made. She got the same earring made for her close friend Marilyn Manson. His is in silver.
There is still an intensity to Rapace. She speeds through her thoughts and throws herself open quickly. She is animated when she talks about her work. Or her teenage son, Lev. We are meant to have just half an hour, but we talk for double that. Any misconceptions about her are partly why she embraced her latest film, What Happened to Monday, with both arms. In it, she undertakes the challenge of playing identical septuplets, sisters who differ wildly from one another in personality and looks. They spend much of the film interacting with each other – Rapace essentially spent months talking to herself.
The film, which will screen on Netflix from August 18, is set in an overpopulated future where the government has implemented a one-child policy. But the seven sisters, each named after a day of the week, were hidden away by their father (played by Willem Defoe) from birth, teaching them to become, to the outside world, a single person. "Normally I build stuff and I build my relationships. I build my acting on what's going on between me and the other actors," she tells me. "And I right away realised that, everything I've ever known or done in acting, with this, it was like, 'It doesn't matter, I can't use it – it's going to be a completely new way of working, a new method.'"
It meant a rigorous 90-day shoot with just a handful other actors and six body doubles who stood in place for the scenes where all the sisters were in the frame. Rapace approached it with a ritualistic method – each time she changed sisters she would shower, washing off the scents and make-up of the sister before. To get into the next character she would listen to different music, depending on the sister, and begin the process again. "It was difficult in every way – mentally and emotionally. I was so exhausted every day. I remember just sitting in a dressing room at the end of the day and I had no words. It was like I was empty. I was seeing this guy before and I said to him, 'I'm sorry I'm logging out.' For six months I felt like I didn't exist – I gave myself 100% to the sisters."
What the film offered her, though, was the opportunity to reveal new parts of herself on screen. Initially, when the script first made its way into the hands of director Tommy Wirkola, those sisters were actually brothers. "Tommy called me and he said,'There's only one actor in the world who can do this and it happens to be you – so we've got to change them to women.' I was really flattered."
And it meant the role was written around her, with those seven sisters becoming shades of her own self, built up from scratch with Wirkola and the writer. "We made them real," she says. It's why, when she talks about What Happened to Monday, it feels personal. She tells me that the sister she most enjoyed playing was the effervescent Saturday, the blonde – dirty and suggestive, a good-time girl who likes to party. She said it would surprise people to hear this is the sister she is most like in real life. "I liked them all, but Saturday was very much a favourite because she's so… witty, she's funny, she's quirky. But Thursday is also very much me as well, but more the older version of me. They're almost like different chapters in my life."
Without giving too much away, the film finds its axis in the first-born sister, Monday, who disappears at the beginning of the movie. The rest spirals around the remaining sisters as they become increasingly split between leading their own lives or staying intertwined forever. "It's this deep conflict of wanting to live your own life and sacrificing everything you want and everything you dream of and ever hoped for your sisters, for the group, for the family. It's such a big, eternal, old Greek drama."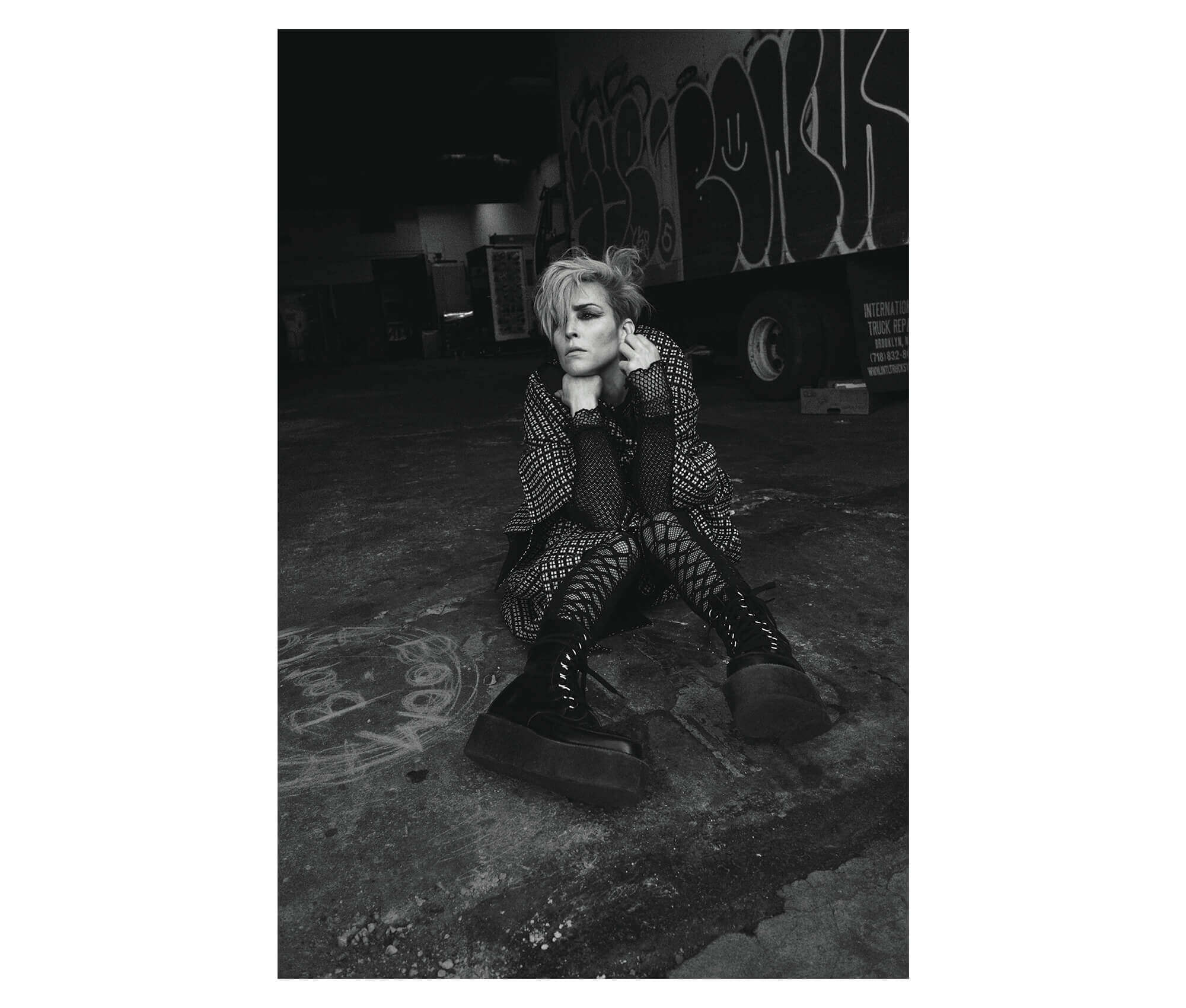 And even outside of film, Rapace's life demands she play many a part. A couple of weeks before we met, she shot the cover of our magazine at New York's Coney Island wearing Junya Watanabe AW17 – a brilliant collection that combined the Japanese designer's impressive geometric forms with the frenetic energy of punk. How did it feel to put on those clothes? "Oh, I loved it. I was a punk rocker when I was a kid or a teenager, so for me it's very edgy," she says. "I kind of became this weird bird – I was like an animal in those creations and totally in my own universe."
For Rapace, the thing that unites her favourite designers – Riccardo Tisci's Givenchy, Rick Owens, Gareth Pugh – is this idea of strengthening the female body, of protecting it like armour. Even her Chanel necklaces are worn like a hip- hop star would. To me, there's something innately rebellious to Rapace. Does she consider herself a rebel still, after all those years since growing up in Iceland? "I'm actually more rebellious," she says. "I think it's just that I'm more sophisticated now. I'm not as loud, I'm more hidden. I know how to play my cards a little bit better now. Because if you look at all the rebels, people who actually changed history, if you look back in history, it's people who slowly build, people who have a deeper knowledge, not those who shout the loudest."
It's a voice she uses to push against her own industry, an industry still dominated by men. "Women are still supposed to be sexy and attractive and mysterious and all that bullshit. For me it's like, we're equals, like, I don't give a shit if you have a dick or a pussy – it's simple."
The woman she most considers a rebel is the playwright Sarah Kane, who was known for plays that refused to shy away from rape and sexuality, brutal violence, pain, torture. After a short career that burned out bright and fast, Kane took her life when she was 28. "She's someone telling the truth about her heart and her worst nightmares in such an honest way. When I discovered her writing, for me, it was almost like I'd been having a spot and someone finally burst it and it was like, 'Whoa, I'm flowing – all my pain, all my sadness is flowing out of me, washing me… '"
Which circles it all back round to storytelling. That's all Rapace wants to do. It's why she allows herself to be tormented each time she takes on a role. Giving all of yourself is brave, she says. All she wants to do is inhabit women, to tell their truths. That's her own kind of rebellion. "That is my tool. That is everything. I don't do Instagram, I've never had Facebook, I don't have Twitter. I communicate through my films, so my characters are voices, voices from me, voices that come out of me."
Text Jack Moss 
Photographer Cedric Buchet
Fashion Editor Sophia Neophitou
Talent Noomi Rapace
Hair Lyndell Mansfield at CLM using Kryolan
Make-up Ralph Siciliano at The Wall Group using MAC
Nail technician Tee Hundley at MAM
Photographer's assistants Daniel Disipio and Mario Zanaria
Fashion assistant Mecca James-Williams
Digital operator Kenny Aquiles Ulloa
Production Gina Amama at Management Artists 
Taken from the most recent issue of 10 Magazine, REBEL HEART, on newsstands now…