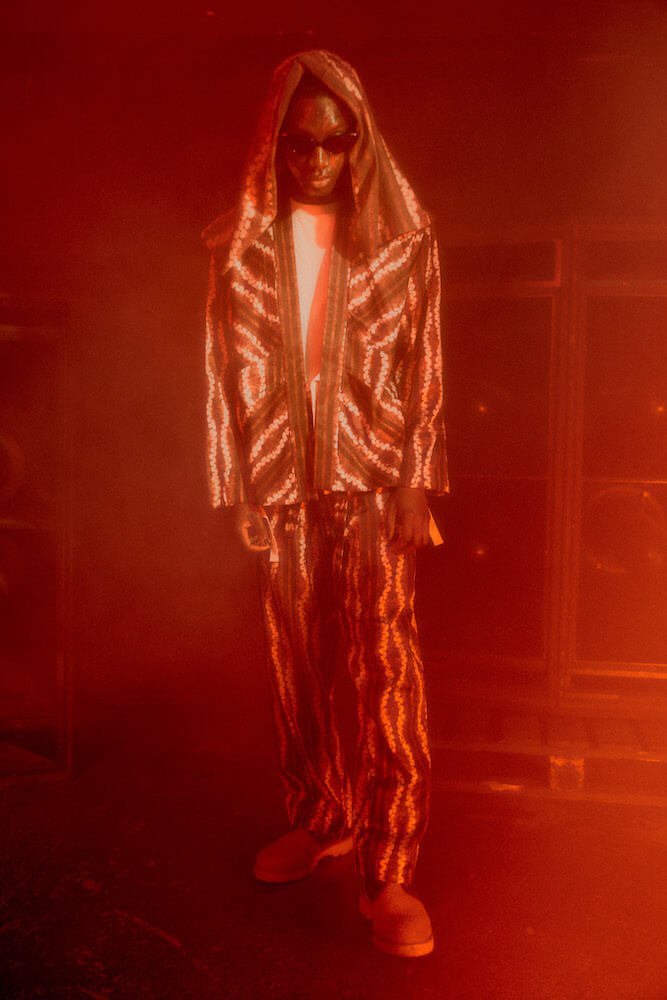 To say this week's been chockablock for Nicholas Daley would be an understatement. On Thursday, he threw a gig at Hackney's Colour Factory to celebrate the launch of his new collection, Dark Haze, which on-going collaborator Piczo photographed the lookbook for earlier that day. "We are always trying to elevate a really exciting community," said a sharply dressed Daley, stood on an impressive rug made from old yarns and surplus t-shirts, in the basement of his new pop-up store in Soho. The space, open till February 27, will play host to a series of physical events run by the musicians and artists who make up Daley's world. What's more, he'll be selling pieces from his archive alongside his current collection, armed with his own incense and knitted plant pots, too.
On the flipside to his SS22 collection, which looked to the blues of the deep American south, Dark Haze takes a hazier turn, with the genre-bending soundscapes of Bootsy Collins, Slash and George Clinton guiding his design hand.
The trippy distortion of jagged guitar feedback is translated into a pleasant palette of turmeric, dark oak and muted green, seen across kimono jackets, corduroy trousers, sloped shouldered parkas and custom boucle tartan ponchos and kilts. You have to applaud Daley, for a young designer, his devotion to using English and Scottish mills is profound and rich in its outcome. His check wool by Lochcarron comes from the Highlands, and his waxed cottons are courtesy of weatherproof fabric specialists, Halley Stevensons.
Further afield, a special Japanese Roketsu print proves to be a collection highlight, as does leather fringed waistcoats, informed by his Mulberry collab. "We've never done leather or suede until this point," says the designer, "I'm still a student of fashion. I'm still learning."
Just take one look at the musicians whose on-and-off stage uniform is that of Daley's designs, and the message is clear: this is the man dressing the new beat generation.
Photography by Piczo. Visit Nicholas Daley's pop-up at 59 Greek Street, W1D 3DZ.