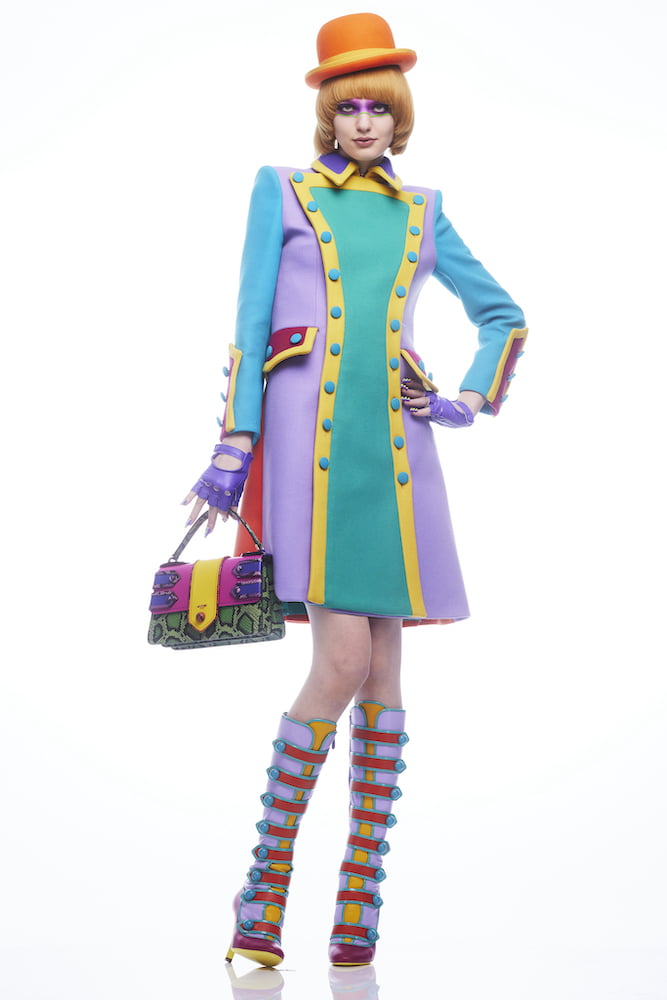 The mind of Jeremy Scott works in mysterious ways. Only he could connect the dystopian drama of A Clockwork Orange with the pop-coloured psychedelia of Sgt. Pepper's Lonely Hearts Club Band. Add the graphic intensity of artists Victor Vasarely and Richard Lindner with a twist of high-shine subversion courtesy of Allen Jones and you have the makings of an eye-popping Moschino moment. Scott melded all these influences into his pre-fall womenswear and Fall menswear collections.
"It's like when you cook in your kitchen, and you take a little bit of all the different ingredients that you love. It's kind of like that," said Scott over Zoom from LA, of his creative process. "There's no recipe," he says of his freewheeling mix of eras, design tropes and artistic influences. The result is a vivid, optical opulence, which reflects the mood of the moment. Post lockdown, repression and restrictions, says Scott, "There is a more urgent feeling of expression," which he has combined with a determination to make the most of every opportunity. "I'm going to take that moment," he says.
After returning to the catwalk in September, he chose to present these collections with a film. "I wanted to take on the challenge of, how do I give that essence of A Clockwork Orange without redoing it?" He settled on a bright white studio, an urgent classical soundtrack, models dressed in multicoloured military regalia, their faces sprayed with mask-like make-up – this detail came from contemporary people watching. "I think the times we are living in have changed my eye," said the designer. "We are all so used to wearing masks in one way or another. They're not so weird or taboo anymore."
From his puppet fashion show to a full-blown Hollywood musical, the designer has not only embraced film over lockdown he's excelled at it. No wonder he's planning more directing projects outside of fashion. Designer/director has a nice ring to it but Scott is a storyteller at heart – channelling pop culture themes through his larger than life imagination.
Photography by Marcus Mam.