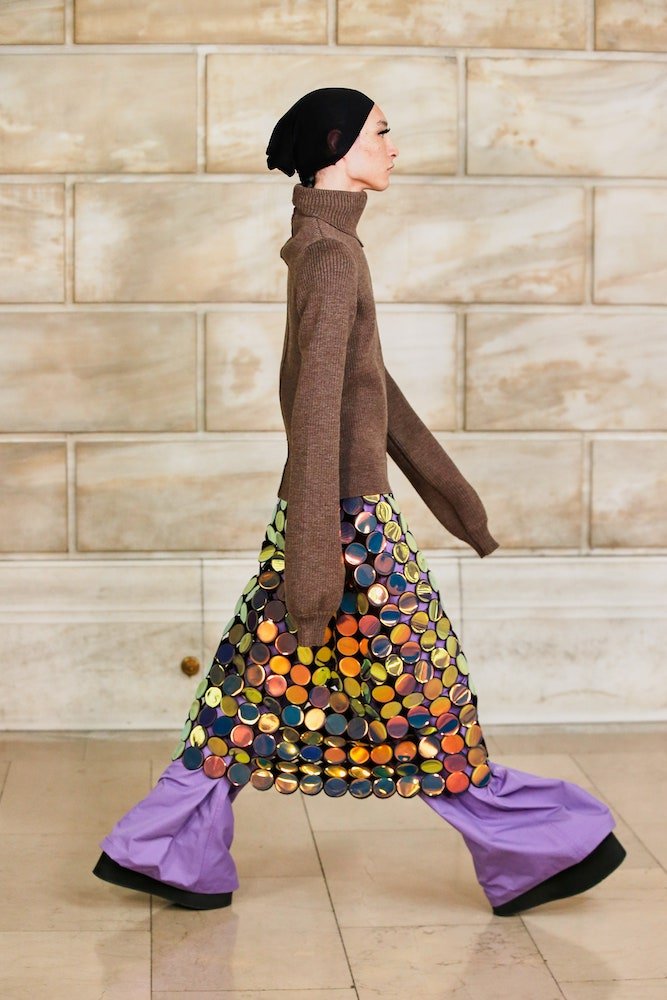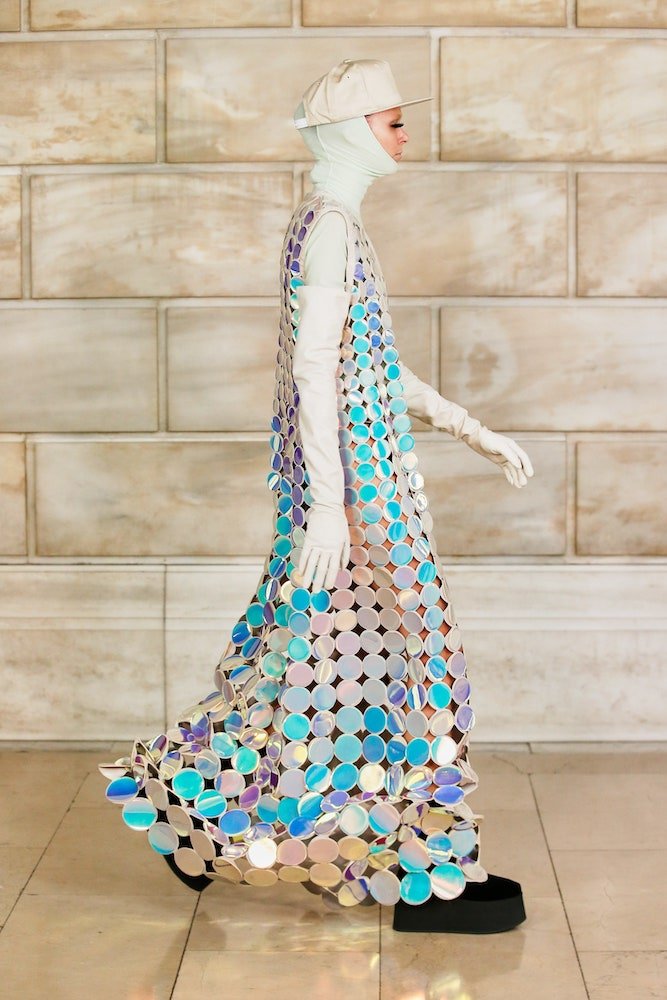 Marc Jacobs is back! The king of New York fashion has returned for his first post-pandemic catwalk show. The event, held in the elegant, marble galleries of the New York Public Library, was broadcast on Instagram Live and represented a new era for the brand, which came back into profit in 2020 and whose new Perfect fragrance is Coty's biggest launch in 15 years.  
The show was projected onto the walls of Bergdorf Goodman where the catwalk collection will be exclusively stocked – part of a restructuring of Jacobs' brand that puts his catwalk collection on a couture-level, top tier. His more accessible The Marc Jacobs line will be available in his own-brand stores, whilst his non-binary, Heaven brand of upscale basics, is developing its own network of stores and stockists.  
For his comeback show, he pulled together the threads of lockdown sportswear, blended it with his instinct for escapist high-fashion fantasy and Gen-Z's preference for bold, baggy shapes. The result? Extravagant, out-sized, non-binary silhouettes, built around sculpted, quilted hoods, stoles and cocoon coats in vivid jewel colours or stark black and white. These were worn over knitted bodysuits, holographic sequin tunics, eiderdown wrap-skirts, and flared ski-trousers that pooled over platform trainers. Some looks featured stripes made up of the Marc Jacobs lettering, which only added to the graphic intensity of the overall collection.
"Our decision to pause allowed us to slow down, reflect, ruminate, reevaluate, grieve and take a thorough inventory of what works what doesn't work, what we love what we are willing to let go of and what has value, importance and meaning," he said in a statement before the show. There were days, during lockdown that Jacobs wondered if he'd ever get back to catwalk shows but this was a joyous and powerful reassertion of his, fearless, high-fashion point of view. "On the journey back to doing what we love most, in the wake of immeasurable loss, loneliness, fear, anxiety, and uncertainty, I am reminded of why creativity is so vital to our existence. To life," he said. Adding that by doing a real-life show, he hoped to offer "a moment of inspiration, curiosity, wonder and possibility." He did that and so much more.
Photography courtesy of Marc Jacobs.