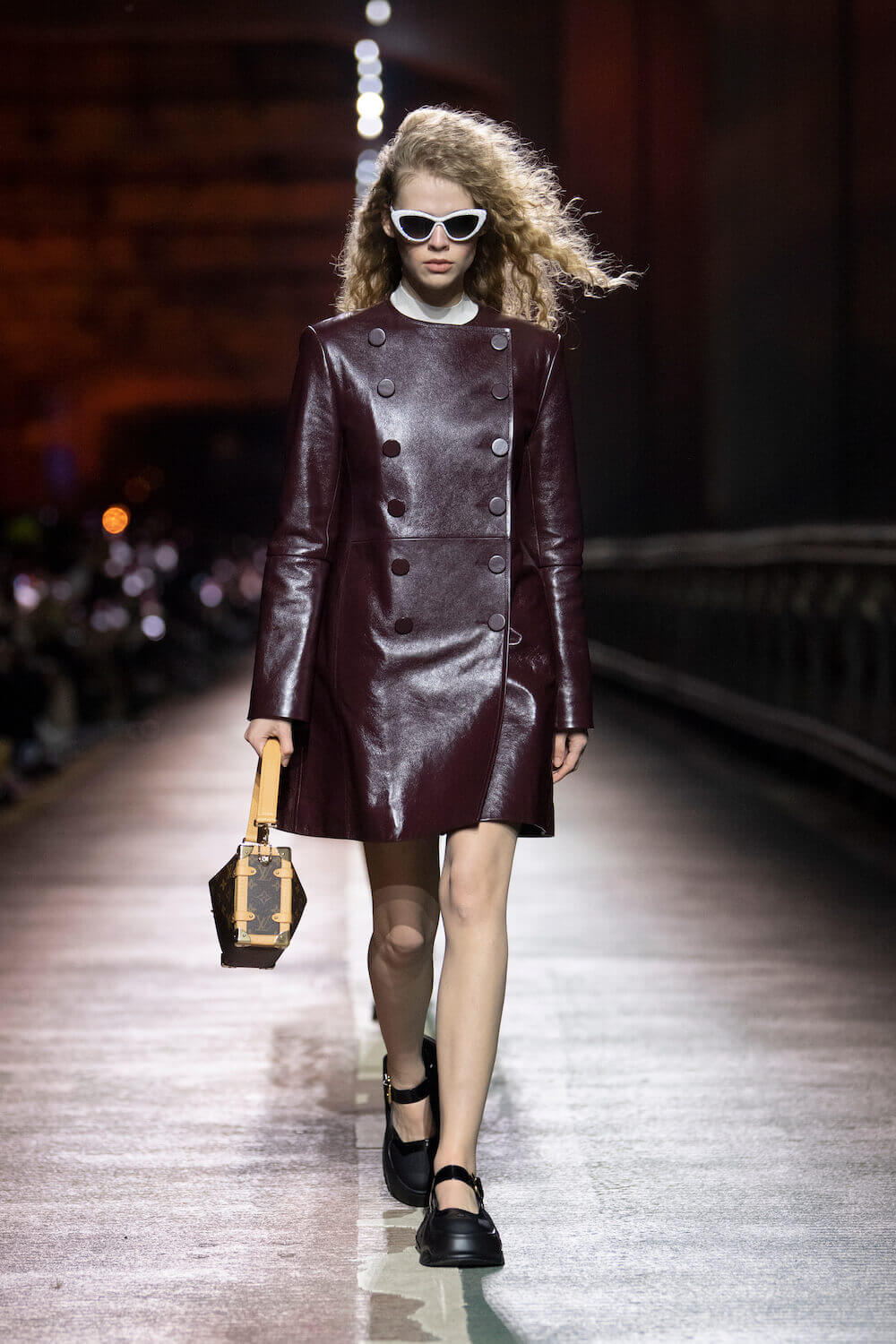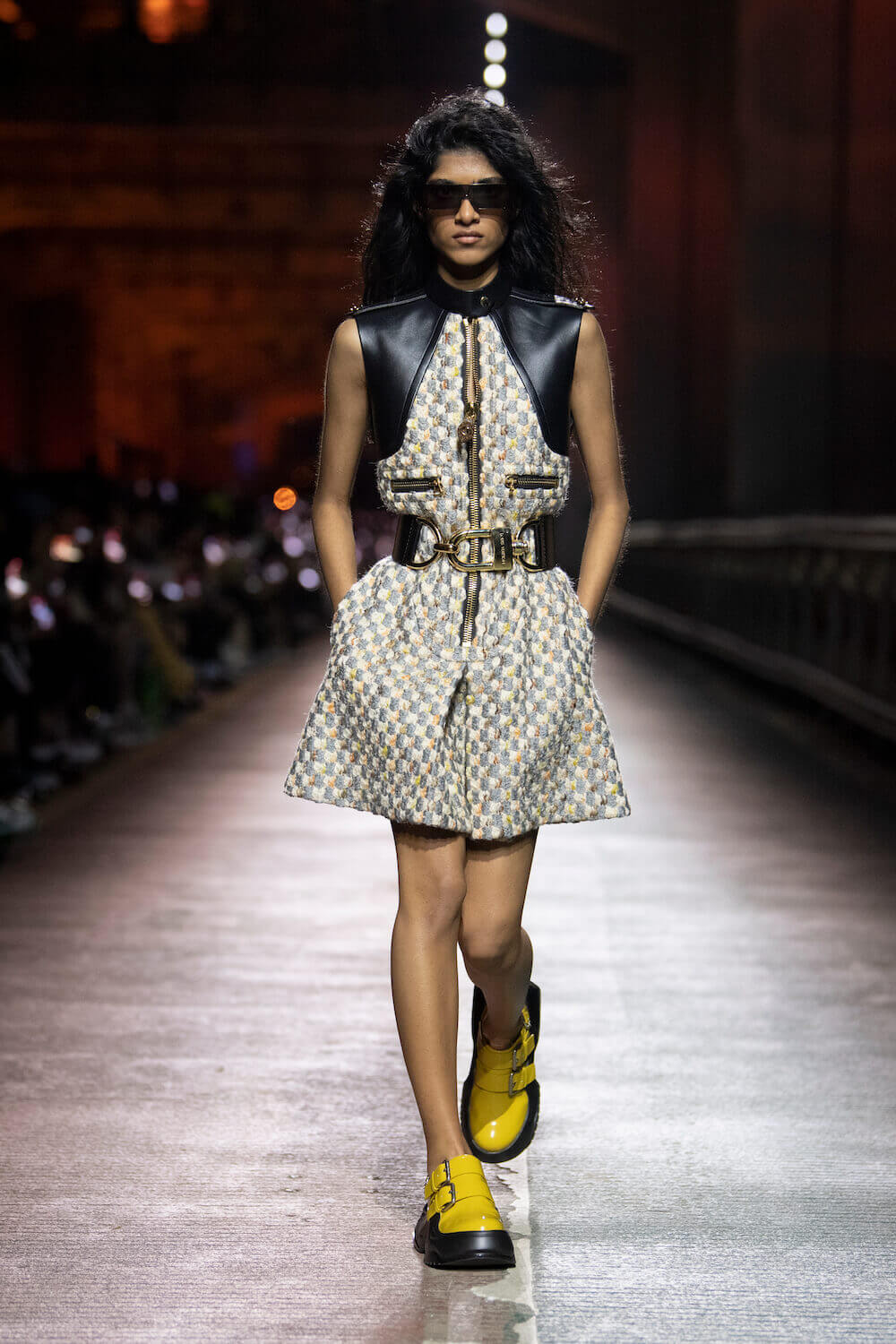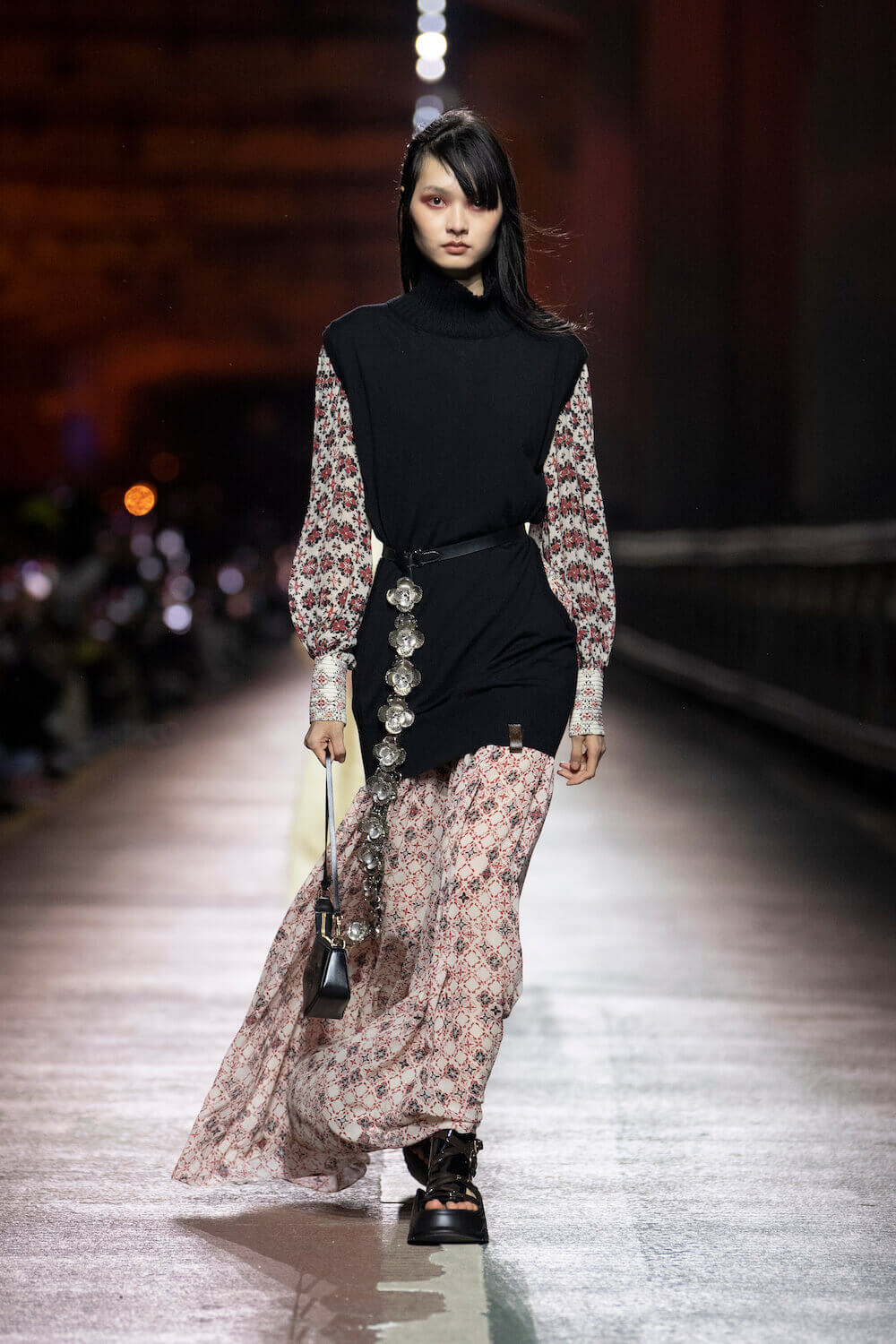 Trust Nicholas Ghesquière to pick the perfectly poetic location for his first-ever pre-fall show for Louis Vuitton: On Saturday evening, Hoyeon Jung led an illustrious cast of models across the Jamsugyo Bridge in Seoul in a windswept show that captured all the allegories of travel, connection and bridge-building at the heart of the house. Lit up by a mesmerising illusory light and water show created by Squid Game director Hwang Dong-hyuk, the double-decker bridge transformed into an epic stage for Ghesquière's time-traveling creations. "We're revisiting maison archetypes and leather goods codes applied to clothing. It's something we've been developing for ten years, and now it represents a strong signature. You can see the connections with previous collections. Just like this very symbolic bridge, there's a back-and-forth, intersecting passages, a mix of moments," he said.
Renaissance-sleeved track tops and sculptural boiler suits cut a sporty silhouette that set an overtone of ease for the collection: techy mini skirts and mini dresses, graphic puffa jackets and casualised takes on Ghesquière's Archlight sneakers. It climaxed in tiered maxi skirts and dresses and voluminous, almost monastic skirt and trouser combos with glistening embroideries. "Elements from sport, of course, which has always been one of my favorite inspirations, combined with French classicism. The functionality of travel. A dynamic silhouette. We worked for with comfort in mind, relaxed evenings, aprons over supple pants," he said. "For our first show in Seoul, it's a way of presenting our savoir-foire, like a kind of diplomatic journey, a Louis Vuitton caravanserai that comes to South Korea to recount various chapters in its history."
Built in 1976, the lower level of the Jamsugyo Bridge – which connects the Gangnam and Gangbuk areas – sits just meters above the waterline. "It disappears when the Hangang River rises during the monsoon. It's a feat of civil engineering that creates the illusion of disappearance/reappearance," Ghesquière explained. "For Seoulites, it's a living monument. It is also a real fictional character that's very present in many films. It's on inspiring place to stage a show; it's a genuine catwalk." The bridge serves as a symbol of the citizens of Seoul's connection to the enormous Hangang River with its ever-present windsurfers. Every year, a festival transforms the bridge into an ephemeral shopping street. When this year's event takes place on May 6th, it will include a Louis Vuitton convenience store.
The philosophic value of bridges is hard to miss for Ghesquière, whose studio in Paris overlooks the Pont Neuf, which has become a symbol of the connective, cross-cultural and global-minded ethos of the house. The introduction of a pre-fall destination show only served to bolster that sensibility. After the presentation, guests from near and far danced the night away to a performance by Jaden Smith – whose mother Jada Pinkett-Smith was also in attendance alongside Chloé Grace Moretz and Alicia Vikander – at a swanky party in the Floating Islands venue situated on the river.
Photography courtesy of Louis Vuitton.