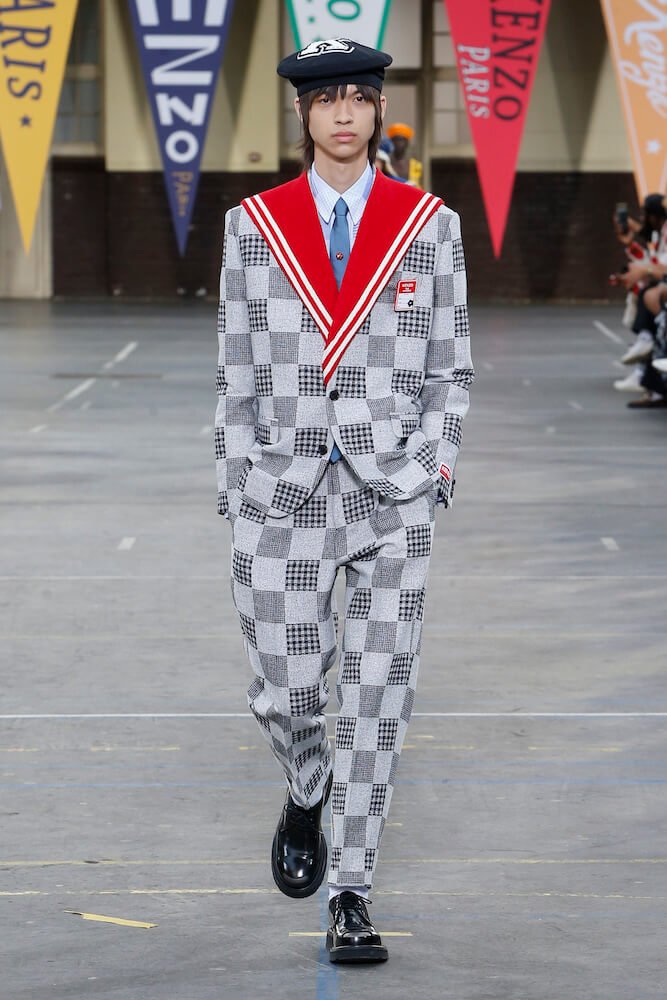 Sunday morning had every cool kid in Paris fitted out and eagerly awaiting Nigo's second showing as artistic director at Kenzo. Hosted in the lofty Lycée Carnot in Paris's 17th arrondissement, the public school served as an appropriately preppy backdrop to the SS23 collection.
The power of Nigo is illustrated by the A-listers who flocked to the front row, including everyone from Cruz Beckham and Jaden Smith, through to Justin Timberlake and Euphoria's Chloe Cherry. Each donned their best varsity-inspired wear, complete with the brand's signature 'K' appliqué. In fact, youth was a central component running throughout the collection with Nigo recalling his own experiences of the brand as a teenager, amongst Japan's DC Brand Boom of the 1980s.
With Nigo taking a trip into the Kenzo archive, the collection reinterpreted prints and iconography characteristic of the late Kenzo Takada – such as the Pixel Rose Camo – whilst utility wear drew inspiration from American railway workers and army repairmen of the 1930s and '40s. The emphasis on workwear was continued through the collection's devotion to Japanese denim, appearing in various washes of black, white, and indigo.
Tailoring was another focal point, with stripes from Kenzo's AW88 collection subtly distorted into wavy two-piece suits. Nigo has previously attributed such elements to his personal admiration for British subcultural dress.
Though, the standout elements of the collection arguably lay in the details. From high-top loafers and candy-striped socks to petite leather satchels that oh-so politely concluded the collegiate aesthetic. The designer also offered a Japanese perspective of Parisian couture – informed by Kenzo in the '80s – and its elevation of the maritime uniform. This can be seen through naval collars and jaunty sailor's caps, playfully worn lopsided and emblazoned in the brand's logo.
In pursuing a wardrobe that remains firmly embedded in reality, Nigo satisfies the enduring 'real-to-wear' philosophy that informed his predecessor. Following his inaugural show in January of this year, the outlook at Kenzo retains its sense of youth-fuelled nonchalance, managing to incorporate practicality and frivolity in equal measure.
Photography courtesy of Kenzo.