I'm not a hype TV viewer. If anything, I will be the first to say no to watching that new show everyone is talking about, just because everyone is talking about it. Call me lame (many do), but I prefer to consume media I put effort in finding rather than being forced into doing it just so I had something to talk about. For example, I gave up on watching Stranger Things after binging the first season in one night, mostly because everyone kept asking if I've seen it. There was something pretty satisfactory in saying: "No, and I'm not planning to." Perhaps it's the small town boy mentality I grew up with, constantly trying to be different from those around me. Watching what Eleven and the gang get up to in season two would be admitting defeat and becoming just like the rest of them. "The majority isn't always right," my sociology teacher always used to repeat, and I guess it stuck with me. Just because the whole world likes something, it doesn't mean I have to as well. Yes, perhaps I took the notion a bit too far with my Madame Bovary-esque feeling of "being different", but we all have our own ways of feeling better. Some listen to obscure indie bands, I watch TV shows that aren't recapped by every media outlet out there.
That's until this past week, when I succumbed to the mass as I agreed to watching HBO's Euphoria. Most of my friends have already reposted their favourite GIFs with bitchy quotes and that essential, multipurpose caption: "MOOD". But I've been a massive fan of Hunter Schafer for a while now, first becoming obsessed with her incredible face on the catwalks, and then slowly getting into everything else she does, of course via Instagram. What kind of superfan would I be if I didn't spend 8 hours of my life watching her on-screen debut? And so I sat, or actually lied down with my boyfriend, and watched all of the eight episodes of Sam Levinson's take on teenage suburban life, fueled with love, drugs, drama and some pretty incredible fashions. We watched the whole thing in three sittings, mostly due to the need of taking a break from the dark stories and neon lights, which made for spectacular cinematography but also an intense experience. It took me all about five minutes of the first episode to turn from a sceptic ("What, we're supposed to believe the singing Disney princess is now addicted to meds?") into a fully invested, passionate Euphoria addict. I cried, I laughed. I snapped my fingers and YAAAASed at all the moments served by Kat, played by the stunning Barbie Ferreira ("There's nothing more empowering than a fat girl who doesn't give a fuck.") All in all, the show lived up to the hype, and I can't stop talking about it. But more than anything else, it's the incredible beauty looks each of the main characters evolves with that contribute to what will probably be remembered as the most visually compelling TV show of 2019.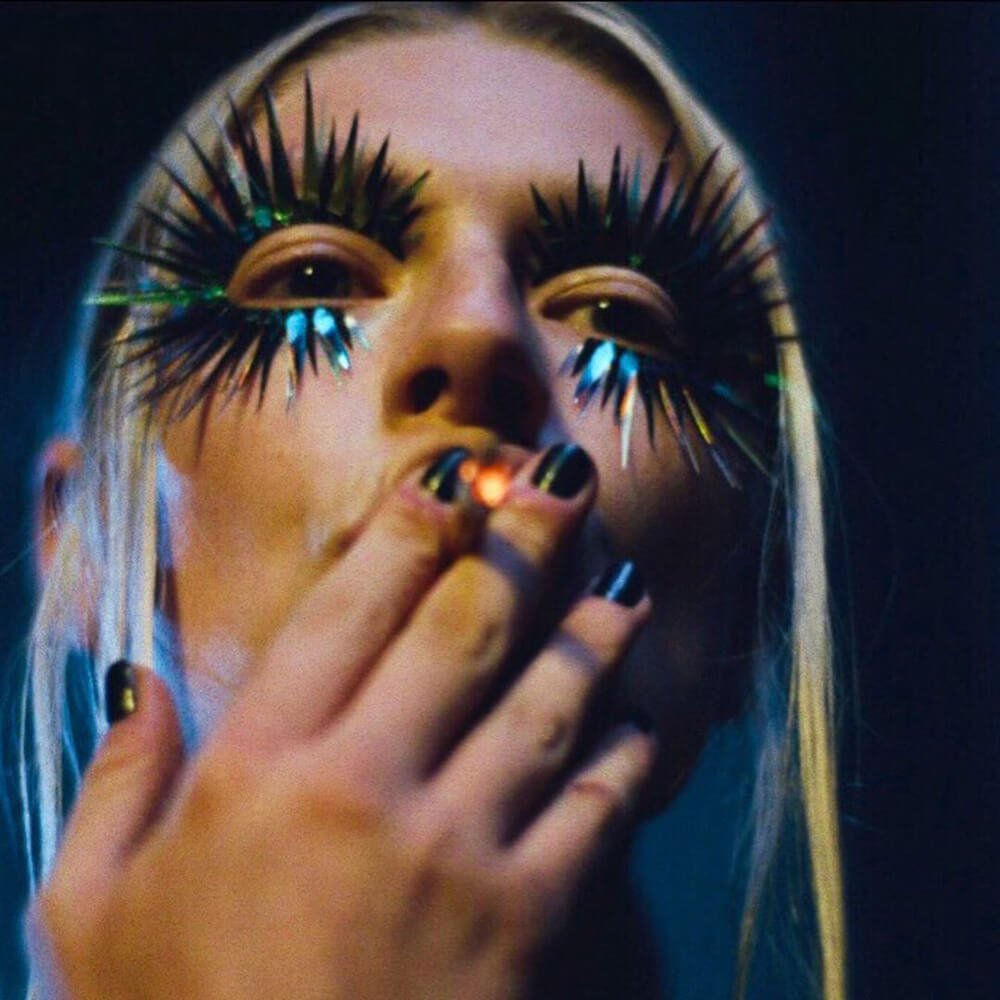 Just to get this out of the way – I will do my best not to spoil any big moments in the season, but do proceed with caution if you haven't seen the show and you're planning to. Consider this your *spoiler alert*. At the beginning of the season, it's mostly Jules (Hunter Schafer's character) that brings in the drama via her bold make-up choices. She's the new girl in school and therefore the catalyst for the storyline, as she starts things off with quite a bang. Her beauty choices also reflect that. The neon colours and iridescent foil-over eye masks (some custom creations of @face_lace) were Jules' way of making sure everyone knows who she is, expressing both her personality and personal interest in fashion. She was, by far, the most outrageous with her choices at the start, with only real competition being boss bitch Maddy (played by Alexa Demie). But as the season unravels, each of the members of the female-led cast gets to establish their own signature. While gender and sex labels don't really exist in the Euphoria universe, the choices in costume, hair and make-up design were the defining factors in understanding who these people are.
The head of the show's make-up department was Doniella Davy, best known for her previous work on Oscar-winning Moonlight and If Beale Street Could Talk. What made her approach different than anything else on TV right now was that she took trends directly from the Instagram generation, and incorporated the style into the story quite effortlessly. While the choices were bold, they never distracted from what was happening on the screen. Instead, the rhinestones in Maddy's eyebrows just confirmed what kind of a badass she is, in a way defending the unapologetic things she says and does. Of her work on the show, Davy told Entertainment Weekly: "the Euphoria style of makeup I really believe already existed. And it was just a matter of myself gathering it all up and putting my own aesthetic twist on it as an artist and then pushing it forward into the limelight so to speak. So it could be admired by thousands or millions more people."
Probably the character with the biggest arc in terms of aesthetics (and my personal favourite) is Kat. Going from an unassuming girl with a lot of opinions and a great sense of humour, she turned into an online sex worker, a dominatrix that took her storyline and incorporated it into her personal style. As she gets more and more daring with wearing latex, corsets, mesh and harnesses to school (um, why not really?), her make-up matches up. The pinnacle of Kat taking charge of her sexuality is her Halloween look in episode six. A nun in latex, wearing a punchy red lip and a strong Joan Jett eye with metallic tears permanently running down her cheek. The layers of meaning are put together masterfully, all while making us believe the character actually applied the products herself. That's probably Davy's biggest quality – adding all these elaborate ideas into the mix without taking away from the brutal reality. The show follows that same recipe too as style never takes from substance, even with the fantastical elements and long shots that will could make you think you're watching some independent art house film. By the end of the season, even the clean-faced Rue (portrayed by Zendaya) wears an eye full of glitter and stars, as applied by Jules.
While you might want to fall into the black hole of YouTube tutorials on helping you recreate all the looks from the show, Davy created a diary of all the looks on her Instagram. Each of the faces is joined by a story about why and how it was created, as well as a list of exact products used to achieve it. Will I be glueing a bunch of rhinestones on my face like Cassie (played by Sydney Sweeney)? Or turn myself into Bob Ross like her younger sister Lexi (portrayed by comedy royalty Maude Apatow)? This coming Halloween is sorted, all thanks to incredible efforts of the Euophoria team. And for the first time since I took costuming into my own hands, most people will actually know what I'm supposed to be. Such is the power of hype.
All images taken from HBO's Euphoria, as seen on @donni.davy.