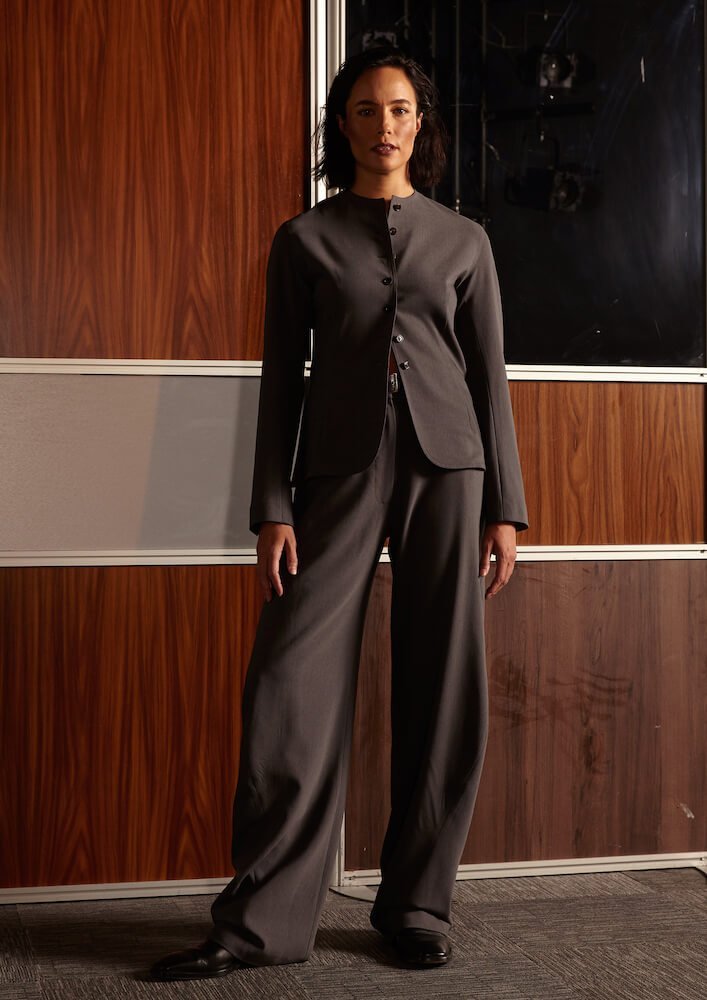 One oak boardroom table, paper coffee cups scattered sparsely and a chorus of terrifically tailored formalwear. No, this wasn't an old episode of The Apprentice. And thankfully it wasn't Lord Alan Sugar making his LFW debut either. It was Eftychia Karamolegkou. The Greek export, and NEWGEN's One to Watch, showed her first on-schedule collection yesterday afternoon, and trust when we say – the office never looked so good.
Toned-down silhouettes and muted hues that rotated around mushroom, chocolate browns and various greys, offered a blank canvas for Ectychia's technical ability to take centre stage. Thigh high leather boots peeked beneath skirts sliced at the centre; paired with drop-shoulder Harrington jackets with pillowy sleeves. Silk shirting was perforated with tender lilac stripes, teamed with stripped-back suit pants that pooled over the ankle Whilst slouchy double breasted blazers with girthy lapels lavished in their razor-sharp creases.
Eftychia is taking the traditional tailoring codes once reserved for menswear, and making them her own. She is using her intricate hand to make clothing for strong, confident women at the forefront of all walks of life. And in this office environment, these women are calling all the shots.