The virtual universe of Amelia Dimoldenberg is weird and wonderful, teeming with belly laughs, cringy questions and the smell of fried chicken. Literally. An oily odour wafts through her tongue-in-cheek YouTube videos from the sizzle of a deep fryer somewhere off screen, filtering through to the antics of her celebrity guests and potential lovers. It's flirty, wacky and deliciously left-field.
With Chicken Shop Date, a bizarre and intense show that paves a road to niche comedy cobbled together with cringe, the charming host has taken the thrill of scrutinising celebrities' flustered charm and given it a stodgy home. Her unexpected interrogation-style staccato questions and deliberate, ungodly silences are the show's secret sauce, keeping viewers on the edges of their seats and hungering for more. Even when the dates don't go well – which is often, and kind of the point of the show – the sheer silliness of the gimmick keeps fans coming back. After all, she's the girl who revived (her hero) Louis Theroux's legendary Weird Weekends rap and transformed it into a viral phenomenon. You know, the one that goes, "My money don't jiggle jiggle, it folds. I like to see you wiggle wiggle, for sure."
She's always thinking, researching, delving into the long-lost antiquities of her subjects and documenting her subversive ideas in the iOS Notes app. Dimoldenberg has 3,073 notes on her phone – talk about always beating her brain. She's strange and satirical, hilarious and relatable. A deadpan chicken shop maître d, Dimoldenberg is many things, including a producer, and is definitely a cut above it all. But what she isn't, is bland.
On the heels of hosting this year's Golden Globes red carpet, Dimoldenberg landed in London a few days before our video call. She's clad in a red and white zebra-print jumper, with her luscious flaxen locks flushed around her face, now framed by the blur of my broken laptop screen. Understandably, she's leagues beyond being tired but, despite the fatigue, she says that she's "really, really good" as we chat over Zoom one icy Thursday morning. "I'm at a very exciting period of my life where I don't really know what's next," she exclaims. "But that's so cool! It's liberating. I feel like I'm rebelling against myself in terms of having everything meticulously planned out. Now I'm like, 'What's next?', and that's fun. I'm smiling just thinking about it. There are so many possibilities!"
I met Dimoldenberg, 29, for the first time on a Monday, liaising in the Londoner's dressing room midway through her cover shoot for 10. Wearing a washed-leather Coach jacket and matching mini-skirt, which was later cloaked by a hotel-grade alabaster bathrobe, she sparked up the conversation, chatting with me about life in London and a shared love of journalism where communication and curiosity are key. She tells me that she's living in Hackney at the moment, christening each morning with a ritualistic bowl of porridge and berries – as opposed to nuggets – and submerging herself in 28ish Days Later, an edifying BBC Radio 4 podcast hosted by India Rakusen about the menstrual cycle, feminine autonomy and misogyny within medicine. She keeps our conversation flowing with comedic anecdotes, the crack of a joke or two and 10-minute tangents about the versatility of potatoes, flashing her enigmatic smile only when she fully intends to.
In recent months, Dimoldenberg has seen a shift in the settings she infiltrates; from getting a huge gig as a correspondent at the Globes – where she spent some time chatting up Andrew Garfield, going viral for their very English half-charming, half-cringe interview – to running her namesake production company, Dimz-Inc, and broadening her YouTube channel into a one- stop shop where her singular take on romance, current events, shoddy cuisine and fake news hold down the fort. But prior to all the tomfoolery, Dimoldenberg started out like the rest of us, cracking on at uni and enjoying being in a youth group.
That transformative North-West London group that Dimoldenberg fell into was proposed to her over email by a sixth form teacher, who suggested she participate in the making of its amateur magazine, The Cut. Dimoldenberg soon attended her first session, and that was that: she started subscribing to the group every Wednesday after school. Her fellow youth-group goers were acutely invested in culture and music – rap especially – and had a particular penchant for grime. At the time she was unversed in the sonic language of the UK hip hop scene, so she remained under the radar for a while, too nervous yet to toss her hat into the ring. But with time and a can-do attitude she pitched her first idea for The Cut during an editorial meeting. She wanted to do interviews with musicians in the format of a "romantic" date that was then amalgamated in a written column. "I was wanting to go on a date because I'd never been on one before," she laughs. One of her peers suggested she go on these "dates" somewhere unusual and rather democratic, to make it all a little less austere and a lot more comedic. Enter: the chicken shop, usually a Chicken Cottage or a Morley's.
It wasn't until Dimoldenberg's first year of uni, which she spent cutting her teeth in an art foundation before progressing onto her BA fashion journalism degree, that she thought to alter the format in favour of something a little more modern. To capture the candid awkwardness and subversive air of the whole thing, she started filming the fast-food chain encounters for YouTube. Content creation was in its infancy and the CSM student admittedly knew nothing of production or film, but in a serendipitous turn of events she worked as a runner on a music video and befriended the camera operator, eventually persuading him to film her first Chicken Shop Date episode with British grime MC, rapper and songwriter Ghetts back in 2014. The episode was gauche but it was generally well-received, and it spurred the Marylebone-born lass on to record more of her perverse "dates". It's been nearly a decade now that she's spent speed dating the best in the entertainment business, munching on fries and devouring an endless supply of chicken nuggets. (Side note: the fries do become a bit starchy at times but if you can believe it, she never gets sick of the nuggets.)
As a journalist and comedian, Dimoldenberg is doing a lot of the things that she's not necessarily supposed to do. She goes against what's expected and subverts the feigned politeness of the interview circuit, revealing how odd the whole charade is. Playing an exaggerated version of her already sarcastic self, she then inverts the performance to be almost uninterested in the conversation, attributing an anti-date, anti-interview kind of personality when she's on camera. "I've always used my sarcasm as a superpower," she declares, going on to express that her greatest talent has always been keeping a straight face while everyone else is laughing. Her blank persona foils interviewees and brings out a side of them otherwise not necessarily seen. "I like making people squirm sometimes, making people feel awkward. The silence is interesting and it makes people reveal themselves in a way that they haven't before," she says. "You're not meant to be awkward on a date – you're not meant to be awkward at any time, really – yet it's just a part of life. Awkwardness happens all the time, but it's edited out of life and it's edited out of what you see on screen. I want to keep it in." With a dry, British sense of humour, Chicken Shop Date is certifiably giving us all the vibe of awkward and sardonic on steroids.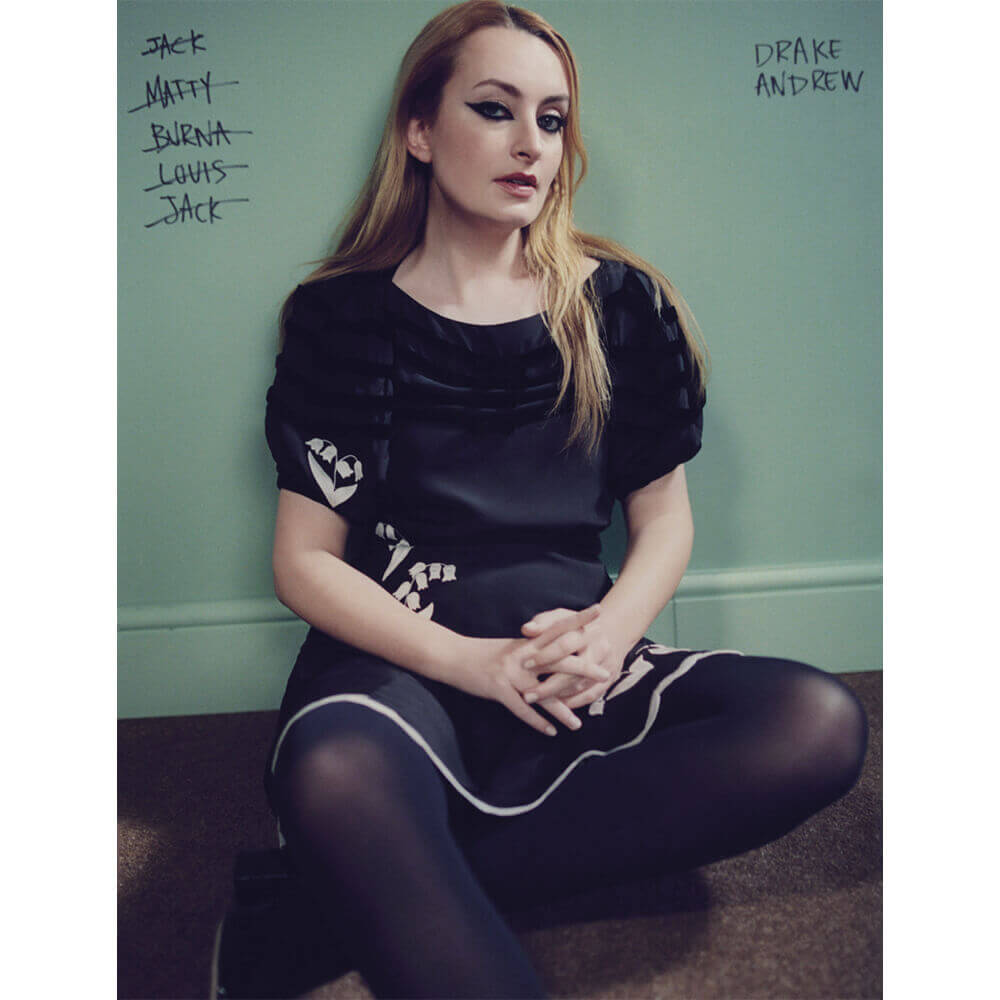 "I just want to be making stuff that feels original, so the style of interview subverts what everyone is already used to seeing," she says. "I like the idea of creating something where you feel like you're eavesdropping in on a conversation that maybe you shouldn't be privy to but for some reason, you're there." The show really does make you feel like a fly on the wall. By simultaneously antagonising her guests and making them feel comfortable, Dimoldenberg's subjects frequently reveal never-before-seen sides of themselves.
"The best kind of person to interview is someone who is open to going along with my energy and who doesn't take themselves too seriously," she says. "But when someone is too serious, I kind of like it, because then I can play with them and play on that. It's my job to get something out of someone, even if the entertaining part of it is that they're giving me one-word answers and I'm just playing off that. Because it's a two-way thing. If they're not giving me anything, then it's up to me to provide the entertainment and I love that."
At the end of last year, Dimoldenberg went on a rather peculiar Chicken Shop Date with The 1975 frontman and sexually confused Edward Scissorhands-like caricature Matty Healy. It was a deviant date, one of the only ones where the guest tried to kiss her, but as soon as things wrapped up she told Healy off camera that she was "falling out of love with the format" of her show. "I did say 'falling out of love', but it's more like I've been doing it for so long – maybe 10 years – that I had a moment where I felt like I wanted to switch it up," she explains. "I just felt a bit restless with it." But following the filming with the emo singer, she found the synergy and excitement of the whole thing returning to her. "The energy of the episode was so brilliant. Then he asked to kiss me and I was not expecting that, but it made me think, 'Yeah, this is what I want, this is what I need'," to revive her love of the show. Ultimately, Dimoldenberg won't be putting an end to her hit any time soon, but she does reveal to me that it will round off at some point. "It can't go on forever, because I'm gonna fall in love and then it has to end!" Let's raise a glass to that.
Issue 70 of 10 Magazine – ROMANCE, REBEL, RESISTANCE – is on newsstands March 24. Pre-order your copy here. 
COACH: THE TAKEAWAY
Photographer BENJAMIN BREADING
Fashion Editor SOPHIA NEOPHITOU
Talent AMELIA DIMOLDENBERG
Hair LIAM RUSSELL at Julian Watson Agency using Oribe and Ghd Pro
Make-up LAUREN REYNOLDS at Bryant Artists using Gucci Beauty
Manicurist MARIANA AUGUSTOU
Photographer's assistants ANDREW BROADHURST and ELLIOT GUNN
Fashion assistants ZAC APOSTOLOU, GEORGIA EDWARDS and CATHERINE ABOU NASR
Production ARLAA WORLD
Set designer JULIA DIAS at Canvas Represents
Set designer's assistants XANDER SHREWSBURY, JAKOB WOOLSTON, SAM EDYN and MICK O'CONNELL