Nostalgic, sensual, groovy. Who wouldn't love an introduction like that? Add the word sustainable into the mix and you've got yourself the self-titled description of online second-hand store 00sgarms. The name may conjure up hazy memories of tube tops, belly chains and denim-on-denim-on-denim ensembles that crowned the noughties one of the worst decades in fashion history. Accredited by Depop, exhibited in Selfridges and with 50k+ followers, 00sgarms carries a collection of collectible 2000s vintage pieces, distinctly curated by its founder Valeria Chrampani.
Sitting down with Valeria is like being in the presence of a real-life Bratz doll, but in the best way possible. Her pencil-thin brows, frosted eye shadow and dark lined lips nod to Gwen Stefani's early days, complimenting the colour theme of her outfit with casual ease. A definitive look queen, I'd say, before quickly being proven wrong. Forget a triple threat, at just 24 years old, she's been styling the likes of Rico Nasty and studying for her university degree, all whilst curating, styling, photographing and retailing her shoppable clothing archive. Intimidating, maybe – yet in person she's super bubbly, spilling that her most prized possessions are her Cabbage Patch dolls ("I've had them since I was 4 and I love them!") within the first five minutes. Her Instagram handle (@sushiandbaklava) tactfully coins her blend of both high and low-end styles, and we can see how. She's down to earth as ever, while nonchalantly rocking a super-rare Dior monogram cross body circa John Galliano. And her enviable outfit is just a little taste of what's on offer within her online archive.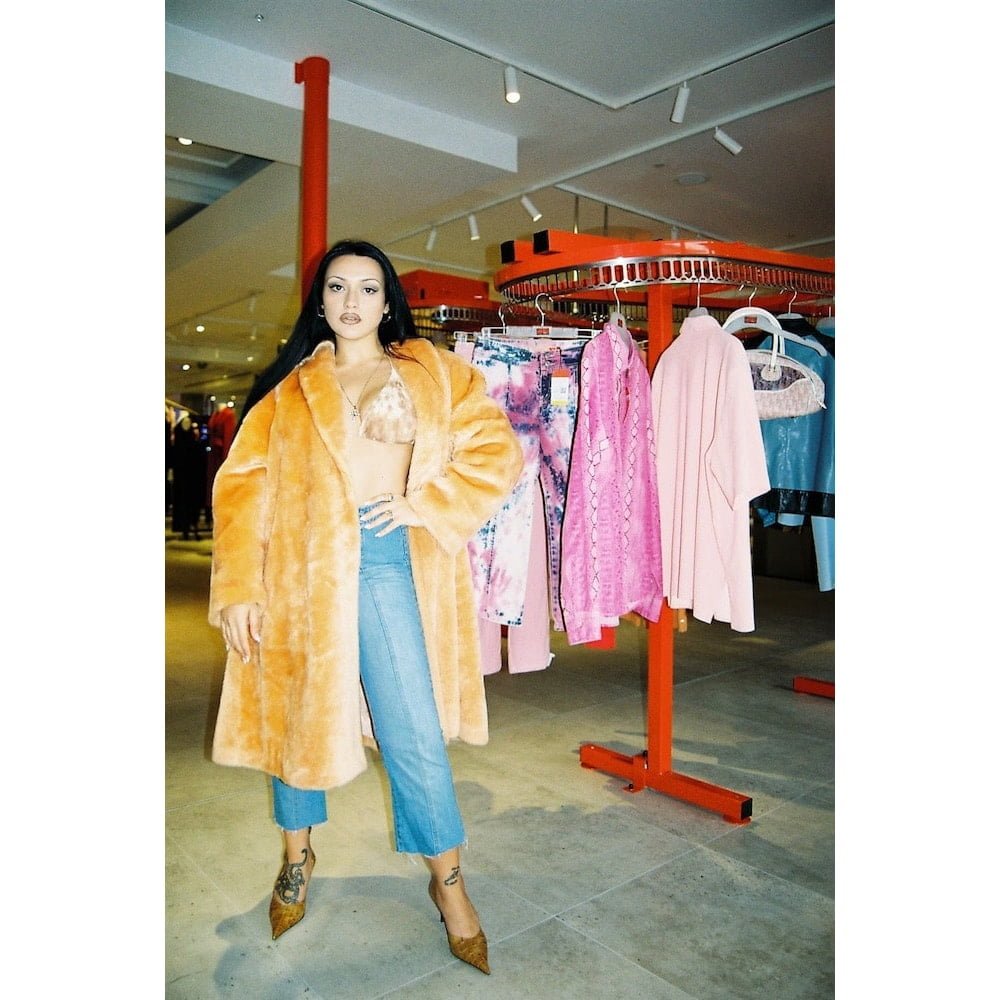 "I started collecting during high school because I found a shop next to my house with designer clothes and it was fascinating how cheap and unique everything was," she explains. Growing up during the economic struggles in Greece, she made light of a dark situation and took advantage of the surge in the second-hand clothing market there. As part of the liberal underground scene of Athens, she formed her personal style and free nature. "You could say that it was punk in a sense… we were disappointed in the system, but we found our way through artistic practices." And her creativity never faltered since. After years of collecting, she moved to London together with archive (although I question how she squeezed it into the Easy Jet baggage allowance). Six years on, 00sgarms has become a hand-picked collection of affordable designer gems and trends from the late 1990s and early 2000s that we never knew we needed – that is until now.
When asked why her focus is on the noughties, Valeria lights up. She dreams of a time when celebrity fashion was a little more fabulous and fearless… So it's no surprise that she cites the outlandish Rossy de Palma as a major influence. As for her favourite collection ever, she decides on Jean Paul Gaultier's Les Tatouages of SS94. Why? "I mean… Incredible! GENIUS!" Her passion for the era is infectious and its influence on her is clear. The punk-ish graffiti prints, tribal references and Celtic tattoos decorating Gaultier's runway showcase just a few of those gone-but-not-forgotten Y2K trends picked up by her radar. It's her unusual stylistic flare that sees her mixing Fendi prints with fur-trimmed Motocross jackets; tie-dye pants against snakeskin cowboy boots and sci-fi goggles with suits, offset by the dishevelled urban landscape of Athens. 
Valeria's selective eye for 2000s clothing hasn't gone unnoticed. Late last year, she entered Depop's talent competition on a whim, only to be voted for by the masses and crowned with Best Original Shop. Her prize? Major promotion to their 540k+ following, Depop blue-tick accreditation and the opportunity to showcase her archive inside Selfridges as part of their campaign The New Order. Naturally, it was her most prized items of Gucci, Von Dutch and anything Galliano that got selected to hang from the kinetic clothing rail, situated in the Women's Designer Studio and organised in a rainbow ombre for added effect. An arcade game if you will – only your prize is Versace, not a half-sad stuffed animal.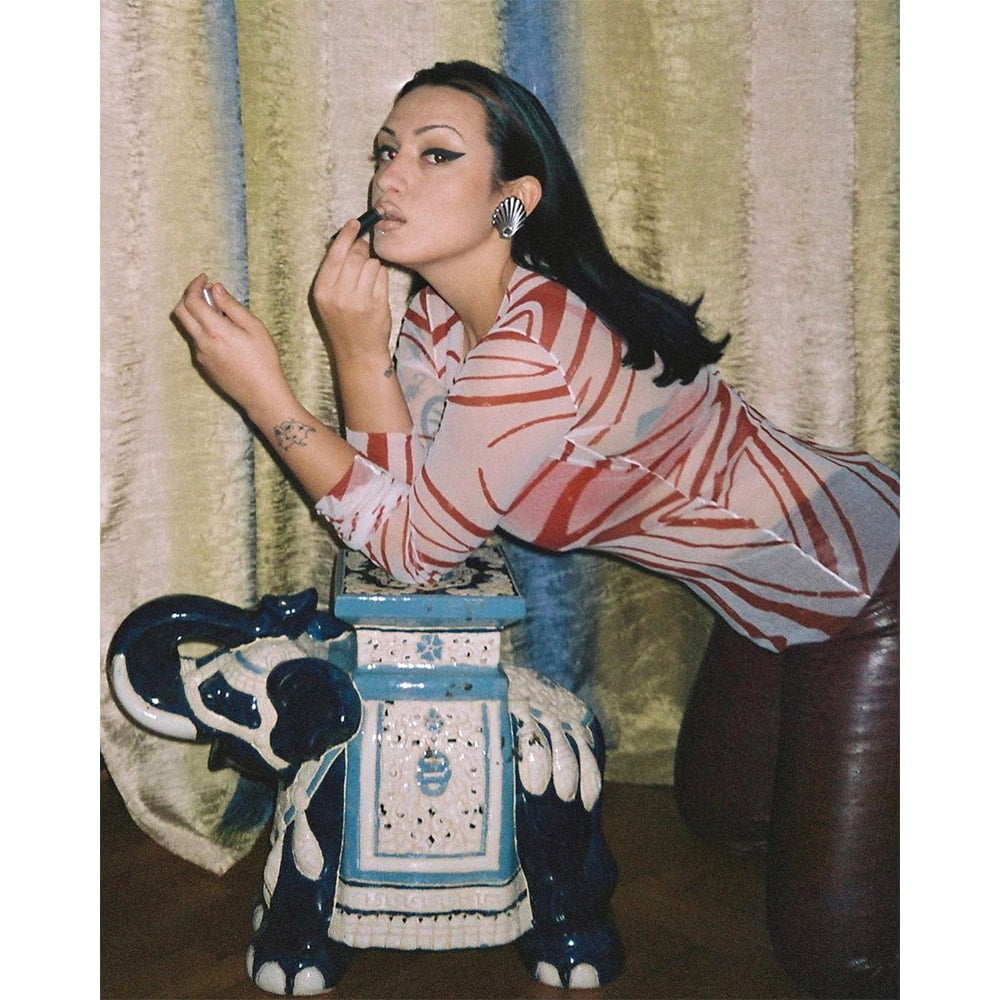 The pop-up elevated the second-hand clothing market to a luxe shopping space, bringing with it the sustainability conversation. "I'm very happy that nowadays, people are informed about fast fashion and sustainable living. In fashion sustainability is 'trendy' right now, but it's something that must stay in my opinion", the OG sustainable shopper explains. She's hoping that initiatives like her own business can help eliminate the fast-fashion epidemic once and for all, and with strong-willed pioneers like Chrampani making sustainable fashion so accessible, the prospects are more than hopeful. 
As for the future of her store, she's planning to expand the archive, with her Depop wishlist ranging from some fluffy Eckhaus Latta x Ugg mules, a fantastic Dior teapot and more Cabbage Patch Kid party memorabilia. Her hopes for the future? "I want people to see something and say 'that's so 00sgarms!'" Something about her magpie eye for such covetable pieces paired with her passion for sustainability has us believing this is only a matter of time.