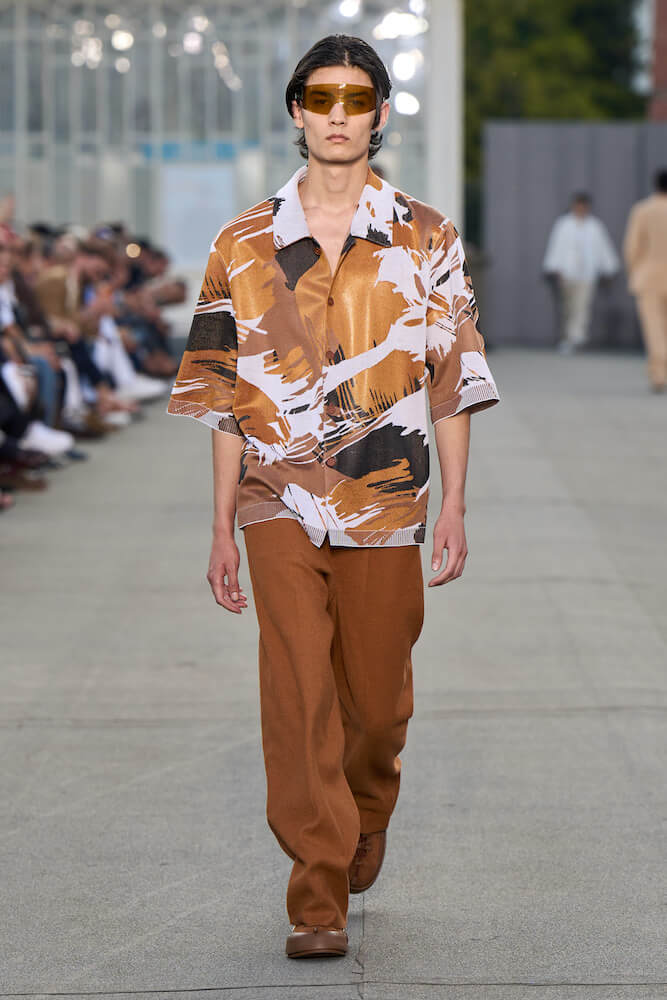 The closing show of Milan Fashion Week Men's this season took place close to two hours outside the city itself. For his first physical catwalk since the dawn of the pandemic, Zegna designer Alessandro Sartori brought the fashion pack to the brand's nature reserve in Piemonte, Northern Italy.
For context, Oasi Zegna is 100km² wide in comparison to Central Park, which stands at 3.4km². The brand has planted over half a million trees there surrounding its wool mill opened by Ermenegildo Zegna 112 years ago, which served as the show's serene location Monday evening.
Sartori continued his quest of rewriting the rules of tailoring, concocting his collections around how we live today. His silhouettes are casual, blending Zegna suiting with workwear shapes and fashioning his creations from technical and extremely light fabrics. "The idea is to use our craftmanship as a progressive tool, keeping the finesse, the attention to detail, the respect of materials while experimenting with shapes that are light and materials, solutions and finishes that give these shapes a new technicality, to mostly building up a new silhouette where effortless and innovation create a new style for men," said the designer in a pre-prepared quote.
Against a luscious backdrop of Oasi Zegna's vast forrest came a handsome display of kimono-cut jackets, breathable knits, casual Bermudas and wool trousers fashioned with the ease of a tracksuit. All in a tasty palette of dusty pinks, honey and butter cup yellows and a parade of chocolate browns, Sartori paired rubberised nylons and leathers alongside techy silks and adaptable wools for a uniform that positions classic menswear tropes with a new found ease. The look was completed with a remix of the Zegna Triple Stitch™ sneaker, designed with footwear maven Daniel Bailey, further cementing a refined house language Sartori keeps building upon each season. 
Photography courtesy of Zegna.