Here at 10, we're dying for a little vacation getaway! It's been 18 months since the pandemic stole our freedom away and we have been dreaming of basking in the summer sun ever since. With travel restrictions looming over our heads, we have curated a list of the dreamiest destination-inspired fragrances that will cure your vacation nostalgia (and ours), even if you're stuck at home. Spray away! 
Petit Matin: Maison Francis Kurkdjian Paris (Paris, France)
With beautiful Parisian streets in mind, French perfume house Maison Francis Kurkdjian Paris has crafted a fragrance that will wisp you away to the empty streets of Paris on an early summer day. Petit Matin will douse you in a combination of citrus and florals with notes of juicy lemon, musky amber, and beautiful lavender notes. Prepare to be transported to Rue Kurkdjian. Buy here. 
Moonlight in Heaven: Kilian (Thailand)
Who doesn't love a delicious plate of mango and sticky rice? Well, Moonlight in Heaven by Kilian is just that! Stating that the fragrance will "push you to open the doors of paradise", this one will be taking you straight to Thailand with "tasty mango and the fresh scent of powdered sambac jasmine mixed with coconut milk and rice." Ending with mouth-watering tonka bean and sensual vetiver enveloping you in a tight hug, this fresh Thai-inspired fragrance will have you transported on a scented escape. Buy here. 
Aqua Gold: Montale (Capri, Italy)
Famous for long-lasting, beast mode fragrances, perfumer Pierre Montale is inviting you on a luxurious vacay to Italy. Imagine yourself sunbathing under the warm Capri sun, a quick spray of Aqua Gold by Montale and you'll instantly be transported. Fresh lavender and citrus are intertwined with notes of crisp white flowers, creamy musk, and a touch of leather which will send you on an olfactory journey to this island of paradise. And guess what? The bottle even has a golden palm tree to elevate your experience that much more. Buy here. 
Heures D'absence: Louis Vuitton (Grasse, France)
If you've been dreaming of a fresh escape, go to Grasse, France with Heures D'absence by Louis Vuitton. Inspired by the centre of French perfumery, the flower fields of Grasse are famous for their growth of the most delicate flowers. Taking its name from the house's very first scent, this exotic fragrance features notes of powdery mimosa, juicy raspberry, and (of course) includes the most exotic of flowers grown across the fields. jasmine and rose de mai are combined with creamy vanilla, clean musk, and a hint of sandalwood to honour the legendary perfume fields. Buy here.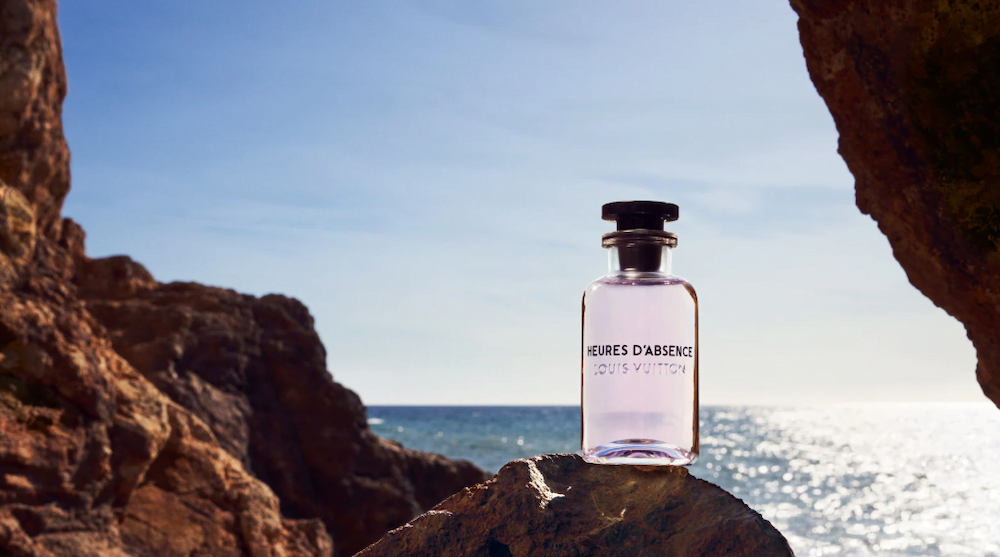 Cairo: Penhaligon's (Cairo, Egypt) 
We're sure you agree that we would all love to be exploring the ancient streets of Egypt right now. Although that isn't quite possible at the moment, British perfumery Penhaligon's is evoking the scent of Cairo at dawn with a fragrance honouring the city. "The rising sun over Cairo brings warm saffron spice with Damascena rose and labdanum blooming above sensual patchouli," fitted with a bottle that reminds us of the ancient Egyptian pyramids. Let's take a trip to the Middle East! Buy here. 
Sakura: Dior (Japan)
In celebration of Japan's national flower, Dior perfumer François Demachy has captured his trip to Japan in a bottle by saluting the cherry blossom with Sakura. This fragrance takes hints of Japan's flower fields and honours their fresh yet powerful aroma. Leaving a lingering trail, the fragrance has been crafted as a homage to Japanese culture with a mix of Japanese cherry blossom, white florals, and musk to evoke the feeling of lightness on the skin. After a few sprays, you'll be instantly swept away to springtime in Japan. Buy here.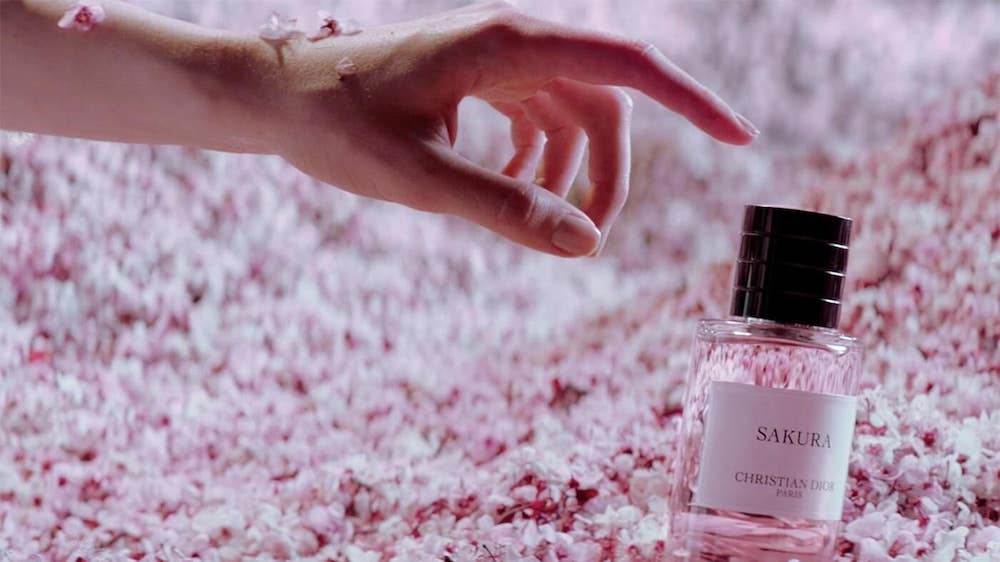 Top image: Louis Vuitton Heures D'absence starring Emma Stone