Most will know Osman Yousefzada as one of London's most beloved designers. But the multi-hyphenate is a brilliant wordsmith, having released his debut memoir in February, and a lauded artist. So much so that Yousefzada has been commissioned by the V&A Museum to create a triptych of works celebrating 75 years of Pakistan's independence.
Titled What is Seen and What is Not, the works were made in partnership with the Pakistan High Commission as part of the British Council's festival season Pakistan/UK: New Perspective.
Reflecting themes of migration, movement and displacement, Yousefzada works with non-traditional materials ritual-inspired painting to envision textiles and wrapped objects, alongside a seating installation. "What is Seen and What is Not offers a portrait of contemporary Pakistan, through a British diasporic lens as it attempts to reel away from colonial subjugation," says the artist.
"[The exhibition] is a commentary on the migratory experience, displacement and the effects of the climate crisis," adds Tristram Hunt, director of the V&A. "Interventions such as this offer an opportunity to bring diaspora voices to the heart of the V&A, to be in conversation with the museum's vast South Asia collection."
Here, Yousefzada talks us through the works.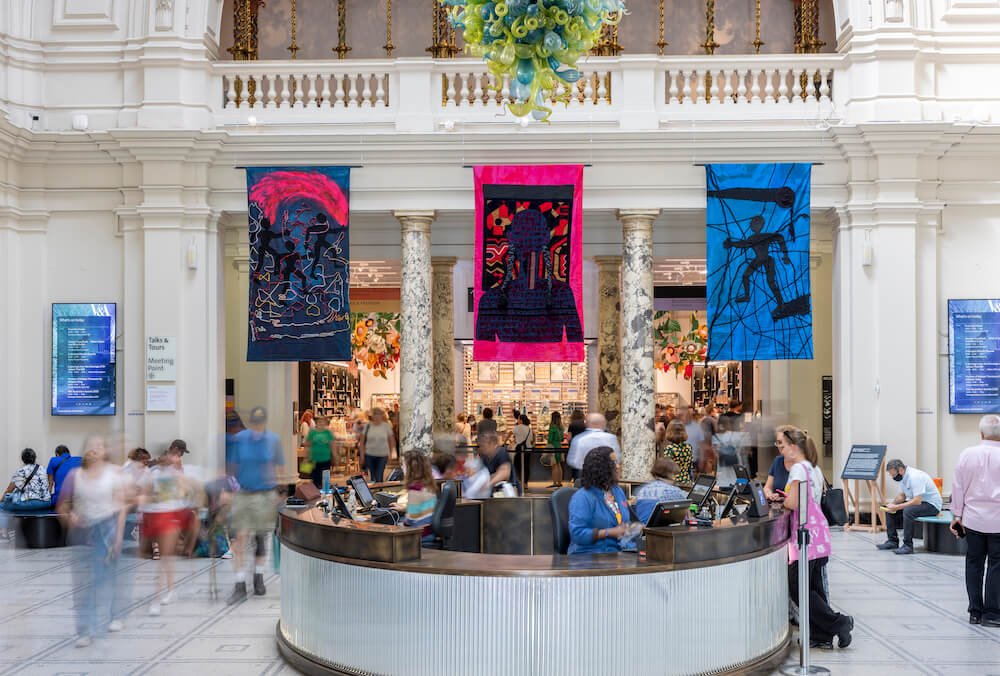 "You start off in the lobby, the grand entrance of the V&A. There hangs three tapestries, each three meters long, which all depict a story; a story of migrant histories that are so integral to the fabric of the building and the V&A itself. These stories come from the book of the Falnama, a book of omens that become tarot cards. Moving into the Sculpture Gallery 25 off the Hinze gallery, there is a totem of clay and glass objects, which are a shrine to female migratory experience. Domestic conversations are normally overlooked, as well as communities that don't want to be documented. In the garden is the core of the work, focusing on community and contemplation around a boat that is painted Victorian black to signify colonial extractivism and present day climate precarity. Over these three spaces, there is a continuous story of migration, movement, the climate, gender and colonialism.
"Throughout, I worked with waste material from garment factories, which had been twisted into ropes, along with offcuts of materials I could use to collage and embroider onto canvasses I had painted.
"We all have our stories, and the more we allowed to tell these stories, the more space we are creating for others to follow. Class has so many barriers, invisible barriers that people don't want to talk about. My migratory experience is about the intersections of class and race, this is my identity. I think it takes much longer to find your place if you do not have signposts by parents and teachers who can lead you the way or direct you to well trodden paths of creativity. 
"I'm very humbled [to have been commissioned by the V&A]. It's an institution I came to as a student. I am from the wrong side of the tracks, from a closed community and from illiterate parents, so it all still feels so removed and I have to pinch myself sometimes. The imposter syndrome is always there, people like me don't get to be in spaces like this – but not only am I here, I'm having difficult conversations."
Imagery courtesy of the V&A.