We're in the midst of a long-awaited summer and it feels so good. With reduced hours plastered on the doors of businesses across the city as people take time to recharge, there is no better time to follow suit by packing up your bags and getting out of town. The benefits of travel are plenty – an opportunity to visit an unfamiliar land and immerse yourself in a different culture all while treating yourself to plenty of strolling walks, dips in the water (beach or pool, it's up to you) and fine dining. There has been one downside of travel, however, and it's related to all your beauty travel essentials. We've all had to come to terms that when our favourite fancy cleanser or big makeup basics hadn't been mini-me'd it meant the start of valiant attempts to transfer the goods into plastic-travel-size containers by way of your local drugstore. Cue the mess.
But brands are taking notice, especially since people are prioritising travel now more than ever. It's the age of experiences and we all want to amass as many as we can. Today, not only has your go-to cleanser been downsized, destination-specific travel kits are starting to hit the market. If you're still trying to balance your moisturiser above a small funnel on the kitchen sink, hold the phone, as my elementary teacher would say. Sister Mary Alice had a flair for dramatics. We've rounded up the latest travel essentials to make sure you're looking and feeling you're best, whether you've traveling just a few hours out of town for a beach day-trip or packing for a month-long cross-continental excursion. All under that airplane-friendly 100ml limit.
SKIN + BODY
Going to Italy? Or maybe Brazil? Aesop has put together kits specific to both these cities. The Rome travel kit contains nine travel essentials, from their Geranium Leaf Body cleanser to the In Two Minds cleanser and Blue Chamomile Facial Hydrating masque. Each of the items featured in the Rome kit were selected with a warmer climate in mind to ensure you are thoroughly cleansed and silky smooth, not oily. And because we can't forget about the refreshing that needs to take place on the plane and once you've just landed, Aesop is selling Departure and Arrival kits as well. Say goodby to dry in-flight skin and catching sight of a dull complexion as you make your way to the taxi.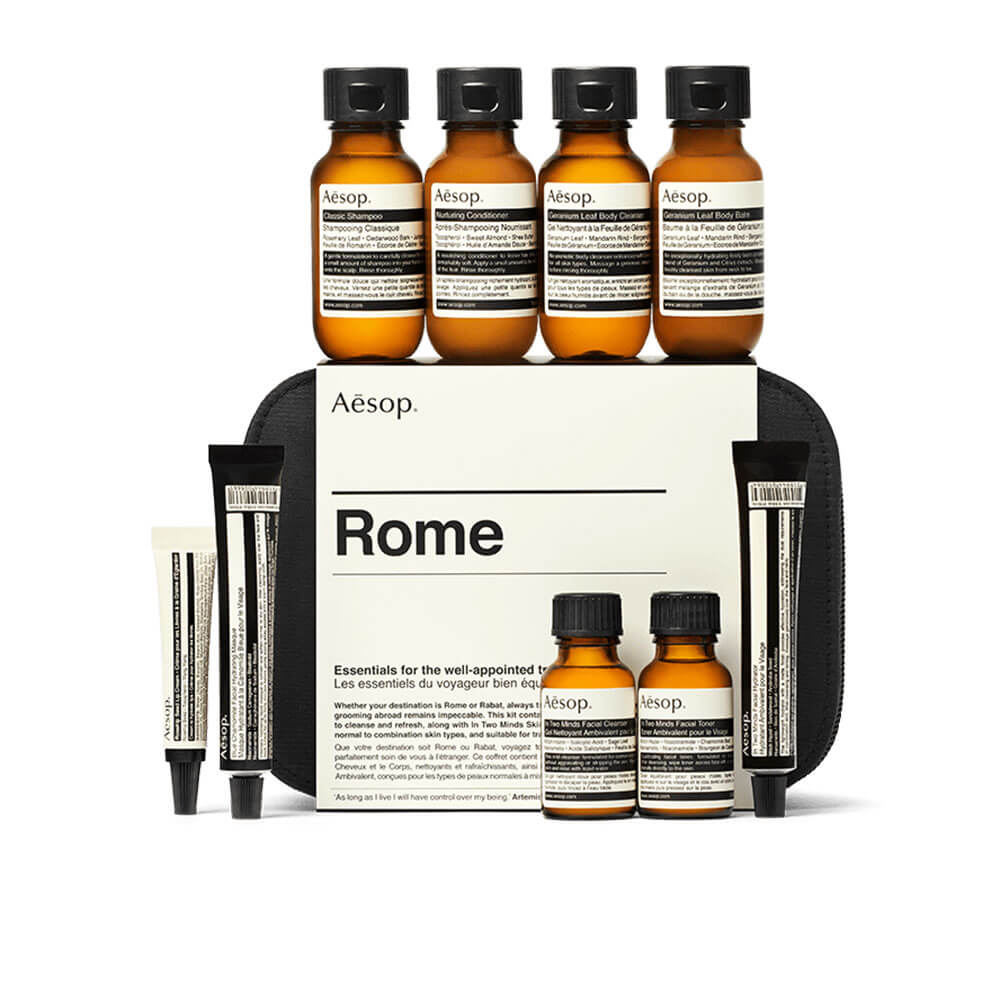 FRAGRANCE
Chanel has put together a handy travel essentials list for those looking to maintain their chic as they grace cities far and wide. Formatted in an easy-to-follow narrative, the luxury house lays out the five items, from fragrance to beauty basics, every mademoiselle needs to stay cool, calm, and collected. Whether you're going to Biarritz or want to take a little bit of Biarritz with you to Shanghai, the Paris-Biarritz Eau de Toilette will cover you with just a few spritzes. The fragrance now comes in Le Voyage, a limited-edition set that features travel-friendly sizes of the three Les Eaux De Chanel fragrances inspired by Biarritz, Deauville, and Venice. If you're curious how these cities made the final cut, it's because Coco Chanel was said to be fond of the romantic holiday getaways.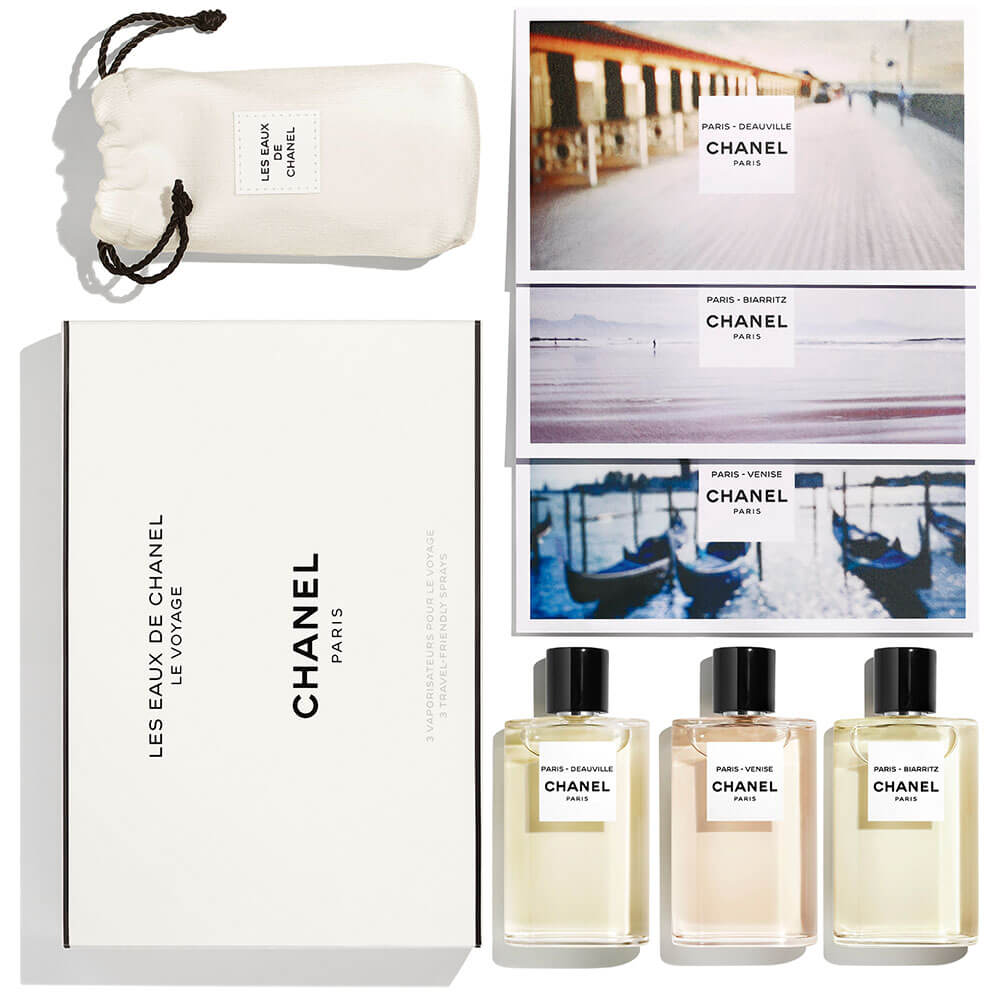 SUN PROTECTION
Of course we can't forget sunscreen, which is a travel must-have for everyone. We all know sunscreen helps prevent painful sunburns and developing skin cancer, and yet its use can still fall to the wayside often due to the white residue many versions leave behind. It's sunny, you want to be a glowed up god(dess), not a ghost from the past. The good news is that Dior just released the latest version of their Beautifying Protective Creme Sublime Glow which comes in SPF 30 and 50. As part of their Bronze line, which was developed to help you reap only the positive effects of sunbathing, this light-weight creme with its delicate floral scent will leave you subtly radiant as you embrace the rays.
MAKEUP
Lastly, the makeup basics. If you're traveling to a warmer climate, you'll likely be foregoing heavier coverage for a tinted moisturiser topped off with a little bronzer and glossy lips. Or you might opt for a bright, red lip and bold brow. Both these looks will call for an eye that pops. For an application that packs a punch, the Luxurious Mascara by YSL Beauty will give you dramatic eyes san falsies. The waterproof formula, which comes in classic black and brown, plus a luscious violet, has a 24-hour hold, which means you can head to the beach, take a dip and then make your way to post-leisure-activity drinks without having to worry about re-applying in-between.