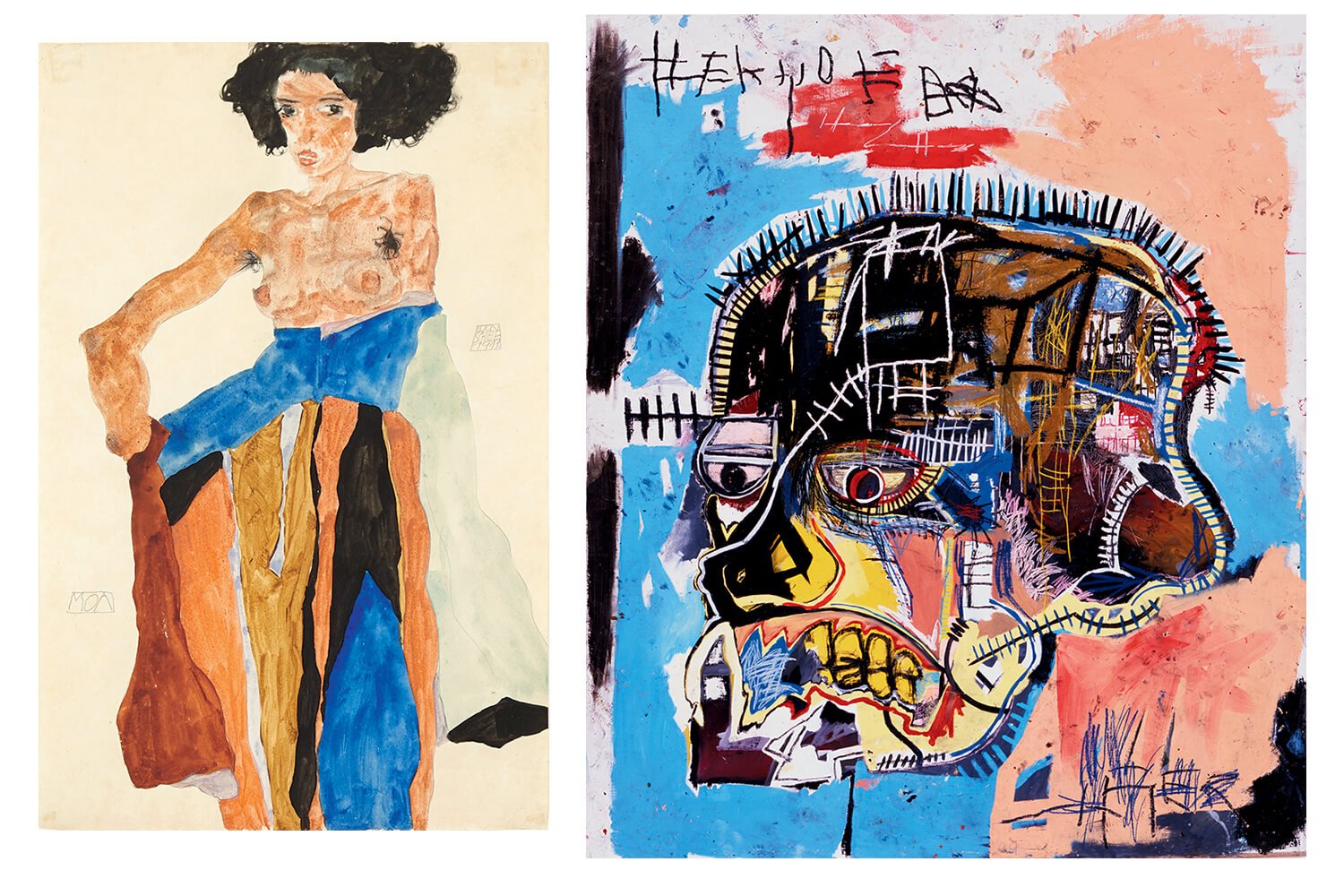 Left: Egon Schiele, Moa , 1911; Moa Gouache; watercolor and pencil on paper; 48x3cm; Private collection, London; Right: Jean-Michel Basquiat, Untitled, 1981, Acrylic and oil 
Future's present and future's past is coming together in Paris this Autumn with a joint exhibition on the works of Egon Schiele and Jean-Michel Basquiat. Croissants and a little sip of Fée Verte is fantastic respite from the bustling streets of whatever arrondissement you're strolling down, but when a craving for Louis Vuitton hits then we seriously suggest you follow your desires. And no, we're not talking about a LV boutique, we're talking about the Fondation Louis Vuitton; the elegant glass sculptural cultural center to the west of the city, surrounded by green and serene pools of water. This quiet haven is the ideal place to reflect upon the works of Egon Schiele, the expressionist painter who captured the Viennese spirit of the Avant garde in the early 20th century. But that's not all – the exhibition also includes 120 career defining works from Basquiat, with a comprehensive collection of paintings and drawings spread over four levels of Gehry's building. Some of these works from the prolific artist have never been seen in Europe before, so all the more reason to attend. A French reply to the Klimt/ Schiele exhibition coming up at the Royal Academy of Art in London, the LVMH show reflects upon the double trouble of the two groundbreaking artists of their time.
Mentored by Gustav Klimt and revered years down the line by artists from Tracey Emin to David Bowie (who frequently name checked the painter throughout his career and snapped up his works at auctions), Schiele is famous for his paintings and drawings of distorted bodies, barren landscapes and figures in isolation; seized by desire or agony or, often, both. The introspective and at times disturbing style of Schiele has amassed a worldwide cult-like following, fans often cite his intensity as both artist and man as the sources of interest, as can be seen from one of the many self-portraits on display here. What makes these works so interesting? Is it the haughty gaze, the twisted limb or the elongated neck? The melancholic palette or the unsettling subject matter? You'll have plenty of time and material to think about it for yourself as this exhibition brings together over 100 works lent from Vienna, Poland, New York and further afield. With the exhibition opening just a day after the Louis Vuitton show in Paris, we think it's a perfect break from the endless catwalks. So, get onto the Metro and leave the temptation of Galeries Lafayette behind. What are you waiting for? Vite, vite!  
 "Jean-Michel Basquiat – Egon Schiele" Is on display until January 14th 2019 at Fondation Louis Vuitton, 8 Avenue du Mahatma Gandhi, Bois de Boulogne, 75116 Paris.