Dear Everyone, please welcome to the stage… Issue One of 10+. The newest addition to the Ten Magazine family, 10+ represents a completely new approach to fashion publishing. A bi-annual offering presented in a limited edition box consisting of oversized posters as well as a bound magazine part, all covering the ultimate luxury part of fashion. The first issue of 10+ is launching next Tuesday on November 20th, and is available for pre-order as you're reading this. For a change, the focus is on Couture, Pre-Fall and Cruise collections as well as Beauty, Fine Jewellery and Menswear – with a special dedication to destination shows which inspired the idea about 10+. But who are we fooling – the only person to fully explain you the whos, whats and whys of 10+ is the mastermind behind the grand idea – the Editrix-in-Chief of Ten Towers. Take it away, Sophia Neophitou:
"A few years ago, the cruise experience was born. Spearheaded by Chanel, a tiny handful of us were taken on a fashion odyssey. We were transported to a beautiful location to be fully immersed in a Chanel experience. It was truly magical. Every moment so well considered, and every detail so beautifully curated, all our desires catered for. The show was always the culmination, the ultimate climax. We returned from this trip feeling enriched not just by the show, but by the full experience! I have been lucky enough to be a guest at Chanel's destination shows for many, if not all, of these moments. each remains a permanent,  joyous, wondrous memory.
Now, more and more brands have joined in, creating these destination fashion-show moments and far-flung experiences, for which we travel to beautiful places all over the world. The very few of u – on average 8-12 people from each region of the world's journalists and editors – are given these very focused moments to be immersed in the designers' world. They create wonderful, unique memories. these isolated destination shows are a way to display the cruise and pre-fall collections, which often represent 70% of a brand's sales, but historically they had no place dedicated to celebrating, discussing and sharing them with the outside world – apart from our social media feeds. There has been no luxury experience put in print, no physical place where our experiences have been elaborated on and illustrated, and no specific way to show the moments in an environment that really celebrates them.
These thoughts were going through my head last May, after walking through the Uffizi in Florence, past the Botticelli's, to get to Gucci's cruise show, and the little seed for my new magazine, 10+, was plated. I felt compelled to provide a tactile luxury experience to showcase these amazing, glorious days. I wanted to reflect these adventures in a tangible, photographic way. so the boxazine was born. I have called it 10+ because every element – the words, visuals, design and physical experience – is elevated.
10+ is a specific place to showcase fashion's absolute luxurious moments (couture, which represents the pinnacle in our industry, has also found a home here), a new format that provides a more unique expression on pages that lie loose and free. Each show experience is conveyed in words and pictures by our industry's greatest writers and photographers (many of whom are better known in the Art sphere than fashion). All were dispatched to document these moments through their eyes.
With 10+ I have found a more precious, interactive way to show and share these magical experiences in a less-traditional fashion format. Inside the 10+ box is a bound magazine. I think of it as a distilled version of the 10 spirit – witty, informative and aimed at those in the know. What's new is the poster element – unfold them and discover our visual stories. Each loose leaf gives the undulating flavour of the way we experience each show. I hope we have found a way to give a real glimpse of our time spent on these trips. These lavish visual showcases are scrapbook moments of treasured times. I hope you find our box experience as inspiring as we found our physical experience."
Issue One of 10+ is available to order now via 10 Curates and is hitting selected stockists today.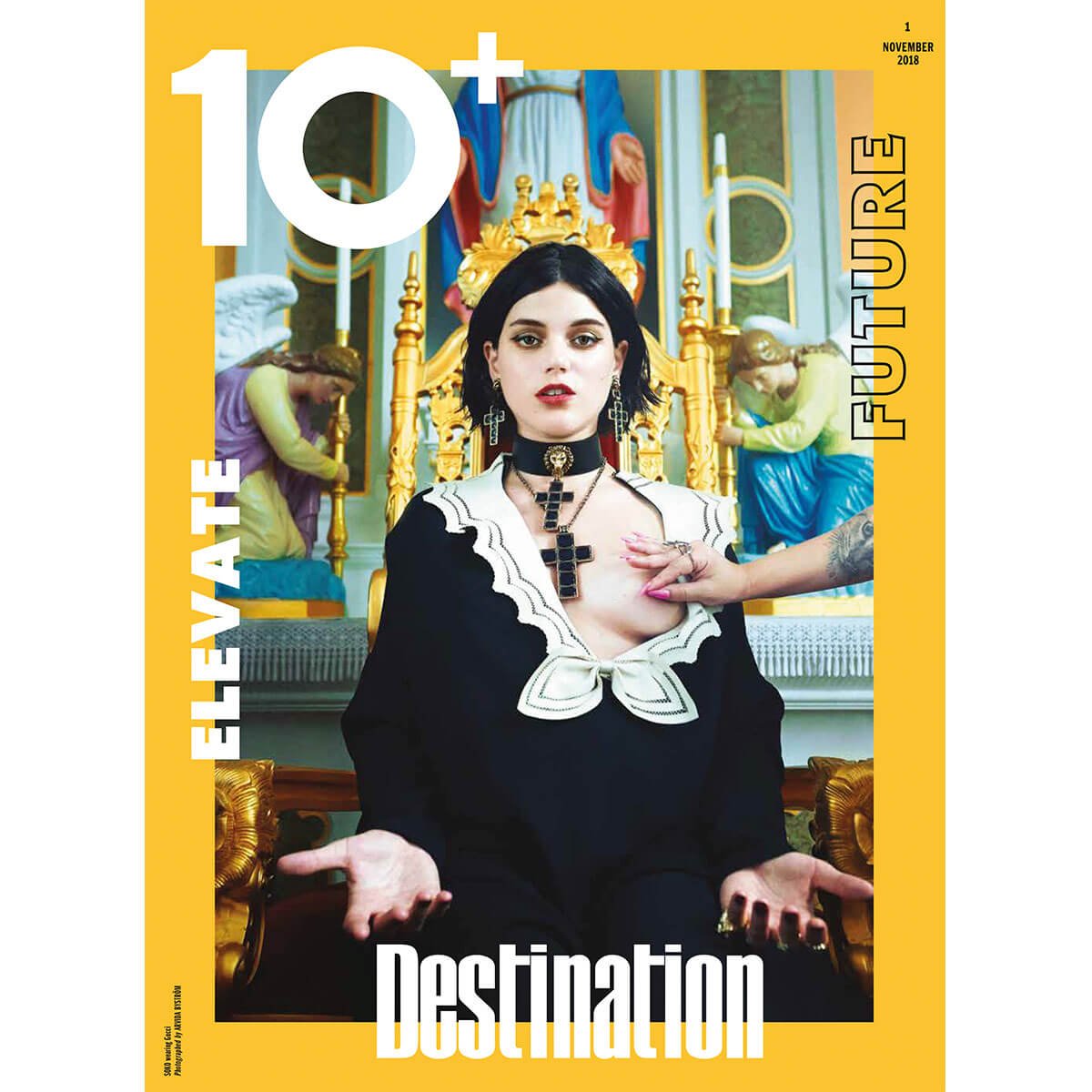 Women's Cover / Gucci: Praise You Like You Should

Photographer Arvida Byström
Fashion Editor Keegan Singh
Hair Iggy Rosales at Opus Beauty using Oribe
Make-up Holly Silius at Lowe & Co. using Tom Ford Beauty
Talent Soko wearing Gucci
Nails Betina Goldstein using Oribe
Photographer's assistant Roman Udalov
Fashion assistant Prather Ray
Hair assistant Melissa Dominguez
Make-up assistant Yukari Bush
Retouching Mikael Bigun
Production Richard Villani at Villani Productions
Men's Cover / Maison Margiela Artisanal Men's: An Extreme Bias

Photographer Axel Hoedt
Fashion Editor Hector Castro
Hair Pawel Solis at Artlist Paris
Make-up Lloyd Simmonds at Agence Carole
Model Samuel Lécart at Premium wearing Maison Margiela by John Galliano
Casting Simone Bart Rocchietti at Simo Bart Casting
Street casting Martin Franck at Martin Franck Casting
Photographer's assistant Michal Czech and Nanao Kuroda
Fashion assistants Sid Yahao Sun and Lee Yao
Production Western Promises
Instagram: @10magazine / @10menmagazine