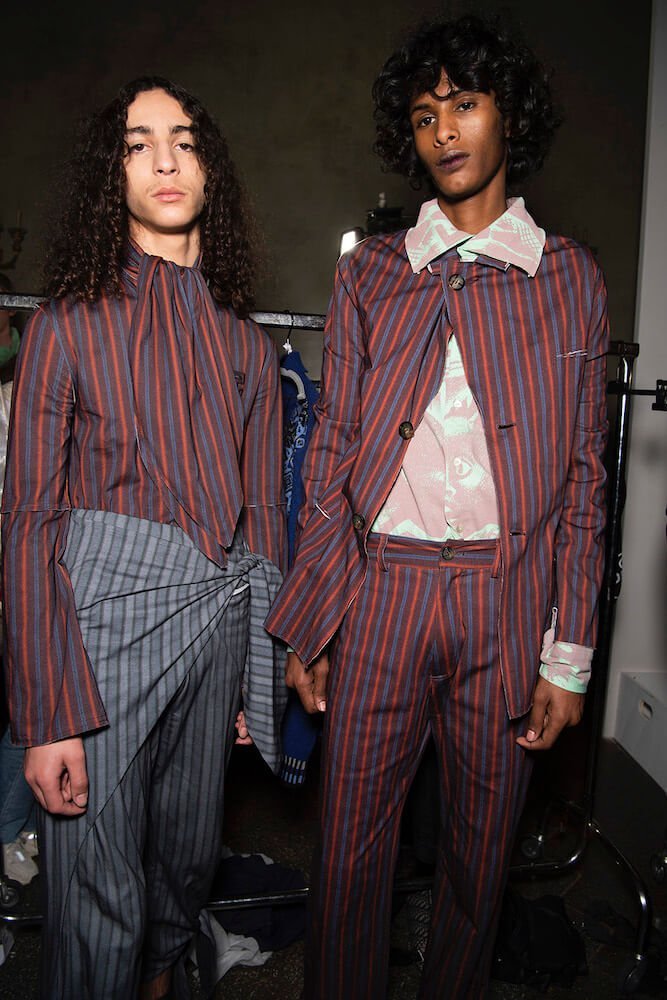 Walking on the decay of yesteryears, Telfar Clemens builds fashion from the ground up with only the sky as his limit. Last night, he demonstrated exactly how close to sky he can actually go. To call the Telfar AW20 presentation a catwalk would be a serious understatement – these were some seriously theatrical proceedings with live music and a special performance by Carrie Stacks, dancing by Boychild and style demonstrations that not only made a point in what they represent now, but also in their historical (ir)relevance. After Paris Fashion Week last season, Clemens continued his quest of world domination in Florence, after working on producing his collection in Italy for the past four months. As he explained backstage, his partnership with Slam Jam resulted in bringing his whole team and moving to the country. "I didn't really want Florence to be an influence but it was," he said, explaining how the purity of living around and experiencing the rich art history of the surroundings rubbed off his design process.
In the context of garments, some complex ideas were simplified in true Telfar fashions. Looking at the noble figures on the paintings and frescoes, Clemens re-imagined them wearing his style signatures. This was a meeting of 1920s Harlem Renaissance and 15th century Renaissance, with frilly shirts and fancy house slippers stamped with the brand's logo, and re-contextualised with Telfar's own community in mind. "I'm making clothes for myself," he lauded backstage.
With the likes of Solange, Kelela and Grace Wales Bonner sat around the table 'decorated' with the remains of a friends & family dinner Telfar hosted the night before, it was clear that the American designer was bringing something totally different to Pitti. And no, it's not just the kick-flare jeans with trompe l'oeil puffer leg-warmers attached to them, although we're mega excited about those too. Clemens brings his own cultural experiences of living, breathing and partying around NYC and uncompromisingly shares it with the world. Where to next? Clemens said: "I wanna be able to take Telfar to anytime and anywhere we go." We'll see you there.
Photographs by Jason Lloyd-Evans.