Selfridges has unveiled its latest, and possibly its most sustainably innovative venture: Supermarket, an experimental shop for the future. Located at The Corner Shop based out of its Oxford Street flagship, it's a four-week-long retail experience experimenting with an earth-conscious shopping affair. 
Featuring a masterful curation of the industry's most innovative brands, from Crocs to Iris Van Herpen, it's the newest instalment of Selfridge's Project Earth sustainability strategy where the aim is to examine future shopping habits and navigate conversations around consumption, sustainability and physical ownership. This year, the creative theme is SuperFutures, an open-ended invitation to co-create our tomorrow. 
From the moment you step foot onto the creative playground you're invited to explore on-demand 3D-printing in action and discover how cutting-edge sustainable materials are made. From atmospheric carbon and mushroom or pineapple leather to the first fully recycled and completely circular nylon Marine Filament.
Elsewhere, Air Company showcases a first-of-its-kind fragrance that repurposes atmospheric CO2 into high quality diamonds, aptly dubbed Sky Diamond. Though it's UK specific, the perfume enters the uncharted realm of carbon negative production.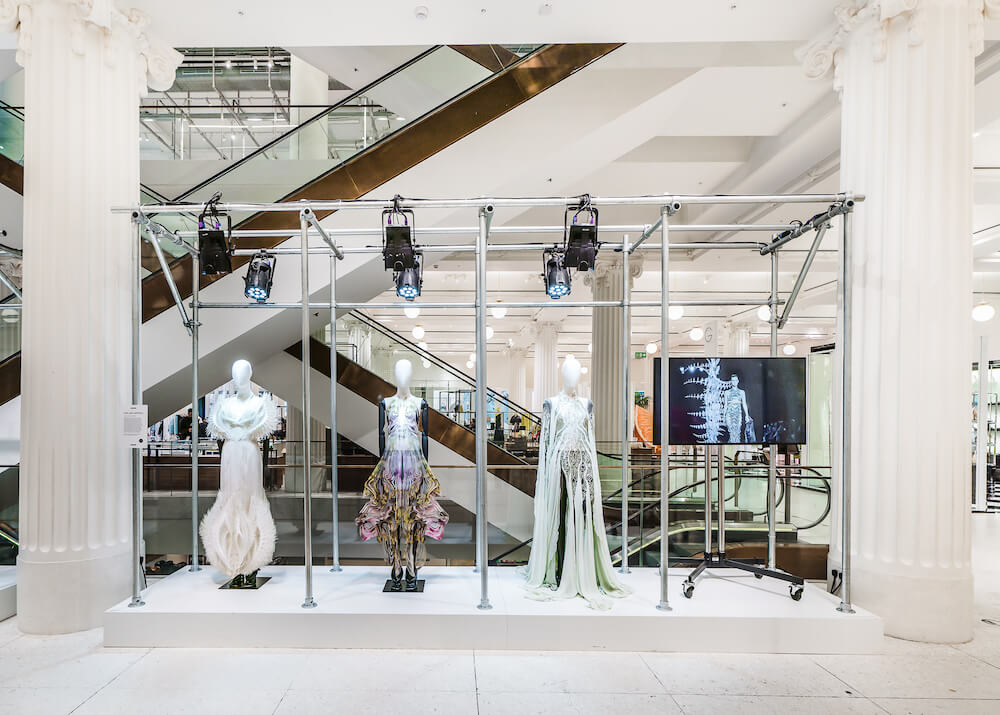 Parley for the Oceans has constructed a 2.3m tall ABB IRB 5700 robot that takes plastic pollution and transforms it into homeware, clothing and exclusive sunglasses called Clean Waves using 3D printing. Meanwhile, Iris Van Herpen reimagines haute couture with a curated display of laser cut corset belts and made-to-order gowns from recycled ocean plastics, and Crocs takes excess-stock to make real-time, tailor-made designs with Nigerian multidisciplinary artist, Tejumola Butler Adenuga. 
And for the crypto-conscious lot, Selfridges is jumping back on NFT bandwagon, offering exclusive digital artworks that you can buy in store. But that's not all: if the hoopla of Oxford Circus isn't your thing then grab your AirPods and curl up on your couch because Selfridges is also launching the SuperFutures Podcast available across all channels throughout April. 
If it tickles your taste buds, Redefine Meat is offering a mouthful of the future with 3D-print-powered plant-based meat served at The Brass Rail and Harry Gordon's Bar & Kitchen. Elsewhere at the UK's first ever mushroom bar, Dirtea channels the latest cognitive-enhancing nootropics with super-mushroom tea, coffee and cacao extract powders unlocking the ancient power of Chaga, Lion's Mane, Cordyceps and Reishi. Vite vite, it's time to shop for the future!
Supermarket at The Corner Shop is open until April 30, 2022 at Selfridges Oxford Street.