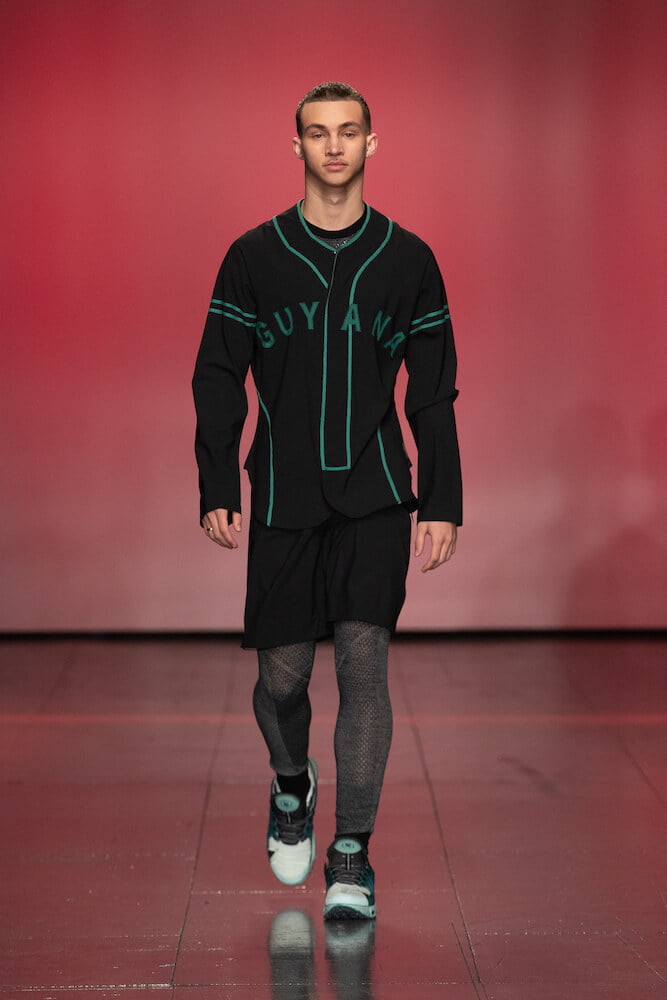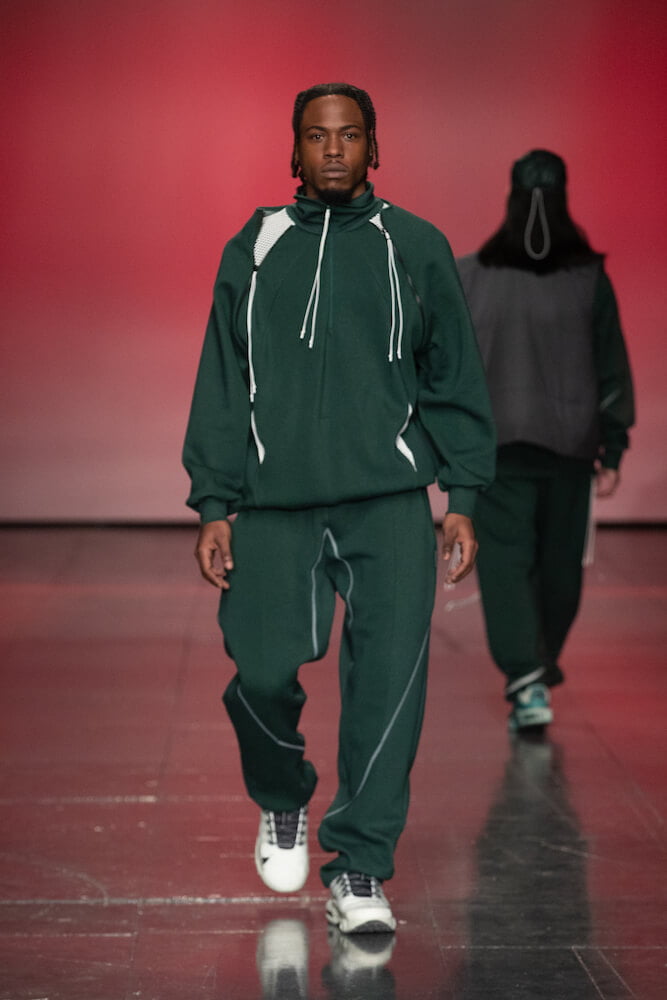 "I'm always interested in how to expand the language of activewear," says Saul Nash over a Zoom preview of his latest collection, The Ritual. The designer is up for this year's International Woolmark Prize, and has taken to his signature tracksuits with wool for his most technically savvy offering to date. Nash's design hand is led by his experience growing up in London, and for this collection, he looked to his Guyanese heritage to explore folklore tales fed to him by his mother. "The collection was triggered by all my memories of my mom saying things like 'Don't put your hair in the bin or birds will peck on it and you will get a headache,'" he says, "a lot of different spiritual beliefs."
Nash explored the ritual of going to the barber shop, with a film that proceeded before his catwalk presentation set in Kensal Rise. As models slowly began to enter the show space, in choreographed, ceremonial formations, they came clad in name-plated knitted compression tops, padded coats insulated with fully traceable HD wool and technical zip-ups stamped with mermaid graphics: a reference to a water spirit in Afro-Caribbean folklore.
Most notably, the designer waved one of his grandparent's Guyanese flags over a projector, reminding him of carnival, to create this season's standout print, seen across tracksuits with mesh layers integrated within the knit for breathability. Its jagged yellow and green lines came to remind Nash of the landscape of Guyana, seen alongside the designer's first stab at tailoring, with a hooded blazer that can be unbuttoned into a sleeveless jacket. "Sometimes I go out and I'm like, 'You know what? I would like my version of the suit for that occasion,'" he says. "It's all about these different elements of the Saul Nash man."
Photography courtesy of Saul Nash.