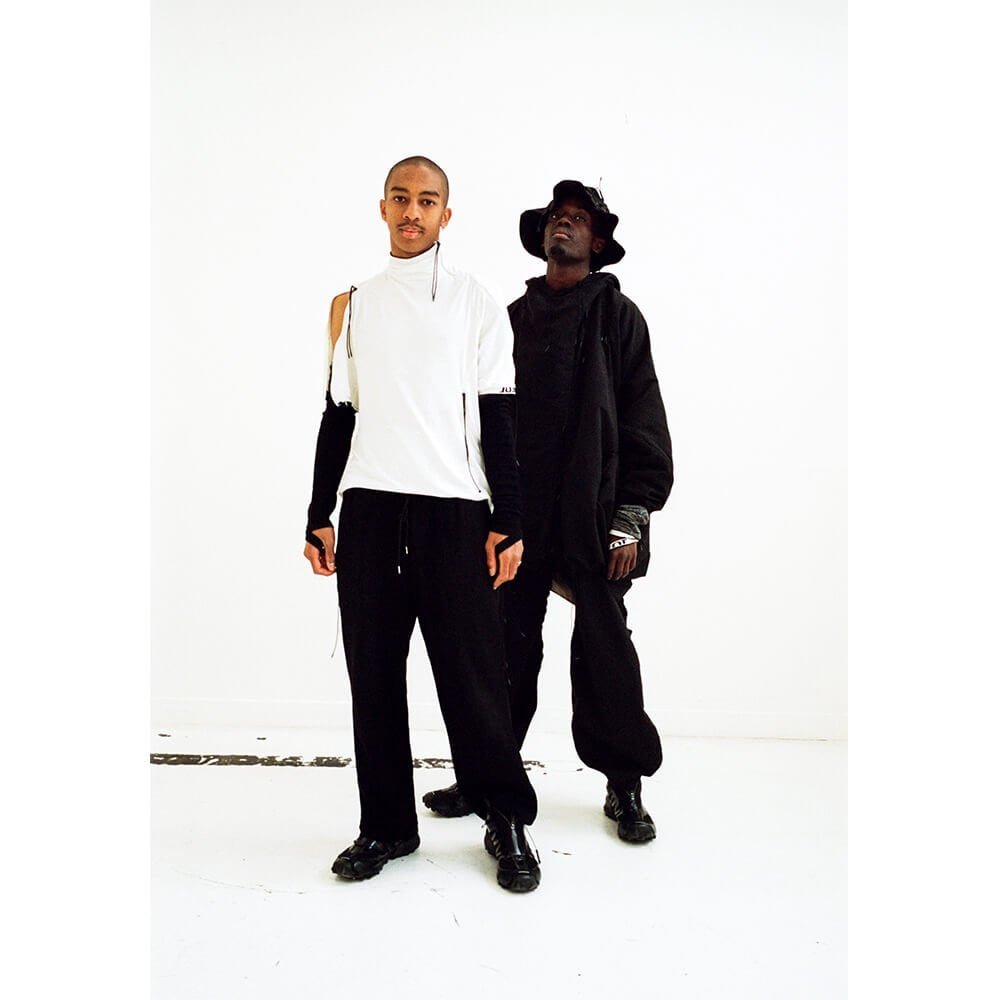 As the new season rolls around, a fresh-faced Fashion East line-up is ready to set London Fashion Week ablaze. Although we hate to bid farewell to Stefan Cooke, who graduated the mentoring scheme last January and will now be showing in a standalone moment, the roster heading through to the next round of menswear shows in June has us particularly giddy. Returning this season is Robyn Lynch, whose block-coloured, personal exploration of the Ireland of yester-years, through a lens fit to the menswear trends of today, was a particular favourite with Japanese buyers last season. Mowalola Ogunlesi is also making her sophomore performance. A favourite of Solange and Drake, expect to see dangerously low waistlines, neon patent leather and a whole lot of sex appeal punctuating the air.
This season's spotlight, however, will be poised on Saul Nash who's set to make his debut under the non-profit organisation. "The hit I get from these three designers and their work is pure energy with conviction, poise, talent and a unique point of view," says Fashion East founder Lulu Kennedy, "We're thrilled to present three such talents all in one show!" To get in the know a bit more about one of London's brightest young talents, we bring you 10 essentials snippets about Saul Nash:
1. He's a North-East London boy born-and-bred – born in Homerton, Hackney.
2. Pirouettes came before the sewing machine – from the age of 5, Nash has kicked and swayed through various styles of dance, admitting to an inner conflict that arose during his school years whether to focus on design or dance.
3. Luckily he found a degree which fulfilled both his passions – studying BA Performance Design at Central Saint Martins, the designer went on to receive a scholarship to study a Masters in Menswear at Royal College of Arts.
4. The team surrounding Nash are pivotal figures leading London's creative revolution. The designer's debut collection was styled by i-D Fashion Editor at Large, Ib Kamara, whilst photographer Campbell Addy shot Nash as he danced for a Nowness film back in March. Both Kamara and Addy have worked alongside Mowalola in the past too – just another reason the designer is the perfect candidate to join the Fashion East family.
5. His debut on-schedule collection at LFWM last January was a highlight of the season. In a high kicking, choreographed performance, Nash's debut remained a talking point throughout the season.
6. Don't expect to see leotards and tutus – Saul Nash's designs carry a street-centric sensibility. Shell-suit trousers and track tops appliquéd with drawstrings here, there and everywhere, are bound to be big hitters in the sportswear-cum-streetwear market.
7. Whether it's heading to the club, or dancing in a studio – Nash's practise aims to free the wearer from restriction. Working mostly in nylon and lightweight cotton, his silhouettes are sleek yet spacious – just perfect for a boogie.
8. Nash's designs aim to liberate the identity of the wearer, subverting the sportswear codes he became familiar with through family and friends growing up in London.
9. Nash isn't set on giving up dance for design (or vice versa). Both practices extend into one another, informing his creative process in both fields. Though only one collection in, the talent Nash has delivered is undeniable, and the genuine nature he has carried thus far is set to propel the designer to terrific new heights.
10. What can we expect from June's collection? "I never like to say too much before the deed has been done but performative is the keyword," he tells us. What that exactly means? We'll have to wait until 7pm on Sunday, June 9th to find out.