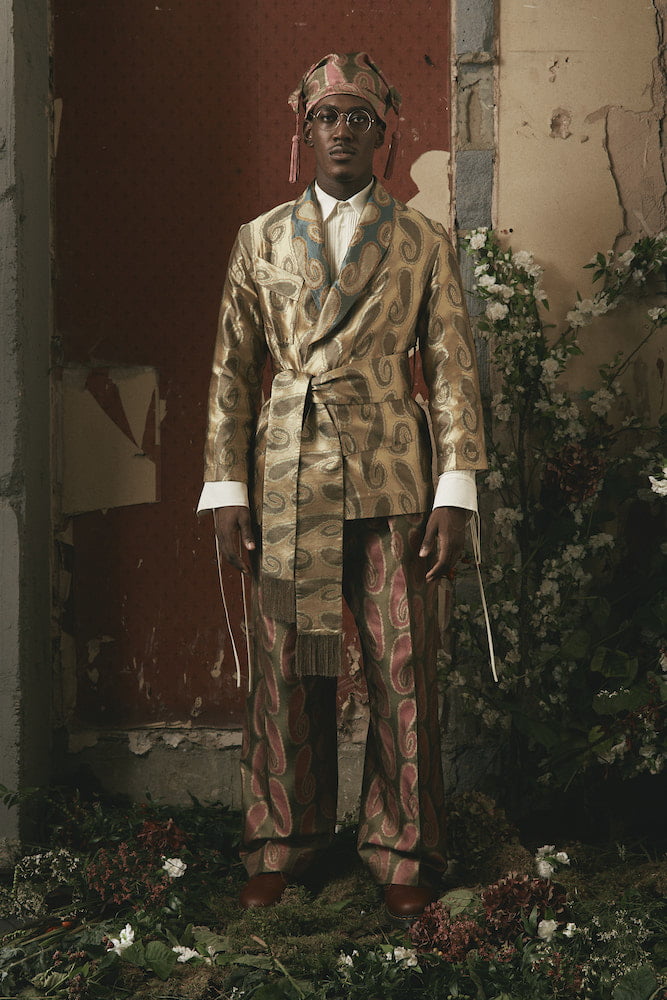 Before Steven Stokey-Daley began his trajectory to becoming one of Britain's most exciting menswear designers, he was a member of the National Youth Theatre. He joined when he was 16, just out of school. Stokey-Daley is Liverpudlian and from a working-class family, but soon found himself immersed with aspiring actors and performers who had accents unlike his own, from all socio-economic backgrounds. The formative experience fed the designer's SS22 collection, his on-schedule debut, which was the final part of a triptych –  that started with his grad collection – which explores British public school culture.
As always, private school uniforms were on the agenda, with Daley appropriating and claiming them as his own. Daley worked with members of the National Youth Theatre from the collection's very beginnings. In a series of workshops, private and state school-taught actors spoke of their school experience and how "the intimate bonds of private education dictate structures of power and class," touching on gender, sexuality, and race. These conversations were morphed into a live performance directed by Paul Roseby OBE. Claustrophobic with raw emotion, the four-parter ventured from the playground to the classroom, through to the rugby pitch – queering and questioning rigid codes of masculinity.
Billowing trousers, balloon sleeved trench coats and pyjama shirts printed in a pattern inspired by the designer's nan's wallpaper quickly cemented themselves as new signatures for the brand – slotting in nicely with lambswool cardigans and suits inspired by rowing uniforms. The cast showed how to these romantic silhouettes can be worn graciously in the world of today; gracious, flamboyant and utterly desirable.
It was a superstar debut, one that was the topic of conversation the day after and will be regarded as stellar for seasons to come. As Stokey-Daley took an emotional bow, it was clear we've got a star on our hands.
Photography courtesy of S.S.Daley.