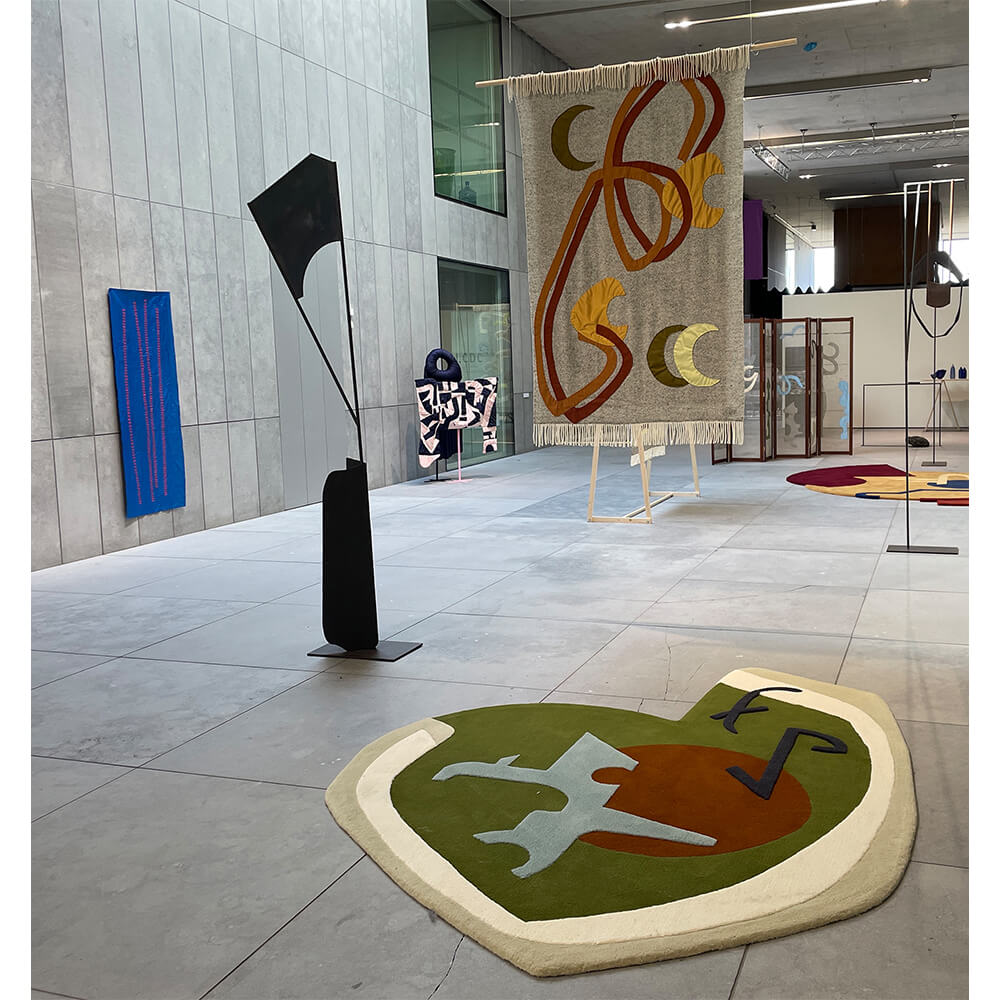 From the innovative mind of Irish fashion designer, Richard Malone, comes a brand new bursary programme alongside the third and final leg of his Making and Momentum: In Conversation with Eileen Gray group art exhibition. 
The exhibition, which initially debuted in June 2021, is curated by Malone and expressly dominated by women and queer people across generations. Featuring work from ceramicist Sara Flynn, sculptor and Venice Biennale contributor Niamh O'Malley, artist Laura Gannon, artisanal rug-makers Ceadogán, abstract painter and Gray prodigy Mainie Jellett, County Down weavers Mourne Textiles and Malone himself, it's a showcase highlighting modern craftsmanship representative of a new Ireland.
"In many ways the show feels like a tonic to the vast speed of our world at the minute," says Richard Malone, "celebrating slow, beautiful craft and the freedom of making art – self defining and with infinite possibilities." The display is made up of metalwork, sculpture, glasswork, paintings, ceramics and more, and it's a celebratory exploration of the legacy of modernism within Ireland, in honour of the late Eileen Gray. 
Gray was an influential queer, female multidisciplinary artist and a pioneer of the Modernist movement with a vast body of work spanning across painting, furniture, architecture, textiles, rug-making, drawing and photography. "Her work is generous in its boldness and in its humanity," Malone says. "It isn't created for another's gaze or to be fashionable, it's completely unique, daring, emboldened." Taking place in Wexford, Ireland, an utterly befitting setting as it doubles as the hometown of both Malone and Gray, the exhibit will be open to the public until May 13, 2022.
Then there's the special bursary programme that Malone has launched in a bid to amplify the voices of Irish artisans and craftspeople. While connecting Irish history, migration, and tertiary industries often led by women, the bursary programme aims to prove that this kind of radical work and craft that Gray produced is an item of the present. The Artist Prizes will be awarded to Irish student applicants – although a formal art education is not necessary – from all creative disciplines expanding across art and design to textiles, performance and music, writing and beyond. In fact, there are no rigid restrictions at all. "This project is really my way of celebrating craft and connectedness to a rich history that is often overlooked," says Malone. 
While the exhibition displays the work of seven creatives, including Malone, the Artists Prizes will be offered to eight individuals. A bursary of €1250 (£1044) will be awarded to projects either complete, in early stage development or as part of a design study programme. When asked of the qualities he's looking for in applicants, Malone expressed that it's the same as those that are in the show. He said that what he hopes to discover is, "A self defined language or brilliant solution based design." He adds:"We're particularly interested in design projects that are craft based, or that work on solutions and excellent design by and for disabled people."
To Malone, uplifting emerging Irish artists and craftspeople is absolutely vital. "We're in an industry that is dominated by British born, upper class or extremely wealthy people." In truth, Malone feels that when he returns to his alma mater Central Saint Martins as a lecturer, he doesn't see himself, a working class background creative. "We have literally priced people out of an education," he says. "It's important to show that this kind of excellence and talent can come from anywhere and really exists in all of us."
To apply, send an outline proposal for the award (no more than 300 words), a short bio and no more than 10 examples of recent work or an overview of an early stage or development project and your intended use for the prize to makingandmomentum@gmail.com. 
Photography courtesy of Richard Malone. 'Making and Momentum: In Conversation with Eileen Gray' is open at Wexford County Council, Wexford until May 13, 2022.