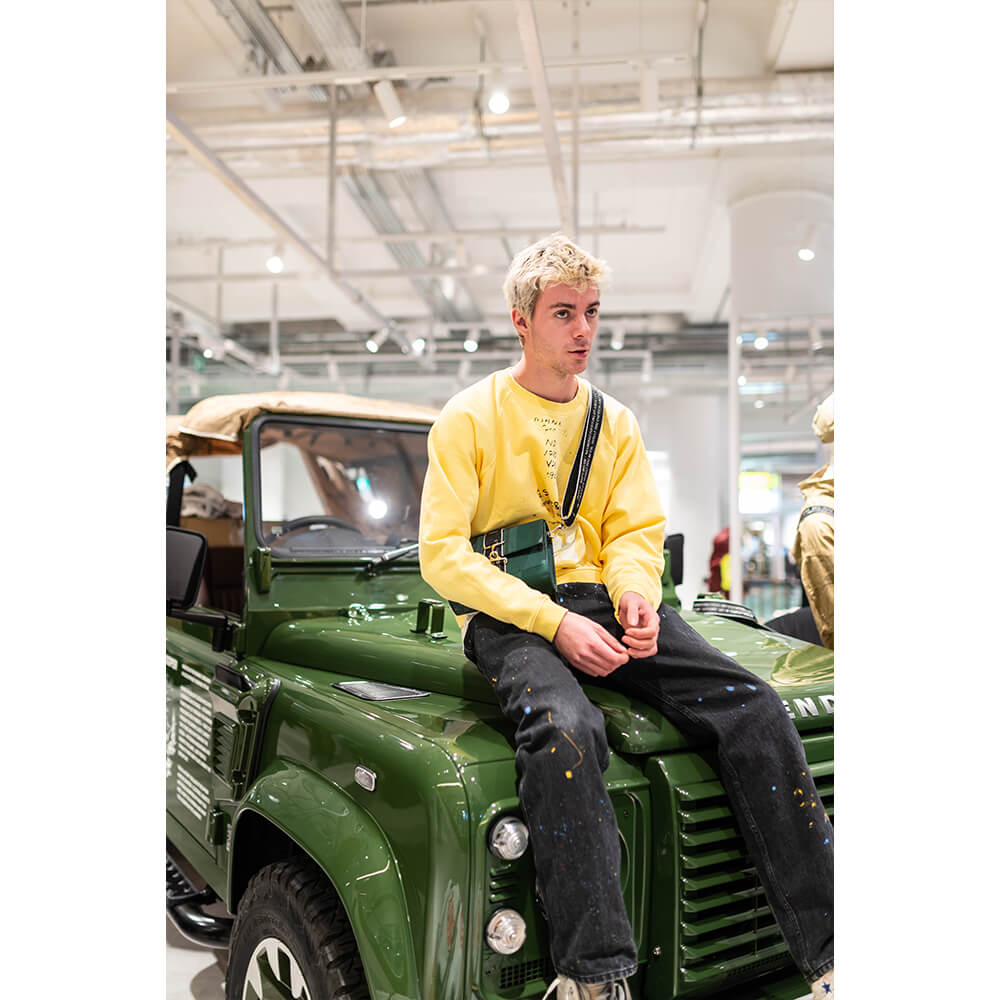 Mary Shelley wrote Frankenstein at the age of 20. Mozart composed his first symphony aged eight. Britney had four chart-topping albums out by the time she turned 22. Young talent creating groundbreaking work might not be the latest of news, but it's certainly exciting to find out about a 21-year-old designer doing great things on the other side of the globe. And it makes me even more excited when I realise that this particular designer is in town for 48 hours, here to install a month-long installation at one of London's biggest retailers. I'm talking about Reese Cooper here, an L.A.-based creative who just made over the vintage Land Rover Defender parked inside the Menswear Streetwear room on the 1st floor of Selfridges.
Originally from Atlanta, Georgia, Reese moved from London to Los Angeles two years ago, with the idea of starting his eponymous brand. Since then, he's established himself on the Californian fashion scene as the cool kid on the block, attracting an impressive list of global stockists that includes everyone from Barneys New York (where he will soon be launching and exclusive capsule collection) to Ssense, GR8 and now Selfridges. What some may refer to as streetwear, he refers to as product, representing a new generation of emerging creatives looking at fashion from not only a creative, but also a commercial perspective. Utilitarian but with a sense of elegance, classic yet interesting to look at. The clothes he creates can be imagined on anyone anywhere – there is creatively-cut hoodies, paint-splattered jeans and printed canvas trousers, but also tees and caps printed with a bit of irony. "Hooked on the highway, dreaming of a place without knowing its name," the Land Rover reads, with a custom map-printed canvas covering the roof and his collegiate merch peeking out of the booth. It's his second full collection, Fever Dream, that's in the spotlight at Selfridges, while he launched a womenswear line and his men's AW19 collection in Paris just a few weeks ago. Together with a full-time assistant and his London-based mum ("she does all the scary legal e-mails"), Reese runs a successful business out of a studio space within a textile factory. Named one of Hypebeast's ten emerging designers to watch, Reese is young, creative and successful – I catch up with him after a 10-hour flight and another three hours of sleep, the day after he installed his pop-up space. 10 minutes on the clock… GO!
Dino Bonacic: Welcome back to London! How long has it been since you lived here?
Reece Cooper: Yeah, we came over here when I was like 10, my mom got a job over here and we were meant to stay over for a year and then go back to Atlanta, but then we just decided to stay here for like nine years. I was six months away from my dual citizenship and then moved to Los Angeles two years ago.
DB: What have you been missing the most from London – except for your mum who still lives here?
RC:  My family, my dog, and just how easy it is to get around. In LA you have to drive everywhere. It's too big – that's why I don't do anything in LA. I just go from home to my office to back home. Everything closes super early, so I feel that when I'm in London I actually get to run around and see people and do things and have fun. Where as I feel in LA it's just about work.
DB:  What's the best thing about living in LA though?
RC:  I wouldn't be able to do what I do without being there. I moved over there for my manufacturing. Once I started to take this brand seriously and figuring out the next steps, I moved there. A friend of mine opened a factory in California and I have an office within the building that the factory is in. It's all in Eagle Rock, just by Silver Lake, which is definitely a nicer part of town. The best part is just having personal relationships with the people I work with, so having the factory in the building, I like to hang out with the seamsters and seamstresses. I don't see anyone in LA as it's just work, to a point where I see all those people as my close friends. We play cards and dice on Fridays, it's tight.
DB: What do you do on weekends then?
RC:  My friend Charlie who I work and live with, his parents have a house in Ojai which is two hours outside of the city, so we go there. It's just fun, it's beautiful. There's a couple of cool museums and you can just walk around. I've been to the beach once since moving to LA!
DB: Is there something that makes you completely shut off?
RC: I'm always on my phone but it's pretty balanced between talking to 90 people at once trying to balance all the conversations, and then I'll just fuck around on social media and play stupid video games. But decompressing… I watch a lot of movies.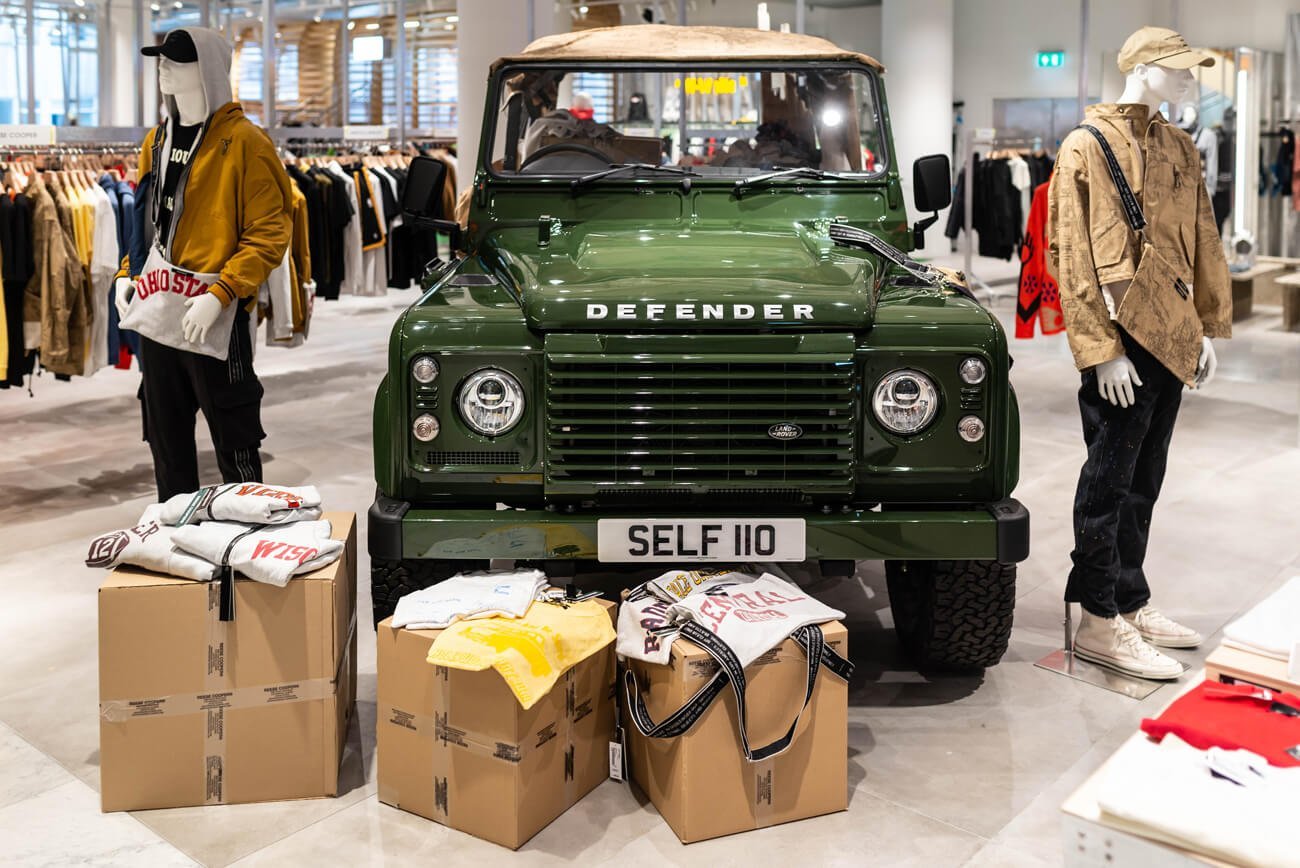 DB:  What's the best one that you've seen recently?
RC:  My favourite movie right now is Life Aquatic with Steve Zissou.
DB: I can even actually see a bit of Steve Zissou in the collection on display here in Selfridges. Can you talk me through Fever Dream?
RC: I feel like you have your whole life to put out your first collection and then only three months to do the next one, so it was that freak out moment where I just got super overwhelmed by everything. I basically stayed at home for a month and a half – I was going through a really bad break up at the time as well as trying to get my bearings in this business. During that time I felt like the walls were closing in and I was losing my mind. That's what inspired the lookbook with all the walls closing in around me, while all the graphics are super personal messages for me. But they also just look cool on surface level. You can piece all the things together from the book and the video, if someone took the time to really read into everything.
DB: Who are the people you want to collaborate with?
RC:  I have so many friends that I really wanna collaborate with, I'm just waiting for the right projects to do with them. For SS19, I worked with a friend called Luke who's a really good set designer and I've known for two years. This was finally something we could work together on.
DB:  So he did the set for the lookbook?
RC: Yes, he did. That was an insane production. In the back of the Defender truck [in Selfridges], there's a video that my friend Victoria shot. She does awesome video work so that was another way to collaborate with her. So, we did this whole lookbook in about six hour – we built this up set from start to finish with the glass windows and everything else. The whole lookbook shows the passage of time and building up the walls and each shot has a different element – it keeps getting more and more built.  I'm truly a fan of all the friends that I have and that's the situation I've put myself in. There's no people I'd rather work with than the people I already know.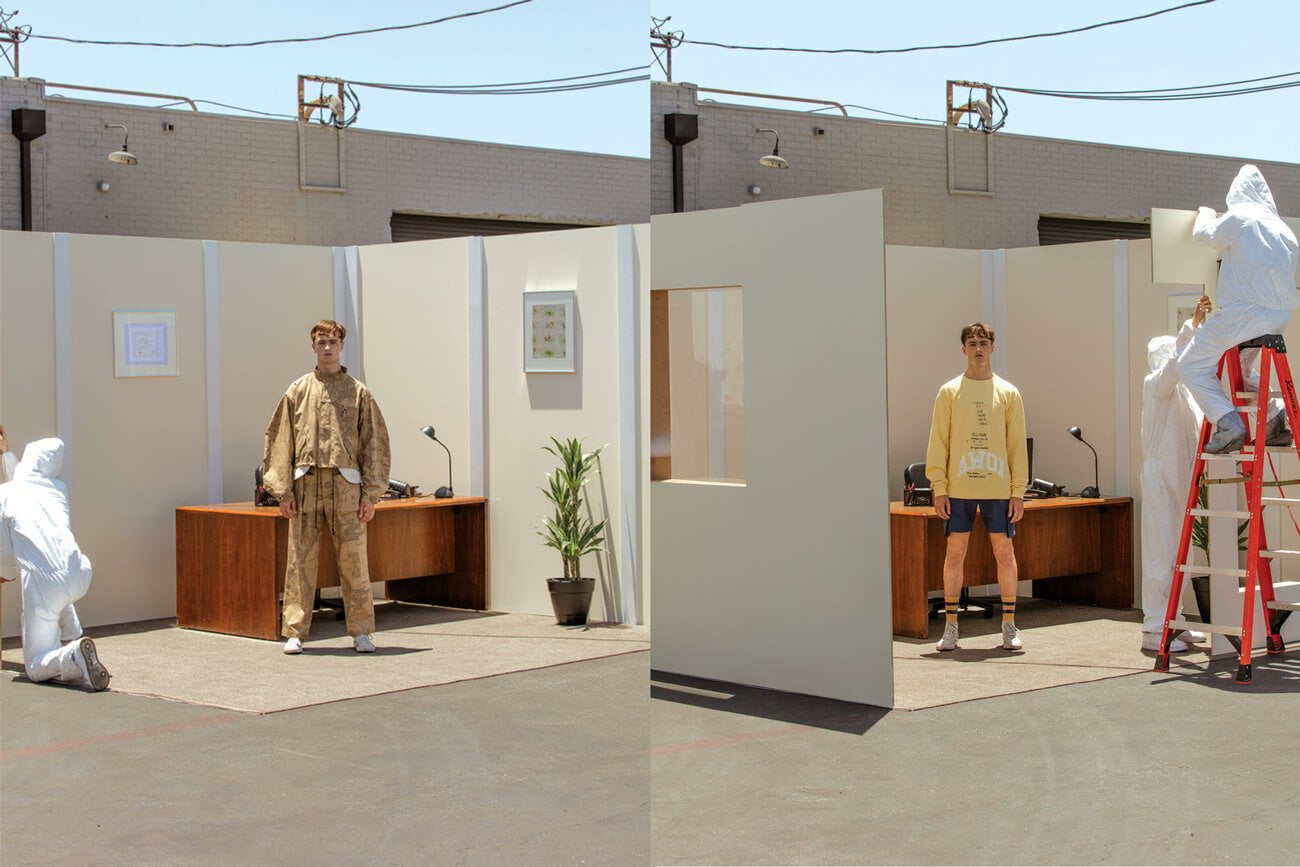 DB: How did you meet them?
RC: I met the person that owns the factory I work in back in New York four years ago, totally randomly. I mostly met people I work with now without even knowing what each of us does, which has been real organic friendships. And then it's like: "Oh you do video stuff? Let's work on this!"
DB: What's the end goal in fashion for you personally? Would you ever want to head a big brand?
RC: My only actual goal is to move with more speed and resources, whether that means being at a fashion house, or just getting successful enough where I can start hiring more people. It's just the way my brain works – I come up with something and then it's "Cool, but how do we do it." If someone says we can't do that, I will just try to figure out how we can. And just to be able to do that faster… There's no real end goal, other than keep working.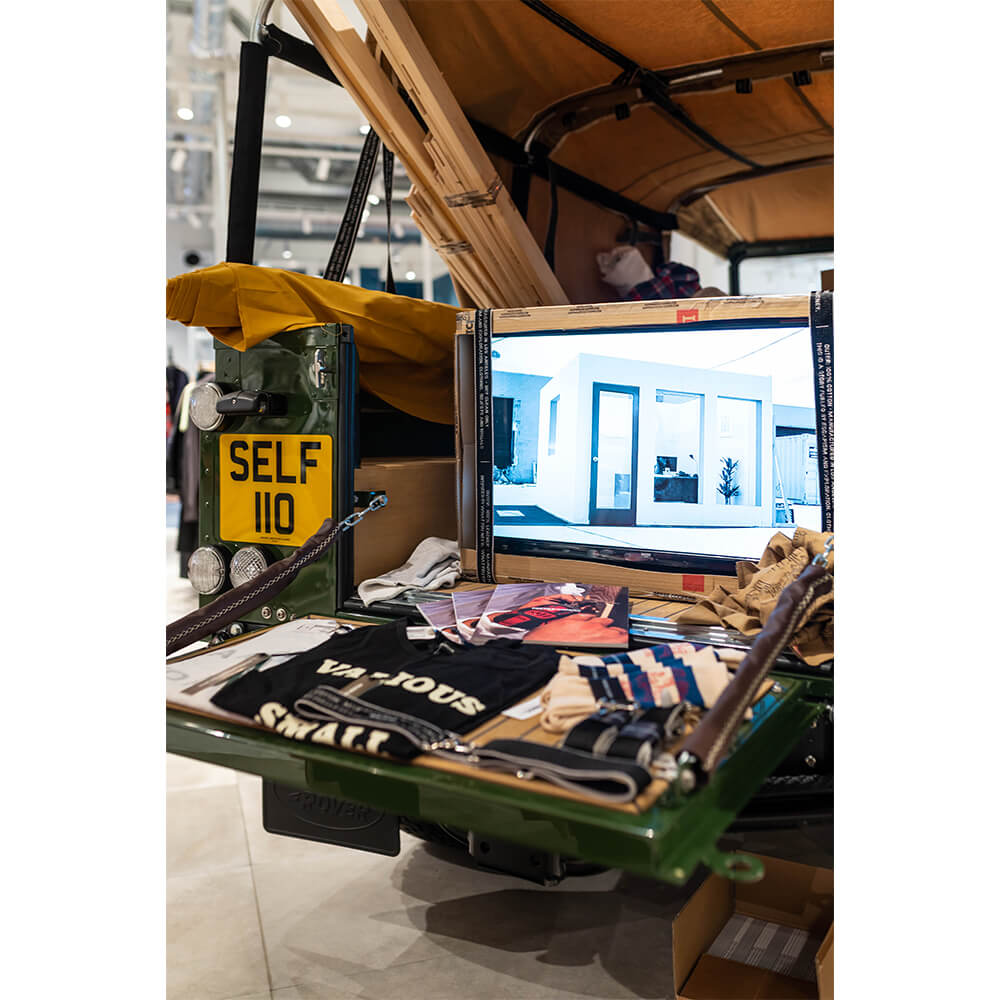 DB: You don't have technical training as a designer, so I guess you're still at school in a way?
RC: I'll be in school forever…
DB: What's the best part about not going to fashion school?
RC: I feel like that's the reason I can say "How do we do it?" The factories I work with… I don't know if they actually like me, but I always insist on trying. Please try. For them, I'm just a kid on paper who doesn't know enough about it, but I always push to do things in new ways. If I went to fashion school and did the whole formal training thing, my brain just wouldn't work that way.
DB: How did you get interested in design?
RC: Through Tumblr when I was 14. I saw the Bape jacket and I was like – "What the hell is that?" I found out what it there was a store in London, at the Bape store, and just started hanging out there. I never got the jacket, but I started interning there. So, that was my first introduction – meeting people as I was out in the city. Once I was there around the clothes, I thought "This is a $500 jacket – but why?" I was just interested in how things are made. Personally, quality is my first concern. And my prices are high, but realistically – it's what it costs, I price things on how much it cost me, it's not like I think it should cost this much cause I'm so artistic. I'm not like that. It's just what it costs me – this is the business model, so I can eat.
'Fever Dream' by Reese Cooper is available to shop from Selfridges in London for the coming month, as part of the Defender space inside the Menswear Streetwear Room on the 1st Floor.
Installation photographs by Freddy Atkins.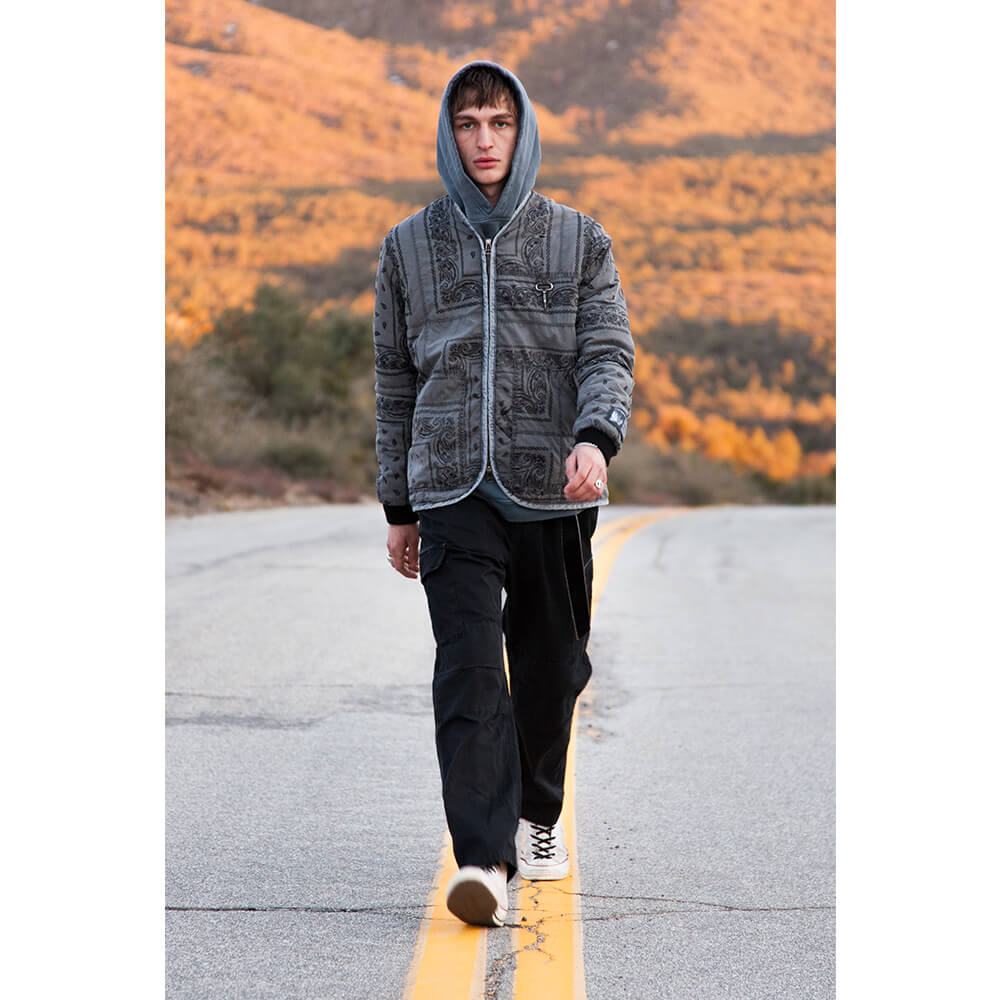 Reese Cooper AW19