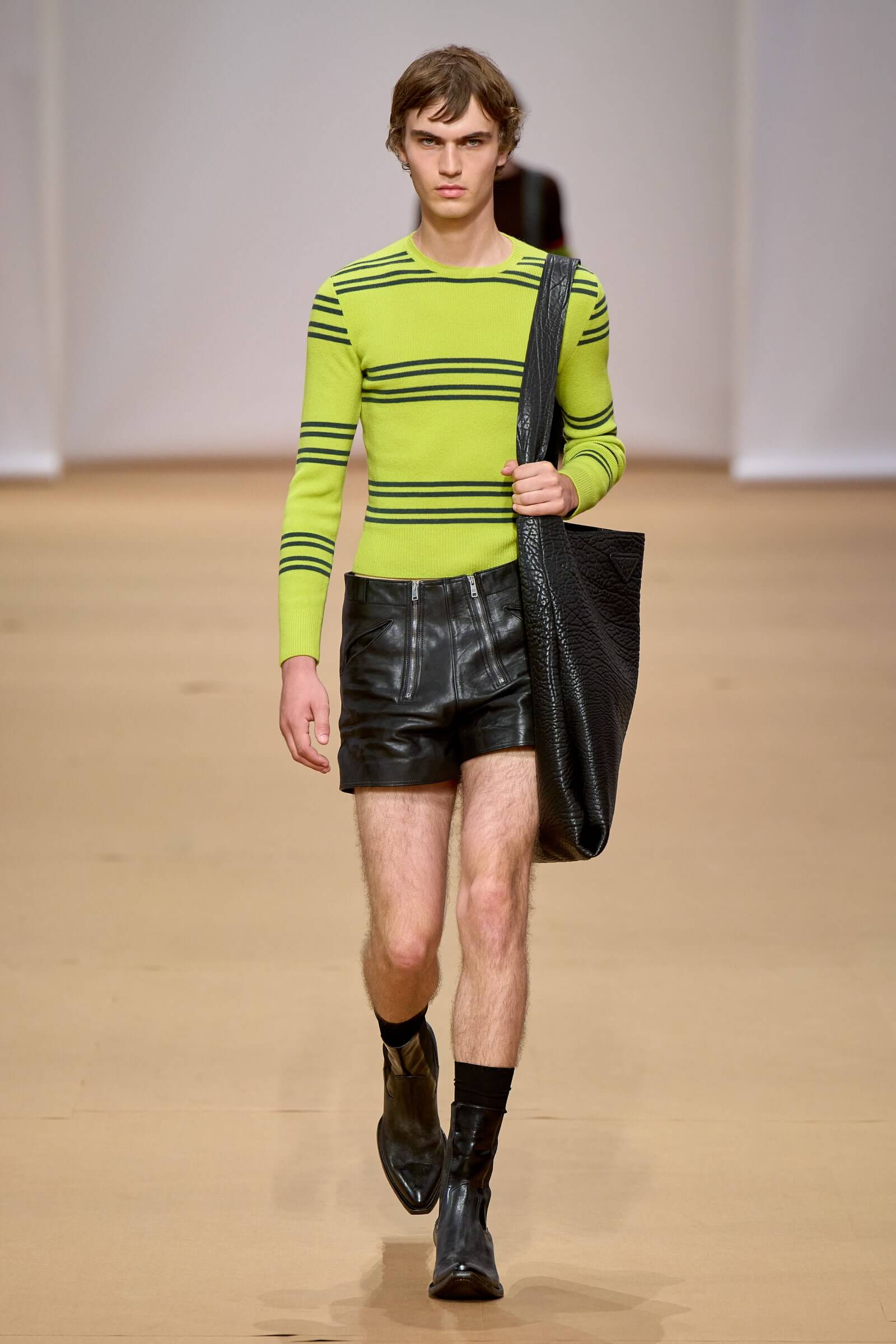 There were no spottings of any superstar actors on the catwalk of yesterday's Prada menswear show, with the likes of Jeff Goldblum, Jake Gyllenhaal, Rami Malek and Damson Idris instead taking a seat on the front row. Last season's exaggerated shoulders and faux fur armbands were also absent, swapped out for recognisable men's staples fashioned with fresh ideas.
In their show notes, Mrs Prada and Raf Simons spoke of exploring "simplicity as a concept, as a choice"; how the language of everyday dress can shapeshift down to that of the wearer and the context they're produced within. A mock-up of a paper house, made of raw-edged paper, formed the set. Resembling that of a child's dollhouse, with curtains matching the gingham that appeared throughout the collection, at a glance this season's looks could appear to be catering solely to a youthful spin.
While this may be the case for the double-zip leather hot pants, there was serious sophistication on display here. Like skinny business suits with drainpipe trousers, worn with a Cuban heeled boot that had a slight curl at the toe. Or striped ribbed knits, and those splendid gingham rain macs, sometimes worn beneath a duplicate version in muted beige, or instead swapped out for a leather jacket.
With silhouettes left loose or pulled tight to the body, this collection in particular ushered in a new sense of ease to the twosome's shared design vocabulary – from Canadian tuxedos, down to a new trainer perforated with vivid shocks of colour. Scaled back, these pieces are transformative in their everyday-ness. The pair have harnessed power to simultaneously make a business suit feel angsty – assisted by the Kim Gordon-led soundtrack – and democratise abbreviated hemlines to dress a cult legion of fans, who'll no doubt be thrilled with this season's highly shoppable edit.
Photography courtesy of Prada.