In order to produce the oxygen we breathe and the energy they require to grow, plants absorb water, sunlight and CO2 from the atmosphere. Called photosynthesis, this process tends to be intrinsically tied to the soil beneath our feet, but if London College of Fashion MA graduate Olivia Rubens has anything to say about it, photosynthesis doesn't have to be exclusive to growing greens. 
In collaboration with independent concept store Machine-A, Rubens, based between the UK and Canada, has developed an environmentally friendly edit of living, breathing, photosynthesising garments. To be sold exclusively at Machine-A, it's a clothing collection of miraculously living organisms in the form of sun hats, micro-mini handbags, balaclavas, cardigans and more. With each ingenious knit, the CNMI Responsible Fashion Award winner is on a mission to nurture impactful conversations about human behaviour that focus on morality and communal bonding in the aftermath of the global pandemic. She says, "We hope the nurturing nature of this relationship will strengthen bonds between people and their pieces, watching them transform and thrive over time."
Dubbed Photosynthesize, it's a unique twist on sustainable craftsmanship that bridges the gap between bio design and sculpture. Coated in bacteria, each garment has the ability to live and breathe just as plants do, exhaling oxygen and sequestering carbon dioxide. To begin, blank knits are soaked in garment-sized petri dishes, developed with Post Carbon Lab, until bacteria latch onto the thoroughly washed threads and create a small eco-habitat. Turning green over a period of six weeks, the process entails patience before the garments take their first breath – talk about slow fashion! Once grown, Rubens explains that they must be treated like shady plants. "They can't be left in direct sunlight and prefer indirect sunlight. They also need to be misted once a day, and hung to dry," says the Fashion Open Studio mentee. "They can't be washed, but can be dabbed with a cloth with pH-neutral, eco-friendly detergent."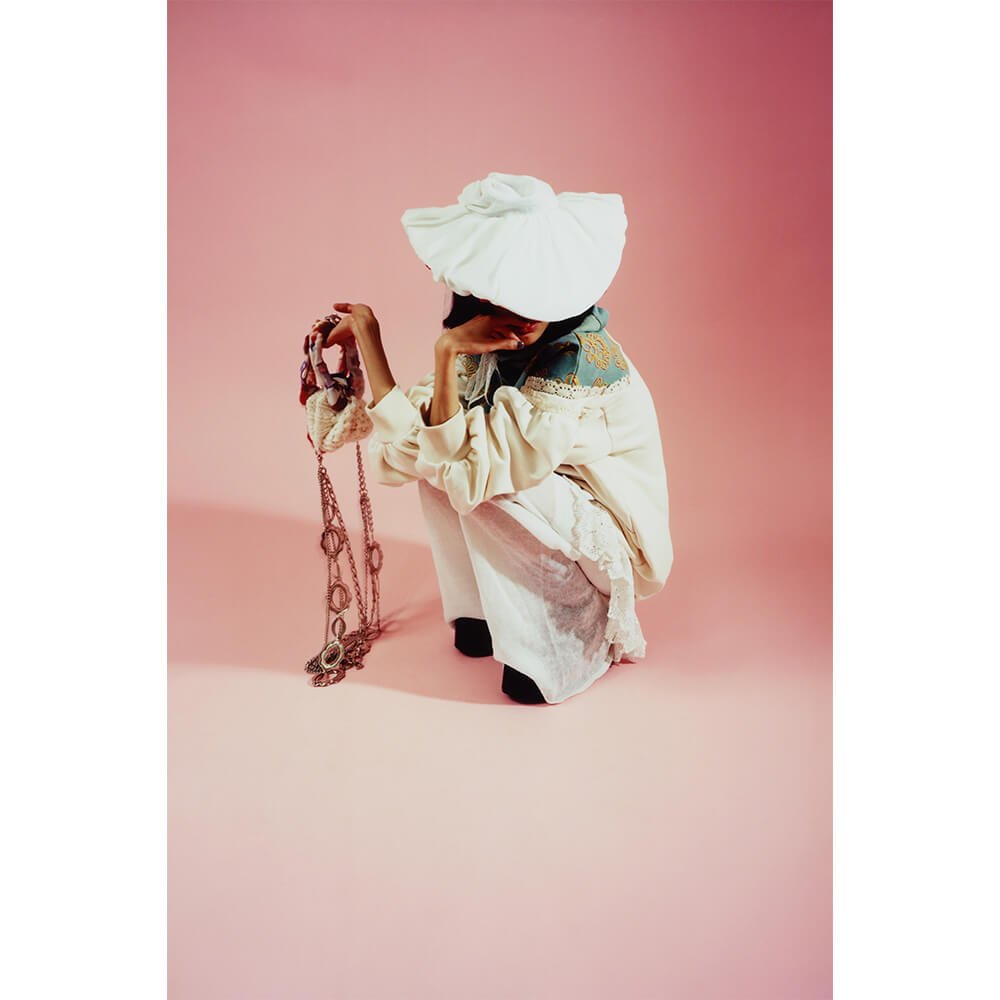 Simply reading about these innovative garments you might catch yourself wondering how they're actually meant to be worn. According to Rubens, perhaps they can be worn just as anything else in your wardrobe, but there's also room for them to be hung like wall art or added to an indoor garden. "Maybe go so far as to name them, love them and whisper sweet nothings to them like some of us do our plants," she says. 
Overtime, as with all biotic beings, the clothes may begin to die and if not cared for appropriately the panels may lose their hue, transitioning to a pale yellow-beige shade. However, as part of a one-year warranty programme, clients can have their garments recoated. "I hope this will be one way we can develop close relationships with our clothing not just based on nostalgia or experiences."
What's more, all materials used are responsibly sourced: from ethical alpaca, Tencel, organic wool or linen and GOTS organic cotton, to traceable vintage crochet lace tablecloths, old ceramic kitchenware, empty shampoo and household cleaner bottles. If you look closely, remnants of the materials' past lives are apparent in the subtly visible barcodes and instruction stickers, each melted into hand-moulded trims. Plus, the collection is crafted with Making For Change and Manusa, cooperatives which employ women from unfortunate circumstances, refugees and those both in and rehabilitating from prison. 
With rococo excess in mind, Rubens explains that the eclectic shapes and extravagant silhouettes she opted for are drawn from the bourgeoisie of the 18th century, focusing how greed from that era still has repercussions on life today. "I also referenced the ever-retracting boundary of our morals, with everything needing to be so "PC". It might sound controversial, but I grew up on cartoons and dark humour, so I love the idea of pushing the box," says the designer. 
Photography by Oscar Foster-Kane. Shop 'Photosynthesize' here.