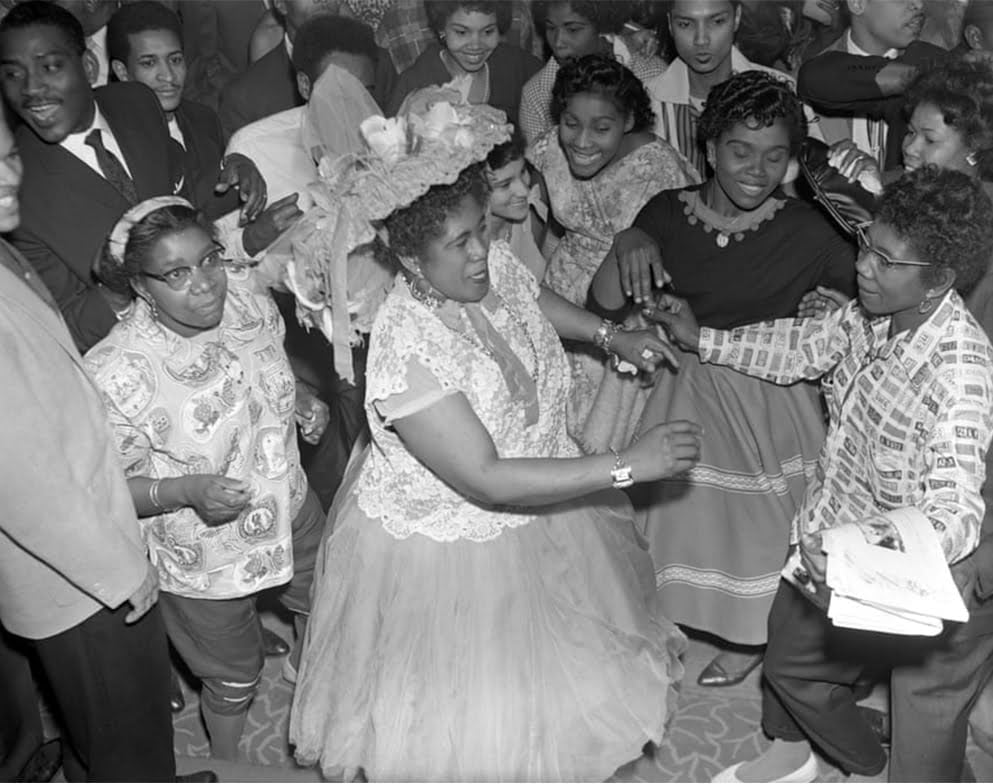 The first London Caribbean Carnival in 1959 at St. Pancras Town Hall; Image courtesy of The Guardian/Empics/PA.
It's that time of year again, where layers of clothes and any inhibitions are shed as people dance, eat, and parade down the streets of London in celebration of Black British culture. With less than a week to go, Notting Hill Carnival is just around the corner. And as temperatures are expected to rise, it looks like the sun is coming out to play along with the estimated 2 million attendees who turn up and turn out for the annual festivities. This means now is the time to lock down your look because half the fun of carnival is getting ready for carnival.
The origins of Notting Hill Carnival can be traced back to the indoor London Caribbean Carnival that first took place in St.Pancras Town Hall in 1959. Founded amidst rising racial tensions, the main goals of the carnival were to promote a sense of community, cultural unity and Caribbean and West Indies pride in London. Trinidadian journalist Claudia Jones was instrumental in putting the event together, which included calypso music and steel band dance troupes. In 1966, an outdoor festival took place in Notting Hill led by Rhaune Laslett, a community organiser and founder of the London Free School. She was inspired by the prior Caribbean Carnival and wanted to further promote a space for people to positively engage with different cultures. This outdoor fete would become the Notting Hill Carnival we know today, which has not only brought together Londoners but people from all around the world who want to experience what has become the biggest street festival in Europe.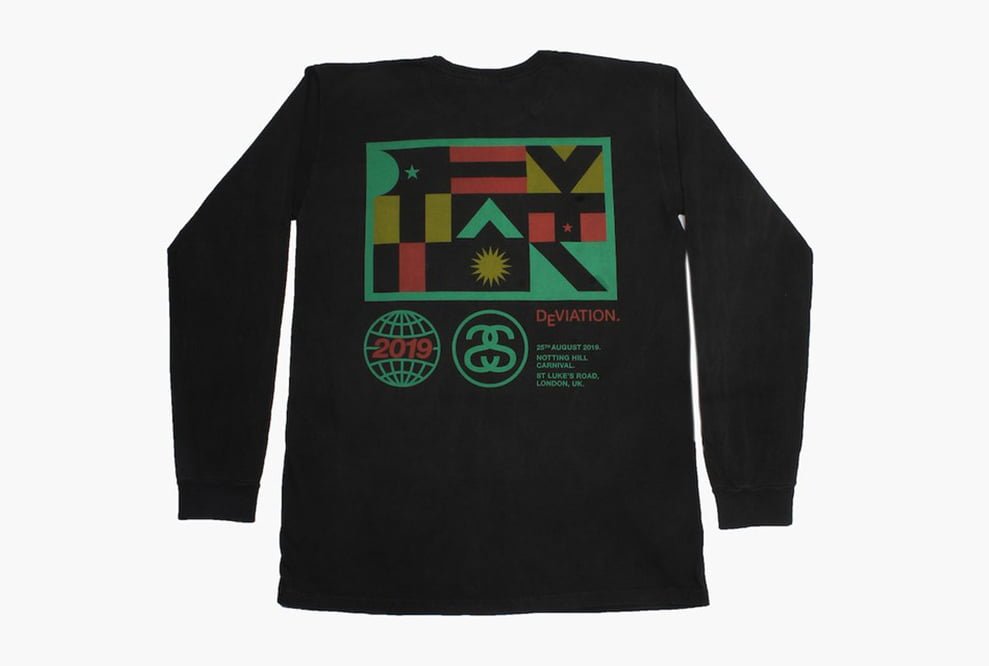 While there are plenty of daytime festivities to take in, the Carnival is known for it's larger-than-life afters. Deviation, a record label and fashion brand which made a name for itself as a leading Carnival afters club night is back again this year to turn up the heat. To celebrate, they've collaborated with American streetwear company Stüssy to produce a limited series of t-shirts available in black, yellow, blue, and white. Glitter-free but punchy in an unassuming way, these t-shirts are comfortable for a long day and night out. The shirts are available now on Deviation's website and at the Stussy London store.
Rihanna attending the annual Crop Over festival in Barbados, August 2019. Image courtesy of PopSugar.
But if you're looking for something a bit more exuberant? There have been some standout carnival looks over the years (yes, Rihanna at 'Crop Over') that serve all of the more-is-more inspiration you'll need.  Of course, any talk of carnival looks can't go without mentioning Spice, the Jamaican songstress who has been credited for putting next-level dancehall fashion on the radar and has been a staple on the Notting Hill Carnival scene. Known for her brightly multi-hued wigs, technicolor two-pieces and snatched bodysuits (latex and chains included)  just as much as she is for her sex-positive and socially conscious music, Spice will back this weekend to headline the Red Bull Music Academy event alongside rappers Ynxg Bane and Sneakbo.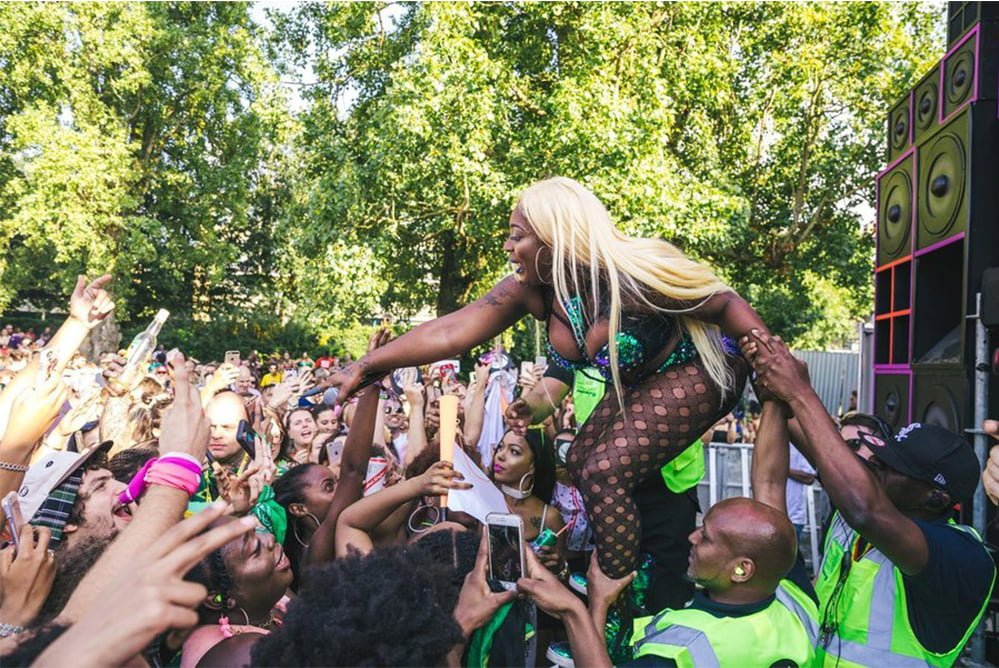 Spice performing at last year's Red Bull Music Academy set at Notting Hill Carnival. Image courtesy of the Evening Standard. 
While festive bodysuits and shiny two-pieces have become a contemporary interpretation of carnival attire, there are still plenty of attendees donning the traditional feathered costumes and body paint that thoughts of Carnival first bring to mind. These body baring looks are rooted in the freedom of expression and act of reclaiming the body, which was the only agency left to the Black and Indigenous people who endured colonisation and made Carnival into the joyous celebration it has come to be globally. So if you are comfortable with letting go of the layers and embracing your body in all of its fluidity, there is no better place than these outdoor fetes. The takeaway? Whether it's jewel-encrusted hot pants, decadent headpieces or little clothing at all, there are plenty of ways to make sure you put your best, rhythm hugging foot forward come this weekend.
This year's Notting Hill Carnival will take place on August 25th & 26th, kicking off bright and early at 6am.

Notting Hill Carnival, 1994. Image courtesy of the Steve Eason/Hulton Archive/Getty Images.