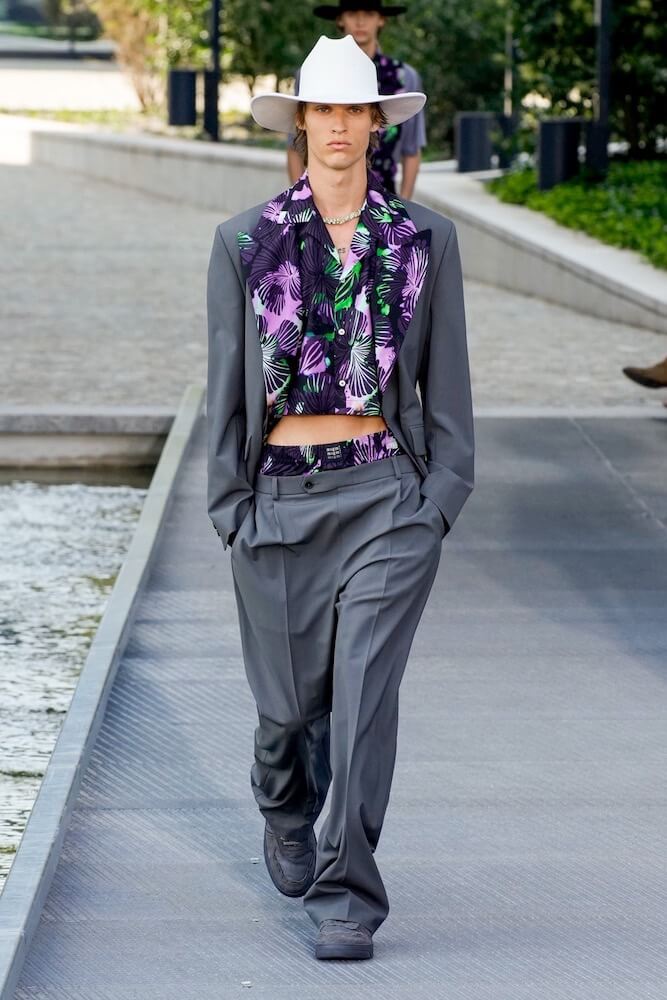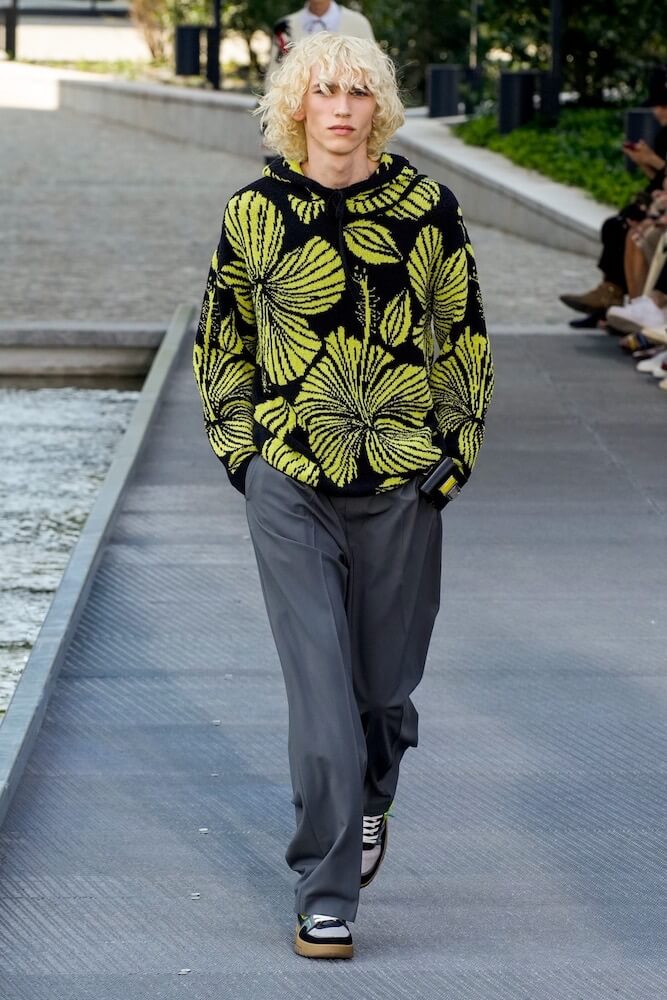 Let's go to the beach-each, let's go get a wave with MSGM's collection of sunny-side-up concoctions for SS23. This season, Massimo Giorgetti channelled a sense of carefree, youthful optimism, and with an eye-popping palette, this summer shindig was one bit to be missed.
It was Michel Houellebecq's cynical, dystopian novel The Possibility Of An Island that prompted Giorgetti to consider the tensions between Mankind and Mother Nature this season, in turn begging the question, "how can we ignite fantasy and pass from dystopia to utopia into a realm of harmonious coexistence?"
In a bid to amplify this message, Giorgetti brought MSGM to Piazza Olivetti in Milan, staging the show in the city's new Brenta hub, a glass and cement building overlooking a pond surrounded by greenery, dotted with artworks and suspended like an island between the pavement.
The MSGM boys paraded around the glistening pools clad in baggy Bermudas, boxy midriff-baring cropped tops, crisp bleached denim and striped rugby polos.
Elsewhere, explosions of flora and fauna, hibiscus, bananas, palms, pineapple, dolphins and crocodiles emerged as Giorgetti played with poignant symbols of vitality and served carefree surfer vibes. MSGM's fresh Island Dreaming print, which depicts a sweet vision of a tropical beach, also made an appearance, functioning as a recurring motif laser-etched onto fleeces and cargo pants.
What's more, ecologically responsible Basket sneakers were produced in partnership with ACBC (Anything Can Be Changed) bringing elements of streetwear into the sand. If a look were ever to epitomise being a beach-bum, this would be it.
Photography courtesy of MSGM.