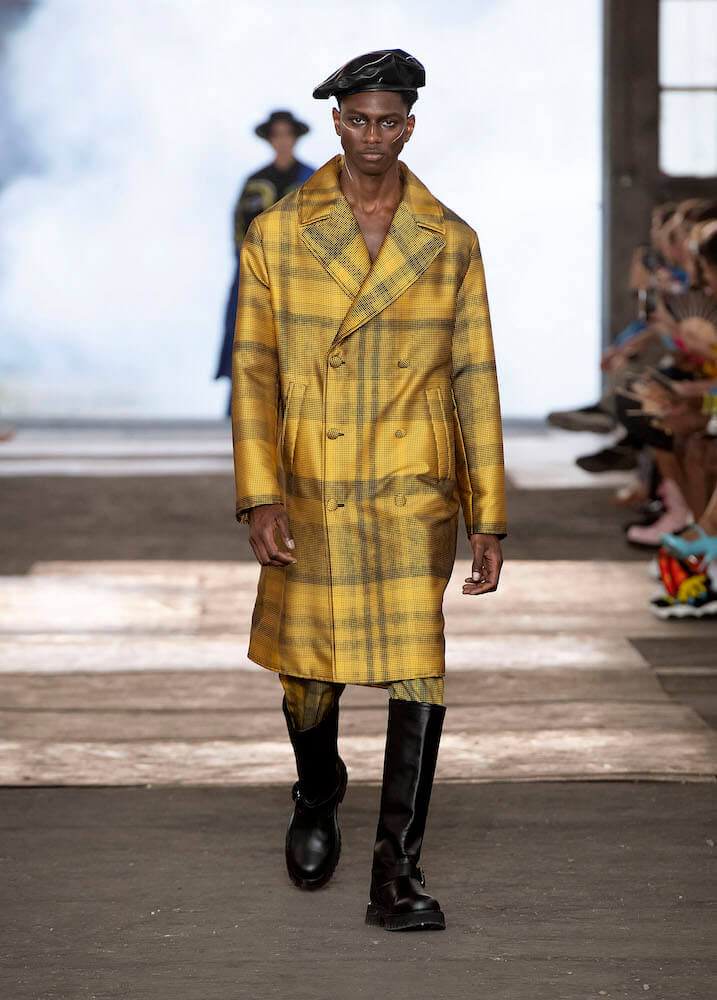 It's nearing a decade since Jeremy Scott joined the house of Moschino, and for the first time since the start of his tenure, the beloved designer staged his first purely menswear show. Backstage, Scott spoke of nearly opting for a lookbook format over a physical catwalk but had yearned to bring a myriad of Moschino characters to a live audience.
His buff gang of delinquents came decorated in Tony Viramontes' legendary fashion illustrations. Growing up idolising Viramontes' work in The Face, Scott was able to abstract the artist's masculine portraits across camp tailoring, sexy twinsets, and casual garb in painterly finishes – all looking towards the Buffalo style movement.
"I was thinking about [Viramontes'] photography and his work with Ray Petri," said Scott, "how he drew on photos to distort how something like a tuxedo would look. I wanted to bring that to real clothes."
Carrying all the hunky bravado Tom of Finland pin-ups, Scott's muses this season also came inspred by the wardrobe of Jean Michel Basquiat, after the designer binge-watched the new Warhol docu-series on Netflix. "I remember Madonna telling me a story of him and her staying at some rich person's house in the eighties, where they raided their closet and found all these Japanese fashions, so I was really thinking about his way of dressing," said Scott.
Photography courtesy of Moschino.