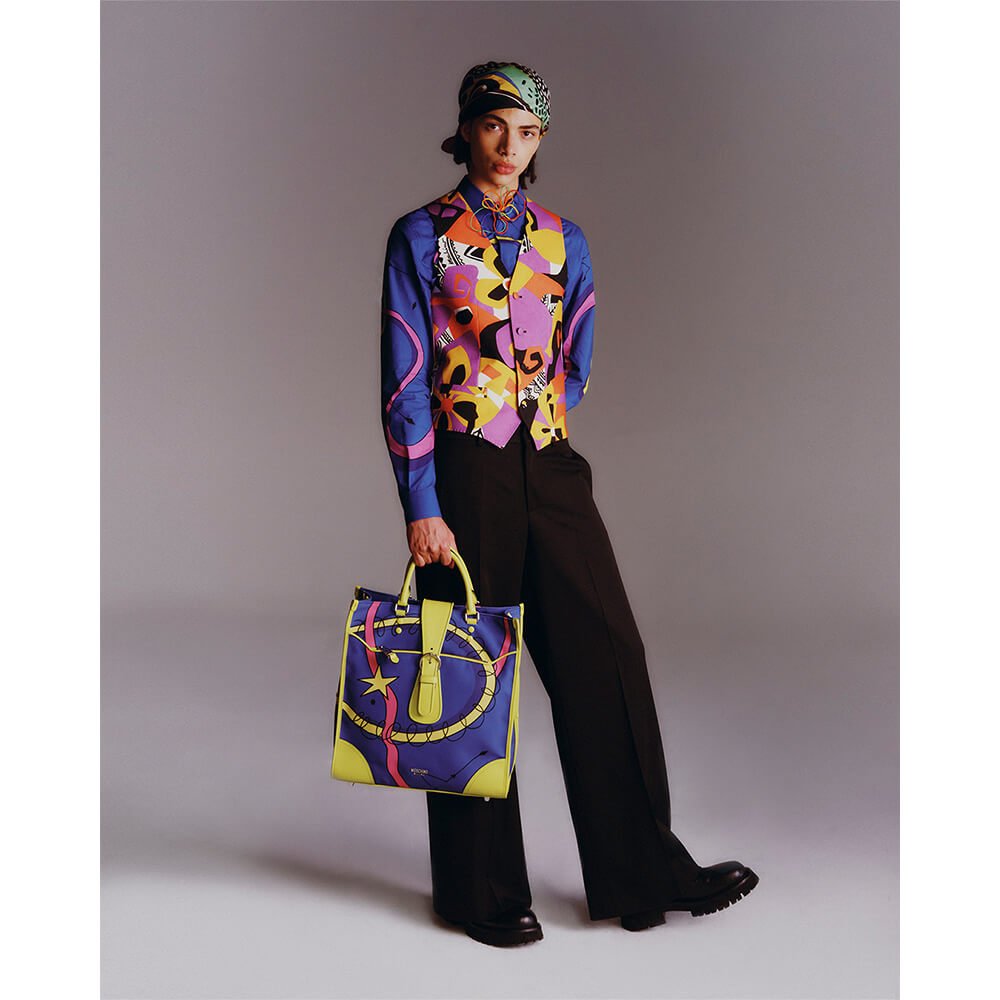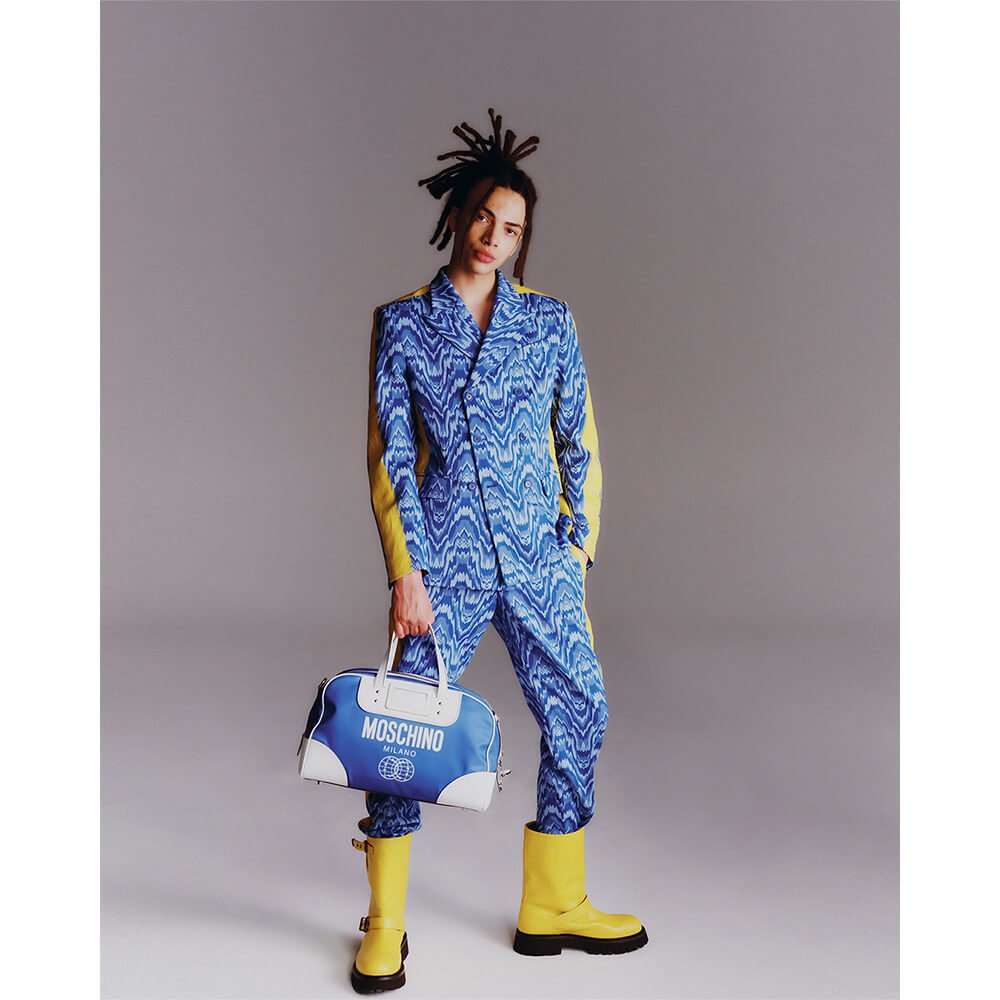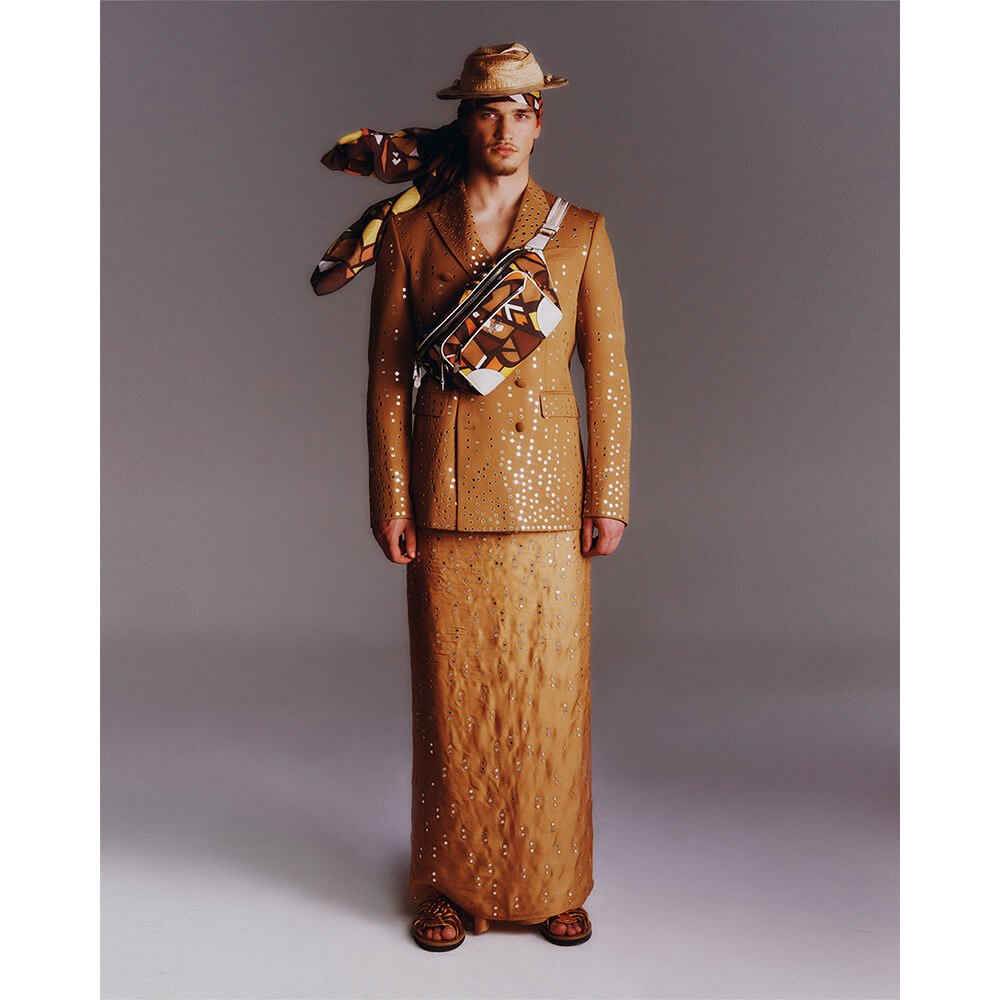 For Moschino's menswear pre-spring/summer 2023 collection, Jeremy Scott pulled out all the stops. Laden with motorsport insignias, this 1970s-era-inflicted summer wardrobe gives formal menswear tropes a facelift, ensuring its wearers are equipped for life on the jet set. From first-class flyers' sport jackets and airport-ready trenches, to swim briefs and silky sarongs, every piece is designed with wanderlust in mind – cowabunga, indeed! 
Landing in Zanzibar, Bora Bora and Maui, the collection is an energetic exploration, touching down on gilded faraway shores. The extensive array of graphic looks on offer carry an undeniable air of bohemian adventure. 
When it comes to the colours, Scott opted for a go-go palette that boasts flashes of newfangled funk and sun-soaked nostalgia. Prepare to indulge in biscuit browns and saffrons, pineapple yellow, indigo and grapefruit tie-dyed denim, alongside mod flamingo pinks, purples and saturated chartreuses. By injecting the dynamic silhouettes with a certified dose of psychedelic panache, no doubt, a sense of liberated hedonism comes embosomed throughout.
To take the fashion pack to the skies, retro styling pervades in the groovy graphics and printwork, juxtaposing multi-fabric geometrics and a motley of effervescent hues – think panelled and patched denim, eccentric trenches and bold board shorts. Elsewhere, a golden geometric upholstery print – inspired by the seats of a seventies Hawaiian Airlines DC-9 on route from Honolulu – weaves its way into expert tailoring. Next stop: floral fresco straight out of a vintage travel poster. 
As for the accessories, a plethora of travel bags featuring Moschino's signature interlocking smiley faces traverse the collection, doubtlessly satisfying your wayfaring wants. Transitioning the mood to something a bit more nocturnal, formalwear decorated with tiny mirror embellishments, star-shaped appliqués and unfurled ribbons, pilot this trip to its final destination. 
Lensed by 10 Magazine contributor Clark Franklyn, the accompanying campaign illustrates a psychedelic vision of escapism under the blazing summer sun. All aboard! Let's harken back to Pan-Am's timeless glamour and get globe-trotting – just sit back in your Moschino, relax, and enjoy the flight. 
Photography by Clark Franklyn.