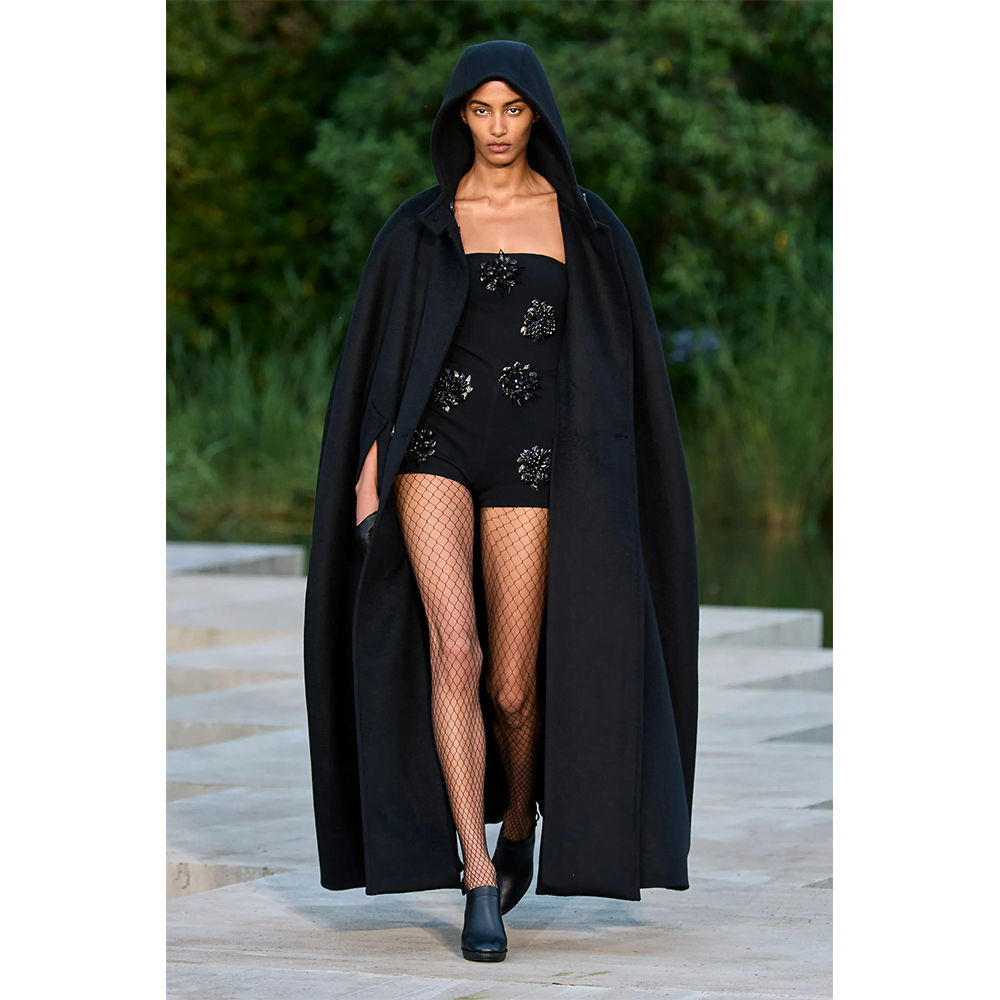 Ian Griffiths is always seeking out stories of strong, brilliant women, to inspire his Max Mara collections. He found plenty in Portugal, where mournfully intense fado singers are poetic superstars. "If Spain is like a firework, Portugal is a smouldering coal," said Griffiths on the morning of his show in Lisbon.
He was particularly intrigued by the poet, writer, activist and MP Natália Correia, who's erotic and satirical verses shocked mid-century Lisbon society. She also looked great in a curvaceous pencil dress. A portrait of her at the Calouste Gulbenkian Foundation Museum, caught his imagination and the seeds of his show were sewn. He immersed himself in Portugal's culture and poetry, even translating some poems word for word, and persuaded the celebrated Fado singer Carminho, to walk in his show. Her heart-wrenching and soulful vocals provided the soundtrack.
How do you translate that poetic Portuguese spirit into fashion? Griffiths focused on womanly and sensual clothes, with a nod to the mid-century pencil skirts and sheath dresses worn by Correia. The house's famous Teddy coat was recut into a chic stroller jacket or studded with glinting sea creature embroidery, whilst pencil skirts were worn with cropped knits to show a suggestive slither of midriff. Local Portuguese artisans produced embroidered pieces inspired by the handkerchiefs traditionally stitched by women as love tokens. The show was built to a sensual crescendo of pleated gowns in rich autumnal colours. One – a cross between a trench coat and a ballgown was particularly on-brand for a label that doesn't traditionally focus on red carpet high jinks. Griffith coined a new phrase for the sophisticated brand of grown-up chic favoured by the Max Mara woman: She loves clothes with "A quiet wow," he said and he is always happy to oblige.
The designer was also in the mood to make a point. In a first for the brand, a male model walked the show in a dressing gown, camel coat. Max Mara doesn't do menswear and has no plans to launch it, but said Griffith, the brand wanted to acknowledge the fact that more and more men are buying into Max Mara, particularly in Asia, where the Teddy and dressing gown coats are favourites. The perfect coat doesn't need a category. It stands alone. So does Max Mara.
Photography courtesy of Max Mara.