Lisbon is calling me. Like all seafaring places it has grit, romance and a sense of melancholy, all of which attracted Max Mara's creative director, Ian Griffiths. "If Spain is like a firework, Portugal is a smouldering coal," said Ian Griffiths, who always seeks out stories of strong, brilliant women to inspire his collections. He found plenty in Portugal, where mournfully intense fado singers are poetic superstars. It is here that he's chosen to show his Resort 2023 collection.
The Portuguese capital has a very distinct atmosphere. Built on seven hills overlooking the Tagus estuary and the Atlantic Ocean, the thing that hits you immediately is the light. It's a low-rise city and the sky is so open, bright and clear (it's one of the sunniest cities in mainland Europe). Like many attending the Max Mara show, I've never been to Lisbon before. Some of my fashion colleagues had the excellent idea of coming early and spending the weekend exploring its galleries, bars and artisan shops (it's a great place to buy linens). But I arrive on the Monday morning flight, then dump my bags at the hotel and take a tuk tuk tour – it's the best way to negotiate the city's narrow streets and hills. There's more than 2,500 years of history in Lisbon. You can see how the Romans and Arabs have left their mark on the place and where traditional tiled façades jostle with ancient castles, medieval cathedrals and modern architecture. We drive past the spaceship swoop of the Museum of Art, Architecture and Technology, around the parliament building and the huge queue that waits outside Lisbon's best pastel de nata bakery (they're custard tarts of your dreams) then head to the Belém district and the Jerónimos Monastery. It's closed to the public on Mondays so we take a private tour. Lavish carvings cover every surface; its grandeur and beauty are testaments to the ambition of the once-powerful Portuguese empire. In the 16th and 17th centuries, Lisbon was one of the richest cities in the world, as the spoils of the conquistadors of the empire flooded back to their homeland.
That night we drive to dinner in the Palácio Dos Marqueses de Fronteira, a renaissance gem which is still privately owned. It has an elegant topiary garden and an ornamental lake colonised by black swans. Dinner is set outside on a single long table that stretches across the entire terrace. It's beautifully laid out with linens and flowers. The influencers pose against the gorgeous, tiled frescos while the rest of us, including actress Claire Danes, tuck into the food. As the sun sets, it turns chilly and we're handed blankets. Everyone wraps up and listens to the striking fado singer, Carminho, who was born in the city. Dressed in a cream Max Mara trouser suit and embroidered shawl, she serenades us with traditional torch songs. I'd never heard fado music before. The power and emotion in her voice was captivating, each note dripping with charisma.
28 June, 2022
Max Mara is blessed with Ian Griffiths. Thoughtful, charming, witty and well-read, the designer is spectacularly good company. He was a Manchester club kid in the early 1980s before he studied fashion at the Royal College of Art, joining Max Mara more than 30 years ago. He's immaculately dressed in a beige, Prince of Wales check, linen suit (which he has tailored by Timothy Everest, using Max Mara fabrics). His jaunty silk pocket square perfectly matches the tone of his suit. This morning he's entertaining the big hitters of the British fashion press: Lisa Armstrong and Lydia Slater of the and myself. We eat pastéis de Times , Anna Murphy of the Daily Telegraph nata (it would be rude not to) and listen as he talks about why he's brought us to Lisbon. "I've fallen in love with it," he says. After his first visit last autumn, he began a period of intense reading and research into its art and culture. That interest went much deeper than a Google search: he ended up translating traditional Portuguese poetry into English, word for word. "It's a good way to study poetry," he explains.
Ever in search of Max Mara muses, he was particularly intrigued by the poet, writer, activist and politician Natália Correia, whose erotic and satirical verses shocked mid-century Lisbon society. "She risked prison for one of her volumes," he says. "She was a feminist, but her feminism allowed for a very healthy dose of liberal eroticism." She was part of the Carnation Revolution of 1974, which brought an end to Portugal's fascist dictatorship, and even became an MP. And she also looked great in a curvaceous pencil dress. "There's a fantastic picture of her campaigning, with a flag in the background, wearing a really plunging neckline. I loved the combination of a serious, intellectual, political thinker and a fun-loving, party-going, sexy woman." Sex appeal for the intelligent woman? It's very Max Mara, but, says Griffiths, "it's a side of the brand we don't always express." How did he translate her erotic liberalism into a collection of clothes? "The same way she did with pencil skirts and sheath dresses," he says. "There are a lot of bustiers and fitted dresses below the knee – that strict silhouette she wore – and an emphasis on the décolleté.
His respect and knowledge of Portuguese culture was the clincher when it came to persuading the celebrated singer Carminho to walk in his show. Fado singers guard their unique culture fiercely and can be somewhat suspicious of collaborating with big brands and corporations (think of them as the opposite of K-pop stars, whose raison d'etre is to bag a designer endorsement). Her heart-wrenching and soulful vocals provided the soundtrack to our evening. "Fado is poetry of the soul and poetry runs through everything about Portugal," says Griffiths. "It's the land of fado, the land of poetry and passion."
After breakfast we take another tuk tuk tour of the city, exploring historic districts and vibrant street markets, then it's time for the show. Held in the undulating gardens of the striking, modernist Calouste Gulbenkian Foundation, the models, including Carminho, stride though its grassy knolls and sweep across a lake on a concrete drawbridge.
In translating that poetic Portuguese spirit into fashion, Griffiths focuses on womanly and sensual clothes, with a nod to the mid-century pencil skirts and sheath dresses worn by Correia. The house's famous Teddy coat was recut into a chic stroller jacket or studded with glinting sea creature embroidery, while pencil skirts were worn with cropped knits to show a suggestive sliver of midriff. Hand-embroidered T-shirts were done by a local artisan: "It would have been wrong to take those embroideries and then do them in China. They are all hand-embroidered here." The motifs were inspired by an old Portuguese tradition where young women would embroider love poems onto handkerchiefs which they dropped onto the floor of the church on a Sunday. "If the man of their dreams picked it up, it meant they were engaged," says Griffiths. "The naivety of the T-shirts underlines the sophistication of Max Mara."
The show built to a sensual crescendo of pleated gowns in rich autumnal colours. One – a cross between a trench coat and a ballgown – was particularly on-brand for a label that doesn't traditionally focus on red carpet high jinks. Griffiths coined a new phrase for the sophisticated brand of grown-up chic favoured by the Max Mara woman: they want "a quiet wow", he said, and he was more than happy to provide it.
The designer was also in the mood to make a point. In a first for the brand, a male model walked the show in a classic Manuela, a camel coat. Max Mara doesn't do menswear and has no plans to launch it, but Griffiths said he wanted to acknowledge the fact that more and more men are buying into Max Mara, particularly in Asia, where the Teddy and dressing gown coats are favourites. "It's always been the case that women borrow from the men's wardrobe – tuxedos and trousers – but it's so unusual for a man to wear an item of women's clothing; yet now, that's precisely what men are starting to do," he said. "Max Mara owns camel now, so men are coming to us for camel coats, but we originally borrowed it from the menswear wardrobe." The perfect coat doesn't need a gender or a category if it has a Max Mara label inside.
The show is followed by dinner and dancing in the gardens, where I meet Portugal, Sofia Lucas. She's Vogue the passionate and forthright editor of proudly independent and does things her own way. Very Portuguese, very Max Mara.
Taken from Issue 5 of 10+ – WORLD IN MOTION – available here.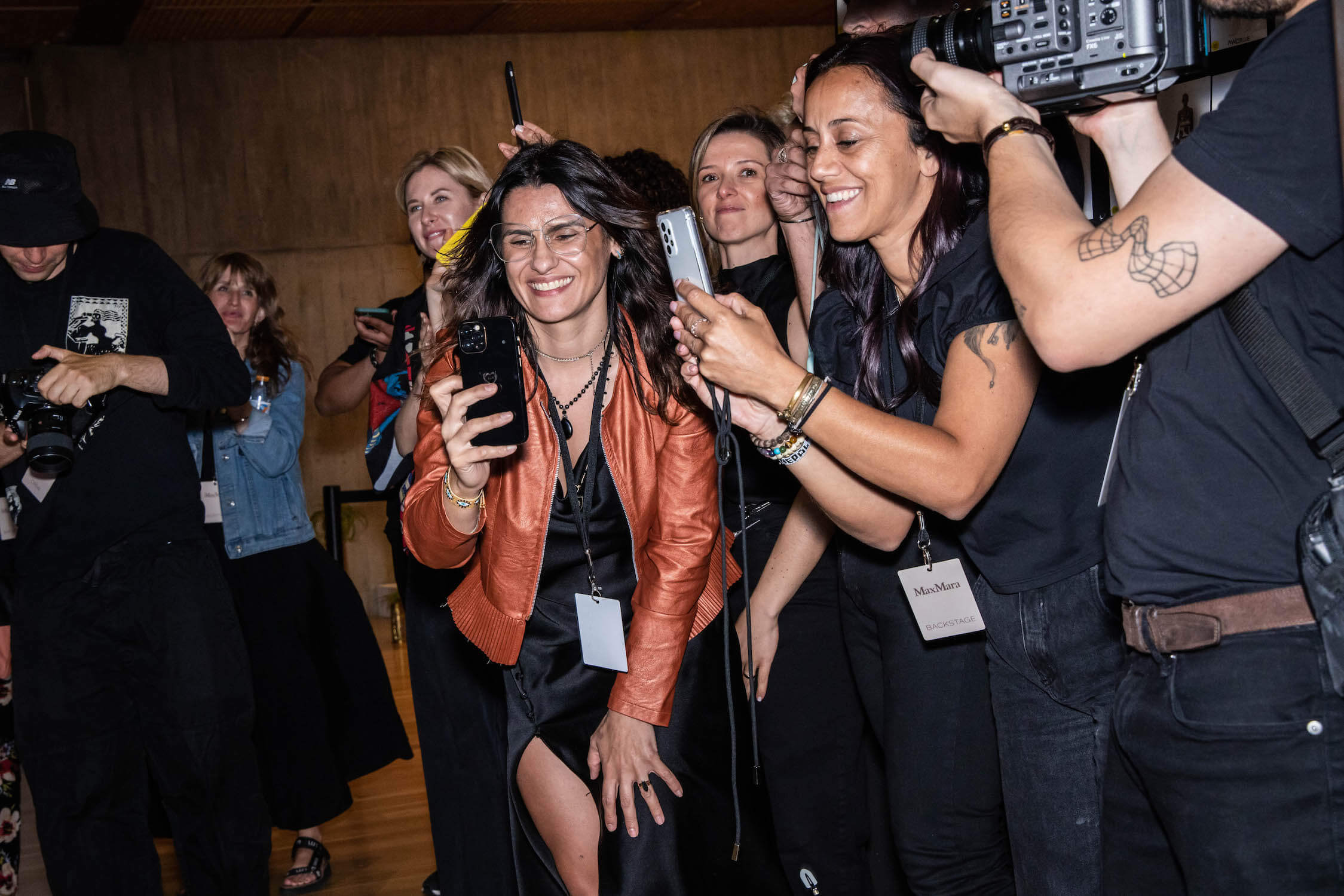 Photographer VIANNEY LE CAER
Text CLAUDIA CROFT
Date 28 JUNE, 2022
Location THE GARDEN OF THE CALOUSTE GULBENKIAN FOUNDATION, LISBON
Designer IAN GRIFFITHS
Fashion Editor SISSY VIAN
Hair PIERPAOLO LAI
Make-up KARIN WESTERLUND
Casting GIULIA MASSULLO and PIERGIORGIO DEL MORO