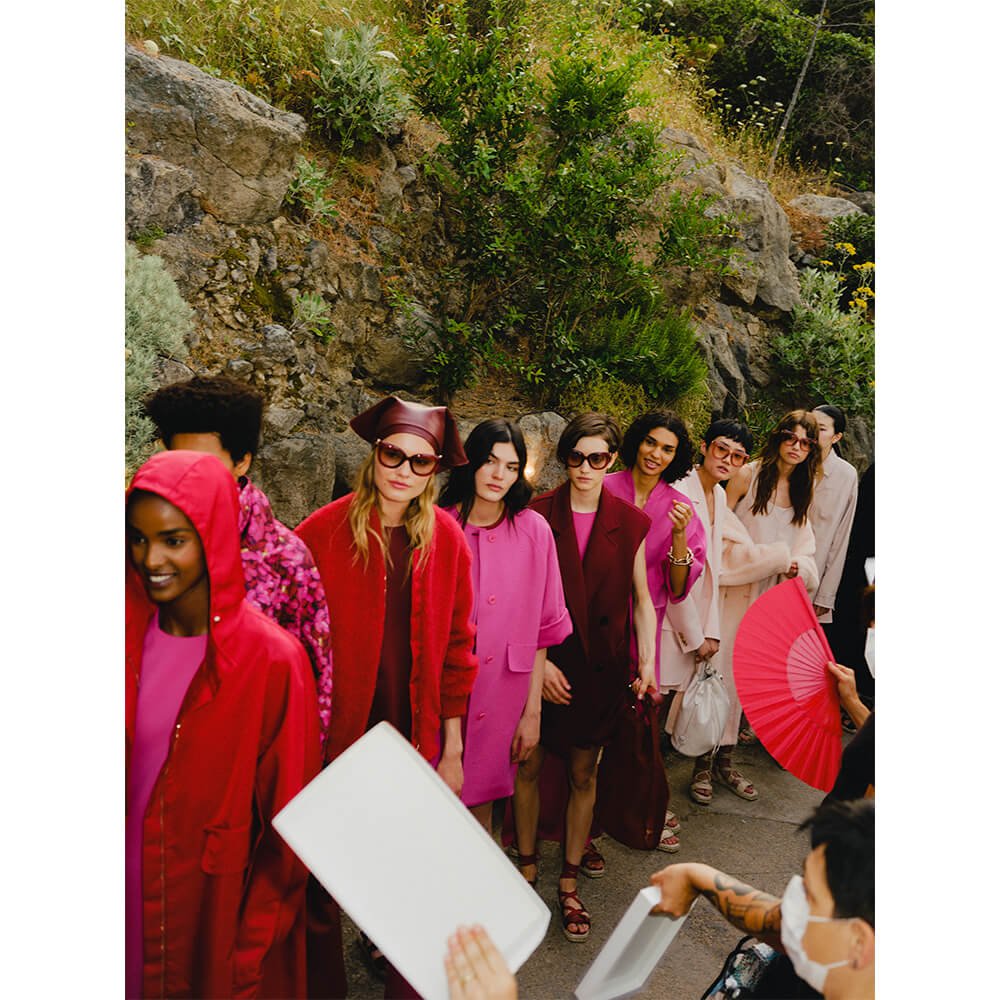 "Islands are like ships at permanent anchor," wrote Truman Capote about Ischia for his 1950 travelogue, Local Color. "To set foot on one is like starting up a gangplank: one is seized by the same feeling of charmed suspension; it seems nothing unkind or vulgar can happen to you…"
It's little wonder Max Mara's long-time creative director Ian Griffiths chose Capote's love letter to the volcanic Italian island as the stimulus for his Resort 2022 show. Griffiths is, after all, the man responsible for reviving and retaining the mesmerising Italian elegance for which the Emilia-Romagna-based brand is adored. If his creations don't chime with Capote's musings on one of the country's most romanticised islands, what else could?
For those lucky enough to be invited, attending a Resort show is always a "pull-the-stops-out affair". Max Mara achieved something truly magical for this one. Griffiths didn't just take his leave from Capote's tale but placed his guests as protagonists within it on a scale so immersive that at times it was blissfully blurry where one stopped and the other started. Were we in Capote's world or Griffiths'? Small details and subtle observations made by Capote back in 1950 – embroidered bedspreads, roaring motorcycles on dusty white roads, the sound of harmonicas – all materialised in our reality, as nostalgic time travel prevailed. But I'm getting way ahead: let's go back a little to how it all began. To borrow the title of my own favourite Neapolitan archipelago tale… it started in Naples, one early morning in late July.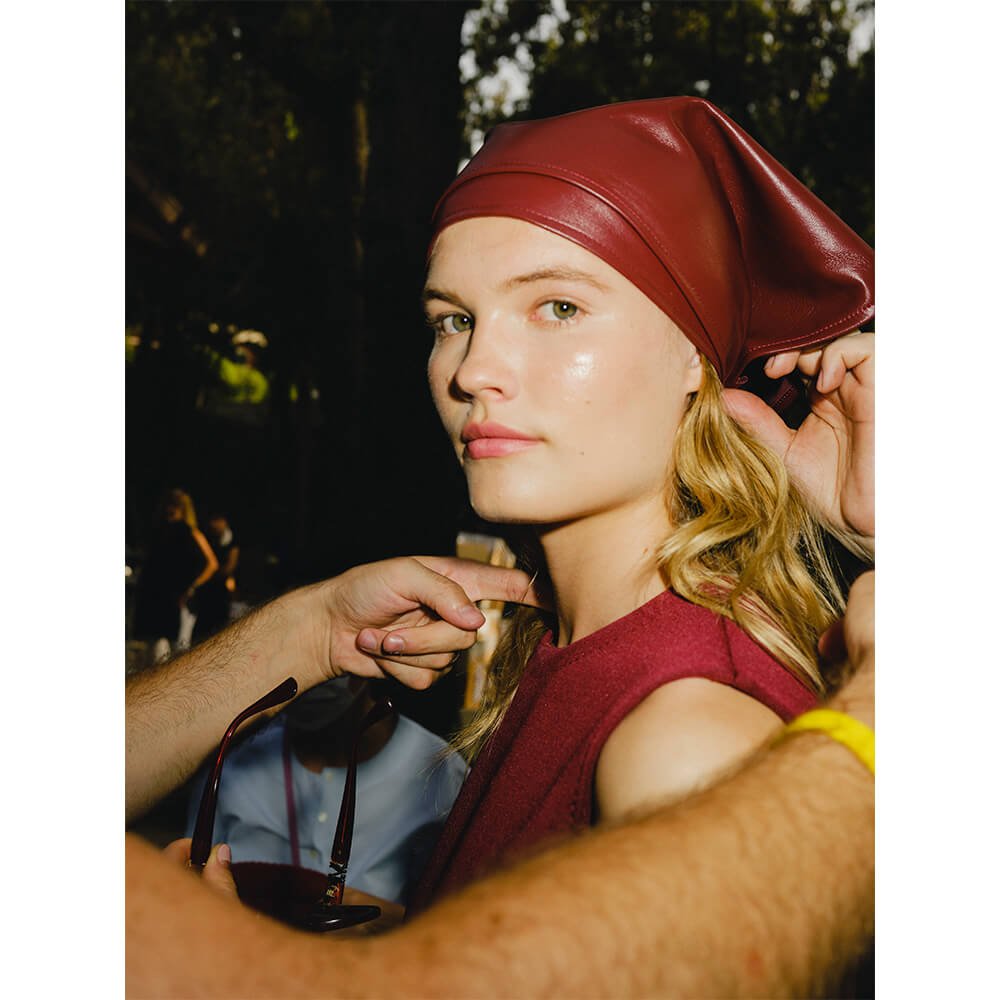 It's a stretch away from the bustling, steaming-hot port of Molo Beverello – where you generally need to keep one hand on your handbag and another on your hat – our journey began in a fashion that Capote's famous 'swans' (his wealthy female friends) would have approved of: by private speedboat from a marina where local fishing boats flirted coyly with catamarans. Cutting waves through the Gulf of Napoli, the chaotic city faded behind as Ischia came into view. We swung around a rocky corner to the pier of the Regina Isabella hotel.
Built in 1956, shortly after Capote's own trip, the hotel was a favourite of Elizabeth Taylor and Richard Burton and became an important part of the world Griffiths wanted to introduce us to. Old-school glamour with a modern dose of perfected luxury. A little like one of Max Mara's camel coats.
It was after arriving in my room that I first encountered Local Color. A copy, wrapped in ribbon and local rosebuds from the island, nestled in a box that also included some spectacular Lee-Radziwill-style sunnies and a Panama hat. The essay had been bound in the kind of delicious, Italian hand-marbled papers commissioned by the original jet set.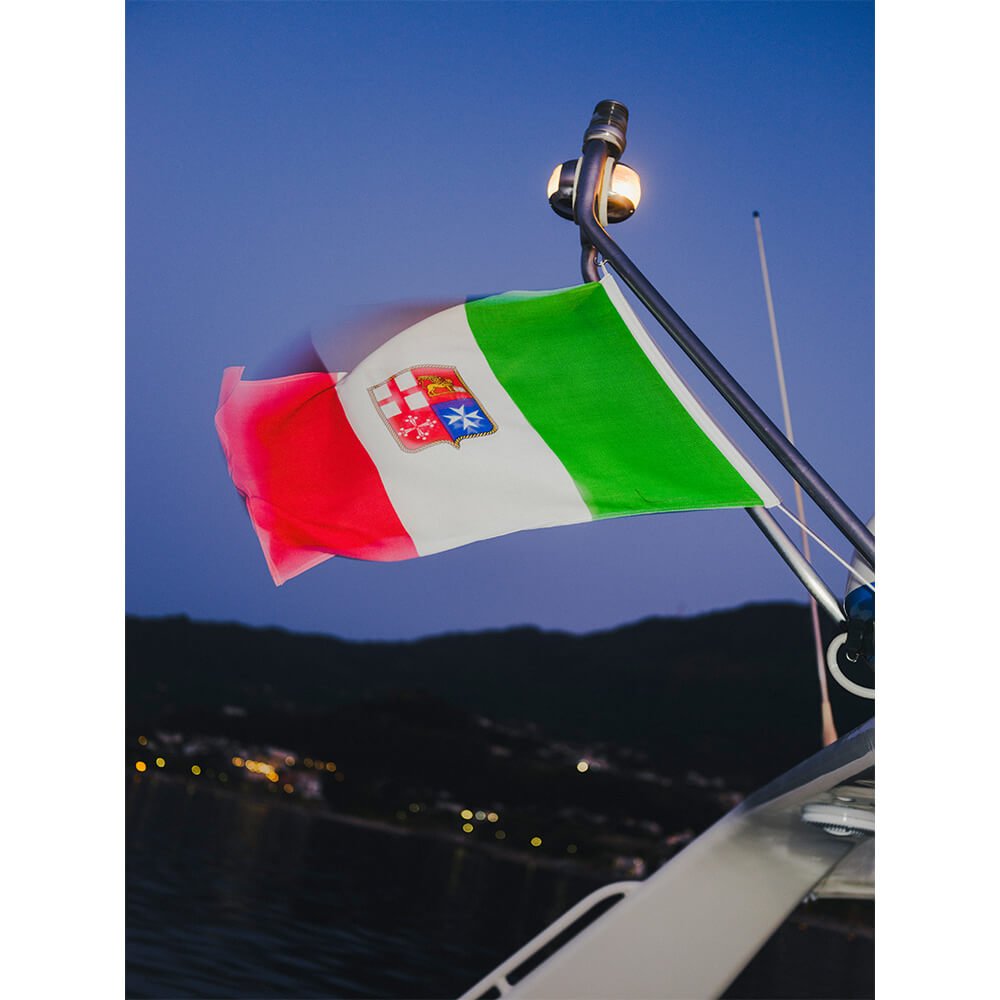 As I flicked through the pages, my eyes fell on a passage where Capote described his lodgings: "It is the pleasantest pensione in Forio… we have two great rooms with a great expanse of tiled floor and tall shutter-doors which lead onto little iron balconies overlooking the sea…"
I looked around to find myself in a very similar setting. I walked over to open the balcony doors and saw little boats bobbing in the water beneath me. Google Maps told me Forio was a mere eight minutes away. Ah, I smiled. I started to get it. We were reliving Local Colour. My bags unpacked into wooden wardrobe trays, I started the essay at the beginning and devoured it in all of five minutes. Placing the buds into its spine for provenance, I pressed the pages shut.
It was the first of many occasions that made me blink in recognition of something I had just read. That evening, we were transported by boat to dine at the festoon-lit Giardino Eden restaurant, "through a green twilight and under a sky of early stars", just as Capote had done. Early the following morning, I sat on my balcony with an espresso and some fruit and looked down with Capote's eyes to see a "hidden beach… enclosed by the cliffs and the water so clear you could observe seaflowers and the dagger movements of fish".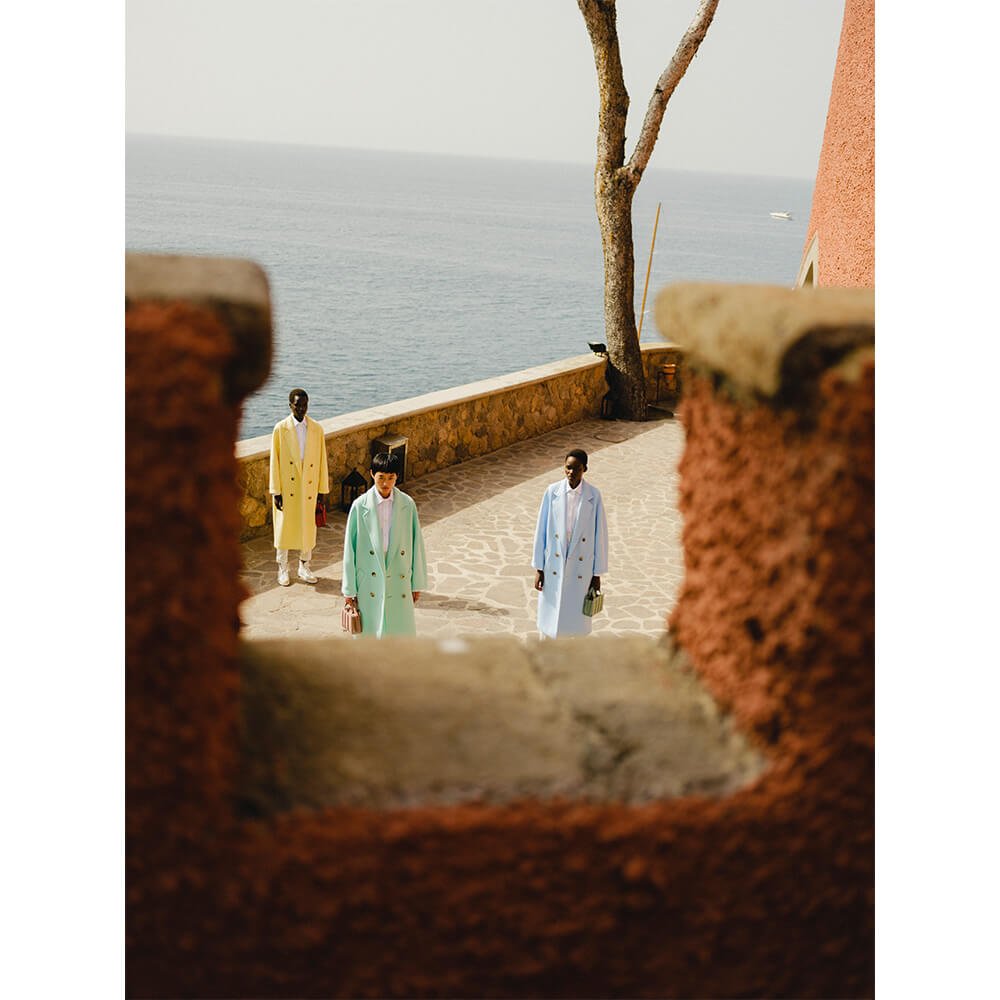 We sailed for lunch on a pastel-coloured boat to the island of Procida and the secret coves Capote had described revealed themselves from a distance. As we walked a wooden plank, using it to jump to ground in the sleepy fishing village of Marina Corricella, I recalled him detailing his arrival to Capri. "In the wrangle of disembarking, I dropped and broke my watch – an outrageous bit of symbolism," he noted. It was, he said, "no place for the rush of hours. Islands never are."
There's a joy that comes with time being inconsequential yet at the same time so precious. This was one of the first big fashion gatherings since the start of the pandemic and it was all the more special for it. I wasn't alone in wanting to savour every moment, enthusiastically drinking in the smallest of authentic island-life details as the hours flipped past: the joyful men from the harbour, with their T-shirt tans and cigarettes balanced artfully in the corners of their mouths, pulling our boats to shore by hand; a spontaneous salty swim and our skipper serving up an impromptu aperitif of bruschetta and prosecco; eating mozzarella the size of melons for lunch at La Lampara ("the food is good, and there is rather too much of it", wrote Capote). I was hungry for all of it.
"What time is it?" we asked one another. Our outbound, heady chatter disappeared into silent reflection as we sailed back towards Ischia, some members of the group enjoying a disco nap on deck. Time to get back and dress for the show.
It was another of Capote's books, his scandalous Answered Prayers, that came to mind as I got ready. The unfinished novel was published posthumously but he sold four chapters to Esquire in 1975/6. Its subjects were his beloved swans, who numbered Radziwill, Babe Paley, Slim Keith, Marella Agnelli and Gloria Guinness. I thought of how his desire to share the most intimate details would prove to be his downfall when he revealed their deepest and darkest secrets – to their collective horror. It made me think of their elegance, their courage and their grace in the aftermath, as well as their indomitable spirit; it reminded me of the Max Mara woman Griffiths designs for. And another penny dropped.
Griffiths first discovered Capote's essay while searching for inspirational travelling tomes during lockdown and it became, in his words, his "bible for the project". He took the idea of "savouring travel experiences as one of life's great pleasures", he told me later. A reminder "that you have to stay in a place long enough to really connect with it. And that the means of getting there, the plane trip, boat ride or train journey, can be worth writing about – and dressing up for."
He was feeling drawn towards the golden age of travel in the 1950s and '60s – "before it became a mass phenomenon, when there was still a sense of excitement in the concept of travelling and a glamour and elegance," he would later tell me. At the same time, he was thinking of the future and looking to "a new generation of swans: working women with equally glamourous lives".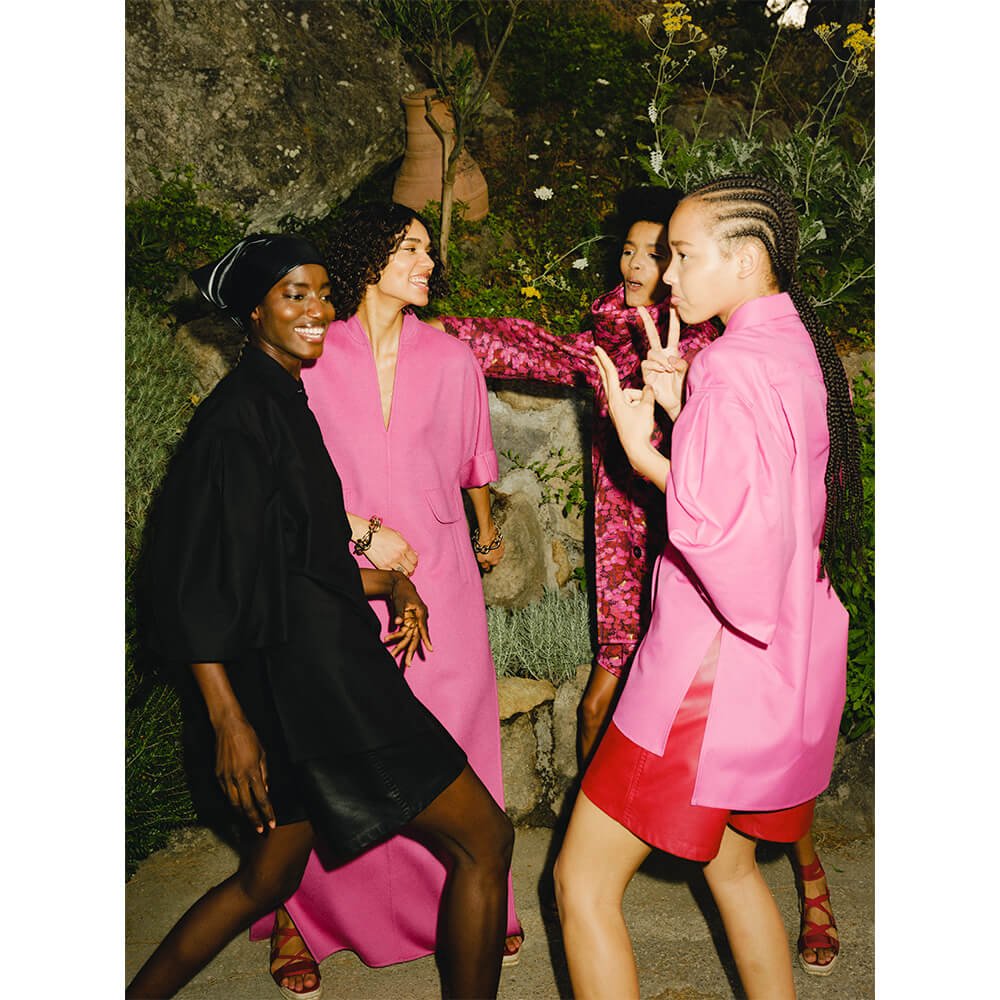 So, I put on a little bit more Ruby Woo than usual, slipped on the metallic heels I had lusted after for years and optimistically bought on sale in lockdown, squeezed the heavy, bronze, tasselled hotel key into my clutch and headed out the door.
The show was staged no more than five minutes up the road in the Mezzatorre Hotel, the beautiful creation of the unofficial-official Queen of Ischia, Marie Louise-Scio. It is, Griffiths said, a destination "that gives you the flavour of the kind of place [that Capote's] swans might have stayed when they were having a respite from having their couture collections put together in Paris".
As we arrived by taxis, surging and reversing with equal enthusiasm as they navigated the single-lane road, Griffiths own local colour came to life. Like Capote, he mined Ischia for its most authentic emblems. They manifested themselves here in the bougainvillea, which punctuate whitewashed walls on the island and feature in photos of Marella Agnelli when she was here. Geraniums adorned every corner of the catwalk in sunburnt terracotta pots. Wicker sun-loungers with striped cotton cushions awaited guests while we nibbled on bowls of a heaven-sent local delicacy. A private jet with a banner reading "Max Mara Local Color" circled the island overhead. Wooden fans were handed out to help us gracefully navigate the humidity.
As the distant beat of Pink Martini's 'Una Notte a Napoli' grew louder, we settled in to watch the history we had been immersed in reinvent itself. If Capote's swans were around right now, these were the clothes they would be wearing. Loose silhouettes and relaxed tailoring in ivory white and classic Max Mara camel were perfect for modern jet-setting; macramé leather and canvas holdalls that are roomy enough for a spot of glamorous island hopping; a line of floral-printed fuchsia Capri pants and tunics ideal for lounging on deck. This was simplicity on the most authentic and luxurious of scales.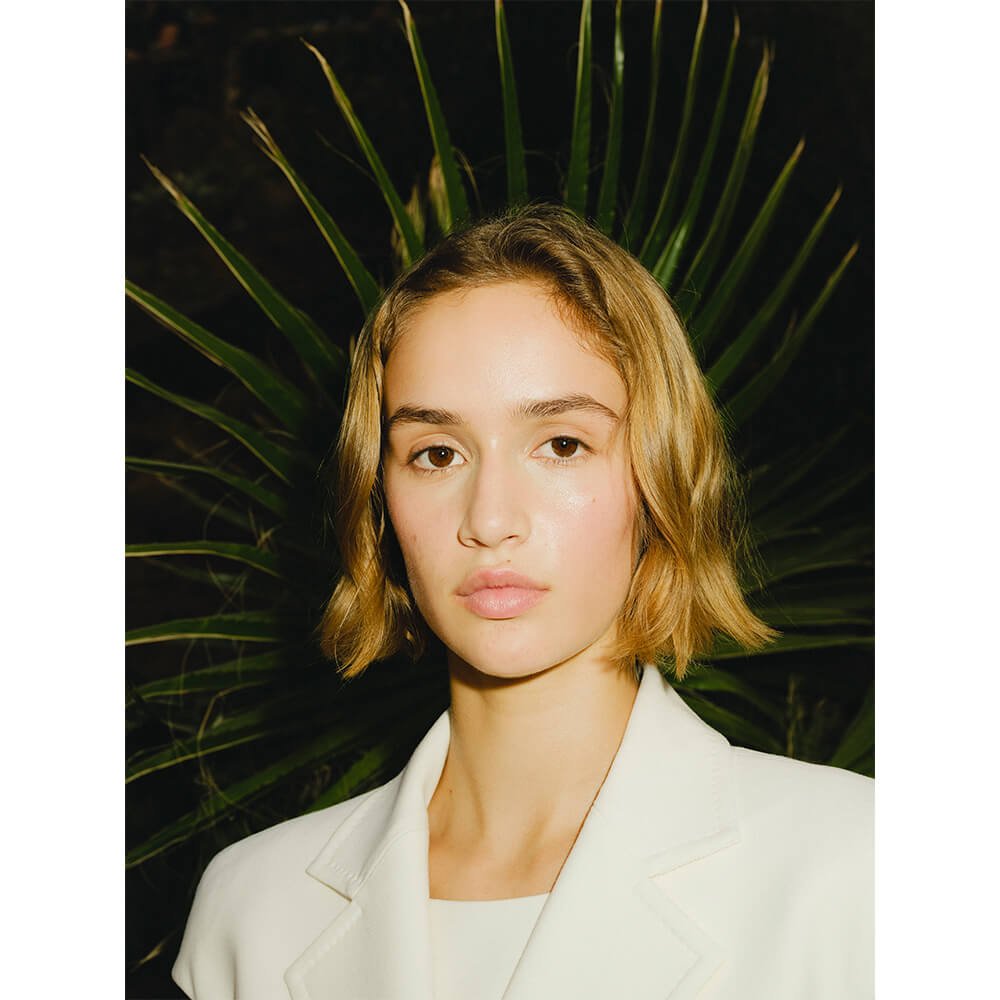 "Everyone is saying, 'How are you going to survive in a world where everybody has gotten used to wearing sweatpants?'," mused Griffiths post- show. "But I think people are desperate to be seen, to show themselves off and celebrate themselves by what they wear." Working with Agnelli's granddaughter, Ginevra Elkann, who directed a film of the show, gave him a direct window into the world of her grandmother. "She confirmed that whole style was about the simplicity of things."
After the show, the Mezzatorre became a 2021 addendum to both Capote's and Griffiths' idea of local colour. After devouring plates of cappello del cardinale (an upside-down pasta revelation) and local pastries, the music started and the open-air dancefloor erupted. Boogie beats filled the air in scenes not dissimilar to Paolo Sorrentino's La Grande Bellezza (but sans the sleaze). Dessert spoons were dropped as shoes were kicked off and wine glasses held high in the air to a toast no one had raised. Everyone stood up and danced on the spot. It was joyous and surreal. Deprived of the dancefloor for almost two years, no one wanted to go home. "It's hard bringing yourself indoors these nights: the moon is drawing nearer, it winks on the water with a frightful brightness," wrote Capote, and we felt so too.
Leave, however, we did, stopping off for a Shirley Temple in the hotel bar before nestling into those crisp cotton sheets. The following morning, as I squeezed in a final wander before departure, I stumbled across a little tourist shop and bought a fridge magnet, a spaghetti measure and a tourist tee (the cheesiest I could find, yet still unfathomably chic).
Leaving the island, I looked behind me, with the waves kicking up and Ischia disappearing far behind. Another Capote excerpt came to mind: "When one reads a journal it is usually the less ambitious jottings, the haphazard accidental notations that seen again, plough a furrow through your memory." What a show, what an experience.
Taken from 10+ Issue 4 – BACK TO LIFE – out now. Order your copy here.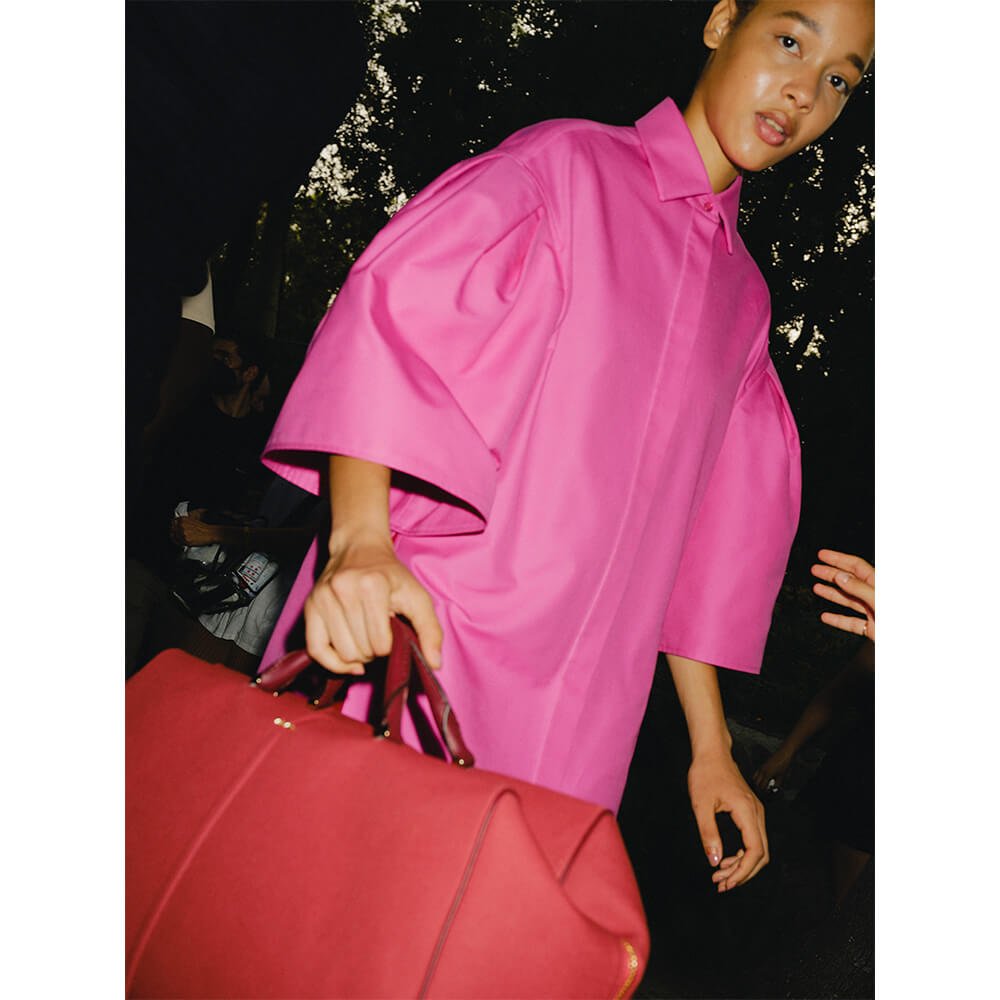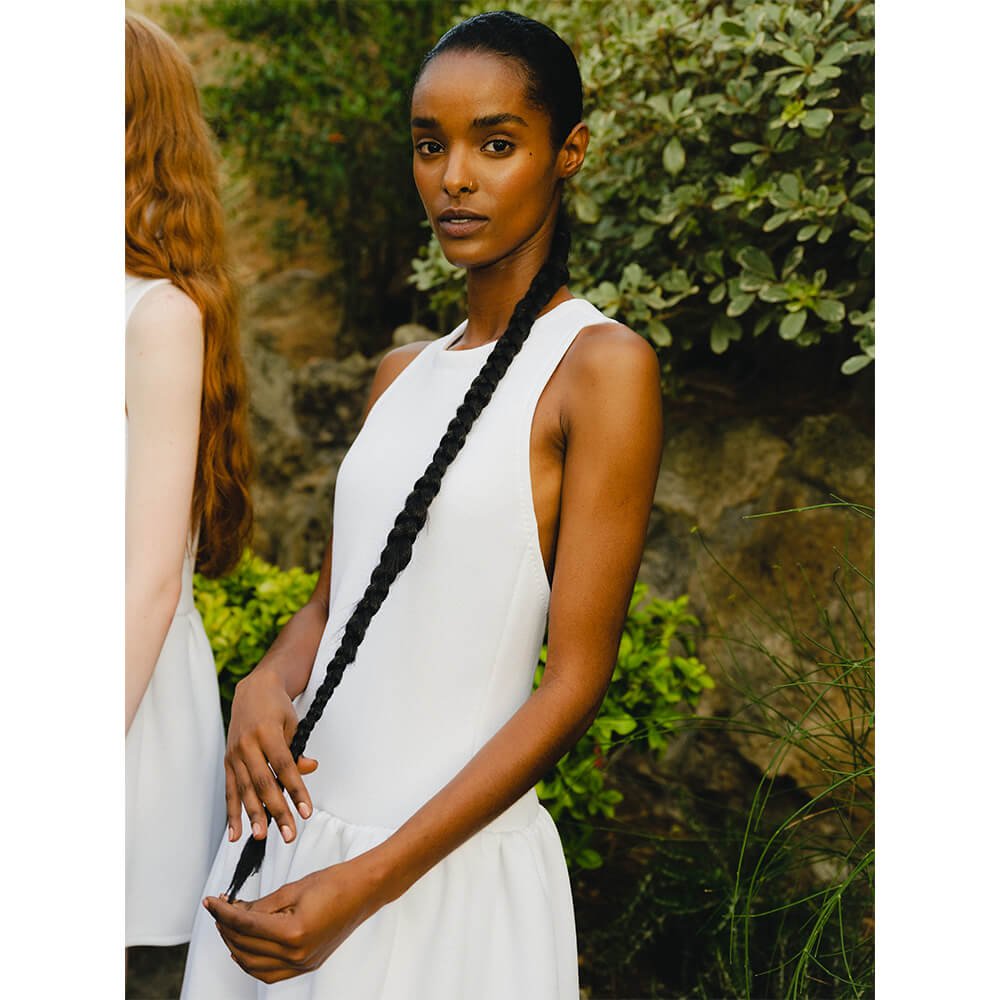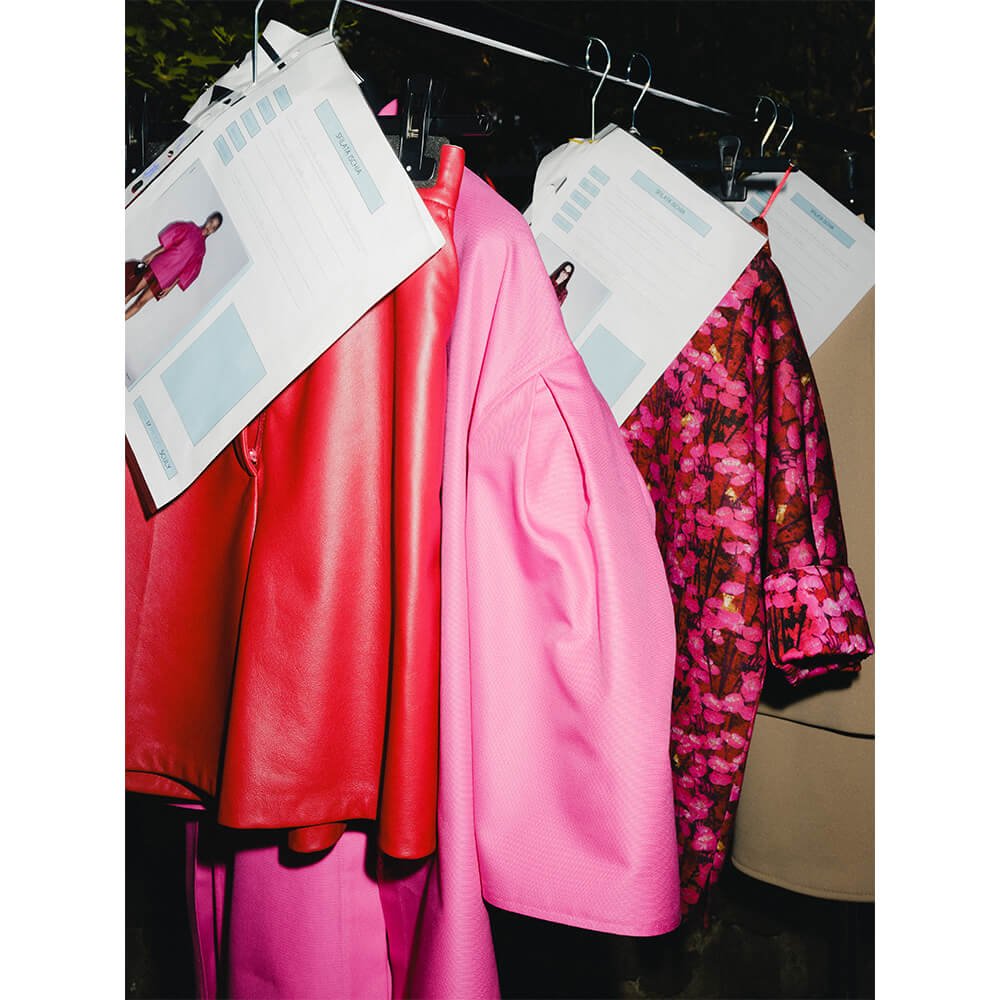 MAX MARA RESORT 2022: LOCAL COLOUR
Photographer Bastian Thiery
Text Scarlett Conlon
Date June 29, 2021
Location Ischia
Designer Ian Griffiths
Stylist Sissy Vian
Hair Pierpaolo Lai
Make-up Fulvia Farolfi
Casting Piergiorgio Del Moro