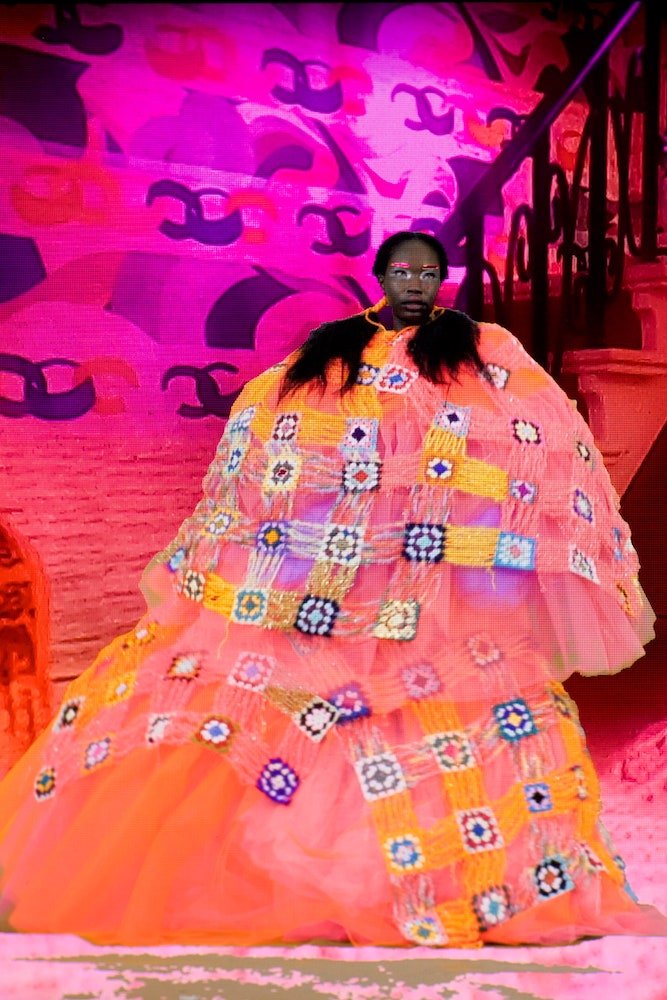 Last season, Matty Bovan focused on the extremities of being in nature. After a year and a bit of being stuck in the gaff, the York-based designer – who, in June was double-awarded at this year's International Woolmark Prize –  turned to explosive knitwear, huge silhouettes and sculptural concoctions of upcycled materials as a way of soothing the claustrophobia of being home-bound. 
Though, for SS22, the designer flips the switch.  All that time spent in the same four walls led Bovan to craft his own interior world, one he calls Hypercraft. "I customised a 1970s dolls house," writes Bovan in his show notes, "covering the walls in tape, drawings, and family photos, creating carpets and sourcing vintage furniture."
The emotionally charged collection was crafty and personal. Bovan works a lot by hand, and with this collection, he wanted to push himself by working on each piece extensively. Captured in a film by Ruth Hogben, which stars Erin O'Connor, Bovan presents sculptural frocks made entirely of paracord ropes, giant crochet knits and upcycled ball gowns. Seventies wallpaper, family photographs and dinnerwear plate patterns formed the basis of this season's look, with Bovan working with Ugg to cut, splice and dye the brand's signature fluffy shoes. "Hypercraft is a personal ode to my love of passed-down crafting tradition and showcases its importance to encourages future generations to learn these hands-on skills, and then subvert them to create something totally new and unique," says the designer.
Photography by Ruth Hogben.