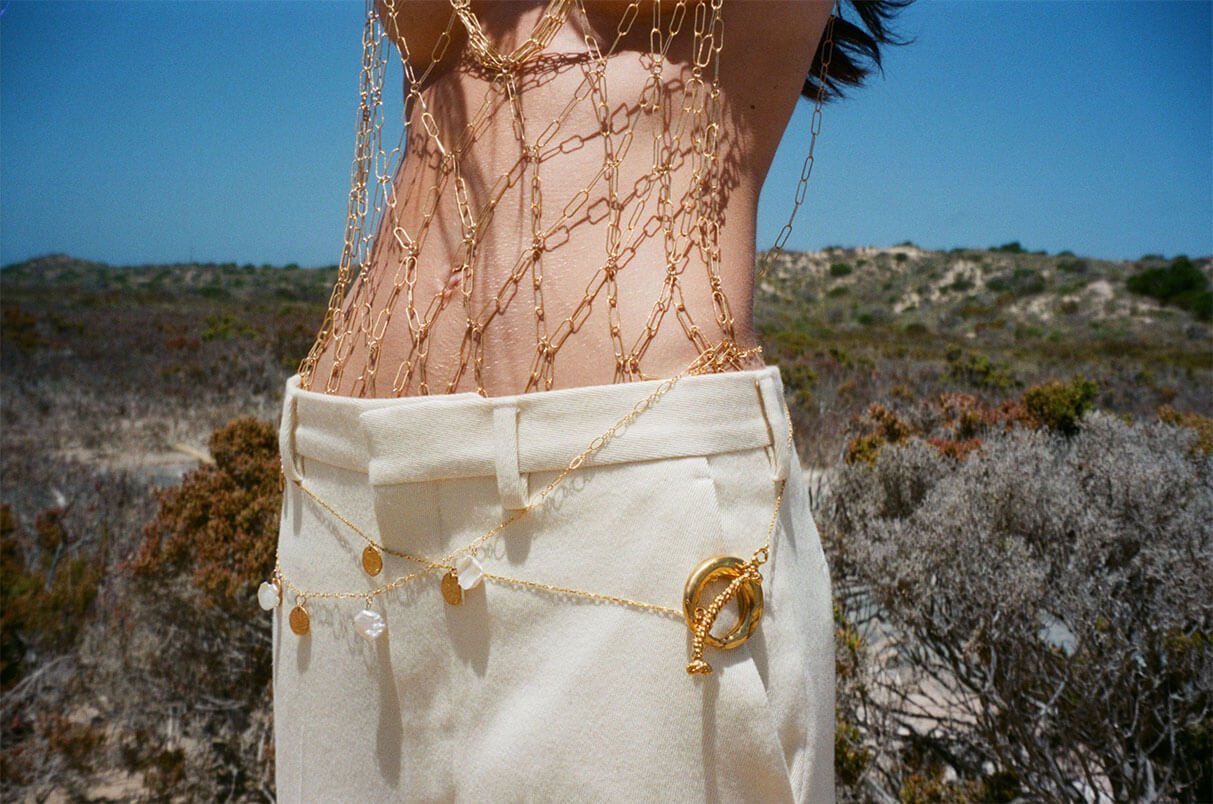 Alighieri AW19
Jewellery is defined as "personal ornaments" usually containing jewels and/ or made from precious metals. Whether you stack yours up or take a more restrained minimal approach, the pieces you choose to wear are a form of self-expression; by definition a personal experience. Putting on a favourite pair of earrings, a lucky necklace or a ring can be more than just habitual or a purely aesthetic choice, but can hold a sentimentality above the monetary value. Pieces inherited, bought or received as gifts are imbued with that exchange, in a similar way to the most treasured pieces in your wardrobe that stand the test of time. If you're bored or buying the same pieces, getting caught in a micro trend or simply want to invest in something nice, shiny and new, these are the four London-based jewellery designers you should get to know.
Alighieri
Back in February, Alighieri celebrated their fifth birthday with a candle-lit banquet of pasta and tarte citron in a crypt. Whilst at Oxford University, designer and founder Rosh Mantani studied French and Italian, and was delving deep into the Divine Comedy. Dante Alighieri's seminal poem inspired her to create modern-day heirlooms; the kind of pieces that feel special from the minute you buy them and vow to keep. Two years after graduating, Mahtani launched Alighieri in 2014 as a collection of jewellery inspired by the Alighieri's collection of 100 poems, which traverse the author's allegorical travels through the afterlife Inferno (hell), Purgatorio (purgatory), and Paradiso (paradise/heaven).
Alighieri's AW19 collection titled No More Tears centred around the fifth canto of Purgatorio. "I wanted to explore the cathartic role of water and tears," says Mantani. "…As I turn 30 and the brand turns 5, No More Tears is a celebration. Creating these modern heirlooms and telling these stories has been my joy and catharsis." Taking the single tear shed by Buonconte da Montefeltro as a starting point, the pieces are evocative of a treasure found in the depths of a shipwreck, with net-like golden chains, Sicilian bleeding hearts, pearl pieces, sculptural hands and glass vessels (modelled on Roman tear catchers) and tear drops. With Alighieri's first men's collection and armour-like Atelier pieces launching soon, and the BFC's Newgen support confirmed for the next year; be sure to keep your eyes peeled.
alighieri.co.uk
@alighieri_jewellery

Alighieri AW19
Mass
Originally from Melbourne and now based in east London, Stephelle creates bespoke art-formed jewellery from her Clerkenwell studio, just a stone's throw away from the heritage jewellers of Hatton Garden. Her brand Mass was born in 2014, after she dropped out of university and began experimenting with jewellery design, immersing herself in sculpting and wax casting. Using ethically sourced precious stones and focusing on high-quality fabrication, each piece is one of a kind created by working closely with her clients.
In addition to commissioned pieces, Stephelle has also made jewellery for the artist Gasius and has collaborated with Dalston-based concept store LN-CC to produce a collection inspired by their full name – Late Night Chameleon Cafe – and the futuristic interior design. She is currently working on a series in relation to the notion of "opening up", which will be showcased in a concept film produced and directed by artist Rei Nadal. Mass pieces are like the perfect pawn shop finds – at once incredibly personal and future classics with a contemporary twist, which you'll feel is your prerogative to pass down the generations.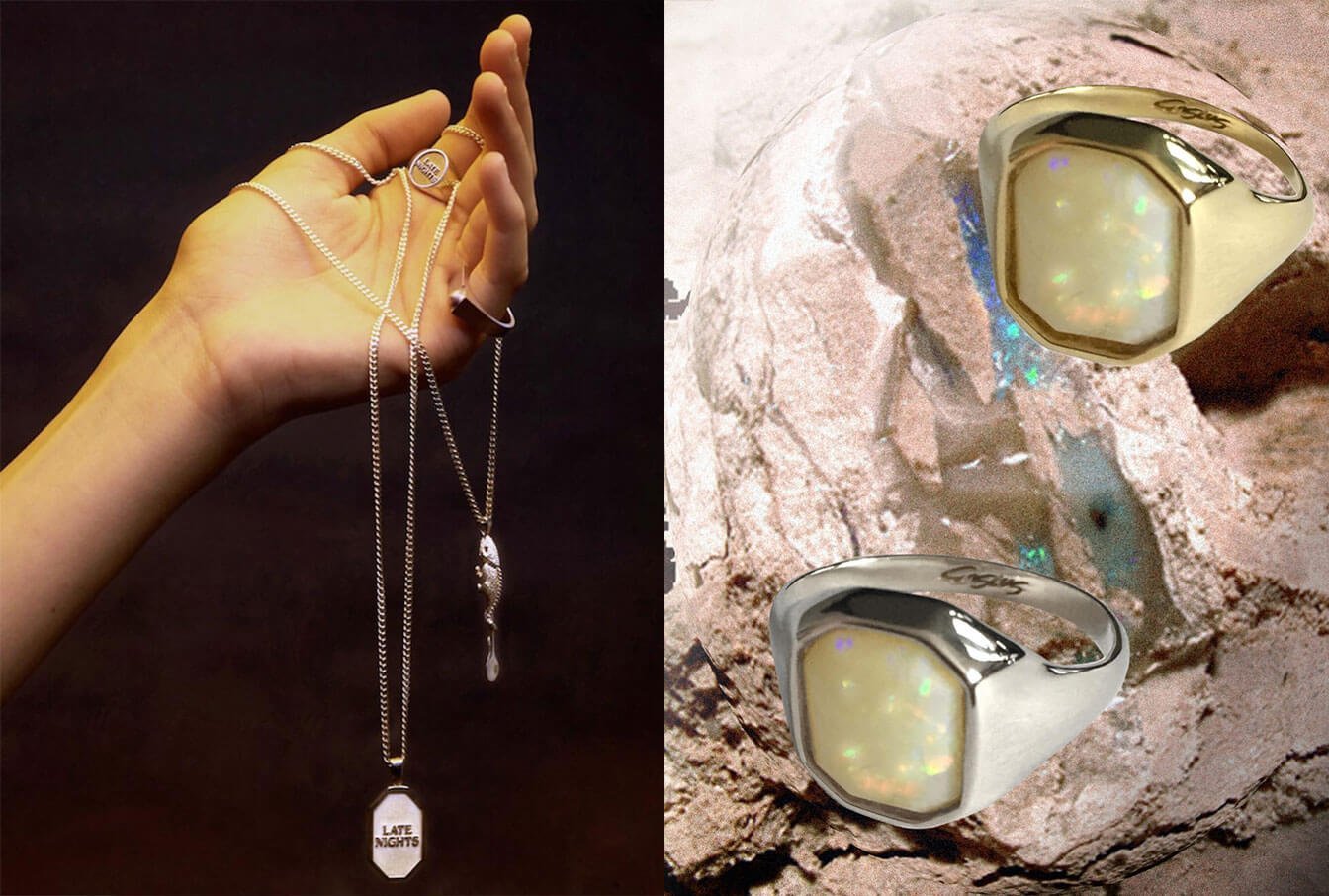 Mass x LN-CC (left), Mass for Gasisus (right)
Gala Colivet Dennison
Working from a Walthamstow-based studio, Gala Colivet Dennison specialises in sculptural pieces that can truly elevate any outfit, more akin to wearable artworks than pieces of jewellery in the traditional sense. Colivet Dennison's background is in Fine Art, she studied sculpture at university before taking evening courses in jewellery design and cites the work of Modernist artists including Henry Moore as influences on her designs. "My approach to design is very much based on the making," she explains. "A lot of inspiration comes from anything conscious or subconscious around me but given a language from the sculptural and jewellery training I have been given." Never compromising on process, her work is invariably intuitively crafted by hand from recycled silver and ethically sourced gemstones. "The main principle is to create unique designs that can't be replicated. This enables me as a designer not to focus solidly on the outcome, which is a process I embrace," she adds.
For AW19 Colivet Dennison created oversized "weapon-like" silver earrings, incorporating rough agate stones, raw jasper and baroque pearls for Richard Malone, and an array of geometric statement earrings and belts for Pringle of Scotland's shows respectively. Colivet Dennison has also collaborated with Roni Ilan and Bite Studios, in addition to producing her own standalone collections, which are stocked at 50m and Swim XYZ in London and at Auné Store in Lisbon. One scroll through her Instagram will leave you making mid-year resolutions buy less, more intelligently and to invest in Colivet Dennison's investment pieces.
galacolivetdennison.com
@galacolivetdennison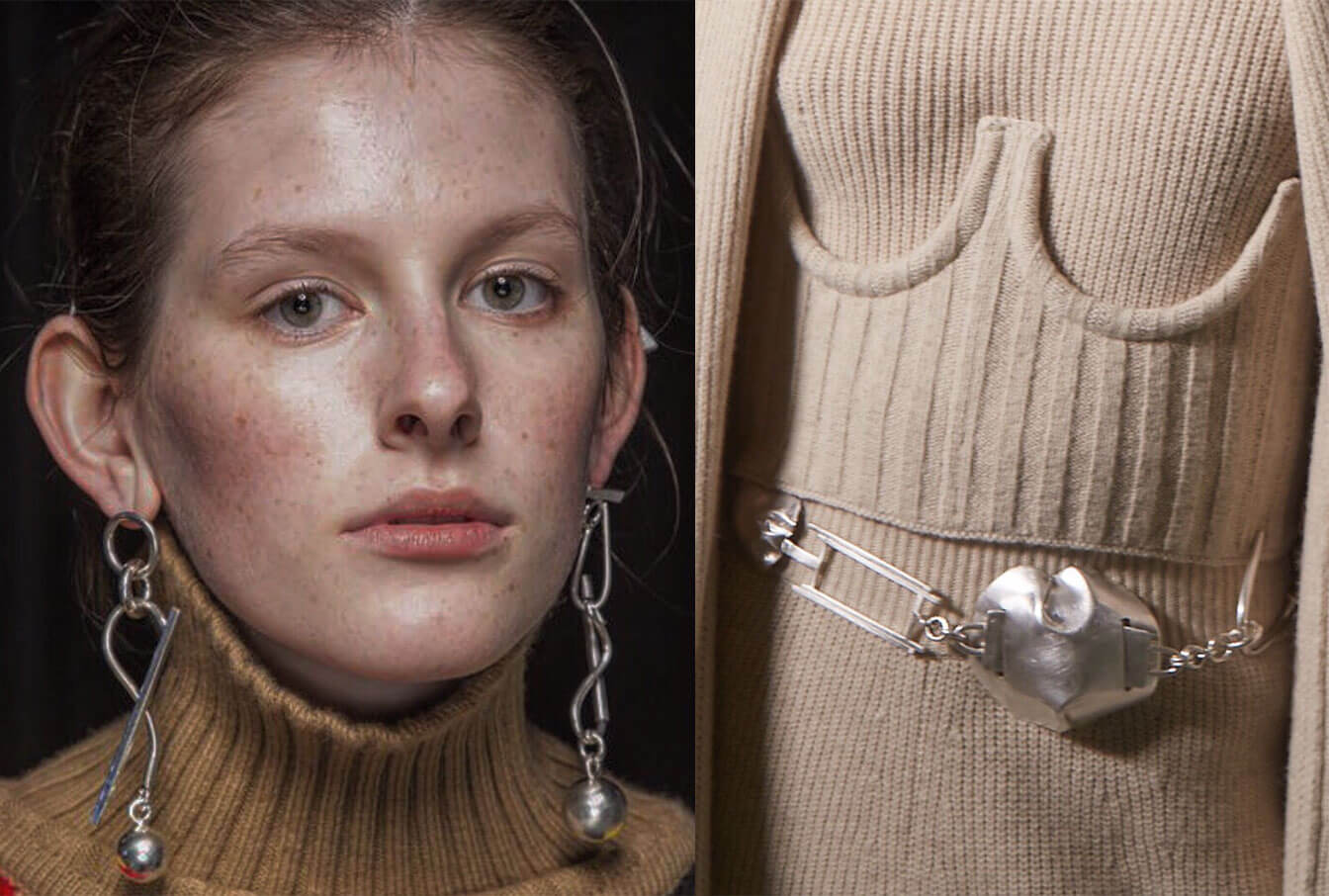 Gala Colivet Dennison for Pringle of Scotland AW19
Husam El Odeh
Husam El Odeh counts the likes of Rihanna, Chloe Sevigny, Diane Pernet, Lulu Kennedy, Jefferson Hack and the late Karl Lagerfeld as fans of his pieces. A group that would make a fantastic fantasy dinner party guest list. The German born designer, studied fine art in Berlin but has been based in London since 1999. His designs have been showcased by Fashion East and was he was the recipient of British Fashion Awards' Emerging Accessories Designer of the Year in 2010. El Odeh has consistently collaborated with designers showing at both the men's and women's fashion weeks, most recently creating pieces for Supriya Lele, House of Holland, Palmer Harding and his boyfriend Per Götesson.
For the AW19 House of Holland show, he designed variations of twisting silver statement earrings constructed of frames combined with chains that are evocative of smoke rings and "ended up looking like an ethereal alien alphabet," he explains. Whilst for Per Götesson's collection the pieces explored travel and coming of age, with nautical and treasure-like motifs taken from the ship called Vasa that sank before leaving the harbour in Stockholm in 1600s; evoking the notions of travelling and growing up that run through the collection. As well as more classic jewellery materials, El Odeh's work often incorporates unorthodox items including fresh flowers, coins, cutlery, bottle tops, glass, fragments of smashed china plates and thimbles, playing with the juxtaposition between the precious and commonplace.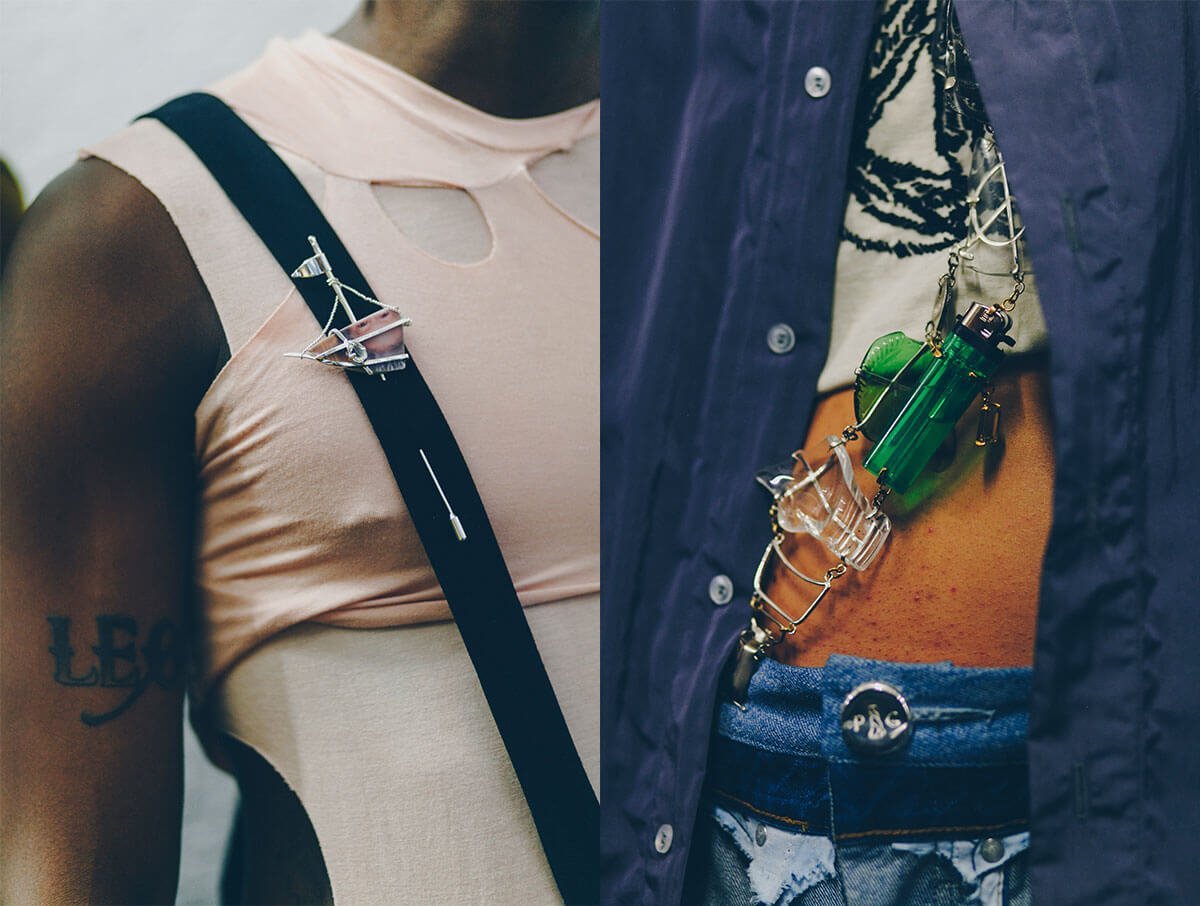 Husam El Odeh for Per Götesson AW19