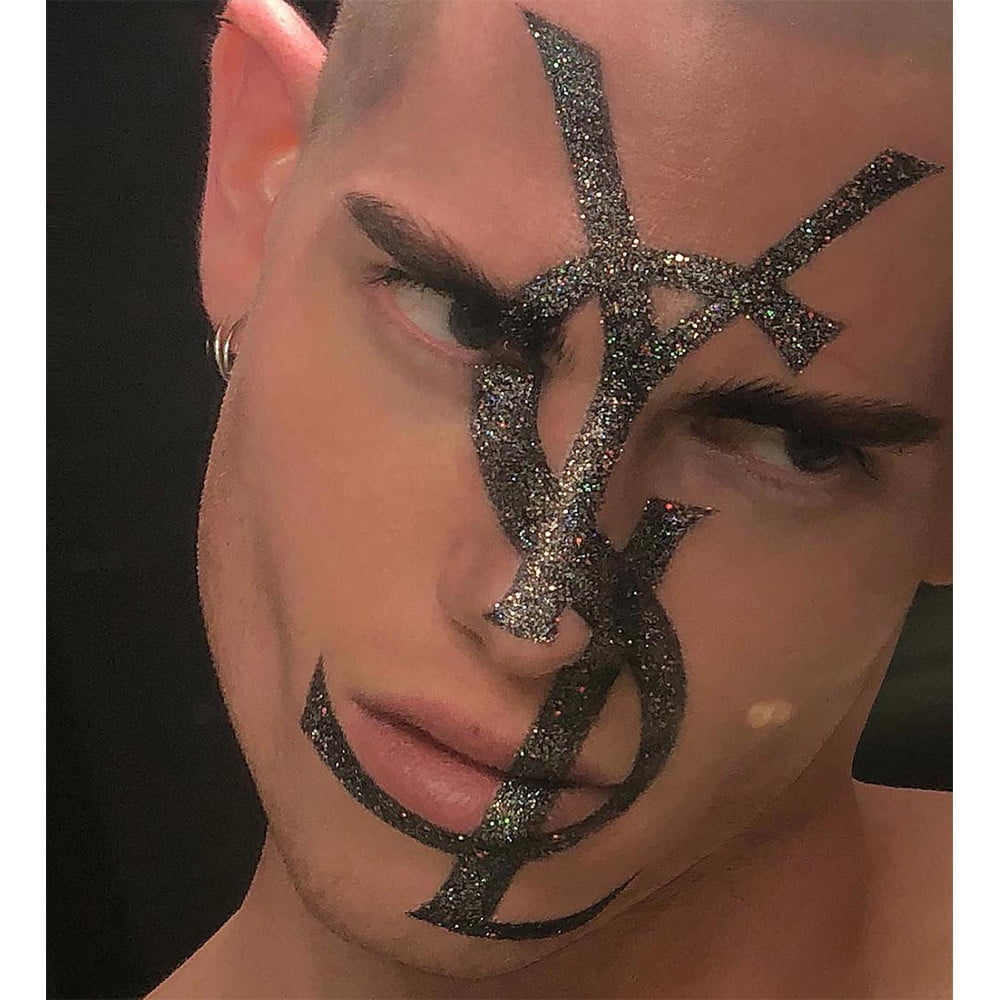 When asking a male MUA when they first fell in love with make-up, relayed usually are tales of sneaking into their mother's bedroom, applying an overdrawn lip or a smudged eye when no one was looking. Lochie Stonehouse, however, was too busy catching bugs in his garden to care about finding his signature shade of rouge. Today, Lochie is the Director of Artistry at both YSL and Giorgio Armani Beauty, and still playing with those bugs. He can be seen on his Instagram account (@lochiestonehouse) applying dragonflies, collected from a camping trip, to his face – just one in a collection of outlandish make-up looks for his 10.7k followers to feast their eyes on. That's us included.
Currently residing in Auckland, New Zealand, Lochie is part of a new generation of make-up artists with a renegade vision. Using his immense make-up prowess, Lochie's innovative creations on both himself and his collaborators, his most recent being singers Billie Eilish and Brooke Candy, carry a zeitgeist-savvy flavour. You just have to see his most recognisable Instagram post – a perfected glare adorned with a YSL logo in flashes of silver glitter, which has sparked a number of interpretations from fans across the Worldwide Web. Gone are the days when Instagram MUAs were prisoned into playing it safe – Lochie is leading the way to a beauty revolution. We caught up with the artist in the midst of an extensive travelling schedule, where he talked of working for luxury houses, living in New Zealand and where he sees the future of make-up.
Paul Toner: Did you always know you wanted to work with make-up as your main profession?
Lochie Stonehouse: I didn't. Throughout my school years, I thought I would end up as either an entomologist or a painter. A lot of my early childhood was spent catching insects to keep as pets, or to preserve in my collection. I paint faces and still play with bugs, so I suppose my inner child is satisfied!
PT: Where about in New Zealand are you from? How was life growing up there?
LS: I was born and raised in Christchurch, a city in the South Island of New Zealand. I grew up in a safe household with supportive parents. I wouldn't recommend living in Christchurch as a young queer person though. There's this known internalised homophobia and racism. Open conversations are finally happening now, after the recent mosque shootings and it's good to see people finally re-thinking the problematic "This is not us" statement. Currently, I live in Auckland, New Zealand's largest and most colourful city, in the North Island. I really love it. Geographically, New Zealand is one of the most beautiful countries in the world.
PT: What does your role as Director of Artistry at YSL Beauty entail?
LS: I'm based in the head office, I work as part of a team. Throughout the year I conduct education days, staff inductions and training, where I speak specifically about makeup (a colleague covers all skincare and fragrance education.) Separate to this, I hold Masterclasses and regional Events where I'm able to introduce local media to upcoming collections. If not this, I might be working on an editorial or campaign. Currently, I'm in Paris, attending a seminar alongside other Yves Saint Laurent Beauty global representatives.
PT: Does your approach to working with Giorgio Armani alter a lot from when you work with YSL?
LS: Giorgio Armani and YSL Beauty are two different brand identities, both with very different histories. Because of this, the way that I speak to the individual brands and the way that I educate staff does differ. I change my application techniques to suit some of the different formula's and obviously present myself differently depending on the brand that I am representing on the day. In the same vein, we're talking about two luxury beauty brands that were both born from designers. The shared feeling will always be iconic luxury.
PT: You've also done the make-up for a handful of issues of Coup de Main – which was your favourite cover shoot to do?
LS: I love Coup De Main! My favourite is probably Issue #19 where I gave Troye Sivan a blue glitter moment for the cover. Troye liked the makeup enough to wear it to his show later that night and consequently loads of fans applied the same look throughout the rest of his tour. On the night of his second show we recreated the same look, although with red glitter instead of blue. I remember his mum expressing concern that from a distance the red glitter may read as blood. As it turns out, Troye's mum was totally right and it did look like blood. But that was super cool!!
PT: Your YSL logo look has inspired a plethora of interpretations online – how did it feel seeing people recreating your look?
LS: I'm happy that strangers from all across the world took the time to create something more technical, and I think in some cases really challenged their own abilities. It's difficult to create the illusion of a 2D logo in a 3D surface. I had kids sending me multiple attempts in DM and asking for advice on how they could improve. That was really special.
PT: You have a great Instagram profile with a big following. Do you think it's a vital element in the beauty industry of today?
LS: Thank you. It really depends on the individual participant and ultimately what they're wanting for their business or brand. A regional freelance MUA with 300 followers may make between 70-100k annually through consistent bridal bookings alone. On the other hand, an Instagram MUA who lives at home with their parents may not be able to afford toilet-paper however they may be receiving generous PR send-outs due to a large and engaged following. The internet has the power to offer your work global exposure within seconds, so when referring to followers, obviously you can't dispute the importance they can play in leveraging reach. Regardless of this, we now know that followers don't necessarily hold as much value as engagement. This is because people can now clock accounts that have obtained followers inorganically. Building relationships with real followers and maintaining active interest demonstrates a more transparent success and a sense of community feels like the right thing.

Brooke Candy
PT: You've recently been working a lot with Brooke Candy, how has that been? What is your favourite look you've done on her so far?
LS: The Australasian tour was wild. We visited Wellington, Auckland, Melbourne and Sydney, and together we created 6 heightened looks. Each beauty took 1-3 hours and was designed to speak to her styling. Brooke pulls energy from god knows where and puts absolutely everything into her shows. This one time I applied her makeup while she was barfing over the toilet from heat stroke, although she pulled through and showed up for her ticket holders. We're shooting a story together in New York soon which I'll share as soon as it's in print!
PT: You've also done your fair share of modelling as well. Do you prefer to be behind in front of the lens or behind the scenes?
LS: Not too often these days! I prefer to be applying the makeup to someone else.
PT: Can you talk us through some of your favourite looks you've done on yourself so far?
LS: I dusted off my old insect collection last year and glued some to my face. I remember catching the giant New Zealand bush dragonfly while camping with my grandparents. Every insect triggered nice memories and it felt like I paid homage to my inner child. I enjoyed doing the drag look too. That was a first for me. I had the Mark Traynor tape and 33s although regret not having sourced a lace-front.
PT: Where do you see the future of make-up? Do you see a shift towards virtual/computer generated looks?
LS: Designers will have their lookbooks created using digital programming, featuring digitally generated models. Runway models will be replaced with holograms to walk their virtual shows. Human beings will have avatars that front us. Touch to choose your makeup!! My avatar would wear natural makeup although they would have huge pageant girl hair.
PT: What's next for you? 
LS: New York for a couple of days, then home to my boyfriend!