It all started with a pop socket. Well, about a thousand of them.
Around five years ago, creative director and filmmaker Alec Maxwell began gifting pop sockets bearing the name Kloss – the alias he began using 11 years ago to credit his work, which is the name of his creative studio – to the people who make up his extended community. "I've given them to each individual personally and I know exactly who has one," explains Maxwell, who has never put the pop sockets on sale. "I made sure I have a connection with each of these people."
Whenever a pop socket bearer posted a mirror selfie, with "Kloss" proudly lodged between their index and middle fingers, Maxwell would take a screenshot. Having gathered a pretty impressive archive in his photo library, two years ago he began making an edit, which would result in The Kloss Community Album.
"How I enjoyed editing was basically to find two images that go together, that's really how it came together. If the two images had a similarity or a difference, that's really how I told the story," says Maxwell.
Available in a limited quantity of 777 copies at London's Shreeji News, BookMarc in New York and Tokyo, as well as directly through Kloss' website, The Kloss Community Album can be viewed through an augmented reality experience thanks to a QR code printed inside which brings the pages to life.
Daniel Lismore
Featuring 250 images in total, Maxwell describes the project as a "creative exchange between myself and the community, the album is a balance of curation, voyeurism and branding."
Upon flicking through, expect portraits from the likes of Juergen Teller, Irina Shayk and Riccardo Tisci, as well as stylist Karen Binns, RuPaul's Drag Race winner Aquaria and British Vogue Editor-in-Chief, Edward Enninful, who is Maxwell's long-term partner.
Following on from the book, today marks the release of Kloss' first merch line. Made in collaboration with Browns Fashion, this is the first time the wider public will be available to buy into Kloss. "On this journey with this Kloss branding, there have been other merch pieces which I have gifted to people, but I was never comfortable enough to sell
until I knew that it was a conscious effort to be climate-neutral," Maxwell explains.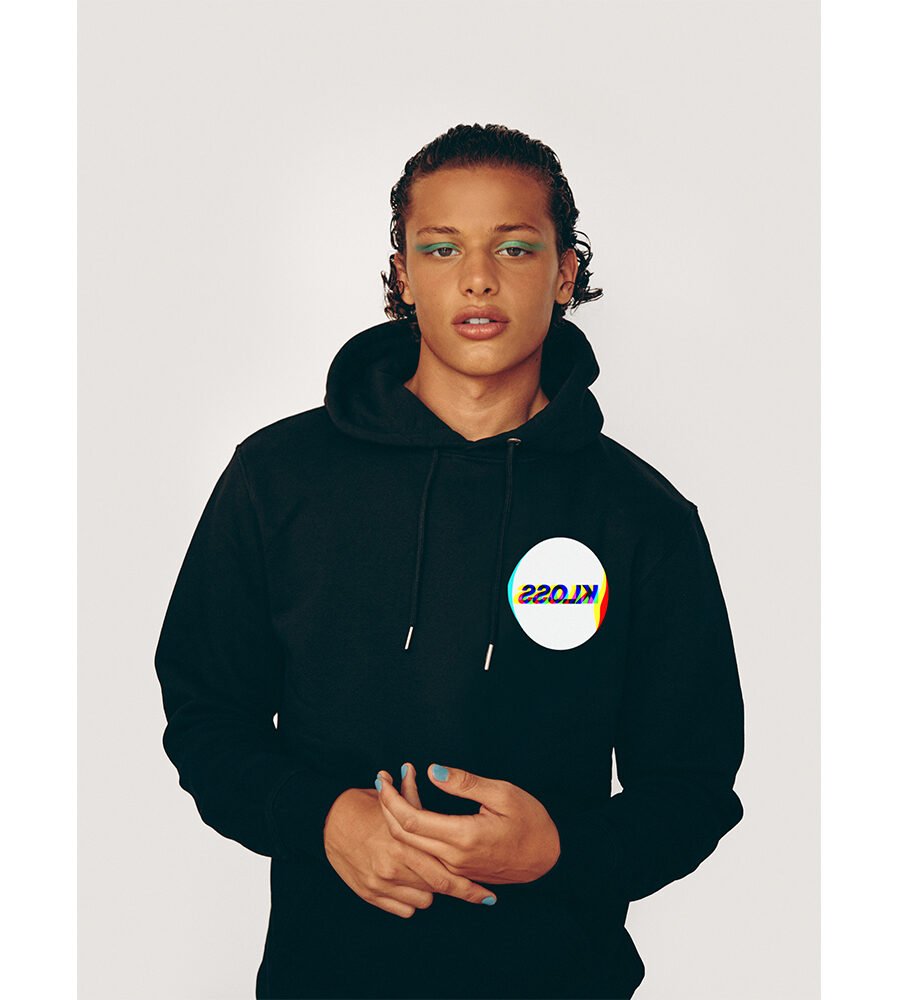 The low-waste merch drop features tees, totes, hoodies and a tank top, alongside four long sleeves made with members of the Kloss community. Two of which feature London designer and nightlife fixture Daniel Lismore, and the model Aweng Chuol.
"Daniel is amazing because he has so many different looks, to have a Kloss within the images has just been amazing. Daniel is one of the people that I probably have the most images of in the archive," he says, going on to describe Chuol as one of his muses – "I love looking at her Instagram; how she is a different character in every image."
Maxwell hopes to grow his Kloss community through more eco-conscious merch which will be released alongside future creative projects. The Kloss community is about to get a whole lot bigger.
Top image: Yves Mathieu. Buy the inaugural Kloss merch collection here and 'The Kloss Community Album' here.