To be completely honest, if my boyfriend didn't keep me up to date with new music, I would probably still be listening to Abba's Gold compilation of greatest hits on loop. Sorry Phoebe. I'm an old soul – ew, I know – but that doesn't mean I can't appreciate the Billboard 200. Well, at least some of it. A couple of years ago, Ryan (the boyfriend) started aggressively playing this one song. Like, anytime he took a shower, this bubblegum bop went on repeat, screaming pink glitter unicorns and some questionably bratty lyrics. "I want all my clothes designer," became his catchphrase of the moment and, after two or so weeks, I realised I've been humming it all along, without even knowing what it is. And so I Google searched the lyrics and discovered the world of Kim Petras. I Don't Want It At All was her first official single, and quickly became a sugar baby anthem that took over the sound systems of queer spaces worldwide. Clearly influenced by the plastic glitz of late 1990s and early noughties (queen Paris Hilton even made a cameo in the video for the song), the debut established Petras as the pop star to keep an eye out for. Prior to her music career, she was widely known as being one of the youngest people to go through a gender confirmation surgery at the age of 16, even making a viral appearance on the This Morning show back when trans storylines weren't part of primetime television.
Less than two years since her catchy debut with I Don't Want it At All, this June saw Kim Petras release her first studio album. Still decidedly pop-y, the sound of Clarity was evidently grown-up and more elaborate. Somewhere between Marina & the Diamonds and Madonna (both big influences on her work), the songs tackled a cocktail of genres which made for the best summer soundtrack one could ask for. While she keeps in with the pop princess image, the world can see her slowly growing up into a queen. She's even wearing a bedazzled AW18 Christopher Kane frock on the cover, for f*cks sake.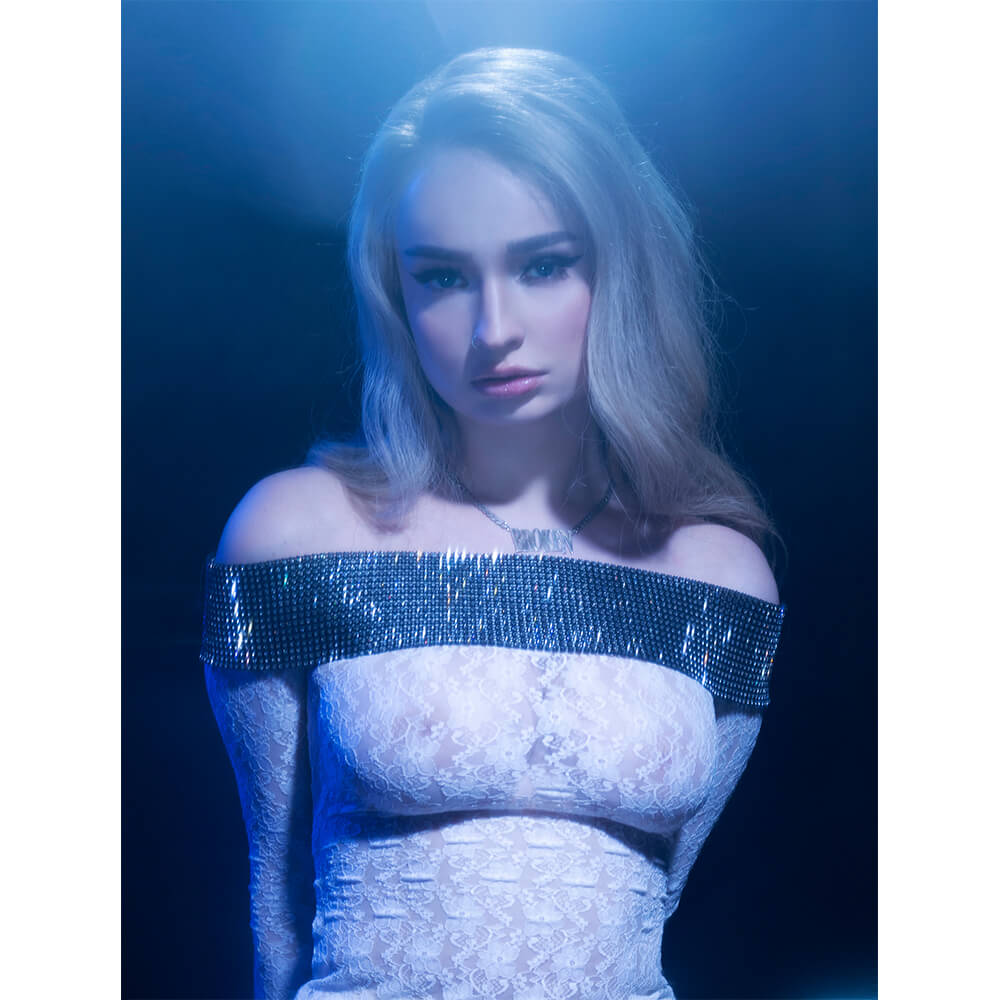 Photograph by Byron Spencer
The title track of the album – which is also the singer's current favourite song from it – makes sure we don't forget Petras is a shopaholic, as she sings: "I ain't worried 'bout nada; 'Less it Gucci, 'less it Prada…" What's the last designer thing she bought though? "A white Margiela denim jacket," she tells us. No wonder then that the fashion world is already falling head over heels in love with her – both Marc Jacobs and Jeremy Scott are already fans.
Kim Petras is currently in the middle of her first global headlining concert tour called the Broken Tour. But the lo-key queen she is, Petras found 10 minutes in her packed schedule to answer 10 of our questions ahead of her London show at the Heaven this coming Tuesday. 3, 2, 1 – hit it Kim!
Dino Bonacic: If you could duet with anyone, who would it be?
Kim Petras: Kylie Minogue because she's a Queen. And our song would be called Sweetest Spot.
DB: What's your favourite look you've ever worn?
KP: I hope that look is still to come but one of my favourites is the Marc Jacobs pink pouf dress that I've worn for Valentines' Day. I'm a big Marc Jacobs fan and that one just really sticks out to me. 
DB: If you were a superhero, what would your outfit look like?
KP: Pink! And baby blue. The transgender flag colours.
DB: What can we expect from your Heaven gig?
KP: A lot of screaming gays. I think my shows are like a party, everybody is just screaming along. I hit the high notes usually… hopefully. It'll just slap! 
DB: Netflix or YouTube? 
KP: YouTube. I love watching make-up tutorials and I love watching videos about scary movies that I'm too scared to watch by myself.
DB: What's your pre-performance routine?
KP: I eat cherry tomatoes because they're really not offensive. I drink a lot of tea and do a bunch of lip trills.  
DB: One thing you can't live without? 
KP: False lashes.
DB: What Instagram account do we need to be following? 
KP: @IconicBlondeCrops – it's my favourite Instagram and not that many people follow it. It's so good! 
DB:  What's the secret to your perfect glossy lip?
KP: Marc Jacobs or Pat McGrath glosses – those are my two go to lip products.
DB: Which song do you wish you wrote and?
KP: 'Don't Speak' by No Doubt. I think it's one of the most classic, amazing songs that could work at any time ever. It doesn't age.
Kim Petras is playing Heaven in London on August 27th. Top photograph by Thom Kerr.