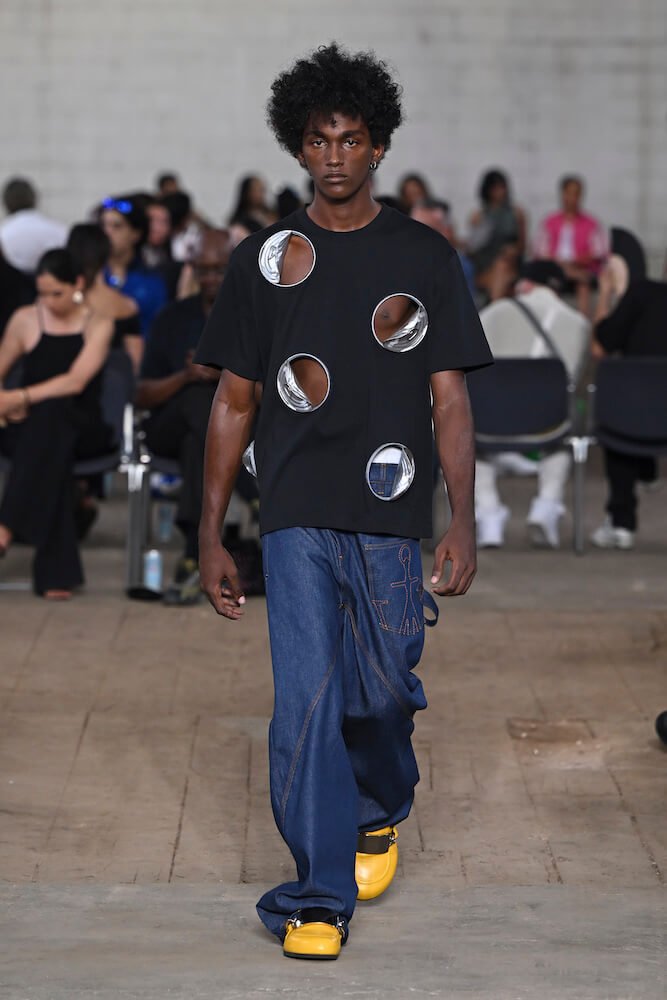 A self-portrait of Rembrandt from 1630 was the unlikely muse of a JW Anderson collection which questioned the idea of "how we've fallen into the computer", as the designer put it post-show. "It's probably one of the most important self-portraits in the last 500 years," said Anderson. "We always think we're so modern today, but in a weird way, [Rembrandt] turned the selfie on himself."
Anderson was supposed to make his Milan Fashion Week debut back in January, but with the outbreak of the Omicron variant, he made the decision to delay to the following season. He began this collection by toying with our perceptions of modernity, deconstructing the norms of everyday clothing, before mechanically putting pieces back together. Like jumpers held together with door hinges, and industrial gloves glued onto V-neck sweater vests.
The designer also became fixated on how the hobbies we have through our youth become fragments of what we do, and shape who we are. Whether that's BMXing (long striped sleeves came draped over actual handlebars), buying CDs (which decorated hoodies), or riding skateboards, like the ones smashed in half and lodged between mohair knits on the catwalk.
What makes Anderson truly brilliant is his ability to balance surrealist codes – which have been shaping his design lexicon at both Loewe and his namesake label since the return to physical shows – with seriously sellable product. This time around, this included rugged leather Bermuda shorts and double waistband jeans, and sandals with swollen, bedazzled soles which twin the brand's hit Bumper bag. It all makes for calculated chaos with the utmost precision, and one of Milan's finest moments this season.
Photography courtesy of JW Anderson.