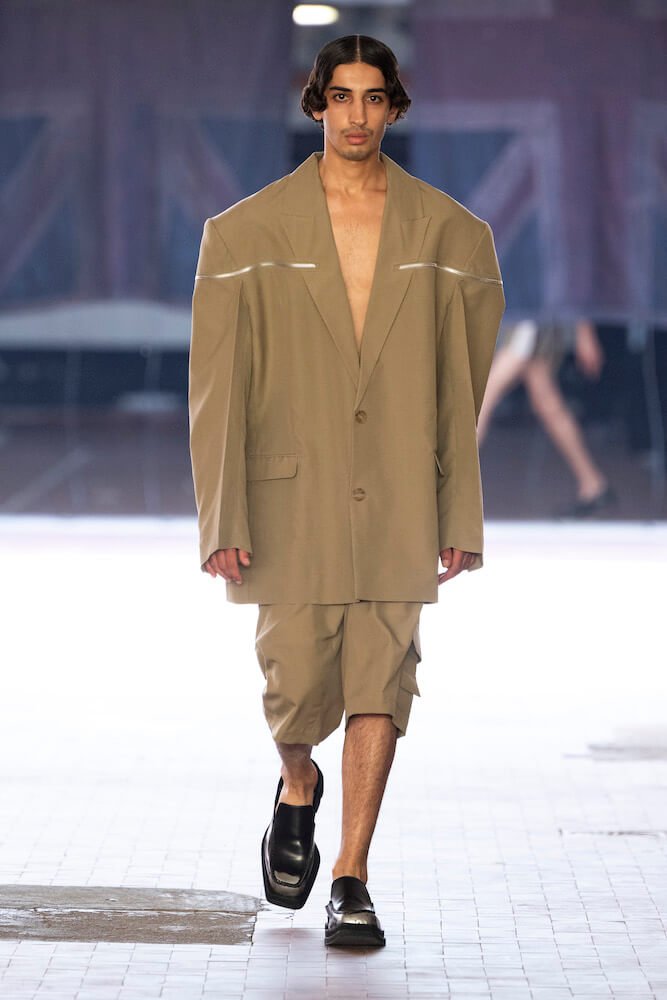 Dubbed Sabotage, JordanLuca's SS23 show was annihilatory. Examining Sigmund Freud's theory of the 'death drive' in the context of the 21st century, like a moth drawn to a flame, the London-based label acknowledged that every day millions of us are drawn irresistibly to self-destruction and dangerous pleasure, inching towards certain death – a fatal attraction. We live our lives in reckless pursuit of sex, drugs and all things hedonistic, captivated by fear-arousing indulgences and guilty amusements.
Taking the coexistence of sabotage and self-sabotage into their approach, design-duo Jordan Bowen and Luca Marchetto put the nefarious twins in their blender, flipped the switch and watched an array of severe sartorial treasures erupt. Think scar-like zips across suiting, drastically exaggerated shoulders, beige short-shorts, alongside leather, lace, silks and shimmering metallics, injecting the garms on display with powerful flavours of glam-punk.
Elsewhere we saw JordanLuca mainstays like kilts, bomber jackets and extended trousers creat a long, languid silhouette in addition to thorned, rose-like jewellery that adorned the necks of draconian models as they trudged on, covered head-to-toe in eccentric prints such as flames, stripes, 1960s psychedelics and spiderweb motifs.
Photography courtesy of JordanLuca.